Whistler and Vancouver BC, USA – 25-28 September 2014
Another gloomy day which made photo-taking difficult. The distance from Kamloops to Vancouver would have taken us 6.5 hours but we actually decided to make a huge detour down to Lytton, back up to Lilooet, then down to Whistler and on to Vancouver because there were certain things we wanted to see on the way. So it turned out to be another very long day!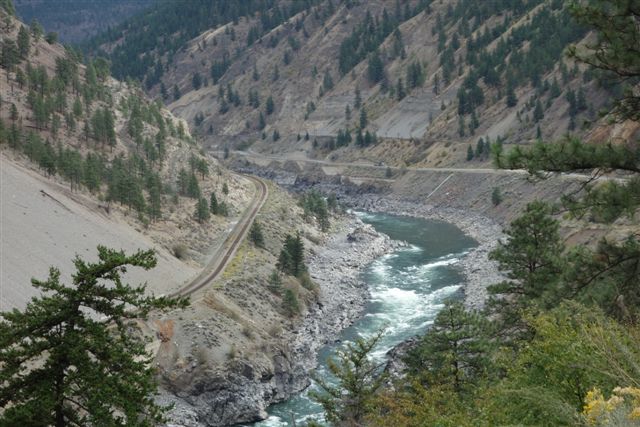 We got the impression that the hillsides were much more barren than those we'd experienced further east. The rivers were just as fast-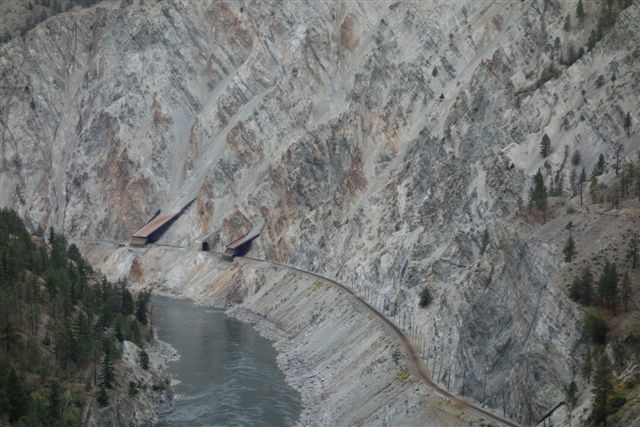 flowing and the mountains were just as majestic, but there were far fewer trees.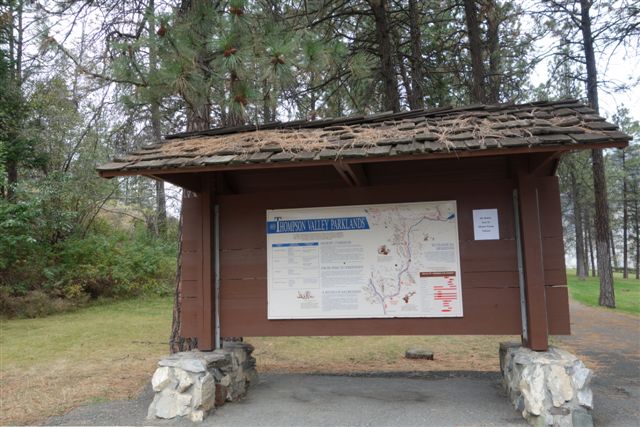 But the feats of engineering that had been carried out were nothing short of awe inspiring. How they cut this railway line into and through this massive mountainside above a fast flowing river, was seriously impressive.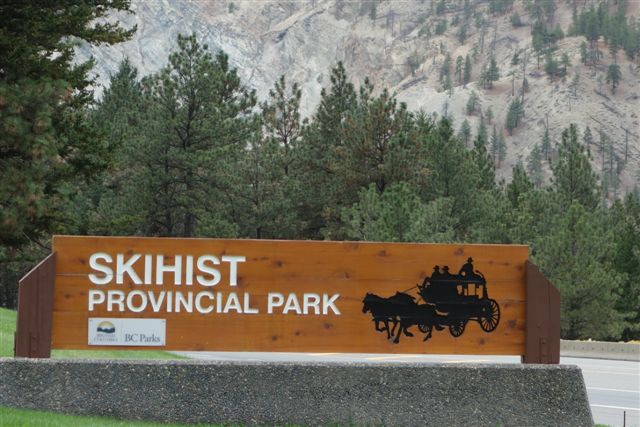 In the Thompson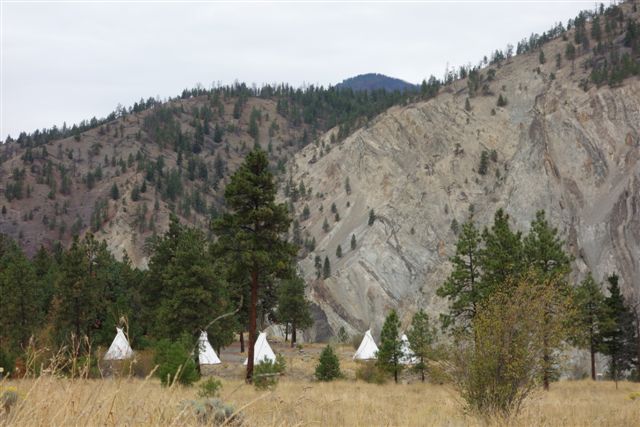 Valley Parklands, we came across Skihist Provincial Park, and this delightful camp ground.
Finally we reached our first destination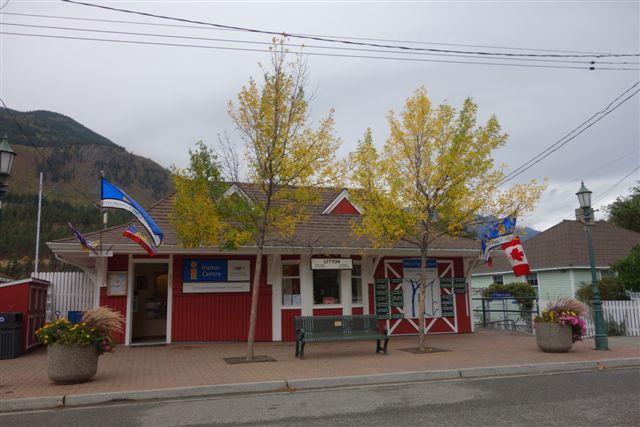 for the day. We'd thought that Lytton might be a boring little backwater, remarkable only because it sits at the confluence of the Thompson and Fraser Rivers on the east side of the Fraser. But we were charmed by this little town and spent some time in the Information building, chatting with some very knowledgeable people.
Lytton has been inhabited by the Miaka'pamux people for over 10,000 years and is one of the earliest locations settled by non-natives in the Southern Interior of British Columbia having been founded during the Fraser Canyon Gold Rush of 1858-59.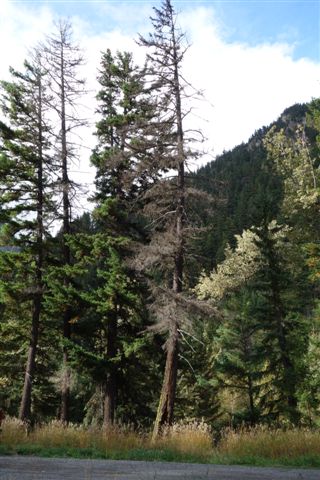 We came to ask for information about the salmon that abound where the rivers meet but we heard much more. We heard about the enormous forest fires that had decimated the area about ten years previously and had had a huge impact on the local economy and had a catastrophic effect on employment. We heard about the fact that the pine beetle was making its way west and was now affecting trees in British Columbia.
And we learnt that the population of the town is diminishing and consists mostly of retired people as there's no work for the young when they finish school.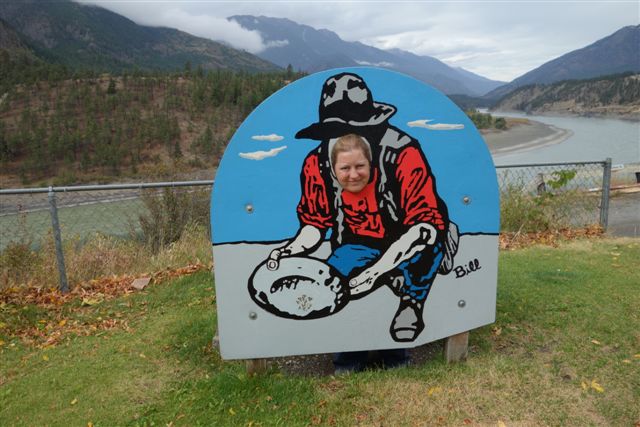 We'd like to have stayed for longer but we had a long way to drive and wanted to see if we could see the salmon jumping. Unfortunately we didn't see much here but Suzi pretended that she knew what she was doing, trying to catch fish with the right equipment!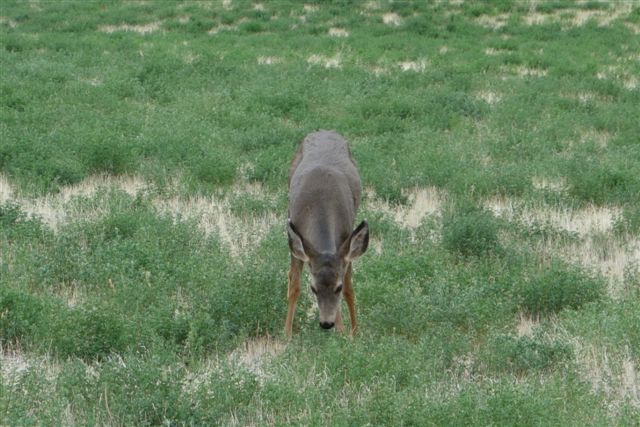 The journey back up to Lilooet continued to be fairly uneventful with the odd sighting of the local wild life, and the discovery of little gems of information along the way.
We crossed the Fraser River.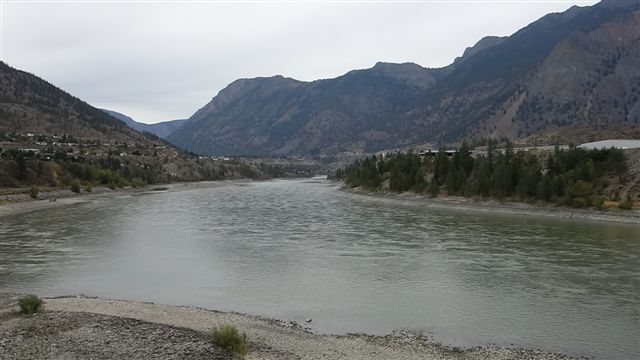 Following the discovery of gold in the Cariboo in 1858 and the completion of the first wagon road to Lillooet, horses, mules and oxen were used to haul the heavy loads to the gold fields. Then one entrepreneur had the bright idea that camels would be ideal pack animals and so 23 two humped Bactrian camels were imported from Asia. But the bright idea soon turned into a nightmare as the highly strung beasts ate miners' clothing, kicked at anything or anyone who came close, frightened other animals with their pungent odour, and had their soft feet cut to ribbons on the rocky mountainous roads. So they were abandoned by their owners and left to roam in the wild. Some were killed for food, some died in winter storms, while others were kept as curiosities. The lone surviving Bactriabn camel, 'The Lady' as she was called, died around 1896 on a farm in Grande Prairie, BC.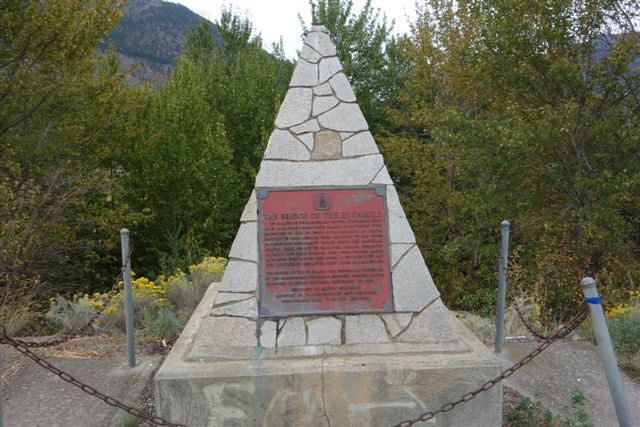 Beside the Fraser River there's a monument on 'The Bridge of the 23 Camels', so named to commemorate British Columbia's first and last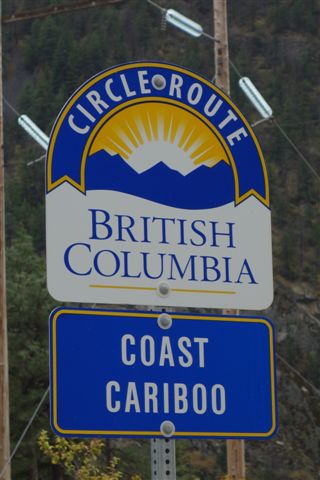 experience with camels. The Bridge of the 23 Camels was officially dedicated on September 22 1980.
We'd been travelling on the circle route and it certainly felt like that. It was a pity that the weather wasn't better because the road went up and down and round very steep bends and some of the sights would have been even more breathtaking in sunshine.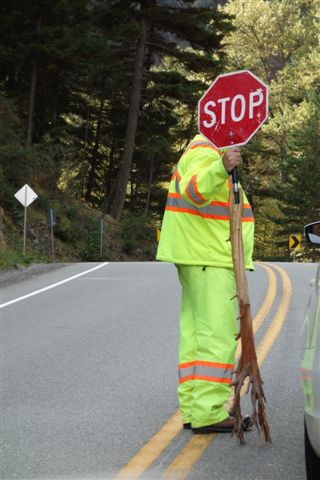 As it was, there was the inevitable wait at road works and we were charmed to see that this road worker had placed his sign (which, like all the others, says Stop on one side and Slow on the other!) into a branch with a forked base which must have been good to lean on.
By the time we reached Whistler, it was getting a little dark. Although the 2010 Olympic winter Games are now history Whistler remains a pretty exciting place and getting there has certainly been part of the fun. From Whistler to Vancouver, the major road link is the sea to the sky Highway 99. The primary road link between Vancouver and Whistler was widened and improved for the Games. We didn't actually linger in Whistler but covered the approximately 2 hours drive which offered a full plate of scenic views as the Highway descended from the rugged mountain landscapes around Whistler to the coastal rain forest environment in the vicinity of Horseshoe Bay.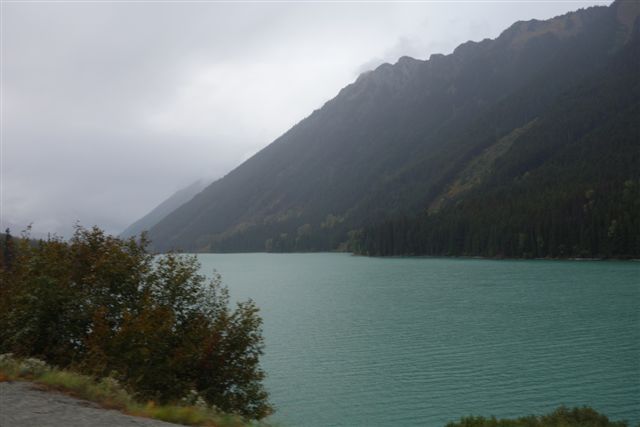 Finally we approached Vancouver (still in the mist). We'd have loved to have stopped frequently to catch the beautiful sights along the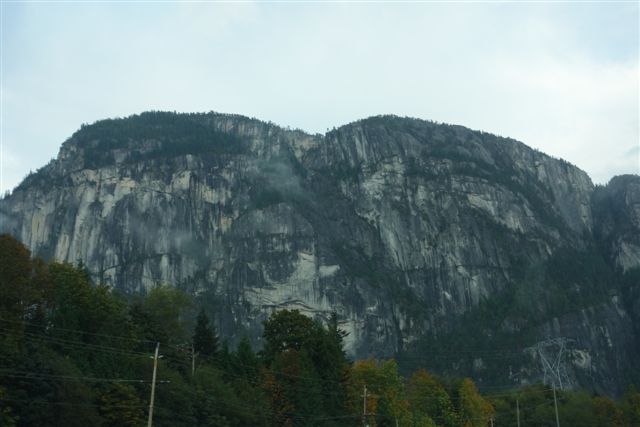 highway but it was getting dark so it wasn't possible.
The rock faces were full of interest and colour and rise high close to the city.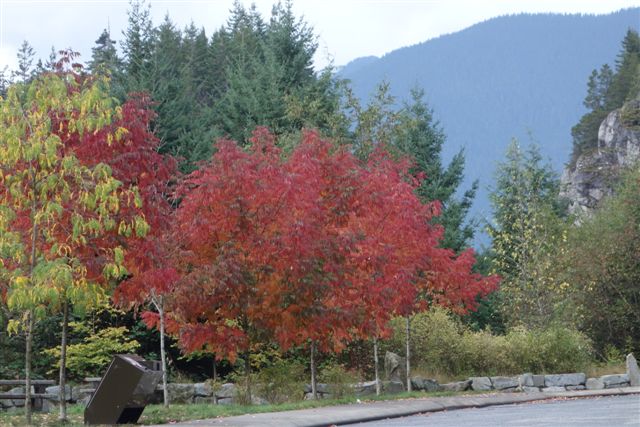 And it was very interesting to see that the Fall colours here on the west were red while those further east had been mostly yellow. Clearly a difference in tree species, something we were all ignorant about.
We were all very glad to arrive at our destination at about 7.00 that night. It had been a disappointing day, weather-wise, and we very much hoped that the next two days would be better so that we could really enjoy the sights.
We'd booked our accommodation for three nights and it was great to bring the big cases out of the car and look forward to a bit of re-organisation and re-packing, especially with Julie leaving for New Zealand on Sunday morning.
The accommodation was at a Best Western Plus Kings Inn and Conference Centre in Burnaby, 5411 Kingsway, Burnaby, BC V58 2G1 and we can recommend it for a variety of reasons. It's close to the SkyTrain, close to a supermarket and pharmacy and a very good restaurant diagonally across the road called White Spot.
Friday morning dawned as badly as the day before and our hearts sank. We thought we'd drive instead of using the Sky Train in the circumstances.
There's no denying the beauty of Vancouver's natural setting. Green coastal mountains and the deep blue Strait of Georgia are tailor made to grace the front of a postcard. We set off for Stanley Park, hoping to enjoy some of these wonderful sights but the mist was so low that we could hardly see our hands in front of our faces. Stanley Park was recently named the world's best city park. It's a 400ha (1000 acre) west coast rain forest, comprising a magical oasis of beaches, trails and parkland set in the heart of Vancouver's urban landscape.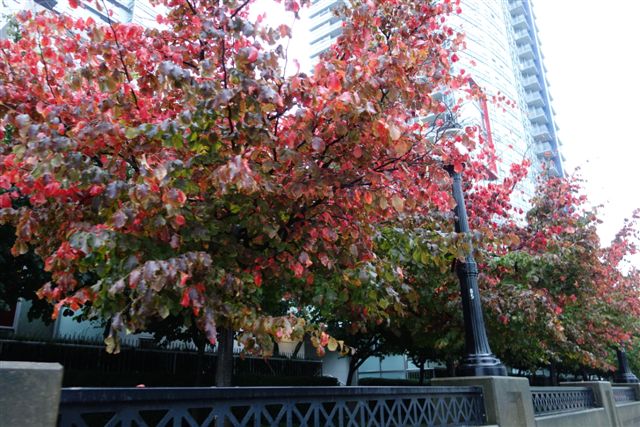 So we set off to take a look. It wasn't hard to take photos out of the car window on the way because we seemed to be stationary for much of the time – there were so many traffic lights! But at least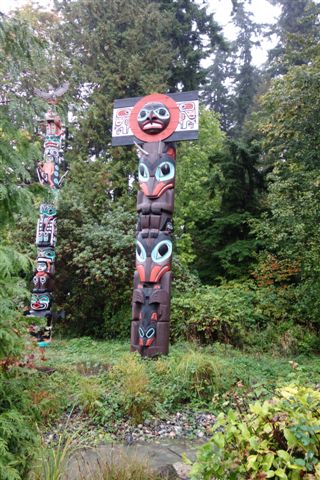 we could enjoy more of the Fall colours.
Near the entrance to Stanley Park were the Totem Poles. This is apparently the most visited tourist attraction in British Columbia. Many of the original poles were moved to museums in order to preserve them. Several replicas were commissioned or loaned to the park board between 1986 and 1992. Each Totem Pole has its own sign and explanation.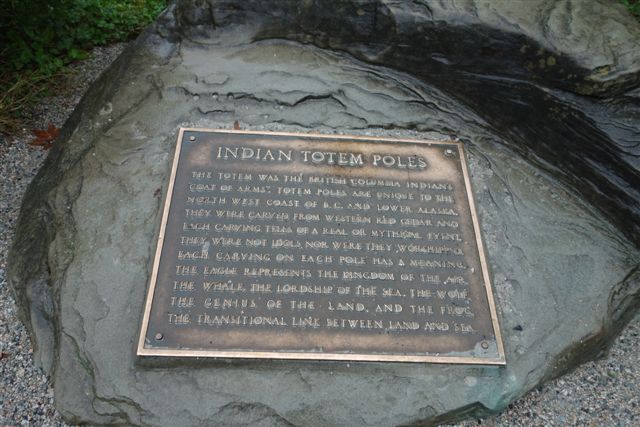 Some are in groups and some stand alone. And all are significant.
I really wanted to talk to the Clydesdale horses pulling a couple of horse-drawn vehicles but the rain was so hard, and they were standing so disconsolately, waiting to be hired, that I gave up on that idea. In the event, we drove around the whole Park but couldn't see the suspension bridge, or the 'girl in a wetsuit' statue in the harbour – or anything else for that matter, so we moved on.
Our hire car had been doing one or two strange things so we thought we'd kill two birds with one stone, check out the airport for Julie's flight on Sunday and call into Hertz. Julie managed to speak to everyone she could find to make sure she knew what she'd be doing – including crossing into the US before the flight – while Suzi and I tried to get Hertz to make decisions about what we should do. We were there for about two hours and eventually drove off in the same car, hoping that nothing would fail before we handed it back in Los Angeles.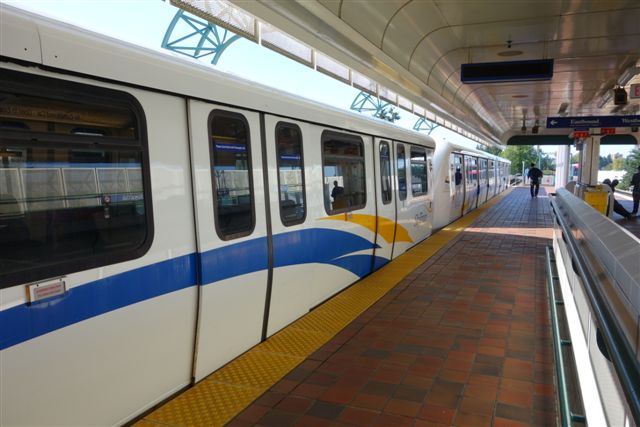 Somewhat dispirited we decided to make the rest of the day a 'lazy day' and came home, lay on our beds and watched a movie!
The good news was that Saturday dawned bright and sunny so we decided to try our luck on the Sky Train which turned out to be a very enjoyable experience.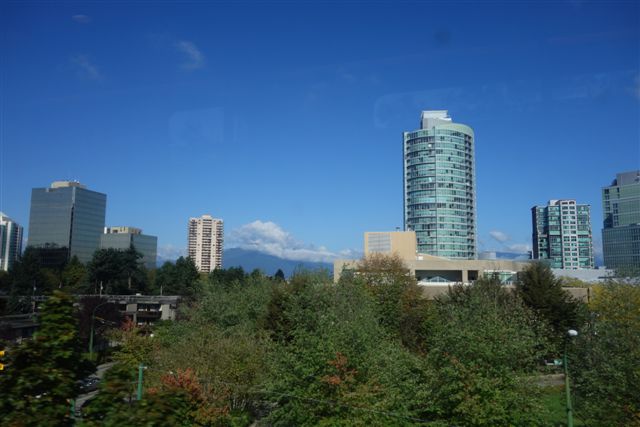 SkyTrain is the rapid transit railroad system of Greater Vancouver. It has 68.7km of track and uses fully automated trains on grade-separated tracks, running mostly on elevated 'guideways'. This gives passengers views across the city and helps SkyTrain to hold consistently high on-time reliability.
It also uses the world's longest cable-supported transit-only bridge, the Skybridge to cross the Fraser River. The system has 47 stations on three lines and we thought it was an excellent system.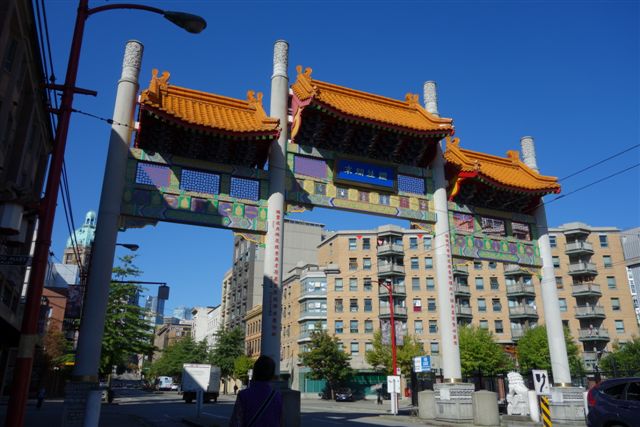 We walked from our hotel to our nearest stop, about a mile away, Royal Oak. From here it was eight stations to Stadium / Chinatown, a journey of just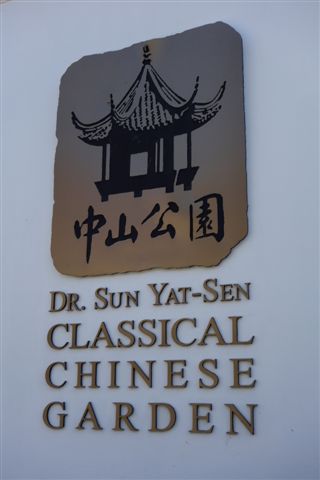 over 15 minutes, and a short walk to Chinatown.
Here we were encouraged to step back in time to 15th century China and visit the garden home of a scholar/official's family. Ming Dynasty scholars were the élite of their time. The Dr Sun Yat-Sen's Classical Chinese garden is the first of its kind built outside China.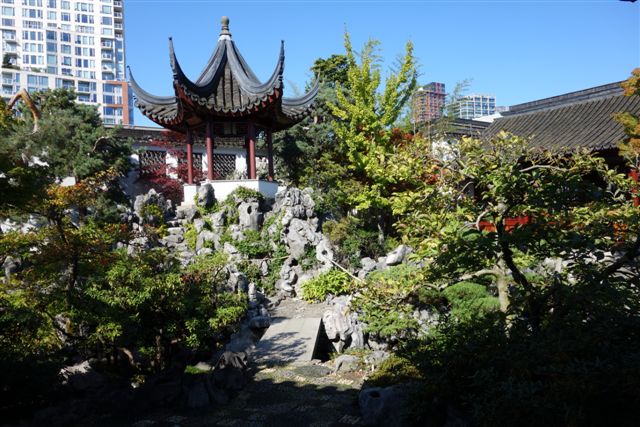 Fifty-three master craftsmen came from China with 950 crates of material and constructed the garden using traditional methods – no glue, screws or power tools were used. The result is this enchanting space which emphasises the perfect balance of Yin and Yang.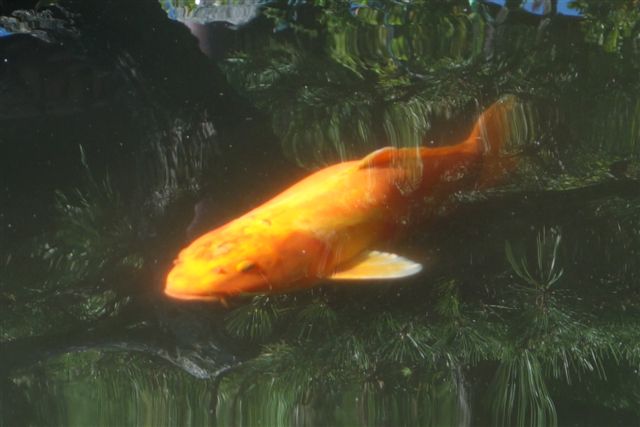 We could have spent all day wandering with our guide and enjoying the nature-inspired world view that was built into the garden. Our experience started with the feeding of the fish who were called to their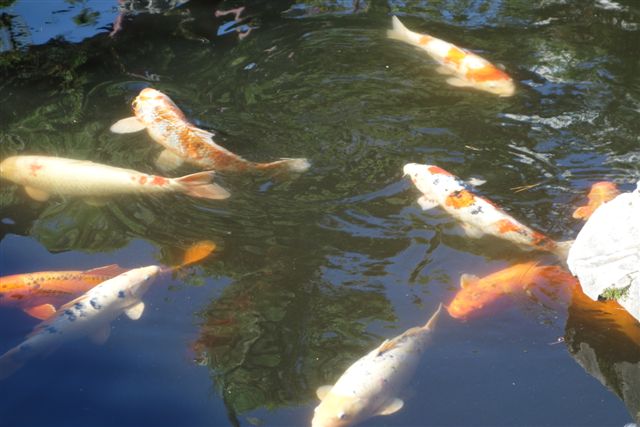 'meal' with the banging of a gong underwater to cause it to vibrate. Their oldest koi fish is Madonna. She is orange with two black dots on her forehead. But she was only one of ten.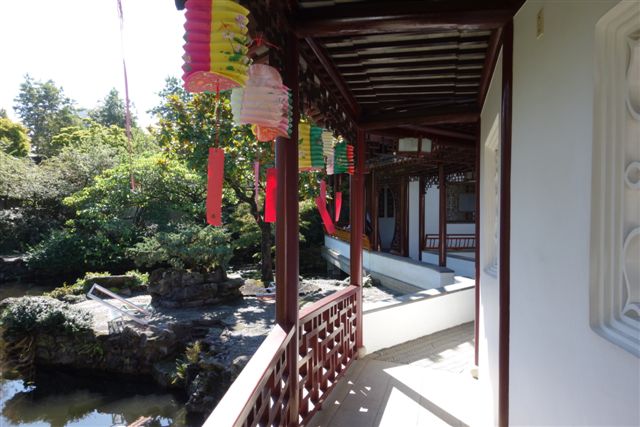 Zigzag paths are designed to 'slow your steps' and leak windows (individually-patterned windows that 'leak in' air, light and views to different parts of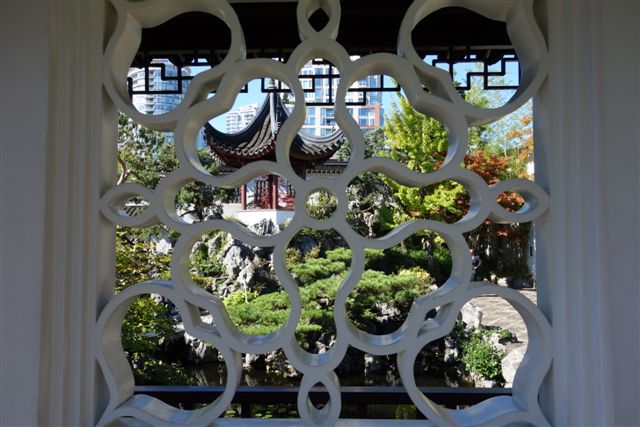 the Garden) frame nature's beauty.
It isn't just the views of the different parts of the Garden that can be seen through these windows. There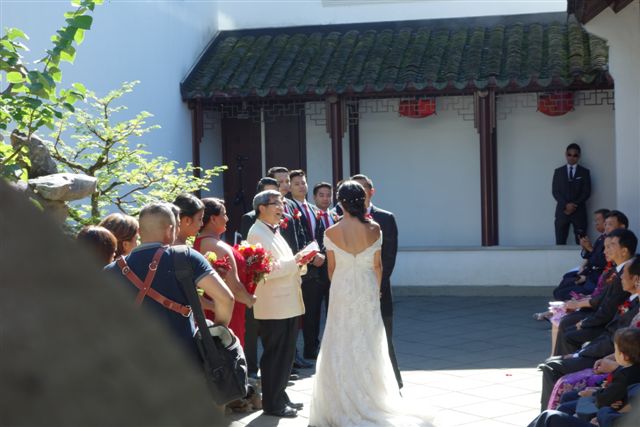 was a wedding going on while we were there and we were able to peep through one of the small gaps and admire the goings on.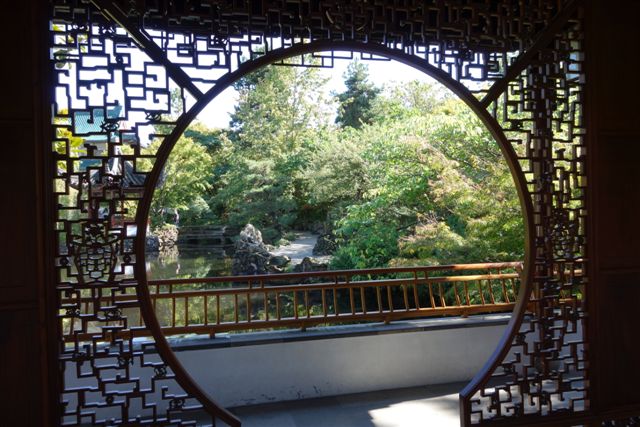 An then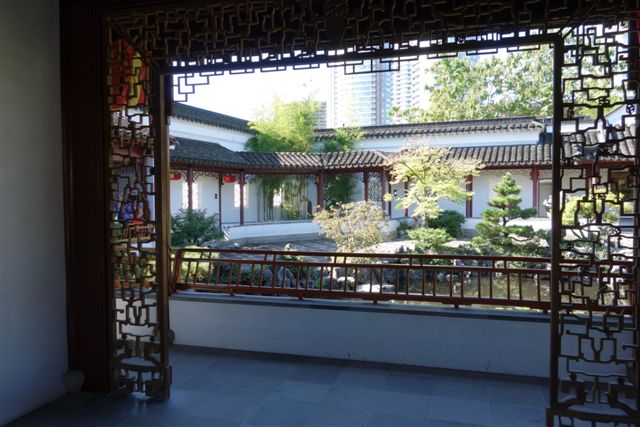 there was a Moon-gate, and an Earth gate (square because the Chinese, like everyone else, once believed the earth was flat)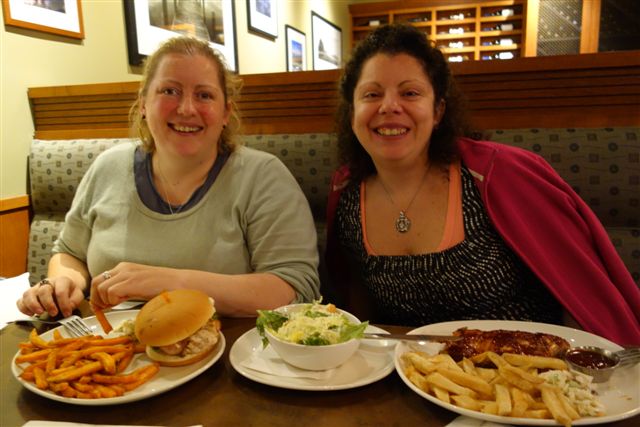 All served to present us with an unforgettable sense of discovery and peace.
The girls stayed in the city for the afternoon but I decided that all that peace and tranquillity had DSC03278set me up for some quiet time and I returned to the hotel for our last night in Canada. But not before we went out and had a lovely dinner to celebrate Julie's final night with us.