Yangon to Singapore - 14 November 2015
This was our last half day in Myanmar and Adam decided that it was an ideal time to make an early morning visit to the Shwedagon Pagoda, one of the most famous pagodas in the world and certainly the main tourist attraction for Yangon.
It is located on Sanguttara Hill, 190 feet above sea level on 46 ha of land.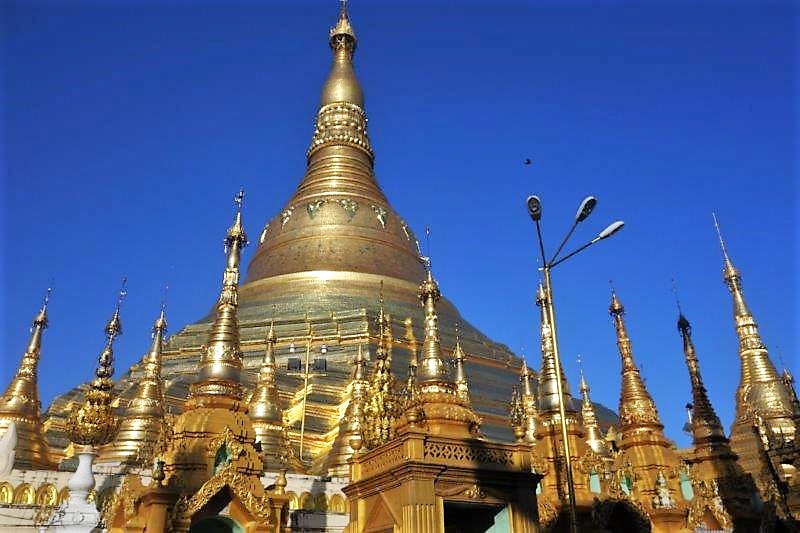 So we left the apartment at 7.00 am in the comparatively cool morning air. The sun was rising and shone brilliantly off the gold.
In about 600 BC, Gautama Buddha attained Enlightenment, and while he journeyed in seven directions, two merchants offered him alms-food. Having obtained eight strands of hair from him as a blessing, they returned to Okkalapa land where they were welcomed back by the multitudes led by King Okkalapa.
King Okkalapa and his subjected enshrined Buddha's hairs together with the relics of three Buddhas before him in a 'ceti' 66 feet high which they consecrated as the Shwedagon.
Because it contained the relics of the four Buddhas who had attained enlightenment, it was known as Shwedagon, the Reliquary of the Four.
In 1453 AD when Queen Shin Saw Pu ascended the throne, she had it raised to a height of 302 feet and in 1774 King Sinbyushin had it rebuilt to a height of 326 feet – about 100 m. It is covered with hundreds of gold plates and the top of the stupa is encrusted with 4531 diamonds, the largest of which is a 72 carat diamond.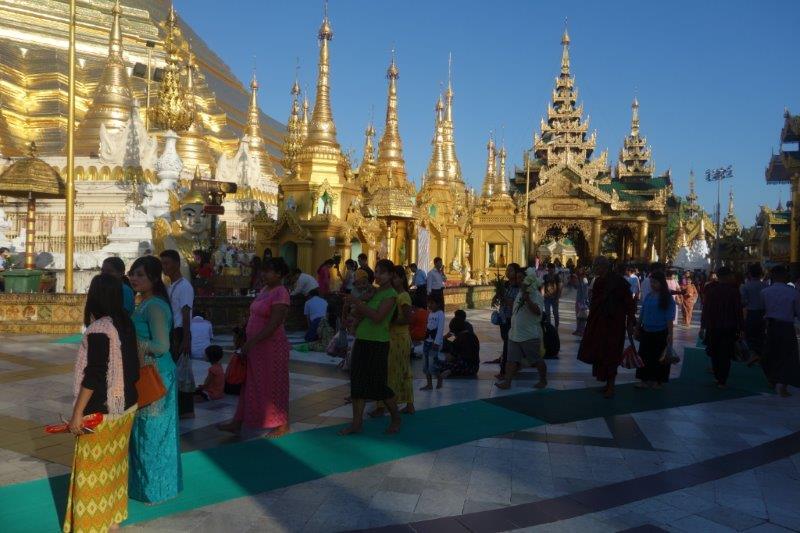 Of course, there was no way we could do it justice in one visit. We entered by the East gate and walked all the way around. There were shrines for each of the eight days of the week – Wednesday morning and afternoon are counted as two days – and people were worshipping at the shrine of the day of the week on which they were born.
It was already getting hot and humid by this time so we hurried back to the apartment to pack before setting off for the airport at 9.30 to catch our plane back to Singapore where 'Mummy' was waiting.