Tauranga - 18 December 2018 - 8 January 2019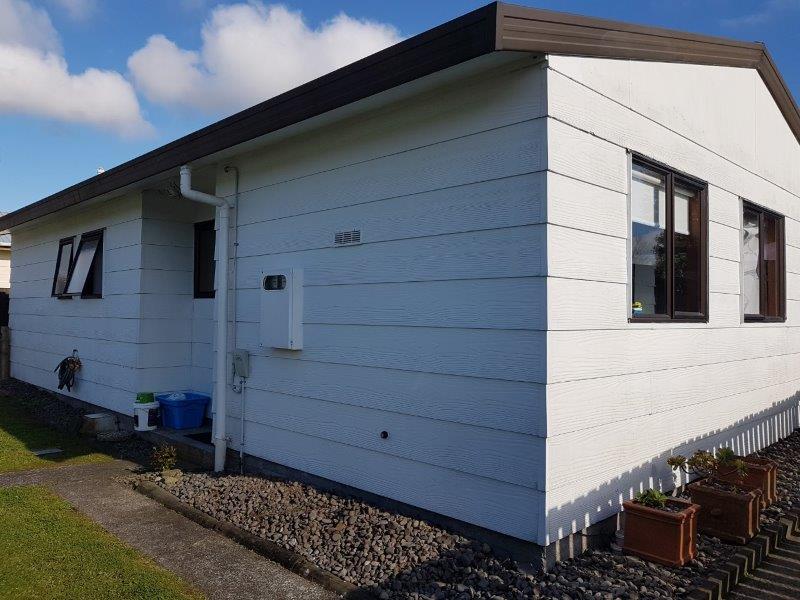 Voluntary work quietens down over the Christmas period so I thought I'd play truant and spend three weeks with my youngest daughter, Suzi, at her home in Tauranga. Most of the family were going to descend for short periods but I wanted to stay longer. She had a few days off over Christmas but was working most of the time on various shifts and it all worked out very well indeed.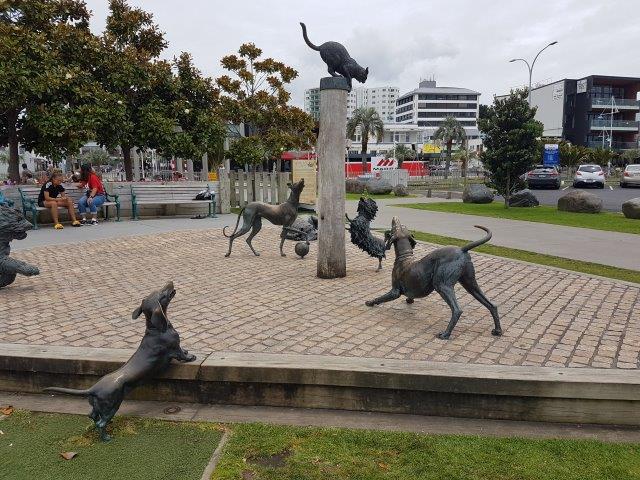 It was lovely to spend time with Adam and Cam when they arrived for three days just before Christmas. We went down to The Strand where there is a lovely playground and an area full of Hairy MacLary monuments which children and adults alike absolutely love.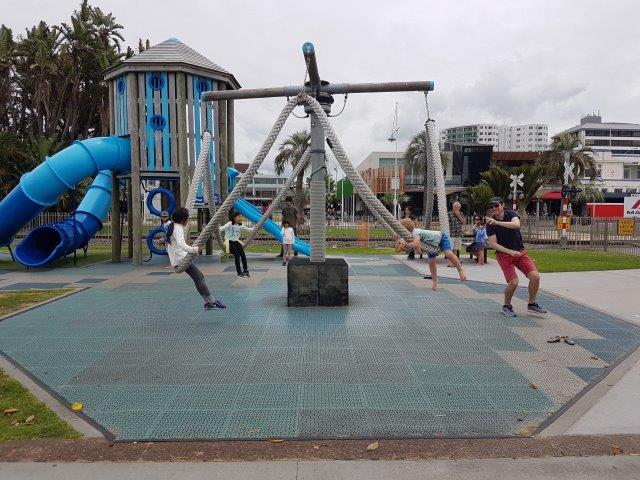 Adam soon proved himself to be the most popular Dad, running around with a swing full of children who egged him on to go faster and faster. Fortunately, no-one fell off and they kept asking for more! Cam, now aged four, never runs out of energy and a morning activity is essential. A young girl, older than Cam, arrived on the swings at about the same time and they became very competitive - rushing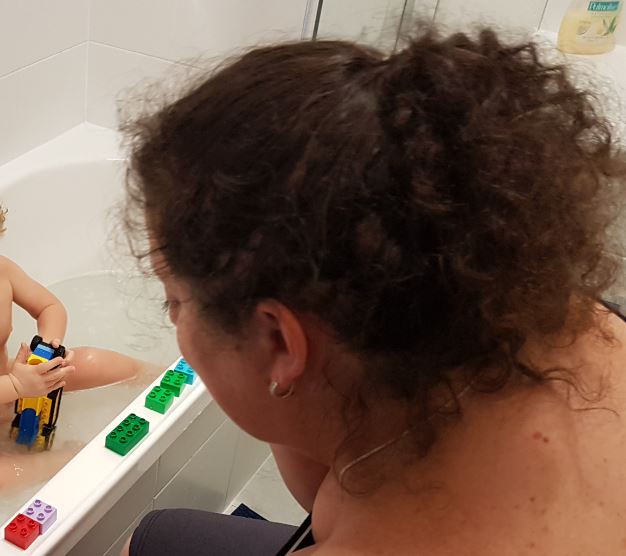 from one activity to another. We were happy to sit under the trees and watch with amusement. It was all very good-natured but both children were equally determined to reach one or another of the rides first!
Julie soon arrived from Auckland and she managed to stay for five days. Cam enjoyed spending time in the bath under her watchful eye after all his exertions.
Ken, too, drove up from Camborne and gave Suzi the benefit of his farm expertise in her garden. He dug a really horrid bed alongside the back of her house which had become entangled with shrubs and weeds which were very hard to remove. He encountered a large number of garden dwellers which he saved and threatened to cook up for our dinner!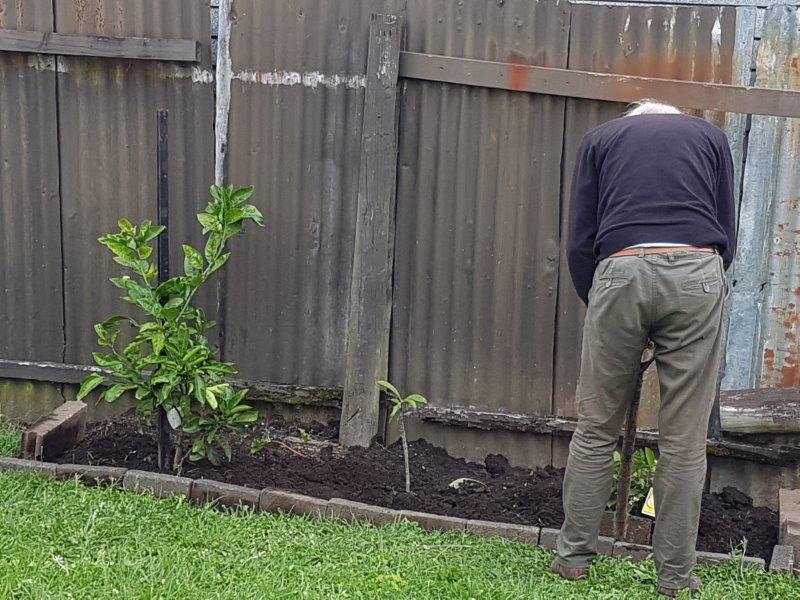 One morning I dug her a new garden for some young orchard plants, a mandarin, lemon, plum and some rhubarb and Ken found some tiles to make a lovely edge. The fence behind the garden is in the process of being replaced and it will all look very smart when that's complete.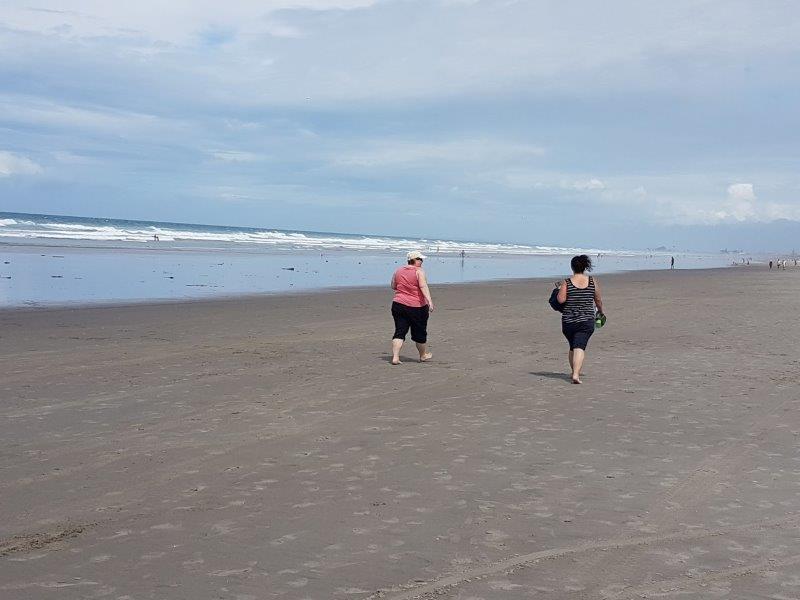 We had an early Christmas as Adam and Cam met up with Jan in Auckland with other places to go to and other friends and relatives to visit. And a few days later, Julie had to return to work but not before the three of us went for a lovely long walk on part of the beach east of The Mount - away from the crowds, and breathed in some serious ozone!
It was a very happy time in glorious weather with a BBQ breakfast in the garden every morning and Christmas dinner on 22 December - a bit weird but who knew!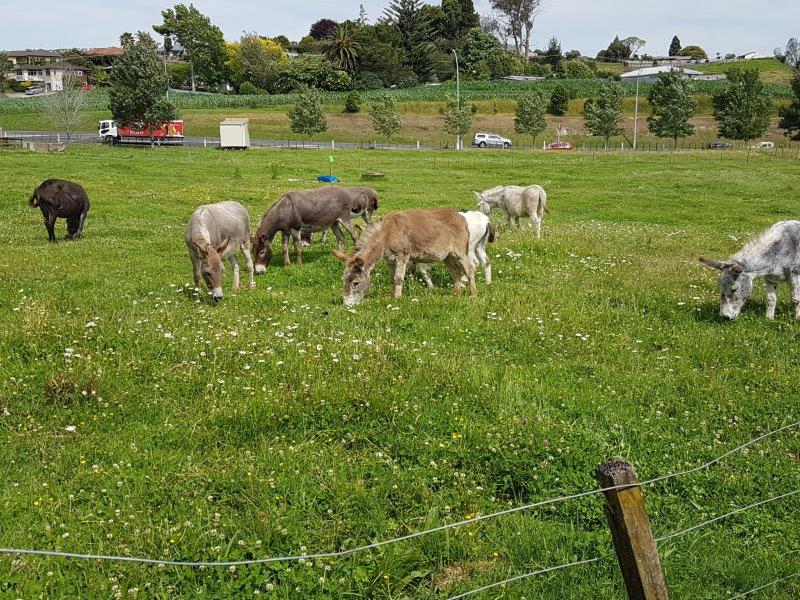 And then it was back to work for Suzi too and I had two whole weeks to amuse myself when she wasn't home and plenty of time for us to enjoy each other's company when she was. It's a lovely little home to enjoy, apart, that is, from the flies which might have something to do with the neighbour next door who has a large paddock full of donkeys!
It wouldn't be everyone's idea of a 'holiday' but I've been wanting to transfer my travel blogs since 2008 from a Wordpress site, which is now festooned in ads, to my own Lasting Impact site. Being on my own away from the temptations of being able to find things to do at home, I was able to alternate my time between doing the odd job for Suzi and transferring content and photos from one site to another. At the end of two weeks, I'd managed to accomplish the transfer of the blogs for the whole of 2014 which was when Julie, Suzi and I travelled across the States and Canada from New Jersey to Los Angeles in five weeks.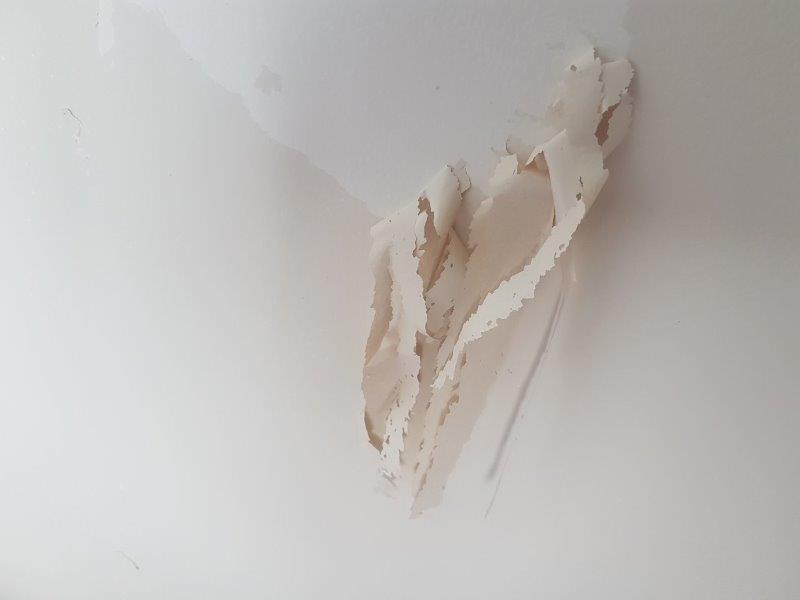 It might have been a tedious task - and hard on the neck muscles peering at photos - if there hadn't been some physical things to do, both inside and out.
I don't know whether you've ever followed someone into a property who has done a rush job of making it look 'smart' by throwing some paint at everything. Suzi has been in the house for three years now but there were some things that she simply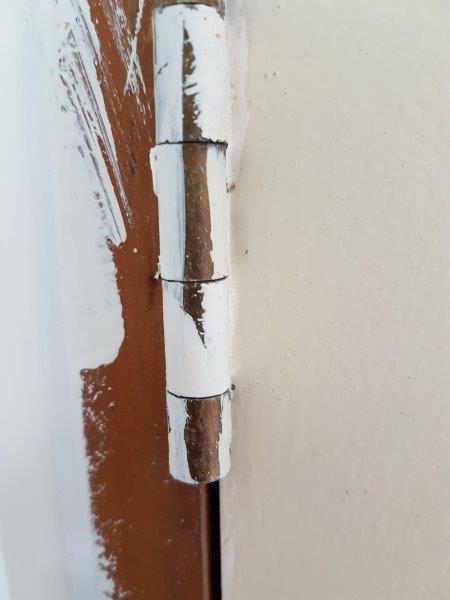 hasn't had time to tackle and one of these was both sides of six doors that open off the central hall. She admonished me not to 'work' while she wasn't there to keep an eye, but it was too tempting! I thought it would be a case of a once over sandpaper and paint. Nothing of the kind! Whatever paint had been put onto the doors had obviously been applied without any preparation so a quick 'sand' showed that it was going to have to be peeled off, rather than sanded.
And as for the hinges! Obviously, the previous owners didn't know about 'cutting in' so, 36 hinges later, I wouldn't have minded if I never saw one again! And despite having had many days available, I only actually managed to paint four of the six doors!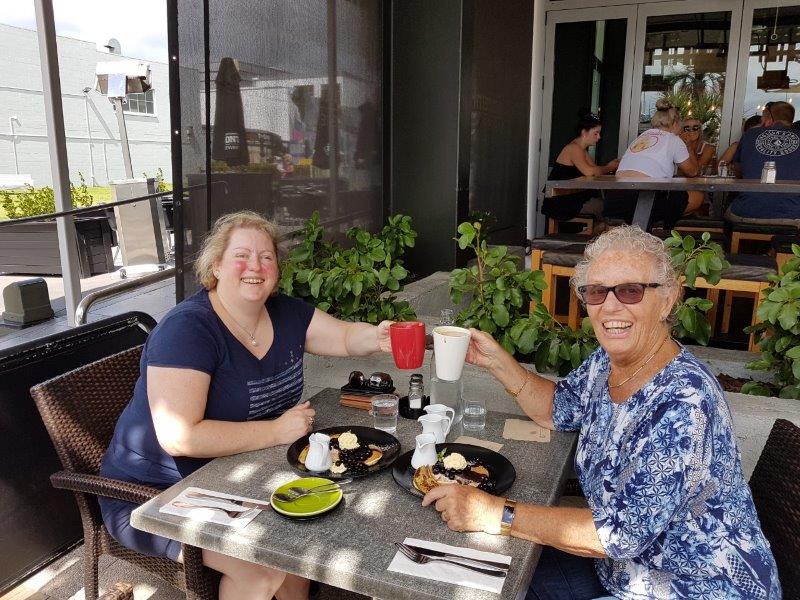 And then it was my birthday and Suzi had taken the day off. So we started off with breakfast at a cafe on The Strand and, for some inexplicable reason, managed to fill the entire day with little errands so that we didn't get home until late in the afternoon! It was great to get out and about and enjoy Tauranga and watch all the holidaymakers having fun.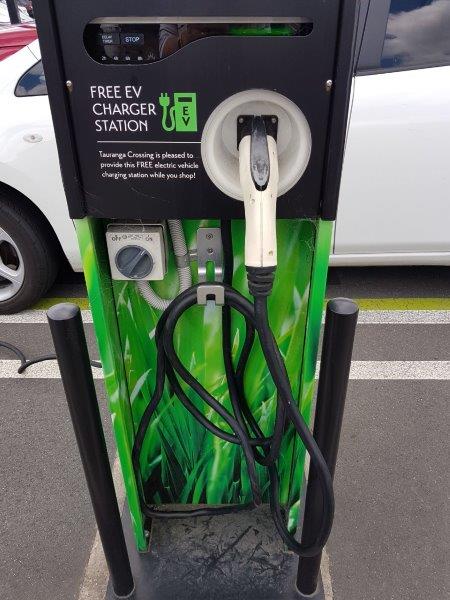 I had left the Tesla at home because there didn't seem any point in having both cars up there when she could leave me hers when she was at work. But I was interested to know what EV facilities would be available in Tauranga when I do come up with my car. In the new shopping mall called The Lakes, which is quite close to where Suzi lives, we found this charging unit. And on another day, we found a really good facility at Bayfair Mall which looked even more suitable and is underground. Perhaps there'll be a Super Charger in Tauranga by the time I do go up by car next time ...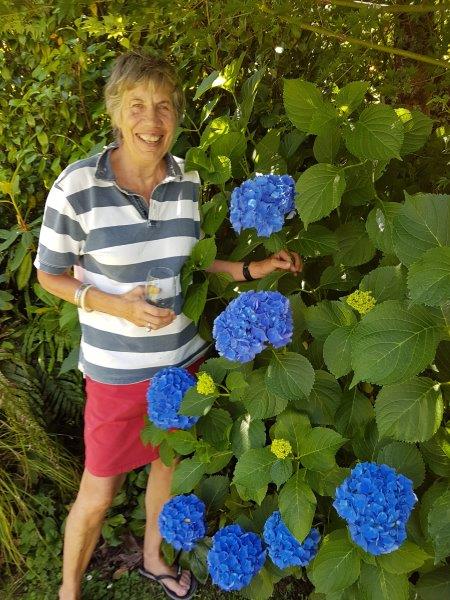 Very near the end of my three weeks, we chose to rush down to Camborne and back, me to attend a delightful wedding I'd been invited to on 5 January, and Suzi to catch up with a friend who was over from England and returning there on the 6th. It was quite tiring to drive down on the Friday afternoon after Suzi finished her shift at 1.30 and then get back to Tauranga on Sunday at about 6.00 in plenty of time for her to be on the graveyard shift that night. To say that she was a bit of a zombie on Monday was an understatement. But our various activities were great fun and we managed to visit a very special friend in Turangi on the way back so it was all worth it.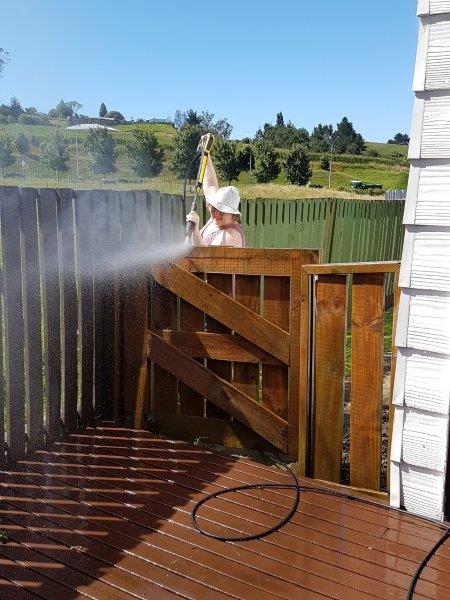 And another benefit from travelling home in Suzi's car was that we were able to bring back my backpack spray and water blaster so that Suzi can keep on top of all the hard work that's been done with the weeds all around the property. She's now committed to poisoning the whole area liberally so that the horrid roots in the bed Ken dug up finally die off. They were growing into the house's foundations and would have caused more trouble over the years.
And she absolutely loved the water blaster and is keeping it up there to play some more before she comes down for a few days at the beginning of February. It was amazing to watch the transformation as the moss and lichen were stripped off the lovely wood underneath. I suspect she'll be wanting to treat the wood now to keep the glorious golden colour.