Vancouver BC to Lincoln City OR, Canada/USA – 28 September 2014
Julie's plane was leaving Vancouver for San Francisco at 12.50 so to be on the safe side Suzi and I drove her to Royal Oak to catch the SkyTrain at 8.30. She had to make one change at Waterfront to the SkyTrain going to the airport and we didn't want to take any chances. It was sad to see the third musketeer leave us but she had places to go, people to see and things to do back in New Zealand.
Suzi and I had planned to drive to Coos Bay in the one day, a distance of 535 miles which we estimated would take us about 10 hours. What with the delay of 40 minutes at the border crossing (shorter by far than the 4 hours that people had told us it would take) we realised that this distance would be unrealistic, even if we actually hadn't made plans to stop to see anything on the way.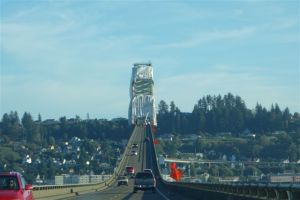 The sun had come out again but there was honestly little to cause us to 'stop and look' until we got to Long Beach WA where we crossed a magnificent bridge which is clearly unfinished.
Pressing on, we debated how far to drive (as we had to estimate the time it would take us to get down to Los Angeles with all the sights we wanted to see on the way) and opted for Lincoln City OR. Lincoln City is in Lincoln County and is named in honour of former US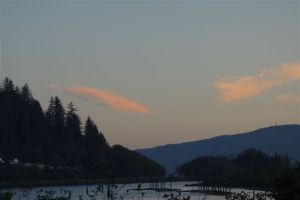 President, Abraham Lincoln. We stayed at Comfort Inn, 136 North East Highway, Lincoln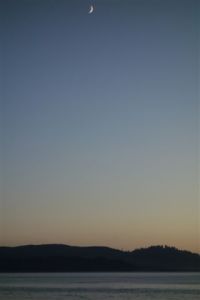 City, OR 97367 and can highly recommend it for comfort and convenience.
But driving this far meant that the last hour of our journey took place as the sun set.
And the moon rose!
We had big plans for the next day.