Singapore - 27-30 June 2014
Such is the ease of transport these days in cities like London, Sydney and Singapore that my two eldest children used not to think twice about letting me find my way to their homes. And I've always been happy about that because it's actually much easier to travel on trains, tubes and buses than to struggle through the traffic, especially during rush hours.
Now I don't know whether it's reverence for my great age or whether they fear I might get lost but I was met at the airport by Kate in Sydney and returned there five days later. And Adam was there to meet me in Singapore and he and Janice dropped me back there again for my flight to London, so all in all I've been pretty spoilt!
The plane was over half an hour early so we actually arrived at the airport at almost exactly the same time. Adam was delighted to welcome me to their new home and we got there with just enough time for a quick tour of their new apartment and brief chats before we all made for our beds.
Adam had arrived back from Myanmar the day before, Janice had been working as hard as ever and I'd been in the air for over eight hours so sleep was essential.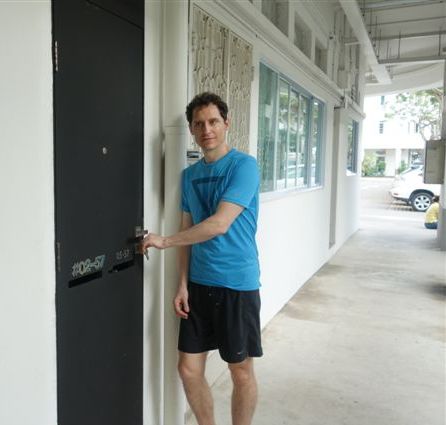 On Friday morning Adam decided that he'd like to take me for a stroll around the new area they've moved to since I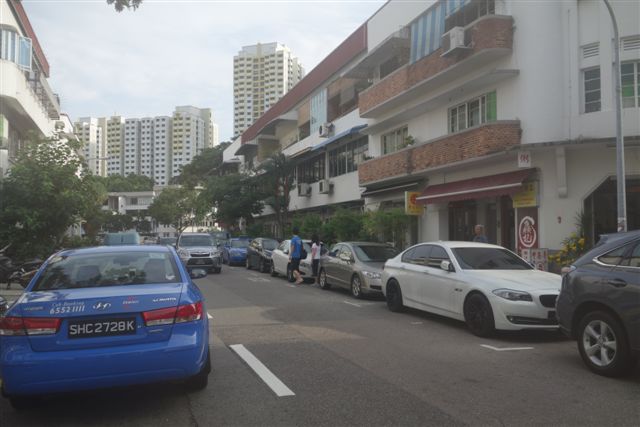 was here last. They used to live near River Valley Road, close to all the embassies, which is a fairly sterile 2area, but now they're in Tiong Bahru which has a real village feel to it.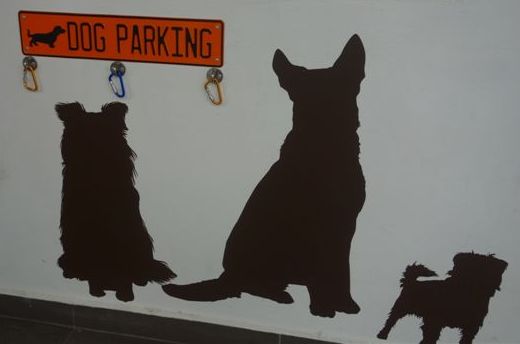 Apart from the fact that, hidden behind all the facades are a wealth of cafes, restaurants, 1massage salons and the like, there were also one or two quirky frontages to make one smile.
Adam explained to me that the Tiong Bahru Estate was built in the 1930s and is one of the oldest housing estates in Singapore.
Tiong Bahru combines the Hokkien word 'Tiong' meaning 'to die' with the Malay word 'bahru' meanng 'new'. Bit spooky! Together the term means 'New Cemetery' which logically suggests the presence of an older graveyard. My Chinese friend, Jean, would probably tell me it isn't very lucky in Feng Shui terms to live within sight of a cemetery, but as all the graves were moved years ago, I don't suppose this is relevant.
In the early 20th century, the area around Tiong Bahru road was mostly farmland or cemeteries. The area was swampy and mosquito-ridden which gave the authorities cause for concern as Tiong Bahru was located close to the Singapore General Hospital. Until the 1920s the area was dotted with many graves but in 1925 it was declared unsanitary and designated for improvement. Squatters were cleared out, the graves in Teong Lama and Tiona Bahruy were exhumed and the area was then filled in and levelled, a task completed by 1930.
The task of draining and developing the area fell upon the Singapore Improvement Trust (SIT), a government body administered by the British colonial authority to provide for mass public housing in Singapore.
By 1931 SIT had filled in 72 acres of swampy land and built the necessary roads, drains and culverts. At first, SIT tried to sell the plots to private developers but this failed due to the prevailing economic climate. As a result, SIT decided to develop Tiong Bahru estate itself in 1936. The first flats in Tiong Bahru were completed in December 1936.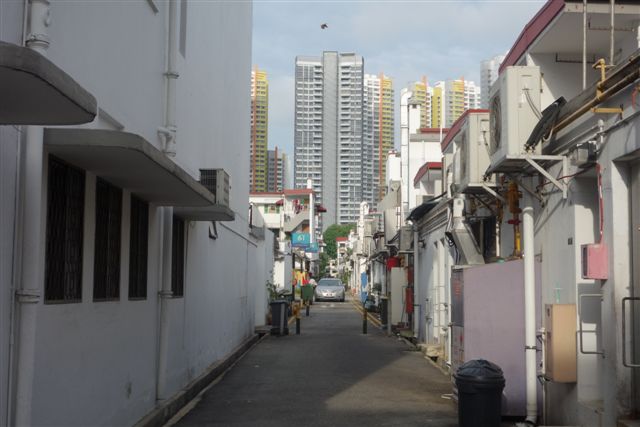 The first block, currently numbered Block 55 and standing at the junction of Tiong Bahru Road and Tiong Poh road, consisted of 28 flats and four shops. This photo doesn't show the first development but it does show the contrast and village feel of Tiong Bahru when compared with the high rise living of Singapore in the background.
A second wave of flats was built after World War II between 1948 and 1954 to help ease Singapore's acute housing shortage. These were the flats bordered by Seng Poh Road, Tiong Bahru Road, Kim Pong road and Moh Guan Terrace. Featuring a different design from their pre-war counterparts, these blocks of flats were built in open spaces such as grassy plots and playgrounds served by footpaths created between the blocks. They were extremely popular.
All of the streets are named after Chinese pioneers of the 19th and early 20th centuries (Lim Liak, Kim Pong, Guan Chuan, etc.) It's obvious that a lot of effort was put into designing the estate with a series of flats that are pleasing to the eye with their aesthetic art deco theme.
Interestingly, in the pre-World War II years, history records that this was the place where the rich and powerful kept their mistresses! For this reason the estate used to be known as Mei Ren Wo ('den of beauties' in Chinese).
The population in Tiong Bahru tripled after the Second World War, and it gradually lost its exalted status as an exclusive upper class housing estate. However, it retained its close-knit Kampung (small village in Malay) spirit and became a bustling and lively little town where everyone knows and looks out for each other.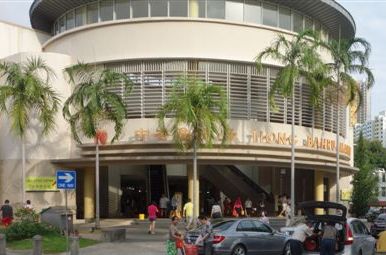 The new Tiong Bahru Market was completed in May 2006 and it's the market that Adam and Janice have always used from their previous apartment on River Valley Road. It's actually one of the main reasons why they chose to move into Eng Hoon Street which is, in fact, one of the oldest streets in Tiong Bahru. It's named after Koh Eng Hoon, a prominent businessman and philanthropist whose family was one of the early Chinese settlers in Malacca.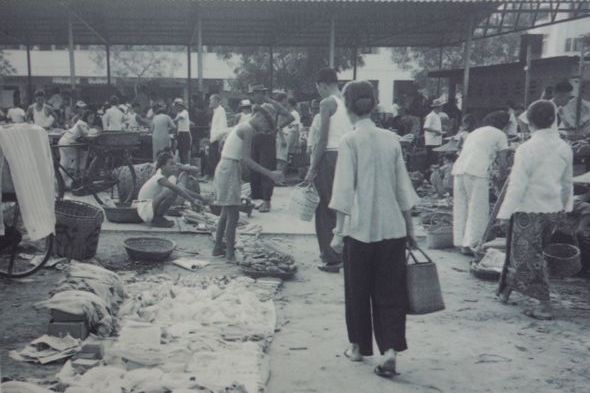 But its history started much earlier. The first 'wet market' in Tiong Bahru was a make-shift outfit housed in two converted shop/houses along Tiong Poh Road before the war, which attracted many vendors of fresh produce as well as itinerant hawkers.
A proper facility named Seng Poh Road Market was finally completed and opened on 21 January 1951. Seng Poh Road Market's early years were problematic. There were not enough stalls in the premises to meet the demand so hawkers began setting up illegal stalls outside the market. Competition for prime spots led to frequent quarrels and altercations. These illegal hawkers also faced the risk of regular raids by the police, especially in the 1970s when hawker licensing was introduced.
Seng Poh market was a simple wooden structure with zinc pitched roofs. Like most other wet markets, it had rows of stalls organised according to product – fish, poultry, meat, vegetables and fruit as well as cooked food. Apart from a roof replacement, the market changed little over 50 years, during which is grew into a popular eating spot for people from all over Singapore.
Tiong Bahru Market, under the charge of the National Environment Agency, was, in fact, the first modern market to be built in a housing area, in 1955, by the Singapore Institute of Technology (SIT). Tired of their uncertain lifestyle, the hawkers organised themselves and petitioned successfully to the Governor of Singapore, for a market to be built. The SIT thus built an experimental modern market on the same spot as today's market. The hawkers who took over market stalls are called Heritage Hawkers because their families have been in the business for so long.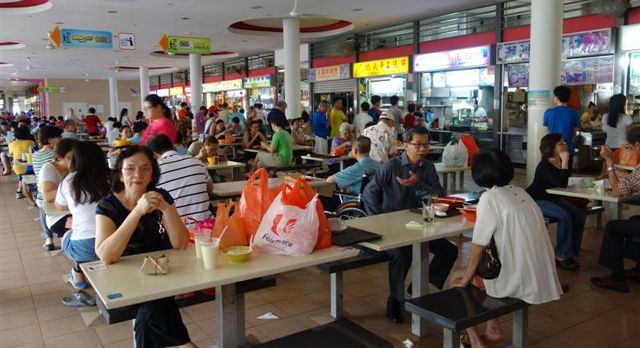 Seng Poh Road Market shut down in 2004 for a complete overhaul. The market reopened in 2006 as a two-storey complex and was renamed Tiong Bahru Market and Food Centre. Built at a cost of $16.8 million, Tiong Bahru Market and Food Centre has probably the highest concentration of 'heritage hawkers' in Singapore. There are more than 20 food stalls with a history of more than 30 years, with at least 15 stalls dating back to the 1950s.
One-time 'hawkers' now have their own market stall within the complex and each stall has a letter on its frontage indicating the rating it has been given by the health authorities. Clearly the letter A indicates that it is the highest quality and it was good to see that most of the stalls revealed this letter.
For a while, Tiong Bahru estate became an estate for the elderly, but lately younger Westerners and sophisticated Singaporeans have been rediscovering the charm of the area and it certainly is charming.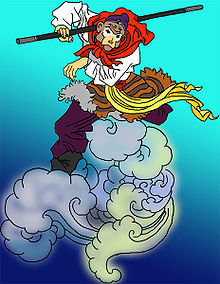 The area is also home to several events that demonstrate a lively folk culture. The Market has a regular 7th Lunar Month dinner and auction. The long established Qi Tian Gong Temple on Eng Hoon Street, dedicated to the Monkey God, has birthday celebrations annually on the 15th or 16th day of the 1st and 8th Lunar Months, which includes lion dances, dragon dances, and performances of Chinese street opera.
People in Singapore have been worshipping the Monkey God since s early as 1920 when the Tiong Bahru Qi Tian Gong Temple, which is allegedly the first Monkey God temple, was established. While the birthday is mostly observed by Singaporeans, people of other nationalities such as Indonesians, Malaysians and Thais are known to celebrate it too. Celebration often involved mediums referred to as Tan Kees performing miraculous feats which include piercing their own flesh and blood-penning. The birthday of the Monkey God is generally deemed Taoist in nature.
Be all that as it may, it feels like a great place to live.

As can be expected in Singapore, traffic is often heavy but I confess that I was a bit taken aback by this parking sign!
Adam and Janice's apartment is on the first floor overlooking Eng Hoon Road and they have a lovely outdoor area in which to enjoy their meals – like breakfast, taken at a very leisurely pace on Friday morning after Janice had left for work!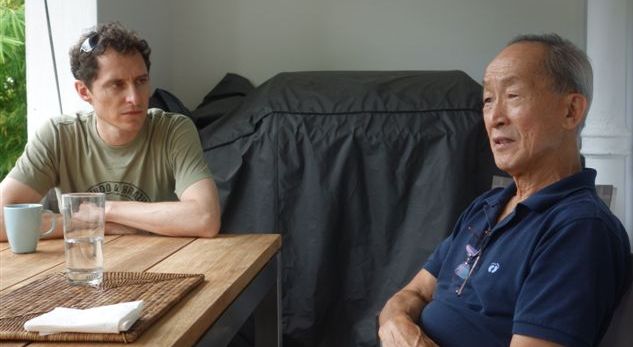 And it was also a lovely area in which to entertain Alwyn, my good friend who, with Anna, have taken me on several adventures in China over the years. He and Adam got down to some serious discussions on history, economics, philanthropy (and more) when lunch was over.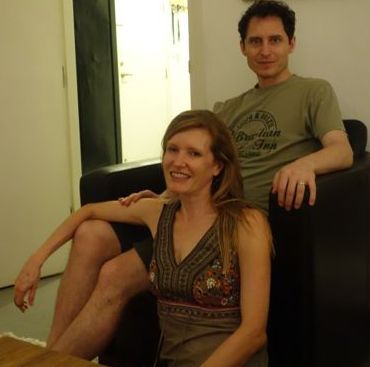 It was so good that he was free to join us for lunch on Saturday as we don't get the chance to meet nearly often enough.
Being with Adam and Janice for such a very short time meant that there wasn't much we could do so we contented ourselves with great chats and a massage each, Adam and Janice for full body and me for my feet and ankles which are swelling badly from the flights. Much refreshed by that we spent our last evening together having very stimulating discussions and putting the world to rights.
One very interesting discussion was about the way in which the Government taxes drivers and cars and ensures that they are only on Singapore roads until they are ten years old and not a day more! It's actually pretty clever but we both agreed that it does disadvantage the poor who couldn't hope to afford the prices involved.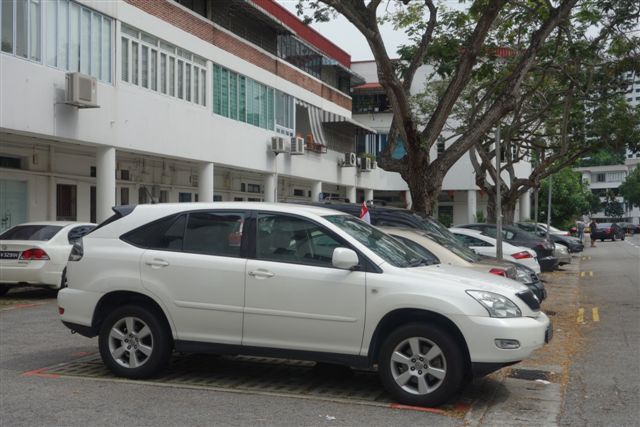 Adam mentioned that their car was nearing its 10th birthday at which time it had to come off the road. I thought it still looked pretty acceptable but Adam said that the rules were completely firm. He explained the situation to me.
Using a new Honda Civic as an example, it works like this (assuming a price of S$30,000 for a new Civic. There is a sliding scale for all sorts of reasons but these are the basic facts.
Cost of new Honda Civic from a dealer = S$30,000
Government tax of 200% of Open Market Value (in this case S$30,000) = S$60,000
Total cost for the car = S$90,000.
On top of that the car has to have a number plate which is purchased from the Government by auction, typically for about S$65,000 (and lasts for ten years).
So the total cost for the car is now S$155,000. Huge!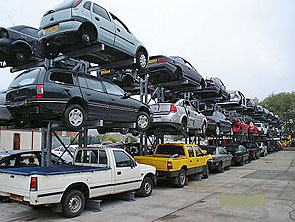 When it comes to selling the car at the end of ten years (and not one single day later or you get absolutely nothing back) or exporting the car by the same date, you sell the car to a certified car wrecker who will pay the residual value for the body – probably about S$2,000 in the case of a Civic = S$2,000.
The Government will pay you 55% of the Open Market Value of the original car which in this case is $16,500.
Meanwhile the number plate goes back to the Government who can auction it again and you get nothing for that!
So your net return after 10 years is S$18,500 which means that the car will have cost you a net $137,000 over ten years of S$13,000 per annum.
And that's without road tax and insurance of course!
Meanwhile, the second hand car market goes up and down depending on the cost of numbers plates which is market driven.
It sounded very much to me as if owning a car (or even renting an apartment) is a very expensive business!
The alternative to buying a car is to use public transport which is, of course, cheap and easy in Singapore. And, of course, Singapore is very, very small – just 500km² so there isn't far to travel anyway!
But, with this system, the Government keeps old cars off the road, reduces pollution from the exhaust fumes of old cars and, probably reduces accidents that may have been caused by older vehicles into the bargain. I wonder how the plan would go down in New Zealand?!
And so it was on Sunday morning that Janice and Adam both took me to the airport at 6.30am, intending to stop along East Coast Parkway for a walk in a different area on their way home. With easy check in and everything on time, I settled down for the flight to Dubai and then on to London Heathrow.