Red Bluff to Monterey CA, USA – 30 September and 1 October 2014
We had to change our plans this morning as Julia, an old school friend we were planning to visit, had to leave LA unexpectedly for urgent work in northern California and wouldn't be back until 6 October, the day before we leave.
So we decided to drive down to Monterey instead of going to Yosemite first so that Suzi could visit the Aquarium there, and we could set off for two days in Yosemite later on in the week.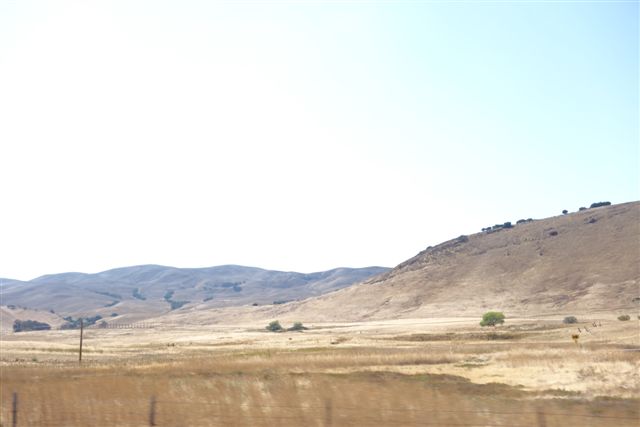 We couldn't find an Information Centre so we trusted to luck and drove down Interstate 5 and then headed for the Californian coast. The landscape changed yet again. It became flat and dry with crops, vineyards, cattle and fruit trees with occasional hills from time to time. We'd been told that they were very short of rain and that was pretty obvious.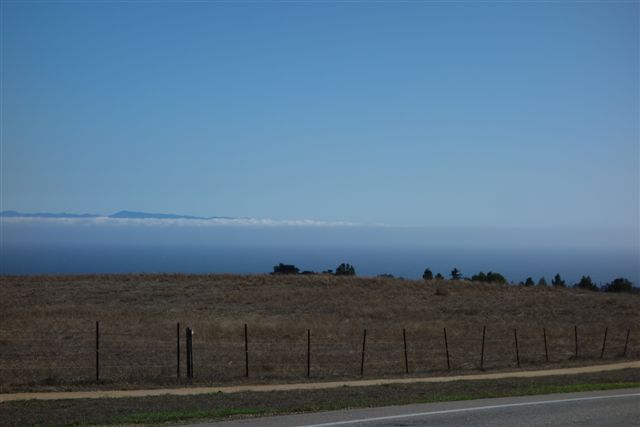 We made a small detour to Santa Cruz where I'd studied my NLP Masters at the University of California in the early 1990s. I hoped that I'd instantly recognise the campus and find my way to the area where I'd spent several very happy weeks. But there was some sort of student festival going on and all the roads were crawling with students and campus police! In the end we gave it a miss, but it was good to refresh a memory of the heavy mist that comes in from the sea every morning and evening. For anyone who has visited this part of the Californian coast, it's a trademark experience when the view disappears into rolling cloud/mist and then reappears again as if nothing has happened.
We also caught a quick glimpse of a young deer which were another common sight, especially in the early mornings, strolling around the campus without any sign of fear. Unfortunately I was too slow with my camera to capture the memory.
We'd booked for two nights at Hilton Garden Inn Monterey, 1000 Aguajito Road, Monterey, CA +1 831 373 6141. This is part of the Hampton Hotel chain and again we can recommend very highly although it was above our normal price range. As we'd been eating up the miles, we decided to have dinner in their lovely restaurant and an early night for a change.
The next morning, Suzi set off to visit the Aquarium in Monterey. She'd planned to spend the morning there and then we were going to saunter around Carmel in the afternoon. In the event she became so engrossed with everything she saw that she didn't return until 4.30.
Suzi writes: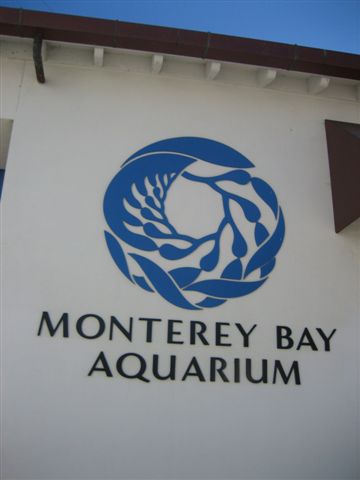 'The approach to the entrance of the Aquarium has this symbol of a ring of Kelp which is seen throughout the Aquarium. The current major exhibition of the moment was a display on Tentacles.
'The entry fee to the Aquarium is high but it was well worth the expense. It comprises two stories of natural displays, informative charts, a section on tannery, plus a touch pool and eight puffins. The puffins who are now well established, were pups that were injured or left for dead in the ocean and have been brought to the centre for care and attention.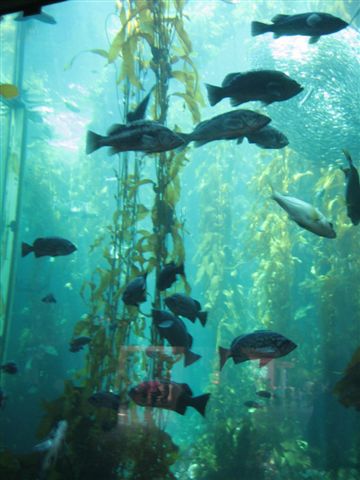 'My first stop was at the Giant Kelp Forests which had a vast array of fish swimming through, including a large school of sardines. Strands of Giant Kelp grow along the Monterey coast and form the most extensive underwater forest in the world. Anchored to rocks 20 to 100 feet deep, the huge plants can grow 30 inches or more in a day.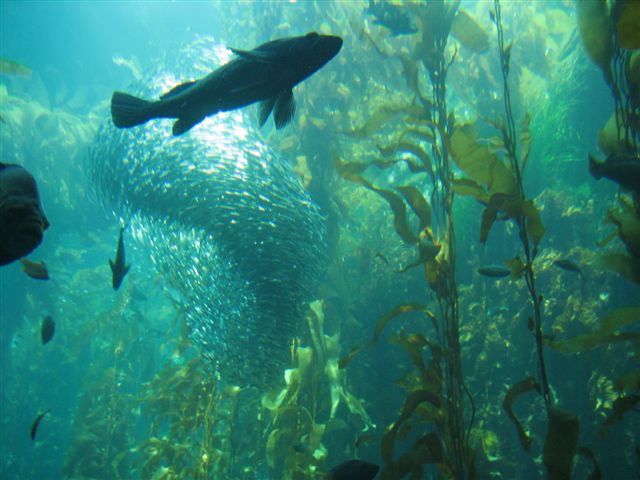 'Beauty was on all sides in this underwater grove. As I stood and watched these swaying Giants, I could explore the majesty of the shelter they provided. Light filters through a golden canopy, and plays off fish such as the colourful perches. Below the Kelp, there were rough pastures of red algae rolling across the rocks, and dropping off onto a sandy floor where I could occasionally catch sight of hiding sea stars and flatfishes.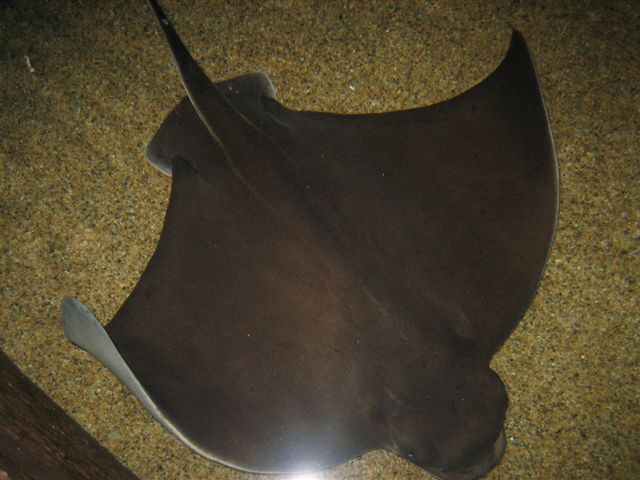 'I moved on to the 'touch pools' that had many bottom feeders and rock pool organisms in them. There were sea stars, pumice, many different varieties of Kelp and shell fish. What interested me most was the Bat Stingrays. The pool was sufficiently shallow for me to reach in and touch one if I put my hand low enough and was quick enough as they glided by. They felt rather slimy, but it was so cool to touch one!
'Bat Rays are coastal wetland rays. They're not electric rays, and they won't lash out. The Rays are accustomed to people, and their spines have been clipped. They will let their spines grow again before they are released back into the ocean. Bat Rays only sting when they are threatened.
'I wandered around the Aquarium, reading the plaques and admiring the exhibits. I spent some time watching the puffins and penguins. I arrived at the Penguin habitat in time for a feeding and the question answering session which was great.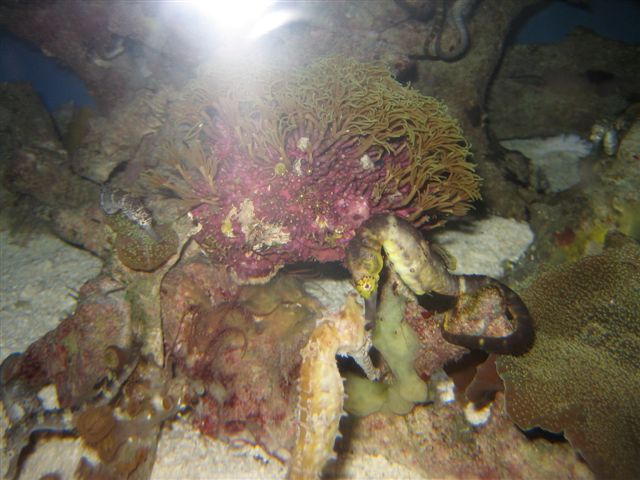 'I came across one of my favourite sea creatures (along with Dolphins and Turtles) – Seahorses. This photo is not the best quality, but there were a lot of the little beauties swaying from shells and from one another as the current of the pool gently buffered them.
'Seahorses are amazing creatures that are very good at adapting to changing environments, whether this be to change their skin colour to mimic the surrounding area or the males incubating the young while holding on tenuously in ever moving sea currents. Seahorses inhabit coral reefs and sea grass beds. They prefer sheltered areas and are well camouflaged. They're capable of rapid colour transformations to blend with their surroundings.
'They have a prehensile tail, which enables them to swim upright with their tails down and their heads up. They prefer sheltered areas and they feed on small crustaceans. When they mate, they also change colours either by lightening or darkening their skin. They're monogamous and, during the mating period, they engage in a lengthy courtship. The male seahorse carries the eggs in a brood pouch where they are fertilized and incubated until they hatch.
'Lastly I arrived at the main exhibition – the Tentacles display. This is a huge display that takes up a whole floor. There's a section for everyone including a simplified section for children with a few interactive games which, as well as being fun, passes on interesting facts about jellyfish and octopuses. Two of the different jelly fish that they had on display were The Moon Jelly and the Lion's mane Jelly.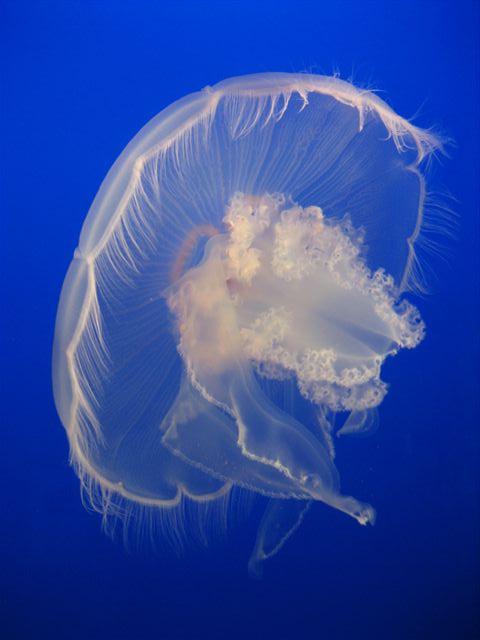 'The ghostly moon jelly travels across the open seas. A moon jelly isn't just a passive drifter – it can swim on its own too.
'It gently pulses to move within the currents, travelling up and down and back and forth to find food like swarms of tiny plankton. The moon jelly has rhopalial centres, which allows it to control the pulsations. As the oxygen rate in the water goes down, so too does the respiratory rate of the jellyfish.
'The Lion's mane Jelly becomes a Giant.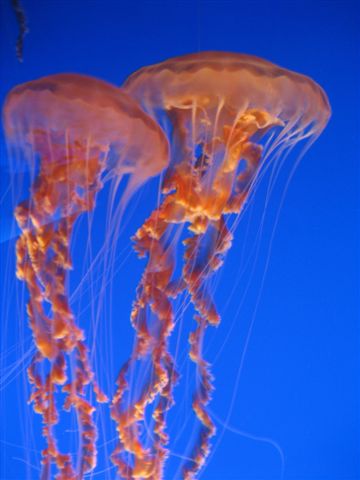 'This is the largest of all jellies. In cold Arctic waters, a lion's mane jelly can grow to 6 feet across. It's rare to find one in California but if you do, it'll be much smaller than its cold water cousins. While the lion's mane jellyfish generally use their stinging tentacles to capture prey, sea anemones can capture their tentacles, which then become tangled, torn apart and consumed.
'Throughout the displays within the Tentacles exhibit there were many different species of Octopuses. Their sizes varied depending on their species. All had accompanying plaques full of fun and interesting facts about the Octopus and its lifestyle and habitat. Around 300 species are recognized, which is over one-third of the total number of known cephalopod species.
'An octopus has a hard beak, with its mouth at the centre point of the arms. It has no internal or external skeleton and this allows it to squeeze through tight places (although some species have a vestigial remnant of a shell inside its mantles). Octopuses are among the most intelligent and behaviourally flexible of all invertebrates. They inhabit many different regions of the ocean, including coral reefs, pelagic waters (neither close to the ocean floor nor the shore), and the ocean floor itself. It has numerous strategies for defending itself against predators, including the expulsion of ink, the use of camouflage and deimatic displays (threatening or startling behaviour), its ability to jet quickly through the water, and its ability to hide. An octopus trails its eight arms behind it as it swims. All octopuses are venomous, but only one group, the blue-ringed octopus, is known to be deadly to humans.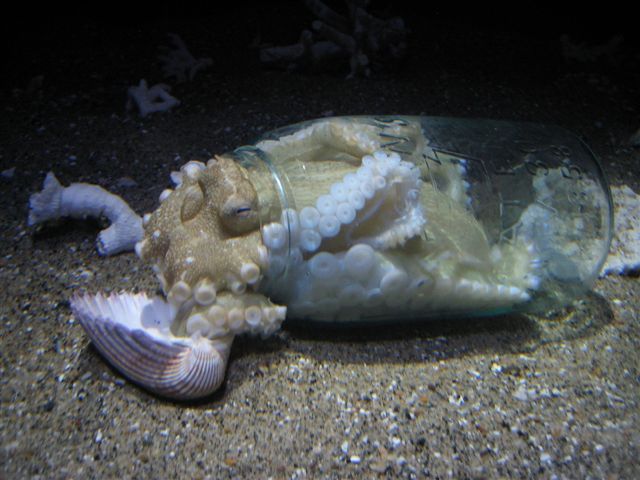 'I just couldn't resist this little fellow who I thought was rather cute! He apparently finds waste deposited on the ocean floor and tries to use it as his new habitat, as evidenced here where he has tried to squish his large body into this glass jar.
'I had a fantastic and informative day at the Monterey Aquarium and would recommend it to anyone visiting the area as a 'must see'. The Aquarium does a lot of work to ensure that all the organisms within its care, and the surrounding coast line, are preserved for future generations'.
Meanwhile, I'd had another 'catch up' day with emails and my travel blog. Instead of heading straight off to Carmel, Suzi thought she'd better organise accommodation somewhere around Yosemite for the following night. This proved incredibly difficult and it wasn't until about 7.30 that she managed to find somewhere suitable. I, meanwhile, had done two loads of washing and we both went to put it into the dryers before we went out to have dinner in Carmel. One of the machines hadn't spun the wash properly so we went to Reception and enlisted the help of a very lovely member of the staff who paid to do the wash again, shooed us out to dinner and undertook to put the finished wash into the dryer and return it to our room.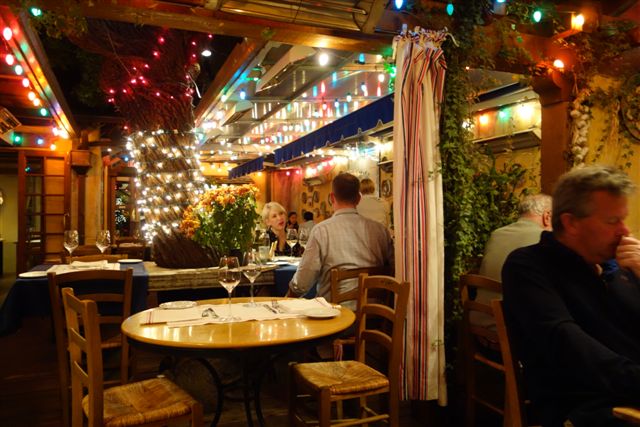 Oblivious to all this hard work being done on our behalf, we enjoyed the most wonderful dinner out, on his recommendation, at Casanova on Fifth Avenue between San Carlos & Mission, Carmel, California 93921, +1 831 625-6731. Check them out here. on http://www.casanovarestaurant.com
If you're ever in the area, do go there. Everything about the evening was superb. Suzi had the pork loin and I had duck breast – both exquisitely cooked. We were persuaded to have dessert and I was warned that my tarte au citron soufflé would take about ten minutes to prepare. In a little over ten minutes, the fabulous waitress, Tracie, came to our table with a plate of rhubarb and strawberry tart because we 'were having to wait longer than they'd promised'. We'd been very happy to wait but they weren't!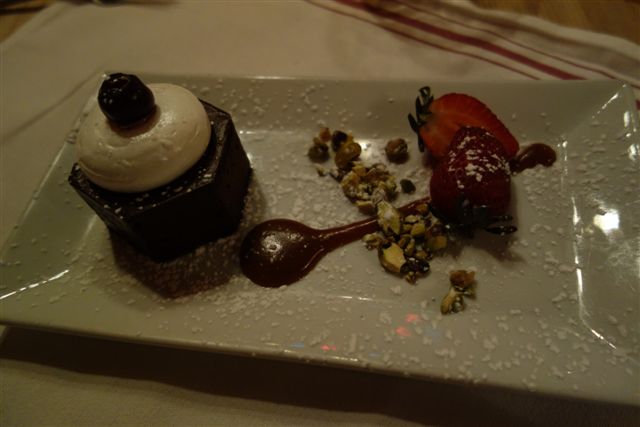 When our desserts did arrive, they looked so beautiful that we had to take photos! Suzi had chosen chocolate mousse with pistaccio and caramel and marshmallow meringue!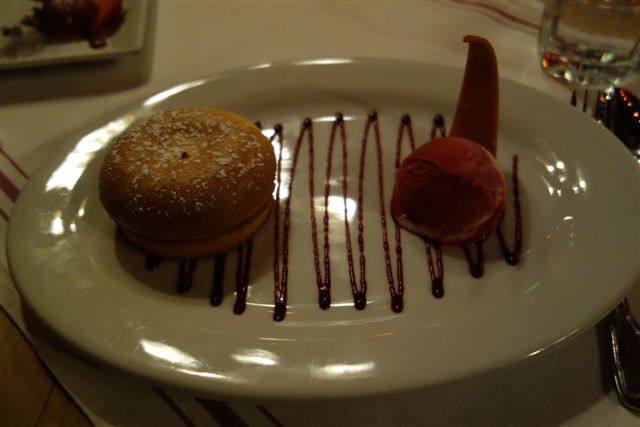 While my choice included a very clever pastry curl with a red berry sorbet to accompany the lemon soufflé which was sitting on a tarte base.
And as we were getting up to leave, Tracie insisted on taking our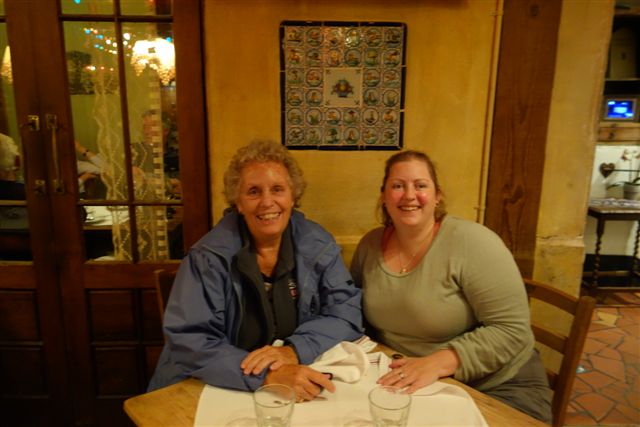 photo to remind us of a truly excellent experience.
Imagine our surprise on our return to find all our washing folded and laid out on one of the beds. And it was still warm from the dryer so it must have taken him quite some time. Alongside the folded laundry were two chocolates. It had been a very happy day with a fabulous ending.