Oxfordshire and Warwickshire, England - 19-23 August 2014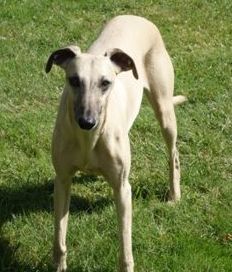 Every year that I'm in the UK, my friend, James, and I meet up for a meal. He and I were mixed doubles partners all those years ago at Broxbourne Tennis Club and there's always lots of news to catch up on. We usually meet in London but by the time we managed to find a slot in both our calendars, he was 'in the country', looking after the family dog, Grace, who is half Whippet/half Lurcher, and a real sweetie.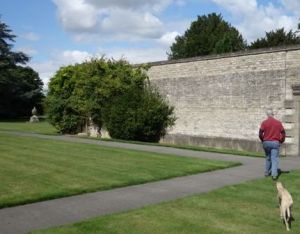 James lives partly in London and partly at Middleton Park in the village of Middleton Stoney in Oxfordshire. He bought a 'converted garage' in the Park in 1980 and it's a great environment to which to 'retreat'. Middleton House itself is divided up into apartments and there are many buildings in the Park that can be bought on very long leases. So James's 'garage' is nothing like a garage and, in fact, has three bedrooms! His 'garage entrance' is almost hidden behind a tiny door on the very left of this building, under the foliage!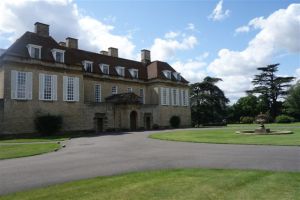 Middleton House itself is a neo-Georgian country house built in 1938 by Edwin Lutyens and his son Robert for the 9th Earl of Jersey. Described by many as the 'the greatest British architect' Lutyens built over 35 country homes and countless other buildings.
With what James told me and doing a bit of my own research, I discovered that Middleton Park was the spectacular swan-song for Lutyens's love affair with neo-Georgian country houses. Barely complete by the outbreak of the Second World War, it was scarcely lived in as intended and was, in fact, commandeered as a hospital during the war. The principal bedrooms had en-suite dressing and bathrooms, while the servants were accommodated in a cluster of lodges flanking the north forecourt approach. Much of the detailing remains intact, although Lady Jersey's luxurious bathroom, for example, with its neo-Art Deco pink and white marble décor has become a sitting-room.
The village of Middleton Stoney itself existed by the time of King Edward the Confessor. The village has one public house, the Jersey Arms, and an Italian restaurant, the Rigoletto. The village itself used to have a parish school but the building is now the village hall.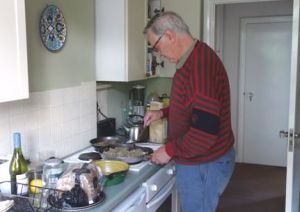 After dinner on Tuesday evening at a rather lovely restaurant nearby, James decided that we should make a start on cooking for his lunch party before taking me for a walk around the Estate.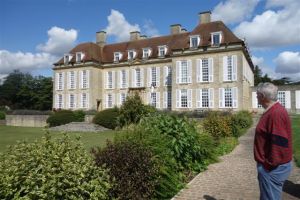 This is the back of Middleton House and taken because, on the left, is a beautiful croquet lawn which is sadly rarely used. Although it's a very large area on which to lay the lawn out, the grass was a little on the long side and I think Hermione and Archie would have won the day – again!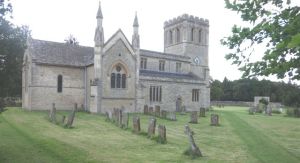 We strolled on through the beautiful parkland and came upon All Saints. The earliest parts of the Church of England parish church of All Saints are Norman, dating from the middle of the 12th century. All Saints is now a member of the Church of England Benefice of Akeman which includes the parishes of Bletchingdon, Chesterton, Hampton Gay, Kirtlington, Wendlebury and Weston-on-the-Green.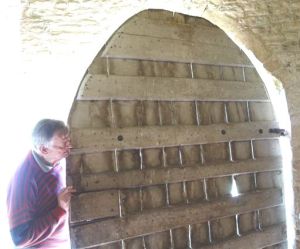 Aren't some of the old English place names absolutely wonderful?
Norman times are quite a long time ago, of course, and the main door certainly gives the impression of great age with its curves and contours.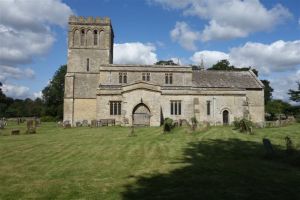 Around the side of the Church are more gravestones, many of which record the deaths of foreign servicemen who fell during the Second World War. These servicemen would presumably have died in Middleton House while it was used as a hospital. All these graves are looked after devotedly by the Commonwealth War Graves Commission.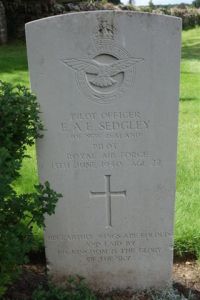 This particular gravestone records the death of 'Pilot Officer B.A.E. Sedgley of New Zealand, Pilot, Royal Air Force 1940 Age 22' with the inscription 'His earthly wings are folded and laid by. His Kingdom is the Glory of the Sky'. It's indescribably sad to read the inscriptions.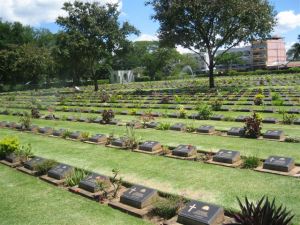 It reminded me of my visit to the 'Bridge over the River Kwai' several years ago when I visited the Kanchanaburi War Cemetery and was completely overcome by the River Kwai burial sites, the massive graveyards there and the frighteningly young ages of the prisoners of war who had died. This cemetery is the largest of three on the Burma-Siam Railway and was created after the war by the Army Graves Service who transferred graves into it from camp burial grounds and solitary sites all along the southern half of the railway and from other sites in Thailand.
I'm sure you will remember the history. After entering the Second World War in December 1941, Japanese forces quickly overran most of South East Asia. In 1942, in order to find a shorter and more secure line of supply between Myanmar and Thailand, the Japanese decided to use prisoners of war and civilian labour to build a single line railway to link existing railheads at either end of the proposed line. Two forces, one based in Siam and one in Burma, worked from opposite ends of the line. The two parts of the railway were joined up on 17 October 1943 near Konkuita and an official Japanese ceremony was held eight days later on 25 October. The line now covered a distance of 471.30 kms, but at an unbelievable cost to human life. The project cost the lives of approximately 15,000 prisoners of war and 100,000 civilians as a result of sickness, malnutrition, exhaustion and mistreatment.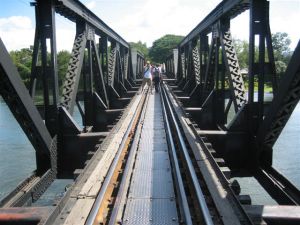 The most famous portion of the railway is Bridge 277, "the bridge over the River Kwai", and it's possible to walk between the bridge and the cemetery but hard to imagine the privations and torture that these men endured at the hands of the Japanese.
More than 5,000 Commonwealth and 1,800 Dutch casualties are commemorated in the cemetery, including some 300 men who died of sickness and were cremated with their ashes buried in two graves in the cemetery. Their names appear on panels in the shelter building. The names of eleven soldiers of the Indian army whose graves elsewhere in Thailand could not be maintained are commemorated by name on a tablet in the entrance building.
The Commonwealth War Graves Commission is responsible for the maintenance of graves and memorials in some 150 countries which commemorate around 1,700,000 members of the Commonwealth forces who died in the two world wars. Their care and attention extends, of course, to the graves at All Saints within Middleton Park.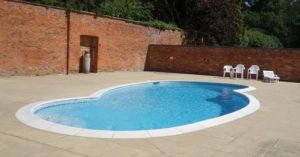 After leaving the Church with its very sad memories, we passed the farm area (the lovely highland cattle were too far away to photograph) and the cricket pitch which James tells me is used every week by people from the village. In complete contrast between past and present, we passed the swimming pool which sadly is very rarely used. What a waste!
James completed his preparation and cooking for a splendid lunch of Shepherds Pie (which included Guinness and skinned fresh tomatoes among other things in the meat content and garlic infused milk in the potato topping!). Clearly a food connoisseur! The visitors, including Tony, arrived and we had a very happy, fun, lunch. It turned out that Rupert had played fly half for Marlborough at the same time as Tony had played fly-half for Sherborne so lots of lovely memories were exchanged of school days.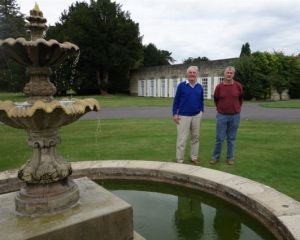 And then it was time for us to leave James and head off to Tony's home in the Cotswolds where we were planning to do some more work on Tony's (nearly ready to be made live) website – Paratus Developments – and make plans for business meetings with people in New Zealand who might be interested in the 'invention' he's hoping to launch onto the world market in due course.
We spent a very happy three days together, enjoying the garden (as ever) when we weren't occupied with the purpose for my visit!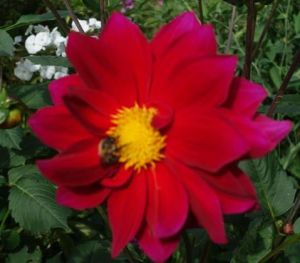 This 'Bishop of LLandaf' Dahlia is magnificent. Sadly it turns its face to the farmland behind the cottage garden rather than towards the cottage. I was glad to catch a bee busily enjoying its pollen.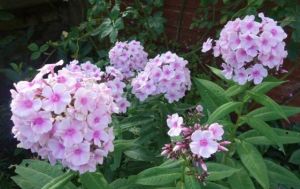 There was colour everywhere and it's a pity that this photo doesn't reflect the beautiful pale pink very faithfully.
Much of Thursday was spent planning, shopping and preparing dinner for two of Tony's very good friends from the next village. He's talked to me about them so often that it was grand to meet at last and we all had a very stimulating and fun evening – and dinner wasn't bad either!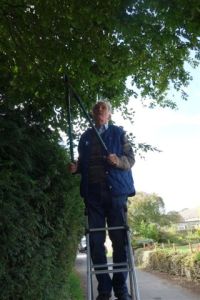 Friday was more of an outdoor day! As often happens in English villages, the locals do like everything to be spick and span. As some of Tony's trees were overhanging the lane and potentially scratching the high-sided passing vehicles, such as horse boxes, Tony had been asked to lift the 'canopy'. It was a bit of a stretch to prune the Hornbeams (of the Beech family) and the Willows but with the aid of the tallest ladder he possesses and a little help from his sister, Tony managed to do a good job.

And all under the watchful eye of a little Red Robin who Tony tells me is often in attendance when he's in the garden.
The time passed in a flash but we made some excellent plans and discussed some potentially valuable contacts who live in New Zealand whom Tony hopes to meet when he comes to visit.
And then it was time for Tony to drive me to one of the Oxford Park & Ride stops so that I could catch a coach back to Victoria Coach Station in London. From here it's only a 15 minute walk to Dolphin Square which enabled me to spend the late afternoon and evening with Tricia before I leave the country. Having already treated me to a lovely dinner with her friends Geoff and Peter just five weeks earlier, I was humbled to be treated again, this time at an Italian Restaurant called Tinello in Pimlico.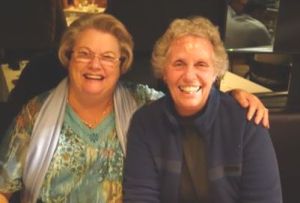 We've always picked up wherever we've left off and remained such good friends that I know we'll contrive to meet again, some time, somewhere …
Then it was back to Gill's to have a couple of quiet days before my very last 2014 visit, this time to Broxbourne on Tuesday to stay with Sally (Kate's godmother) and Alan. Only another week until Suzi and I leave for our great adventure and delighted that Julie has decided that she is able to join us on the leg between Boston and Vancouver.