Ottawa ON, Canada – 9 and 10 September 2014
The distance from Montréal to Ottawa is 125 miles but we made a wonderful detour on the way. Graham Kelly, Chair of the e-Learning Trust on which I sit, had been the High Commissioner to Canada for three years and had lent Julie and me a heap of books so that we could do some advance planning.But apart from what he recommended that we visit within the city itself, Graham strongly recommended that we divert at a point about half way between Montréal and Ottawa to Montebello. And what a fabulous diversion it turned out to be!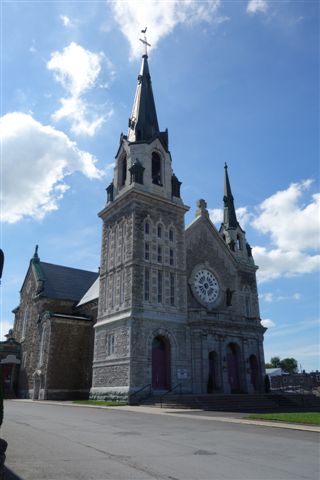 Of course, as usual, we passed heaps of wonderful sights along the way. We found this beautiful church, called Paroisse Saint-Pierre-Apôtre in a little village.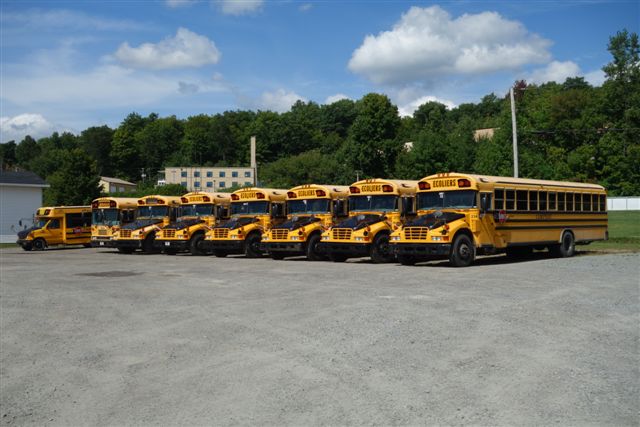 And, to our complete delight, we suddenly caught sight of a whole lot of school buses parked side by side, probably waiting for the end of the school day. We'd been impressed by these vehicles when we'd seen them in other places, always identical, and here were a whole lot, together! We weren't sure whether to refer to them as beautifully ugly or uglily (no such word unfortunately) beautiful!
Moving on, we came to Montebello.
Montebello is located east of Gatineau (Ottawa's French sister city) on the Ottawa River. It's a little country village surrounded by the type of impressive Canadian wilderness made famous in postcards and souvenir photos. The area was first settled in the mid-19th century by the family of Louis-Joseph Papineau, a man who later became seigneur of the area and, between 1848 and 1850, built what is now the Manoir Papineau National Historic City.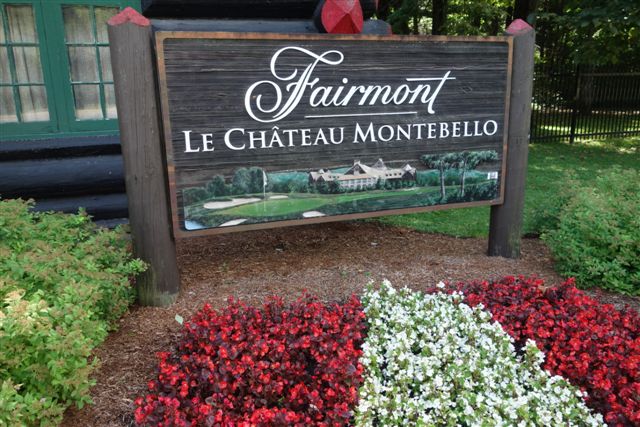 Today the village is best known for Le Château Montebello, the largest log structure ever built. It was impossible to take a photo of the whole structure because of the very many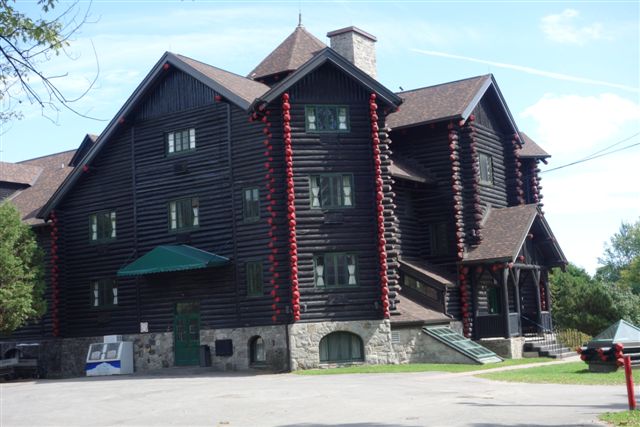 trees but this was the main part of the building.
Currently owned by the Fairmont Hotel chain, the Château and the neighbouring Fairmont Kenauk, which is located on a huge protected wilderness area where visitors can stay in luxury cabins, are at the centre of most of the village's outdoor pursuits including fishing, hunting, canoeing, hiking and more. The Park thrills visitors by giving them the chance to see several species of wild animals up close.
We decided to have lunch here! So we finally found the front entrance and walked through the foyer to find the dining room.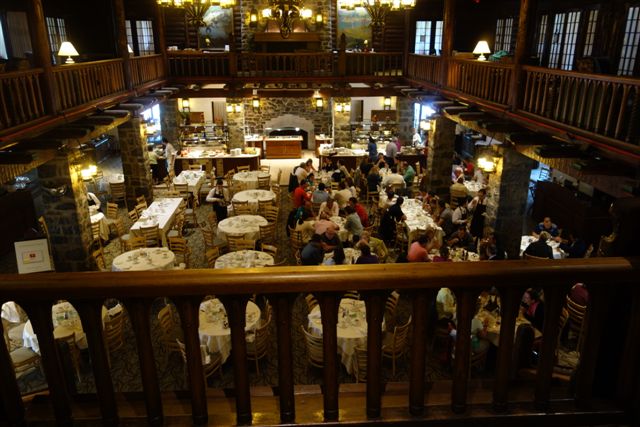 We descended the sweeping curved staircase on the left (there was one on the right as well!) and were taken down to the far end of this room, passing an enormous buffet with every food you can possibly imagine. We wondered if we'd be able to afford a glass of water!! Nearly all the tables were occupied and we found out that tour parties come here for lunch most days!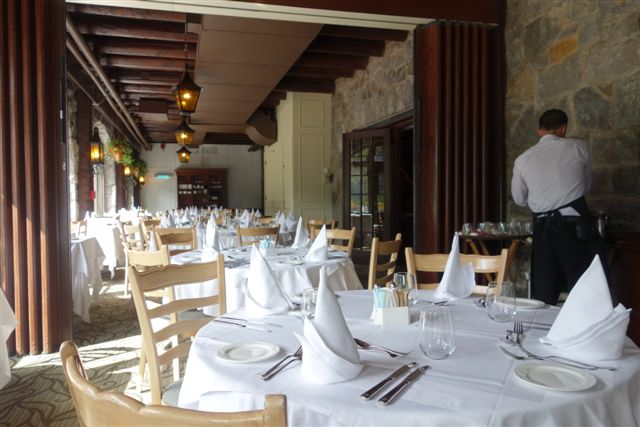 We were then taken out to the right at the end to an area with big windows (on the left) where we could sit overlooking the grounds. Our wonderful waiter then told us that we could help ourselves to anything we liked from the cold buffet for C$24 or C$32 if we wanted to avail ourselves of the hot buffet. We could hardly believe our eyes – or our luck in being directed to such a fabulous place. Thanks Graham!
Of course we ate too much! We tried hard to pace ourselves and just sample some of the different things from soup to salads to cold meats and fish and cheeses to a range of about ten desserts including pecan pie! What a feast and what a beautiful venue!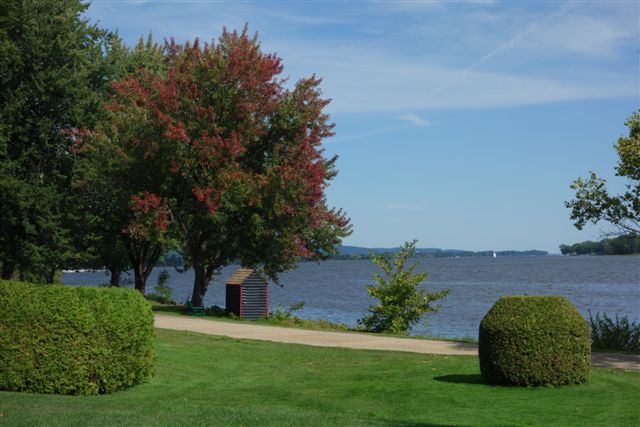 We couldn't possibly hurry on after that experience so we wandered slowly around a bit of the grounds, particularly by the lawns that stretch down to the Ottawa River.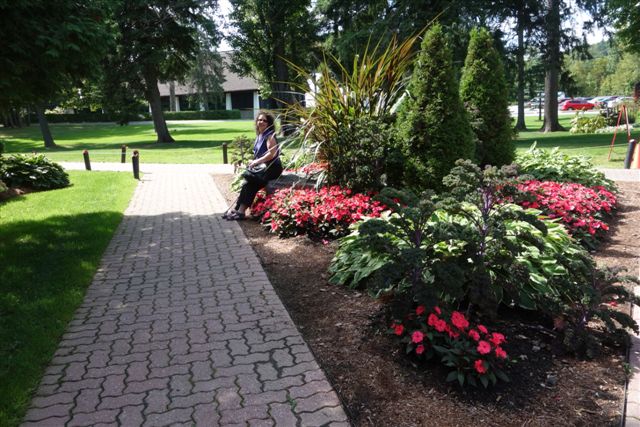 Wherever we looked, there was somewhere to sit down and relax in the peaceful environment on a beautiful day.
We could hardly bear to tear ourselves away but we wanted to reach our accommodation so that we were ready for a very full day in Ottawa on Wednesday.
What fabulous accommodation!
We had two wonderful nights in Ottawa at The Business Inn, 180 MacLaren Street, Ottawa K2P OL3 +1 6132321121. The cost was C$145.77 per night for the three of us. Given what was offered for this price, this was really reasonable. We would highly recommend this if you're visiting Ottawa. We were given a 'suite' on the 12th (top) floor. Because it was a Business Inn, the accommodation included a large hallway, large main bedroom with super king bed, lounge with two pull out sofas, dining room and very large kitchen with a table and chairs. In the lounge there was a computer and printer for our use. There were plugs everywhere so that we could charge our equipment and WiFi was free. Before we went out to a lovely dinner, the girls relaxed and I caught up with emails and my blog!
The next morning we discovered that there was an extensive area for breakfast with every possible option. To add to that, the room contained a very large fridge from which one could help oneself to a bag made up with snacks for the day ahead – an apple, muesli bars, yoghurt, water, biscuits, etc.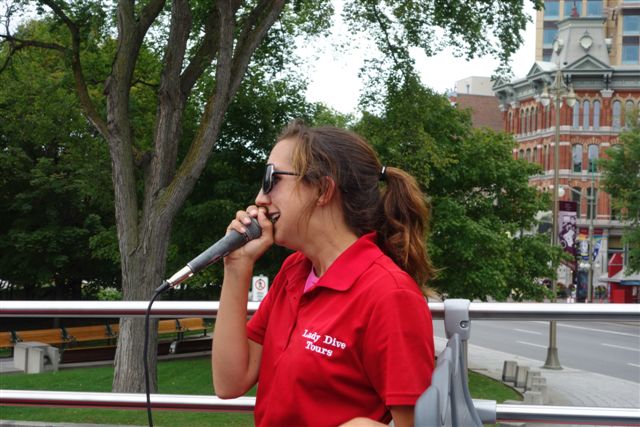 Suitably prepared, we set off to walk to the corner of Sparks and Elgin Streets, the first stop on the GrayLine sightseeing bus, about a 15-minute walk away.
We had a fabulous guide, Marie, to show us around this majestic Neo-Gothic City. She was so good that we chose to get off only once (more later) and spend two hours at that location so that we could catch up with her again for the rest of the tour!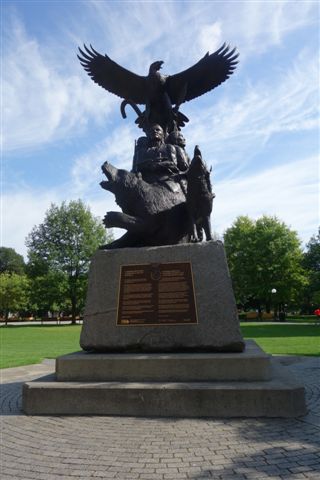 Several amazing sights caught our eye before we even got to the bus!
This very beautiful monument and moving inscription was one of them.
The inscription reads:
To Aboriginal War Veterans in Canada and to those that have fallen.
This monument is raised in sacred and everlasting honour of the contributions of all Aboriginal Canadians in war and peacekeeping operations.
Many thousands of Aboriginal people saw action and endured hardship in the First and Second World Wars and the Korean War. They served with honour and distinction in all branches of the service and in every rank and appointment from Private to Brigadier. They fought overseas to defend the sovereignty and liberty of allied nations, in addition to supporting the cause at home. Their dedication continues in peacekeeping operations in faraway lands.
Their heroic acts earned many decorations for bravery as well as the respect and enduring friendship of their comrades in arms. Hundreds from across Canada gave fully of their lives so that all Canadians might know peace and inherit freedom.
We who would follow in their path are humbled by the magnitude of their sacrifice and inspired by the depths of their resolve. We owe them a debt of gratitude we cannot soon hope to repay.
Unveiled by Her Excellency the Right Honourable Adrienne Clarkson, C.C., C.M.M., C.D., Governor General of Canada and Commander-in-Chief of the Canadian Forces, on June 21, 2001, National Aboriginal Day.
This monument was made possible by the National Aboriginal Veterans Association and the generous donations of the Canadian people.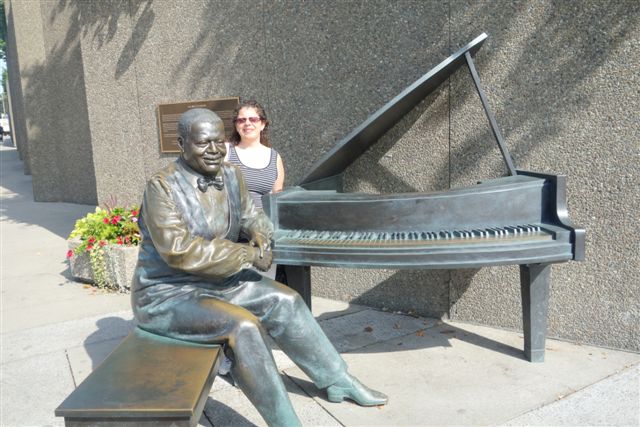 And this was another which I persuaded Julie to pose beside.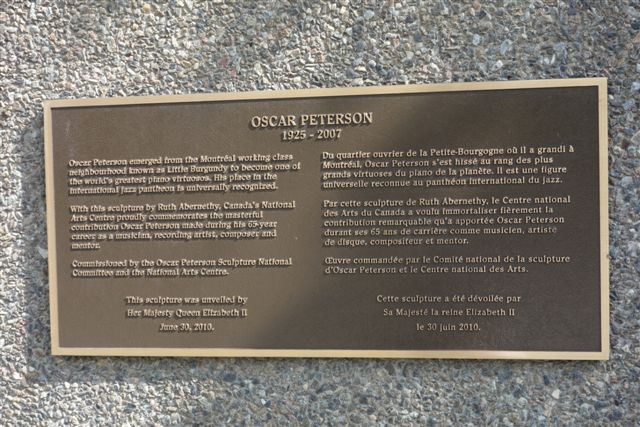 The inscription reads:
Oscar Peterson 1925-2007
Oscar Peterson emerged from the Montreal working class neighbourhood known as Little Burgundy to become one of the world's greatest piano virtuosos. His place in the international jazz pantheon is universally recognised.
With this sculpture by Ruth Abernethy, Canada's National Arts Centre proudly commemorates the masterful contribution Oscar Peterson made during his 65 year career as a musician, recording artist, composer and mentor.
Commissioned by the Oscar Peterson Sculpture National Committee and the National Arts Centre. This sculpture was unveiled by Her Majesty Queen Elizabeth II June 30th 2010.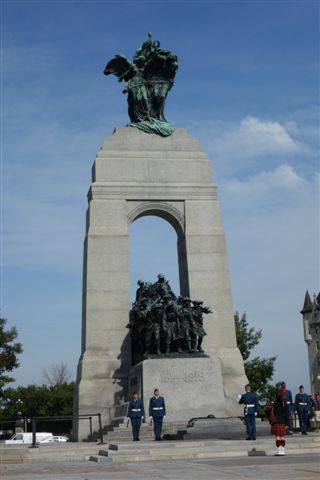 Very close to the bus stop was this beautiful monument.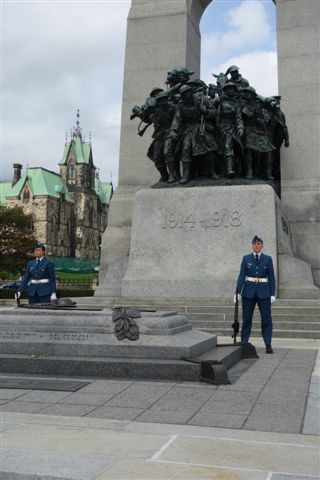 Ceremonial Guard stand watch over Canada's national memorial, which is called 'The Response, with the Tomb of the Unknown Soldier in the foreground. These two guards change over every half hour.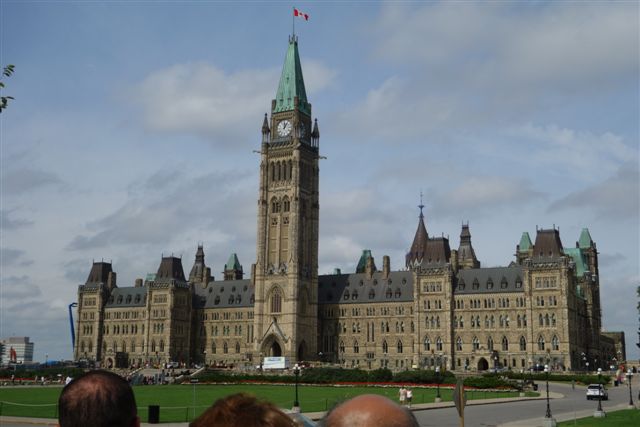 Ottawa's Gothic government building is perched on Parliament Hill. All the government buildings seemed to have green, copper roofs. It was Wednesday when we were there and every Wednesday it's 'Yoga Wednesday'. Free Yoga sessions take place on the lawn below the building and people were flocking from every side to join in.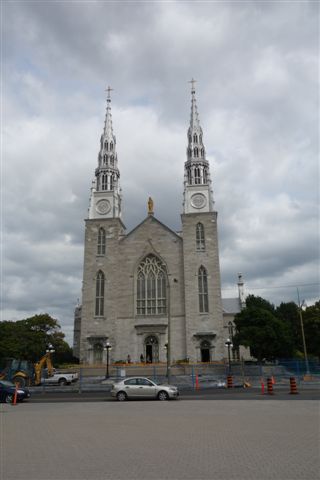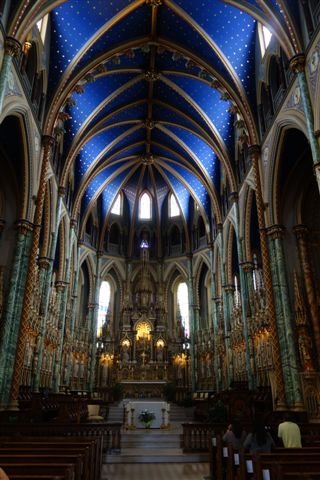 We very much enjoyed Ottawa's Notre Dame Basilica, the oldest church in Ottawa and the seat of the city's Catholic archbishop. Again, it had a beautiful interior.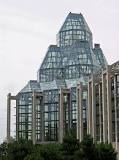 Just across the street is the National Gallery of Canada, one of Canada's premier art galleries.
The Gallery is now housed in a glass and granite building and is very impressive, inside and out.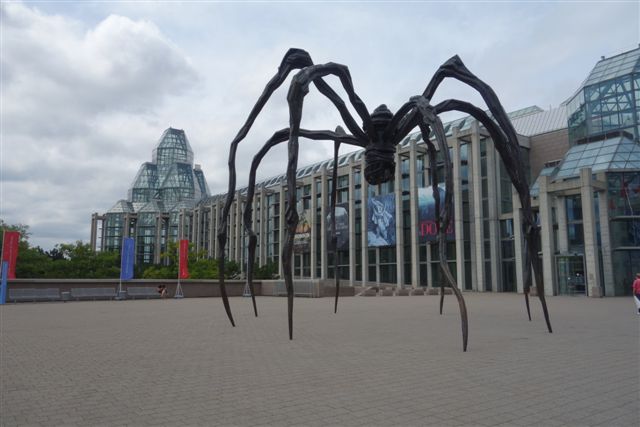 To enter the Gallery we passed this massive giant spider, sculpted out of bronze, stainless steel and marble.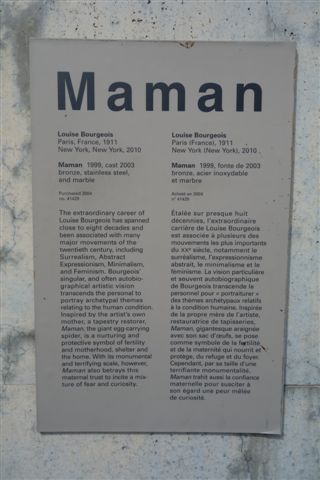 The sculpture, entitled Maman, was created by Louise Bourgeois of Paris, France. The inscription reads:
Maman, the giant egg-carrying spider is a nurturing and protective symbol of fertility and motherhood, shelter and the home. With its monumental and terrifying scale, however, Maman also betrays this maternal tryst to incite a mixture of fear and curiosity.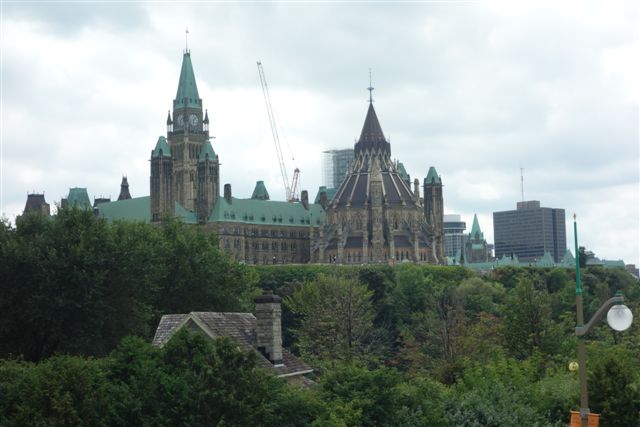 From the first floor we were able to take a photo of the view of the Canadian Parliament buildings on Parliament Hill.
There was a free exhibition of some of the work of Gustave Doré within the Gallery which had us spellbound for a couple of hours. Gustave Doré (1832-1883) was a 'Master of Imagination'. He was a draftsman, painter and sculptor and is arguably the most renowned illustrator of all time. The exhibition included prints, drawings, paintings and sculptures. One of these, the Poem of the Vine is huge, standing well over 3 metres tall and weighing close to 2,700 kilos. Doré spent many months finalising the design and modelling the various elements and the plaster model was finished just in time to be shown at the Paris Exposition universelle of 1878. It was cast in bronze in 1882 which is what we saw and in our eyes, it was truly magnificent. None of us had studied him and were astonished at his prodigious output, aware that we had unwittingly seen his illustrations in the works of many great authors.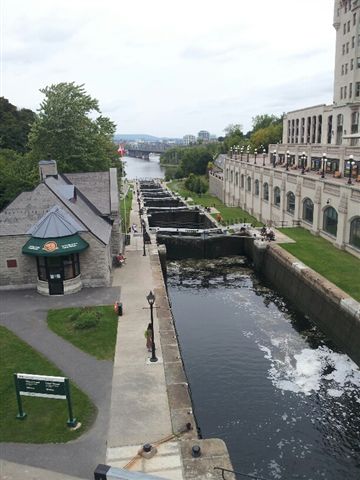 Yet another site we saw was the Rideau Canal, North America's oldest operating 19th century canal and one of the most recognisable sights of the capital.
The Rideau Canal connected the city of Ottawa on the Ottawa River to the city of Kingston, Ontario on Lake Ontario, a distance of 202 kms. The name 'Rideau' (French for 'curtain') is derived from the curtain-like appearance of the Rideau river's twin waterfalls where they join the Ottawa River.
The canal was opened in 1832 as a precaution in case of war with the United States. It remains in use today, primarily for pleasure boating with most of its original structures intact, operated by Parks Canada. The locks on the system open for navigation in mid-May and close in mid-October. It is the oldest continuously operated canal system in North America and in 2007 it was registered as a UNESCO World Heritage Site.
We passed Byward Market without getting off, but Julie and Suzi walked back there later to stroll around the various stalls. The name refers to the old 'By Ward' of the City of Ottawa by deriving from the surname of the engineer, Colonel John By who was the area's original surveyor. The district comprises the main commercial part of the historic Lower Town area of Ottawa. The market itself is Canada's oldest continuously operating farmers' market.
The market building is open year-round and open-air stalls are operated in the warmer months offering fresh produce and flowers.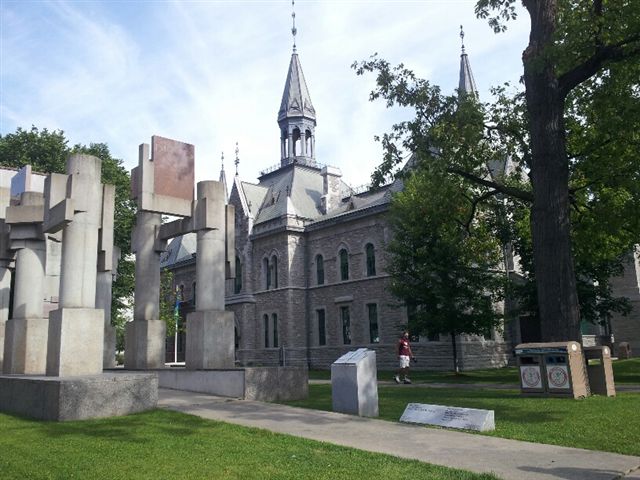 And finally, as I walked home leaving the girls to do some more exploring on foot, I passed City Hall where I learned that Nelson Mandela Square had been unveiled by the City of Ottawa on 17 July 2014.
Mayor Jim Watson hosted over two hundred specially invited guests at City Hall at the launch of the Nelson Mandela Square in honour of the late global icon whose achievements had touched the lives of millions of people world-wide. Appropriately located across from the Human Rights Monument on Elgin Street, the Nelson Mandela Square will stand as a testimony to the resilience of the human spirit in the face of adversity, a legacy of immense magnitude by the former President of South Africa.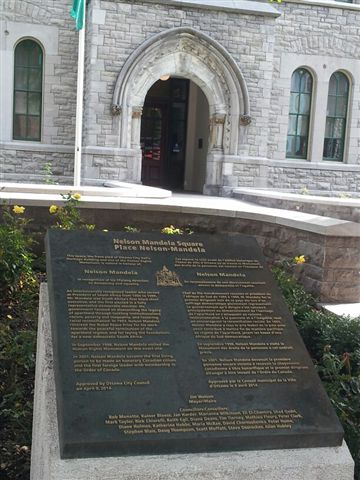 "It is with great admiration and respect", said Mayor Watson, "that we pay tribute today to the life and legacy of Nelson Mandela through the commemoration of Nelson Mandela Square, in this spot near the International Human Rights Monument where Mr. Mandela stood during his 1998 visit to Canada. Mr. Mandela was a great leader and humanitarian who devoted his life to the pursuit of democracy and equality."
The plaque reads:
Nelson Mandela Square
This space, this front yard of Ottawa City Hall's Heritage Building and site of the Human Rights Monument, is named in honour of Nelson
Mandela in recognition of his lifelong devotion to democracy and equality.
An internationally recognised leader who served as President of South Africa from 1994-1999, Mr. Mandela was South Africa's first black chief executive, and the first elected in a fully representative democratic election. Hi government focused on dismantling the legacy of apartheid through tackling institutionalised racism, poverty and inequality, and fostering racial reconciliation. In 1993, Nelson Mandela received the Nobel Peace Prize for his work towards the peaceful termination of the apartheid regime, and for laying the foundation for a new democratic South Africa.
In September 1998, Nelson Mandela visited the Human Rights Monument on this exact site.
In 2001, Nelson Mandela became the first living person to be made an honorary Canadian citizen and the first foreign leader with membership in the Order of Canada.
Approved by Ottawa City Council on April 9, 2014.
How lucky for us that the unveiling had taken place only six months earlier and that we'd been able to visit this special place.