Journey from Niagara NY to Mackinaw City MI USA – 13 September 2014
The distance from Niagara to Mackinaw City in Michigan is 650 miles which we estimated would take us 10.5 hours. We knew we'd be spending nearly all day driving but this has to happen sometimes if we're going to cover the distances between the things we want to see. Suzi had been casting around for accommodation between Niagara and Minneapolis to make sure that both journeys were manageable (just) and hit on Mackinaw City quite by chance. What a find!
We'd come this way because my friend, Derek Paterson had suggested that, if Chicago was not on our itinerary, the Bruce Peninsula to Sault (pronounced Sue) Ste Marie was a more attractive route.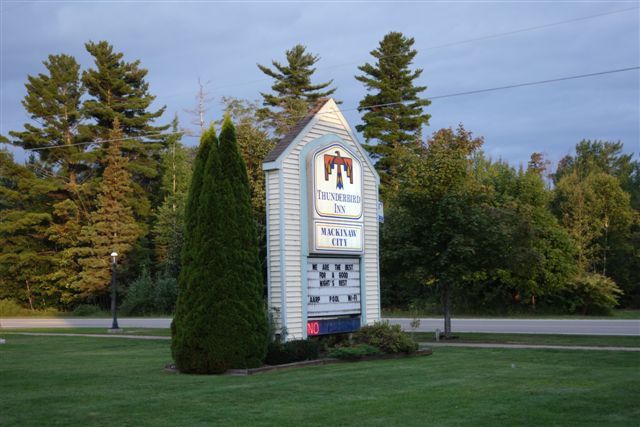 So we arrived at the Thunderbird Inn, believing that we had come to a sleepy little 'city' where nothing much appeared to be happening. How wrong we were! And given what's available at Mackinaw, we all thought it was somewhere well worth returning to.
The population was 806 at the 2010 census but it surges during the summer tourist season. The city sits at the northern tip (headland) of the Lower Michigan peninsula on the southern shore of the Straits of Mackinac. Across the straits lies the state's Upper Peninsula. These two land masses are physically connected by the 2,626m Mackinac Bridge (which we crossed the next morning). As a matter of interest, Mackinaw City retains the 'aw' spelling while the bridge, straits and island steadfastly cling to the 'ac' spelling. No matter how it is spelled, however, we were told that it is always pronounced Mackinaw!
According to AAA's 2009 TripTik requests, Mackinaw City is the most popular tourist city in Michigan. We weren't at all surprised. This turned out to be a seriously happening place.
History states that, when the French arrived at the Straits of Mackinac in the 17th century, the predominant tribes were three Algonguian tribes known collectively as the council of Three Fires, Chippewa, Ottawa and Potawatomi. These tribes frequented the area to fish, hunt, trade and worship. Mackinac Island in the straits appeared to have the shape of a turtle which led the Native Americans here to believe that the turtle contributed to life's beginnings. The Straits sat at the meeting of two routes vital to the fur trade – one to Montreal in the east and the other to Detroit in the south.
The history of the area is extensive and colourful. Through the course of time, the main industry has become almost strictly tourist-oriented.
The Old Mackinac Point Lighthouse was built in 1892, replacing McGulpin Point Light which had been built in the 1870s but was decommissioned in 1957 when the Mackinac Bridge was completed.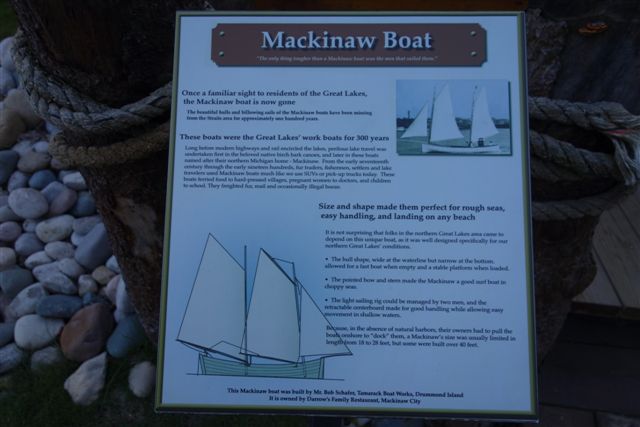 The Mackinac Boat was now redundant.
The night we arrived we settled in to our hotel and then went to find out where we could eat. To our amazement, cars, trucks and people were appearing from every direction. Cars and trucks were parking on all the verges and people were setting up chairs, food and drink as if they were settling in for the long haul. We asked what was happening and were told that the annual 'Semi' (not pronounced 'Semee' but 'SemI') parade would be taking place a couple of hours later and people were setting up their vantage points. We actually heard, rather than saw, over a hundred Semis taking part in the parade because we thought we'd better keep well out of the way in the darkness in a strange place. But the noise was deafening – revving engines, blasting horns (like ship's foghorns), and a great deal of cheering was taking place.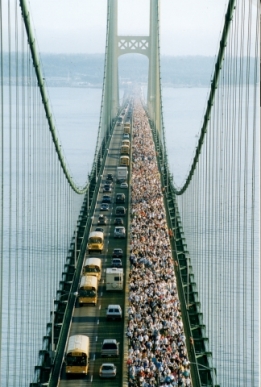 We found out later that events like this are very common here and doubtless accounts for its reputation as a top tourist venue. Only a matter of days earlier the 57th Annual Mackinac Bridge Walk had taken place on 1 September – a free event that had also attracted hundreds of people.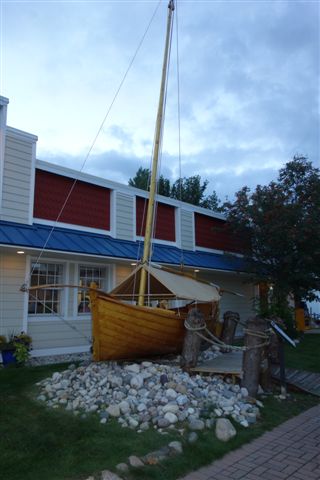 We, meanwhile, were enjoying dinner at the restaurant to which we'd been directed. Darrow's Family Restaurant can be found at 301 Louvigny, Mackinaw City, MI49701, +1 213 436 5514.
It has apparently been satisfying customers at the same location since 1958 and its ownership has been passed in various forms from generation to generation for much longer than that. We each had a lovely home-style meal and would highly recommend it – and they gave us directions five miles out of our way to get back to our Inn without having to get held up by the parade which went on for several hours!
With another very long driving day tomorrow, we didn't want to be held up on the side of the road, especially as the temperatures were dropping significantly.