Hampshire, England - 23-26 July 2014
And so it was that Mike picked me up at Emsworth station and he, Pip and I drove to Bub and Martin's house in the beautiful Hampshire countryside, close to Winchester.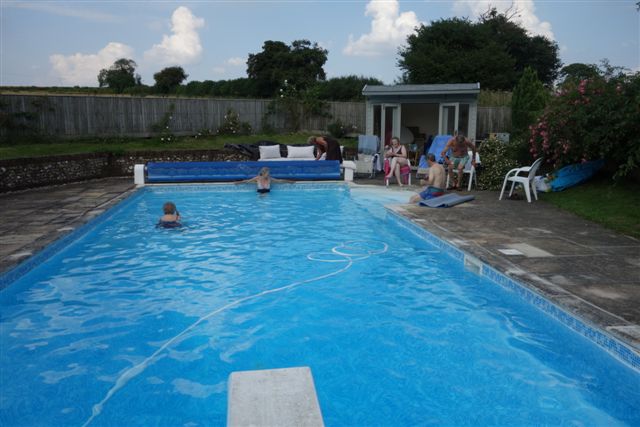 After a lovely lunch of home-made cold watercress soup, Martin and Mike went off to play golf, leaving 'the girls' to relax by the pool with an assortment of friends who popped in and out.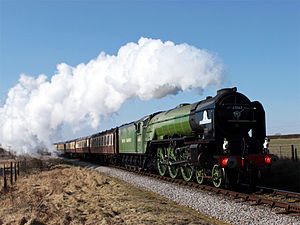 Well known in this area is the Watercress Line which is the marketing name of the Mid-Hants Railway, a heritage railway which runs for 10 miles from New Alresford to Alton where it connects to the National Rail network. The line gained its popular name in the days when it was used to transport locally grown watercress to markets in London. It currently operates regular scheduled services, along with dining trains, real ale trains and numerous special events throughout the year. The line is now maintained by a small base of paid staff and a core of over 400 volunteers. Thomas the Tank Engine sometimes runs on this line.
Part of the line runs only a field away from the far end of the pool so it's easy to hear the trains as they pass by frequently, especially when the wind comes from the north.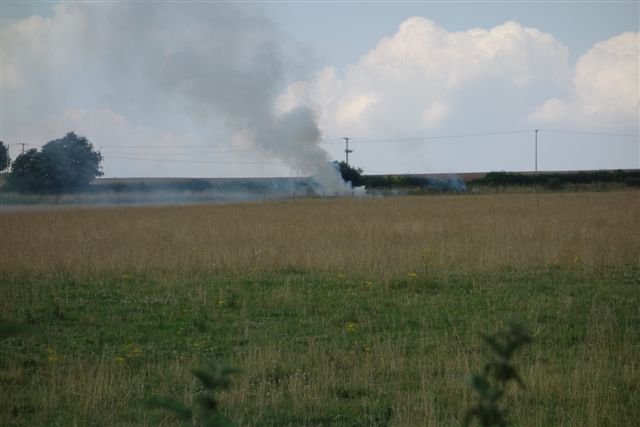 But there is one major disadvantage of these steam trains. They burn low quality coal which sends sparks over the countryside. Because of this they're meant to fit spark retarders on top of their funnels but they obviously forget sometimes. It was a little alarming, as we lay by the pool on Friday, to find ourselves enveloped in smoke as a small fire caught hold on the far side of the paddock. Bub rushed in to call the fire brigade and the two neighbouring farmers and all was well – but it was just as well that she acted quickly.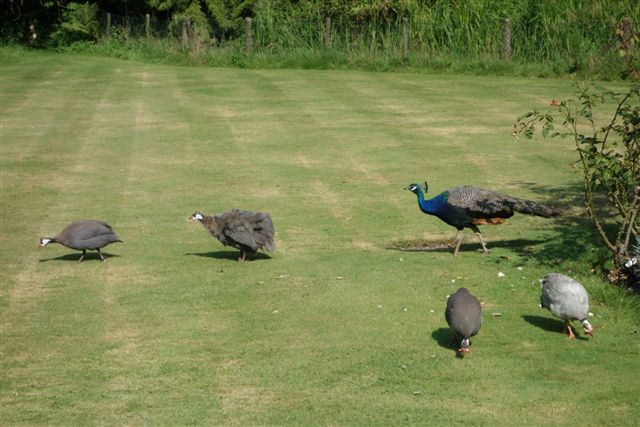 Bub and Martin's garden is a haven for their animals and a collection of birds. Their guinea fowl roam over the lawn at will.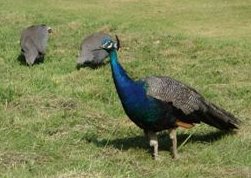 They're often accompanied by a male peacock who has obviously decided that this is a great place to cohabit.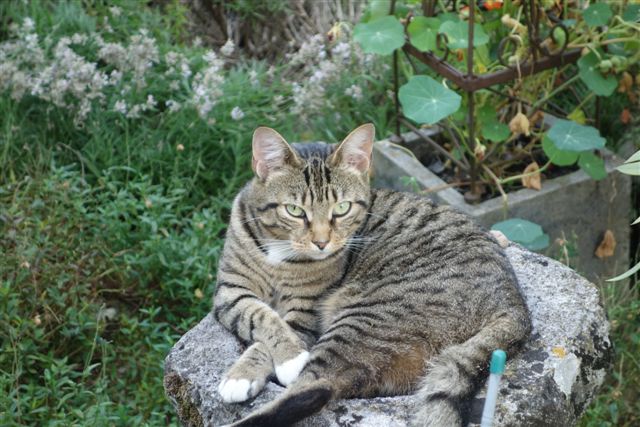 Meanwhile, Malia, their cat, and Asali, their golden retriever, take absolutely no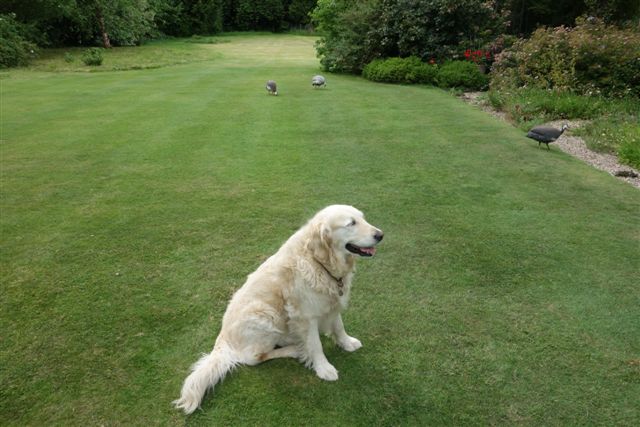 notice of them and go about their business with general disdain (although Asali has been known to chase the peacock when Bub is fed up with his presence).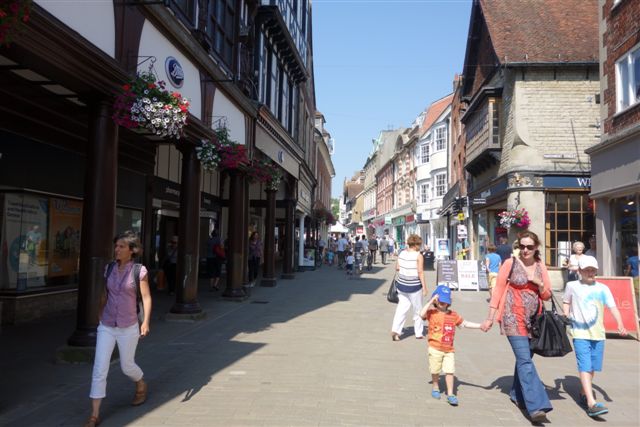 On Friday morning we went into Winchester. Bub's Blackberry was beginning to be past its used-by date and she thought she'd upgrade to a Samsung. After strolling through the city streets, enjoying the colour and the hustle and bustle, we spent a very long time with the technical expert but it's fair to say that by the end of the weekend she was still not very happy with the change. Only time will tell if she can make the transition happily.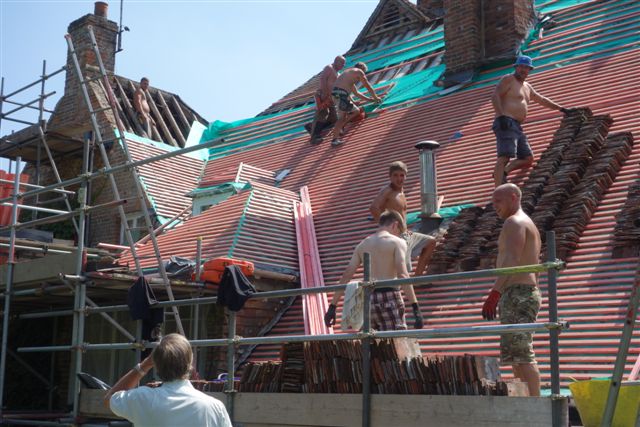 Meanwhile, back at home there were heaps of men crawling around on the roof at the back of their house, replacing all the slates. This was their first week and although they've estimated that the job will take six weeks, we all think they'll be finished much sooner – particularly if they have seven men at once on the job and with Martin directing operations from below!
Not that he had much time to stand and observe – he was much too busy mowing the lawns in time for the arrival for the weekend of their two children Anna and Jack.
The previous weekend, Anna cycled l'Étape du Tour, a stage of the Tour de France which was established in 1993 to allow amateur cyclists to test their legs on the route of one of the mountain stages in the Tour de France.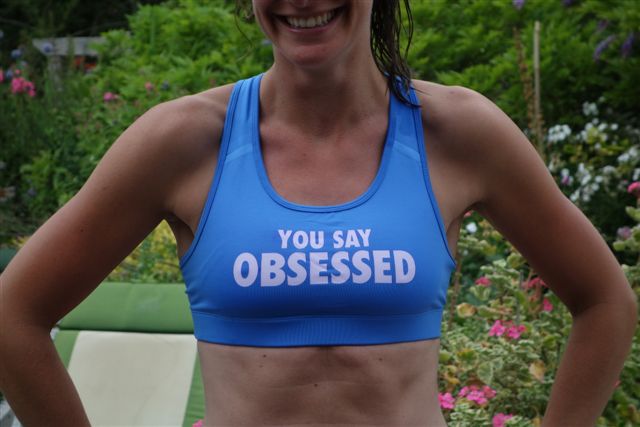 It was Anna's birthday on Saturday and one of the presents she opened came from, a friend who knows her well but who doesn't compete at the same level.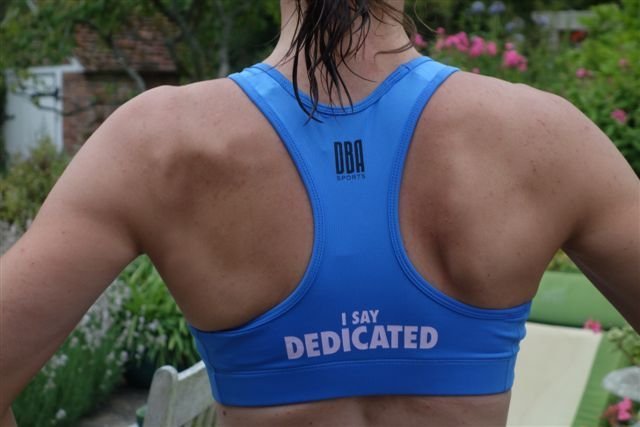 The writing on the back and front says it all.
L'Étape du Tour has become the reference race for cyclosportive riders from all over the world. This year the race started in Pau.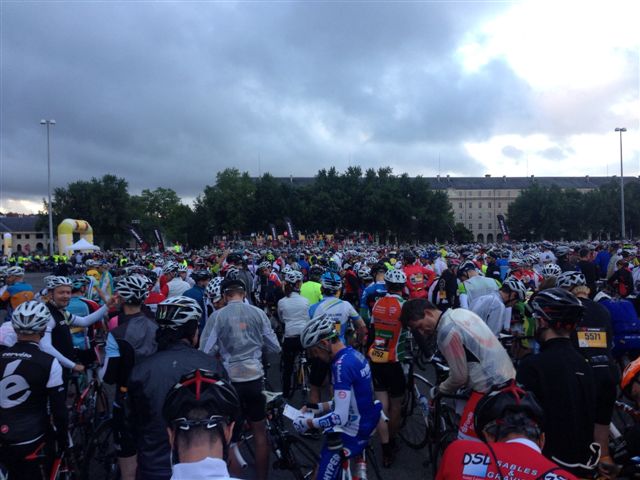 The start in PauL'Étape alternates each year between the Pyrenees and the Alps. Anna was among 13,000 riders who took part and one of only just over 8,000 who finished! She competed in the race in torrential rain and near freezing conditions and was placed 230th female!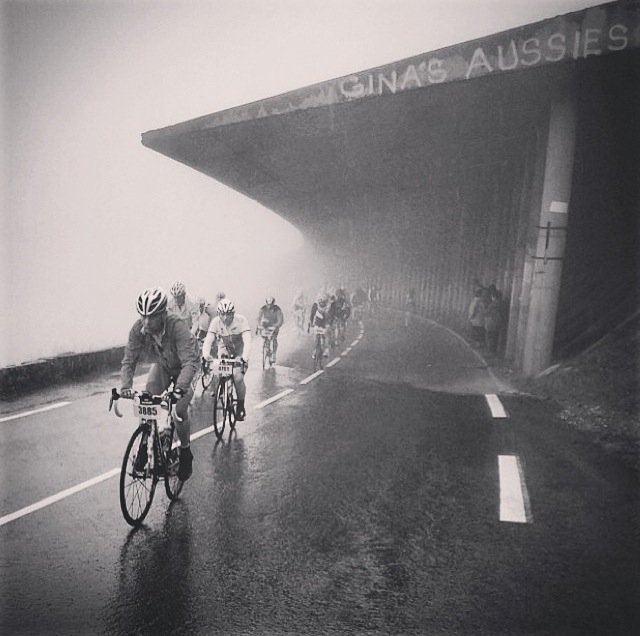 The ride Col du Tormaletrs pedalled along the same 146 km route as the Tour de France competitors, riding up and down the col du Tourmalet and finishing in the ski resort of Hautacam. Pretty impressive!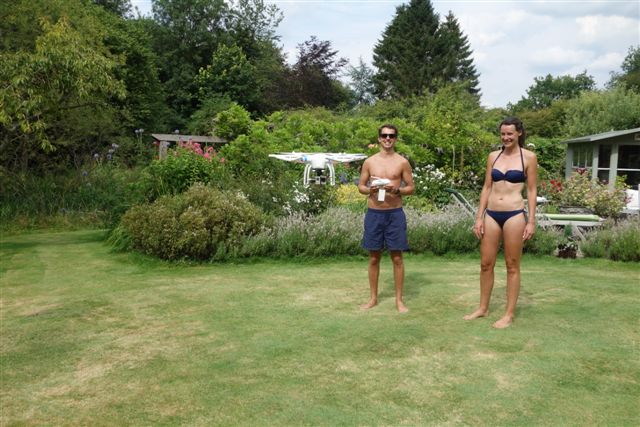 Jack had brought down his helicopter drone, complete with Go-pro and he and Anna set off that afternoon for a nearby hill where he could film her in action. But first of all they tested it out in the garden!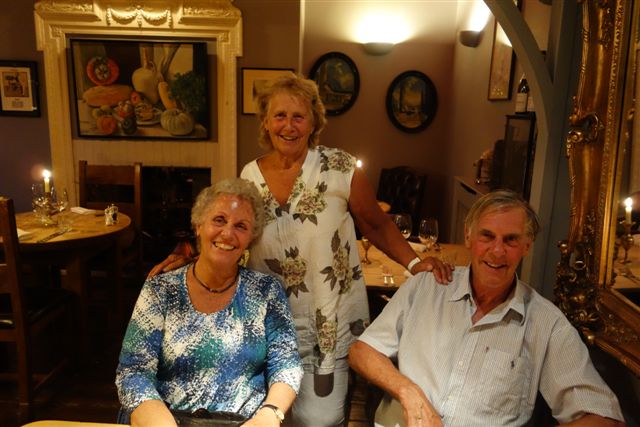 It sounds as if the weekend was spent lazing around in the sunshine – and it was to a point. But it was also tremendously social with dinner out for Bub and Martin's anniversary.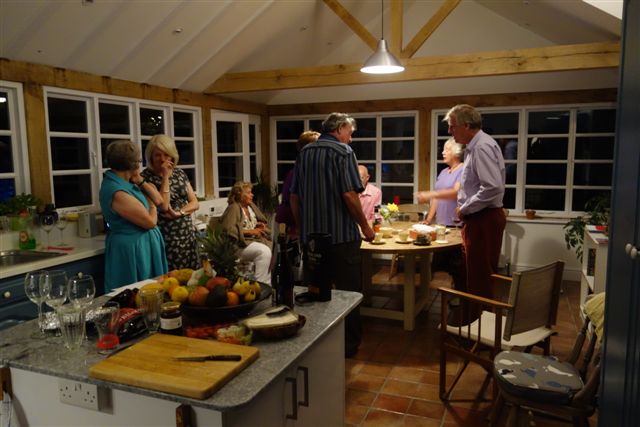 Dinner out with friends of theirs in a village about half an hour away where, to my great surprise, there was a gathering of people who either lived in New Zealand or were about to visit it!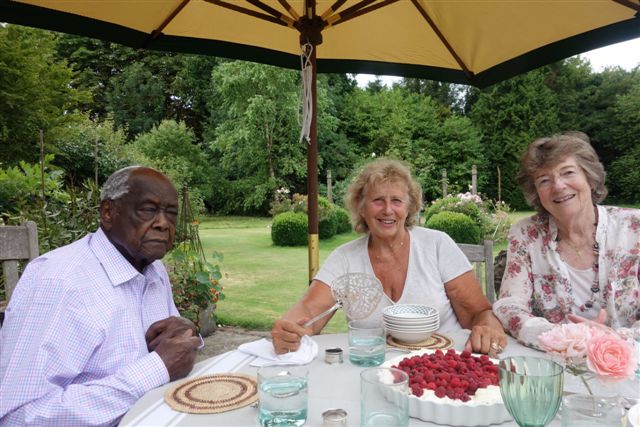 Another dinner out at a nearby pub on Saturday evening to celebrate Anna's birthday (when I forgot my camera), and finally a visit from very good friends of theirs from Nairobi who came for a sumptuous Sunday lunch of roast lamb 19(not New Zealand so far as I know!). Did I mention that Bub is an amazing cook?
Followed by pavlova – what else?
Probably the only sad thing about travelling is all the farewells. Spending time like this with amazingly generous friends and slotting into their very busy lifestyle is a rare privilege and always leaves me with very happy memories.
And so it was that Suzi arrived from work (on a Sunday) to pick me up. Bub and I did some last-minute work on how to download photos onto her computer while Suzi downloaded some Apps that would come in useful – and hopefully helped Bub to become a little happier with her new toy. After a quick supper, she drove me to her home in Farnborough – and that's another story …