Croquet tournaments in England - 18 July to 8 August 2010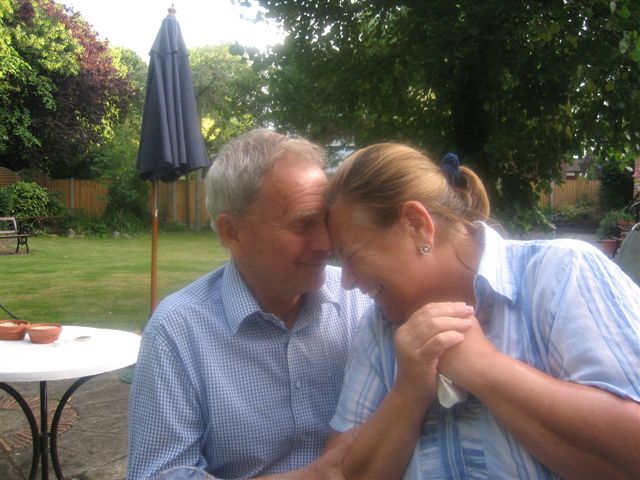 I arrived on 18 July to play in the Nottingham tournament to find that Roy and Elissa had been out to lunch to celebrate an important birthday. They were at the Station to meet me and it was so good to see them, catch up with all the news and generally chill out.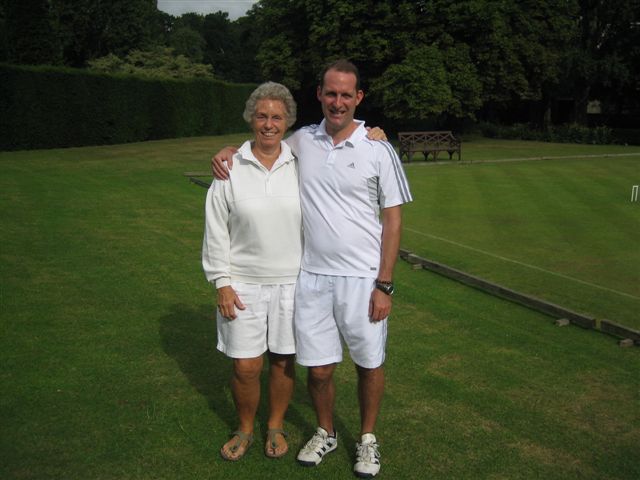 Reunions were the same when I arrived at the lawns the following day and caught up with players I'd met on previous occasions.
It took a couple of days to get back into the groove and get used to the very fast lawns and I didn't have a very successful handicap tournament. The doubles were fun but my partner and I only won one game before we were knocked out by the eventual finalists.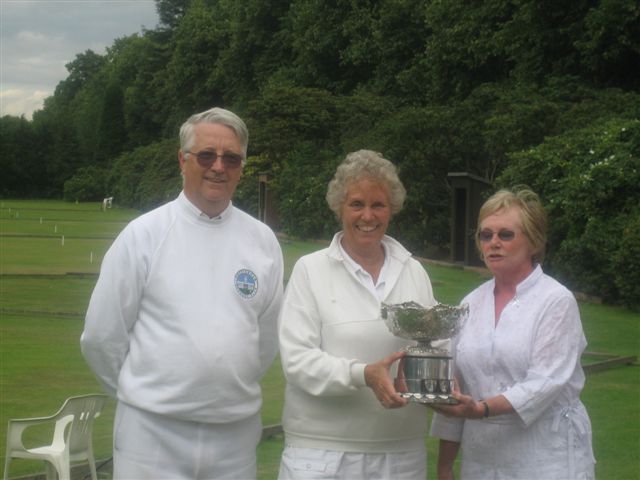 By the time the Class event started, I'd got the hang of things and it was a delight to find myself in the finals and eventually winning the B Class. Even more exciting was the fact that this took my NZ handicap down to 1.5 – dizzy heights indeed!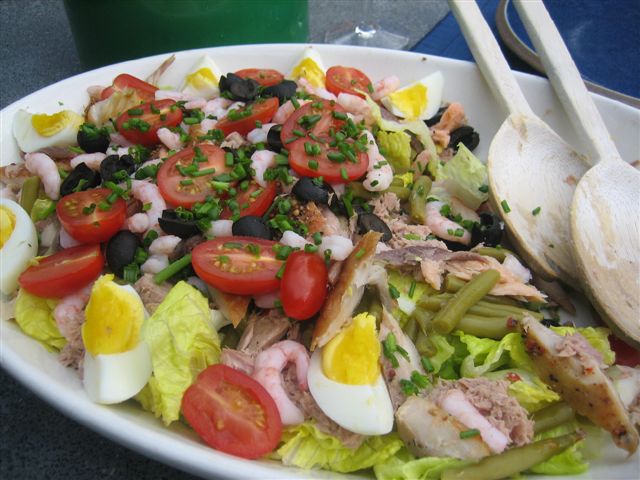 Elissa produced the most beautiful food, as she always does and organised lovely flower arrangements (NZ agapanthus) so that I'd feel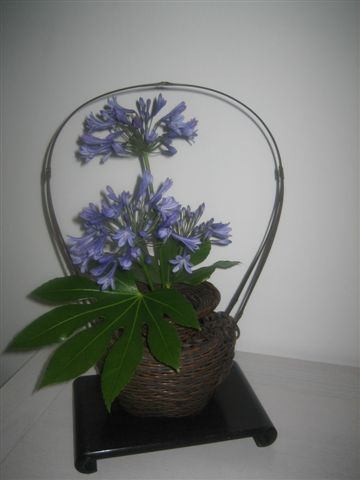 truly at home!
At the end of the tournament on 25 July, Elissa very kindly drove me back to London on hopelessly busy roads and dropped me at Earls Court.
Just two weeks later on 30 July, Julie took me to Paddington where I met up with Pauline from Paraparaumu club to take the train down to Exmouth for the croquet tournament at Budleigh Salterton. Our lovely hosts, Jackie and Peter Hardcastle, met us and we spent the afternoon and some of Saturday practising on the lawns and relaxing generally. Everyone was very welcoming. We'd played here in 2009 and had a great time and this year it was more of the same. The weather surprised us with heavy cloud cover every day and even a little rain. But this meant that we didn't get burnt as we scurried around on the lawns.
The week started badly with one of my toes turning septic (reminiscent of the tournament in Cheltenham last year). Jackie and Peter kindly took me to A&E where they applied a poultice and gave me a week's supply of penicillin. After a few days, things returned to normal.
As in Nottingham, it took a few days to get used to the speed and, in this case, the inconsistency of the lawns. Some undulated a little, some only had grass cover over parts of the lawn and rather pebbly mud over the rest. But some were really excellent. And everyone was experiencing exactly the same surface so we were all in the same boat.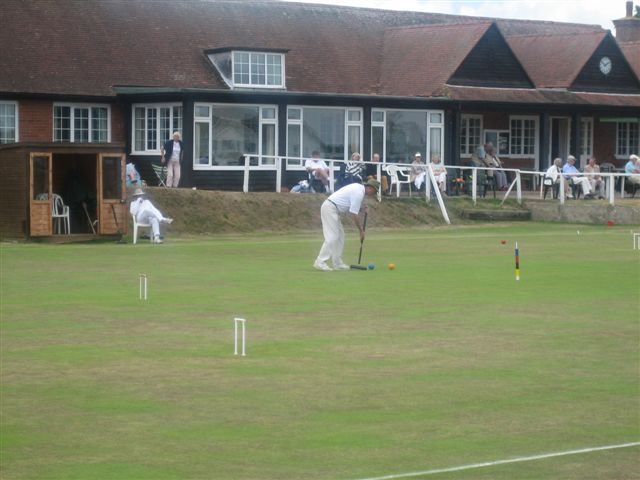 The winner of the A Class, Lionel, managed to show us all that the lawns had absolutely no bearing on his play, winning 16 out of 17 games.
After a couple of days demonstrating lots of enthusiasm and very little talent (again) I got down to it by Wednesday and won all my 'Class' games which put me into the semi-final of the B Class on Friday afternoon against Peter from Bath who was great fun. He's good to play with because we play an almost identical game. It could have been anyone's game but I just managed to squeeze ahead.
Meanwhile, on the bowling green, Peter was in fine form playing in the final of the Club Doubles and, with his partner, he took away the trophy. An excellent cause for celebration. Jackie, meanwhile, had played three games during the day and won them all. What a team!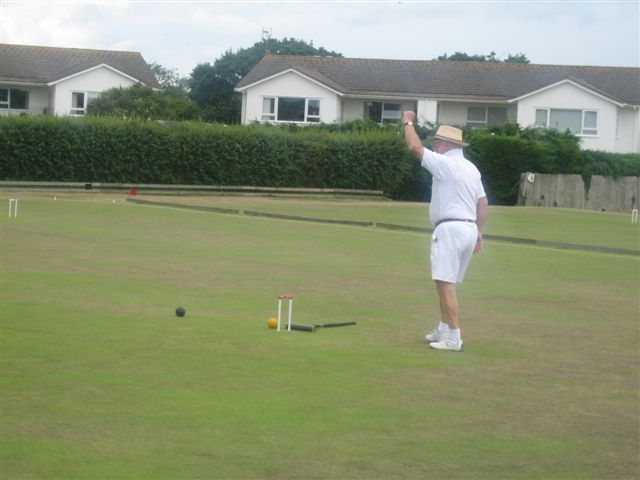 My final on Saturday afternoon was a different story. I was playing the Chairman of the Budleigh Croquet Committee and we both wanted to win – perhaps he more so. In the event, we both played indescribably badly, failed to go through the hoops cleanly so that we kept having to call the referee, stuck in most of the rest or missed roquets with gay abandon. The game finished with Charles one ahead. This doesn't sound too bad until one finds out that the final score was actually 12-11. To the croquet initiated it'll be clear that it was a stop/start game which both of us deserved to lose.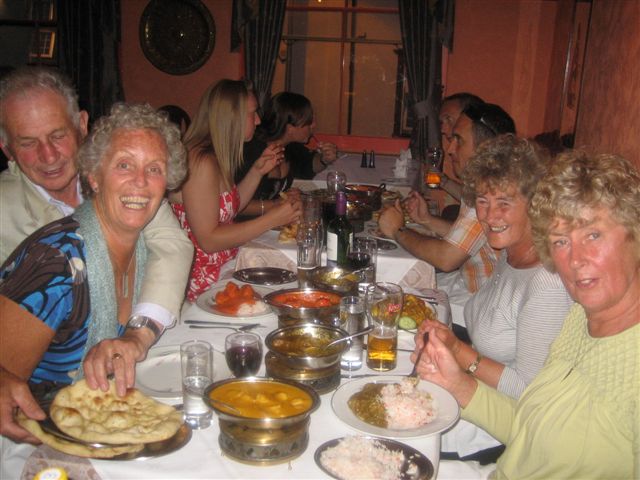 And so it was, with the tournament over, that we all went out to dinner at one of the three Indian restaurants in Exmouth and had a splendid meal.
The photographer on the next table took a bit of time to take the photo and Peter couldn't wait to reach over for the Narn bread which was on my right. At least it brought everyone more clearly into the photo.
And on 8 August, I made my way to Broxbourne to stay with Sally..