Beverly Hills, CA, USA - 3-8 May 2012
I arrived at Los Angeles Airport at 6.30 am on Thursday 3 May after a night without sleep. Although I had four seats to myself in the middle aisle, each of the two seats on either side of me was taken up by a couple with a baby. One or other of the babies cried for nine of the eleven and a half hour flight. Poor parents! And poor passengers!
Of course, a lack of sleep wasn't entirely the babies' faults. We took off from Auckland at 1.30 in the afternoon. By the time dinner was over it was probably only about 5.00 pm – not exactly the best time for a good night's sleep.
So when my old school friend, Julia, met me at LAX at 7.30 am, I was more than a little jaded. It was lovely to be with her again and we enjoyed good chats on the way to her gorgeous apartment within the complex of a beautiful home on Beverly Hills. I had no idea at that stage what a treat I was in for during our few days together.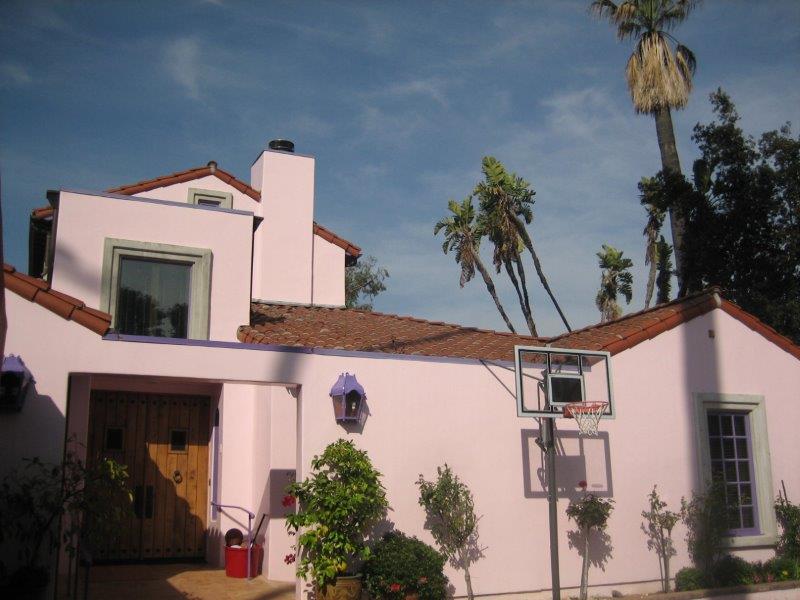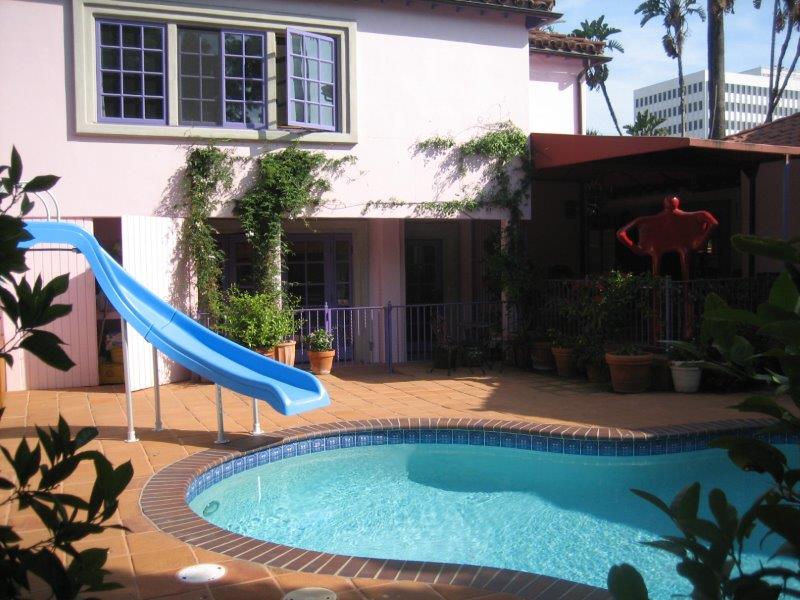 She has a two-storey apartment in a stunning environment. The front of the house is distinctive and the back shows off its true art deco nature.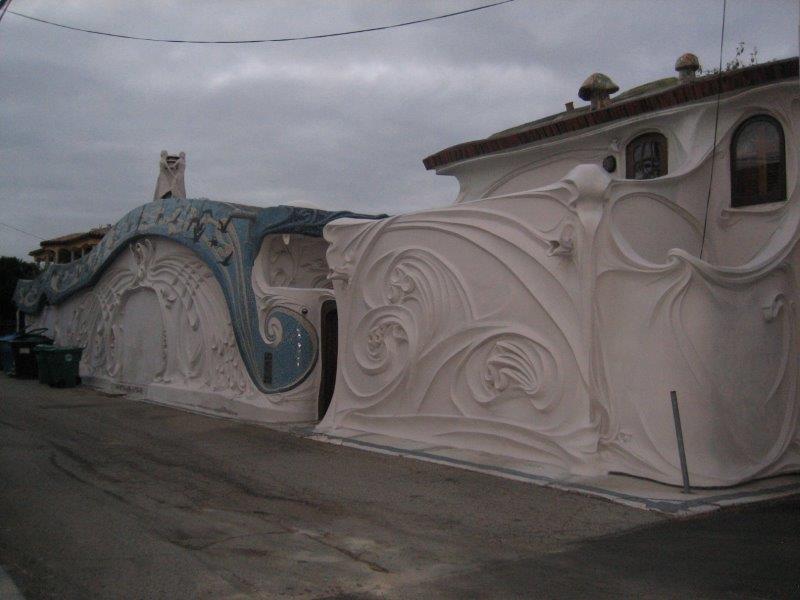 But neither the front nor the back quite compares to the very quaint house next door.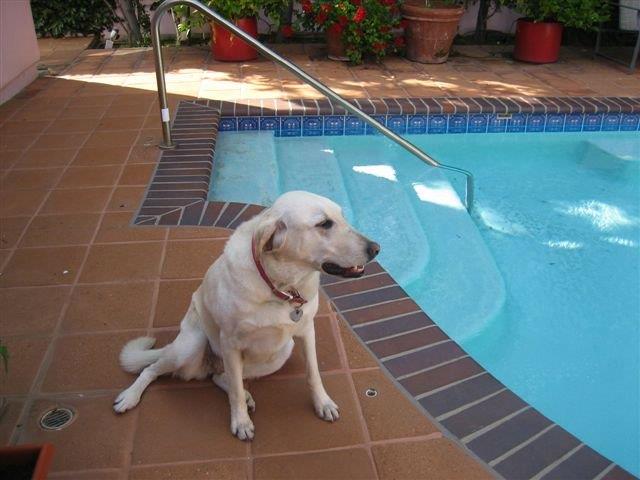 The dynamic, but seriously disabled, landlord lives in the rest of the very large house. And there was the added attraction of the landlord's dog, Snoowey the Labrador who just loved to be taken for walks.
As it was a Thursday, Julia had to go to work at her own law firm. I was left to my own devices which was just as well considering that I was about to embark on Thursday all over again – Ground Hog Day – without any sleep in between! So I quickly hopped straight into bed! Unfortunately, the telephone in the room emitted an alarm about every 15 minutes which I didn't know how to stop, so sleep was out of the question, but at least I was lying down and taking 15-minute naps.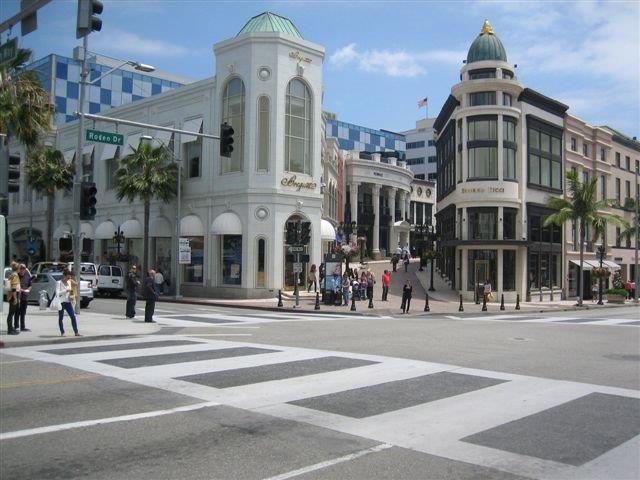 Giving up on sleep I went for a long stroll around Beverly Hills with Snoowey, marvelling at the architecture and the famous street names, like Rodeo Drive, that I've seen so often in movies.
When Julia came home from work we walked to a lovely local restaurant, enjoyed a most beautiful dinner of grilled trout with green beans and came home early to bed – and a wonderful, uninterrupted 10-hour sleep!
Friday dawned warm and the sun occasionally showed itself through all the cloud and mist. After lunch, the sky became much clearer as seemed to be the pattern for the days and it was a lovely warm 19 degrees.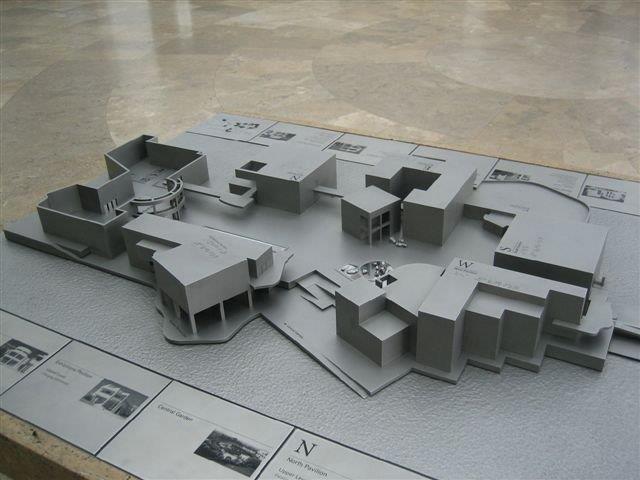 Julia decided to play truant from her law practice and took me to the Getty 'Center', or John Paul Getty Museum, which is located at 1200 Getty Center Drive in Los Angeles. This is not to be confused with the Getty Villa which is in Malibu and which opened as a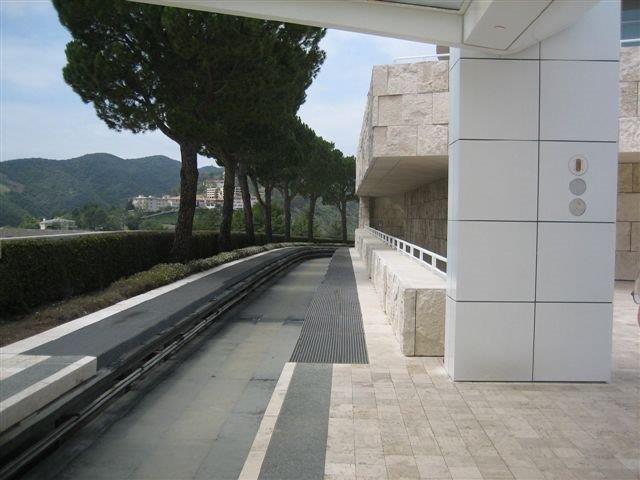 Museum in January 2006. Julia and I had tried to visit the latter when I was over three years ago but unfortunately, we arrived half an hour before closing time and they wouldn't let us in.
The Getty Museum is fairly extensive.
Julia parked in the underground car park and we were transported by train to the entrance area.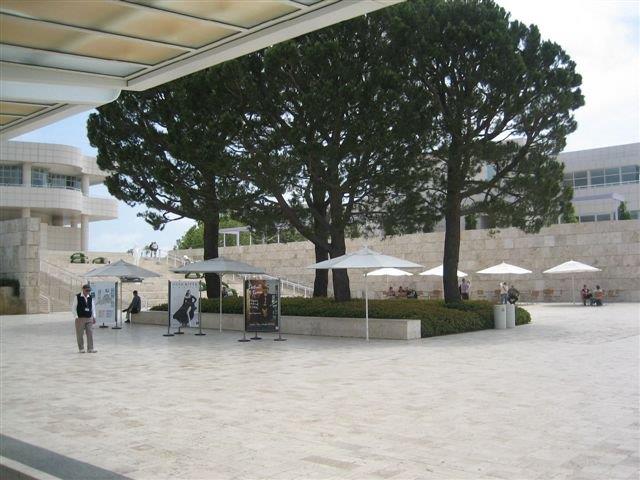 The Mission Statement of the J Paul Getty Museum and Villa is 'to seek to further knowledge of the visual arts LA 7and to nurture critical seeing by collecting, preserving, exhibiting and interpreting works of art of the highest quality'. With the two locations of the Museum and the Villa, the Trust aims to serve a wide variety of audiences through its expanded range of exhibitions and programming in the visual arts.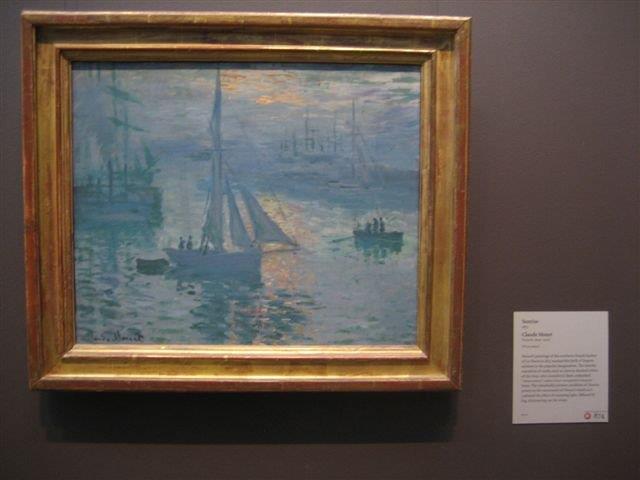 It's all really impressive and as we moved from room to room we were treated to some beautiful sculptures and paintings like this Sunrise painted by Claude Monet.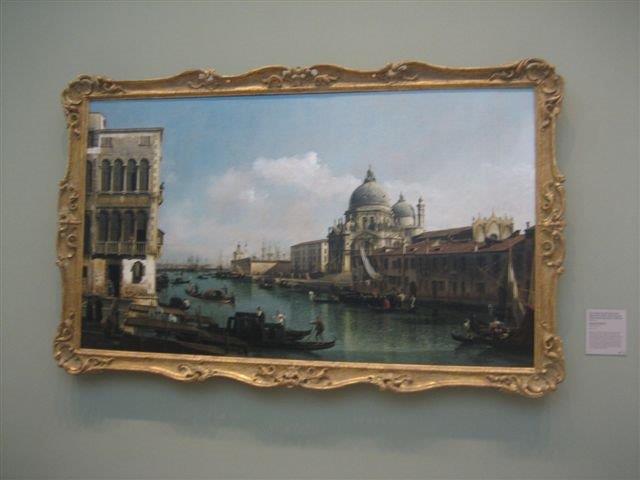 And this beautiful painting of Venice which I photographed especially for my daughter, Julie, to remember our holiday together there in 2007.
It was unfortunate that both the new exhibitions area and the beautiful gardens were both closed for renovations. But we took advantage of some excellent exhibitions like that of the work of Herb Ritts, a very well-known photographer. Some of his work was of fashion models but some were creative and really exceptional.
Jean Paul Getty was just a name to me so I checked him out! He died in 1976. He was an American industrialist who founded the Getty Oil Company. In 1957, Fortune magazine named him the richest living American. Despite his wealth, it was well known that he was a miser! He was an avid collector of art and antiquities and left over $661 million of his estate to the Museum after his death. The Trust is the world's wealthiest art institution.
Interestingly he graduated from Magdalen College, Oxford with degrees in economics and political science. He moved to England in the 1950s and became a prominent Anglophile. He lived and worked at his 16th-century Tudor estate, Sutton Place, near Guildford until he died of heart failure at the age of 83. He made his billions through shrewd investment in oil. He learnt to speak Arabic which enabled his unparalleled expansion into the Middle East.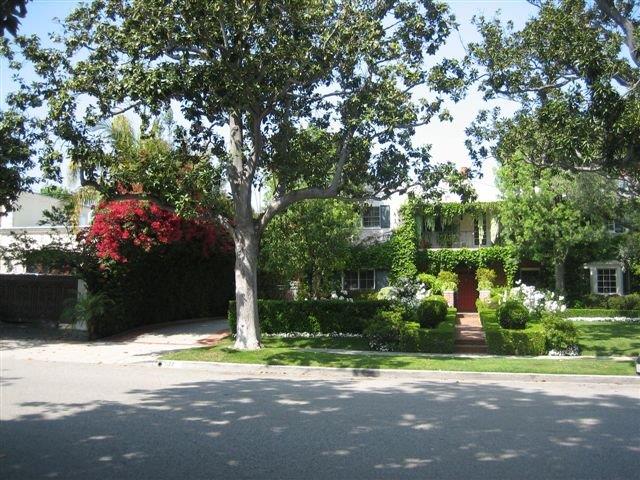 Leaving the Getty, Julia dropped me off at her home and went to put in an appearance at the office.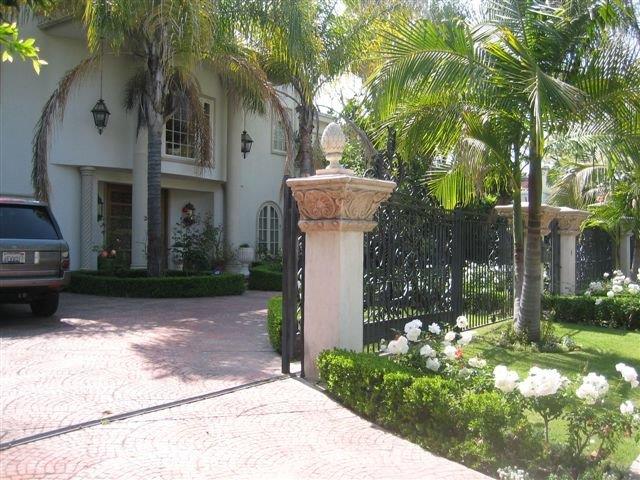 Snoowey decided that this would be a great time for another walk so we set off together to explore the opulence that is Beverly Hills. It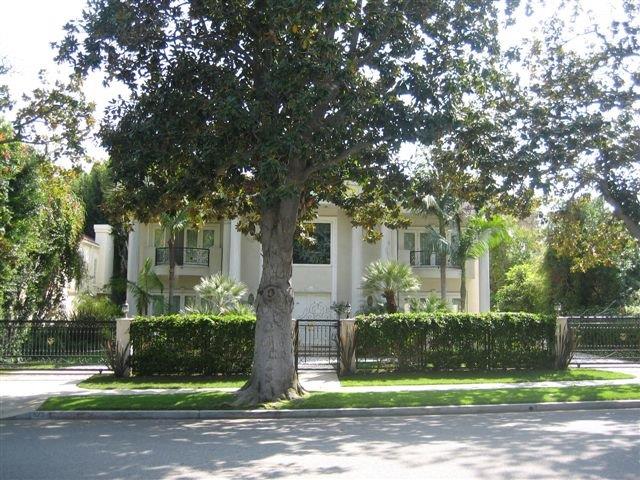 was warm so it was very pleasant to come home and relax by the pool!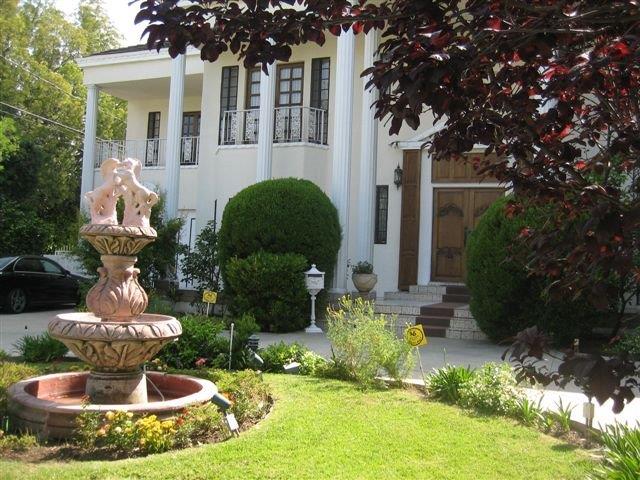 Julia came home surprisingly early considering that she'd had the morning off and announced that we were going to Walt Disney Concert Hall in Down Town LA.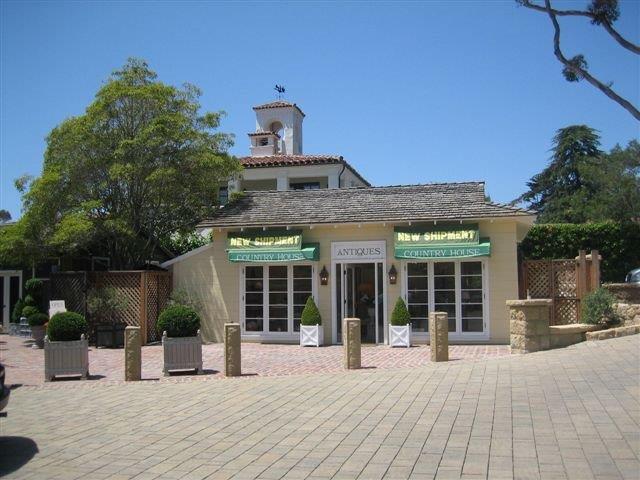 Sir Simon Rattle, the renowned British conductor from Liverpool, was conducting a concert of Wagner and Bruckner among other things – other things being several beautiful songs by Mahler sung by the Czech mezzo-soprano, Magdalena Kožená, whose performance was exceptional. Simon Rattle's performance was inspiring and he actually concluded the concert by conducting all three movements of Bruckner's Symphony No. 9 in D minor without the score! For this work, there were no less than eight French Horns and the music alternated superbly between crashing sound and gentle lyrical melodies, all beautifully controlled.
Before the concert started, we'd just had time for a quick snack at Kendalls, one of Julia's favourite haunts. She's a frequent visitor to Disney Hall and often goes to the Restaurant afterwards as well as before as she knows many of the musicians. Not surprising as she's a gifted French horn player and plays in orchestras herself when the demands of her busy practice allow. But in order to do this she says that an hour a day of practice, quite apart from rehearsals with the orchestra, is absolutely imperative – as one would imagine.
With our heads and hearts brimming with beautiful music, we headed for home, ready for another exciting day ahead.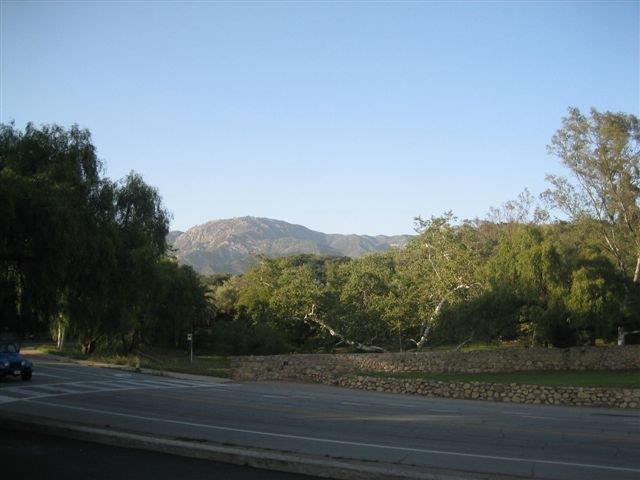 Julia's plan for Saturday was a visit to Santa Barbara, about 90 miles west-north-west of Los Angeles along the Pacific Coast. It has a total area of 42 square miles of which 20 square miles is land and 22 water. The climate here is often described as Mediterranean and the city is known as the 'American Riviera'. Because the city is so close to the ocean, onshore breezes keep temperatures pretty moderate, which results in warmer winters and cooler summers. In addition, the Santa Ynez mountains, an east-west trending range which rise dramatically behind the city with several peaks exceeding 4,000 feet, create a rain shadow.
This means that Santa Barbara receives higher rainfall in the winter than other cities in the same area but summers are unaffected due to the presence of offshore high-pressure systems.
I understand that snow is very rare on the ground in the city, and only a few flakes were recorded in 1939. It falls in the mountains about every three years but rarely stays for more than a few days.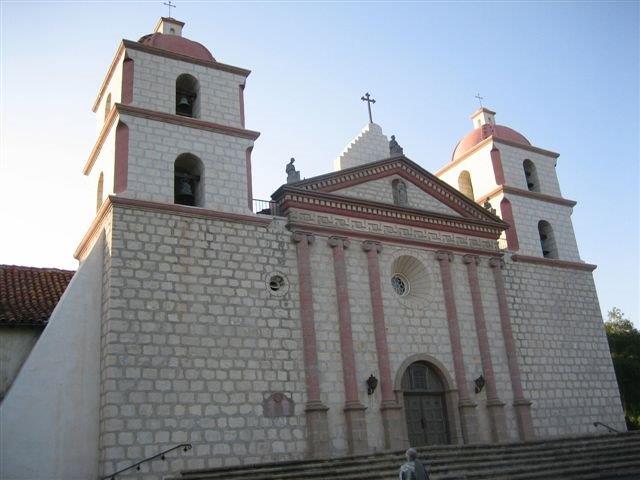 The first permanent European residents were Spanish missionaries and soldiers who came in 1782 to build the Presidio and the Mission.
The Spanish period ended in 1822 with the Mexican War of Independence terminating 300 years of Colonial rule. The flag of Mexico went up the flagpole at the Presidio but only for 24 years.
In 1846, Santa Barbara fell bloodlessly to a battalion of American soldiers and in 1848 it became part of the expanding United States. The population doubled, streets were designed (albeit badly), the city went through an expansion and the Gold Rush created a haven for bandits and gamblers. English gradually supplanted Spanish as the language of early life and the town was promoted as a health resort and destination for well-to-do travellers from other parts of the US. Many came and many stayed. In 1887, the railroad finally went through to Los Angeles and to San Francisco in 1901. Santa Barbara was now easily accessible by land and sea and development was brisk.
Just before the turn of the century, oil was discovered. This was the first offshore oil development in the world and remains a contentious practice in the area to the present day.
It was at this time that Santa Barbara housed the world's largest movie studio during the era of the silent film until the industry outgrew the area and moved to Hollywood. About 1200 films were produced, of which about 100 survive.
It was also during this time that the Loughhead Aircraft Company was established and regularly tested seaplanes off East Beach. This was the genesis of what would later become Lockheed.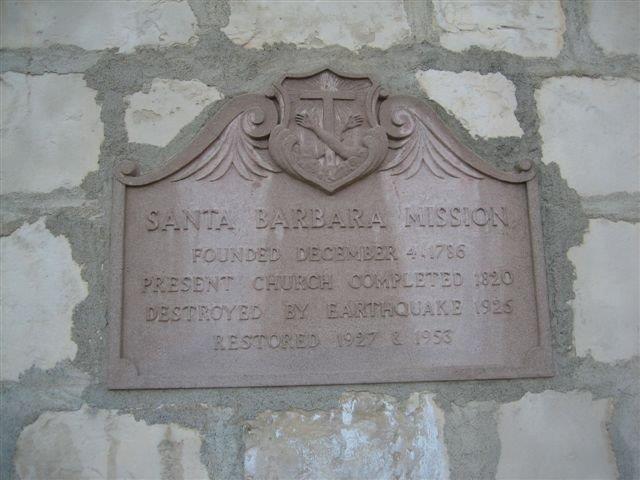 The earthquake of 29 June 1925 was the first destructive earthquake in California since the 1906 San Francisco quake and destroyed much of the downtown commercial district.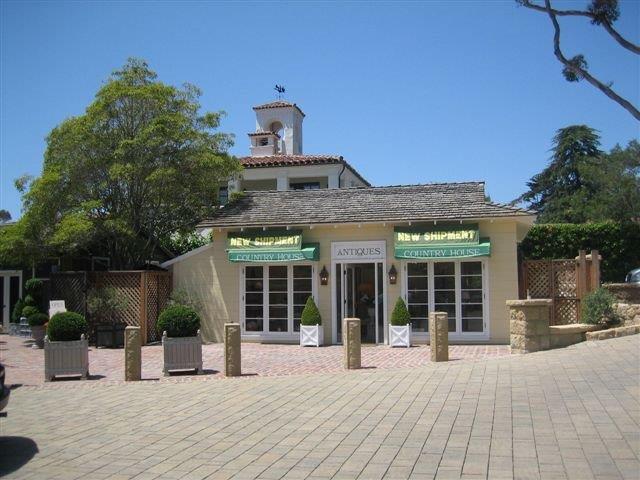 Despite the destruction and death it caused, it came at an opportune time for rebuilding because there was a move afoot for architectural reform and unification around a Spanish Colonial style. The residential architecture is predominantly California bungalows. The area now has the appearance of being totally Spanish with stunning Spanish architecture.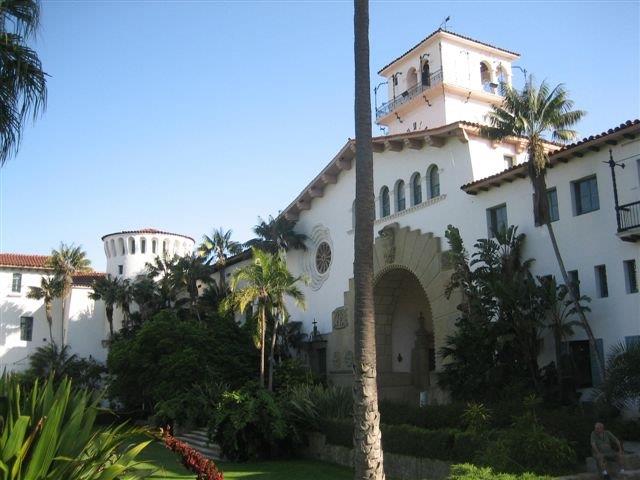 The city has passed laws against billboards and regulates outdoor advertising so that, unlike so much of America, the city is relatively free of advertising clutter. The Santa Barbara county Courthouse which was dedicated on 14 August 1929, is sometimes praised at the 'most beautiful public building in the United States'. It is certainly very beautiful.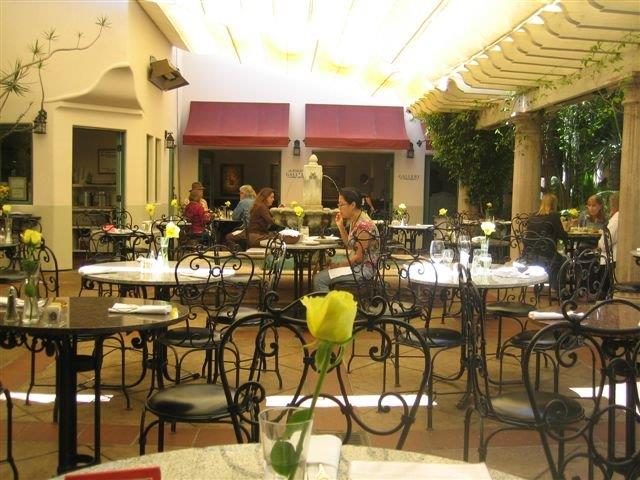 Santa Barbara gives the appearance of tranquillity and beauty but one hazard that constantly rears its face is the threat of destructive fires which have destroyed many homes over the years. These don't pose as much of a threat downtown as they do to the properties in the surrounding hills which are very reminiscent of the hilly suburbs overlooking downtown Wellington in New Zealand.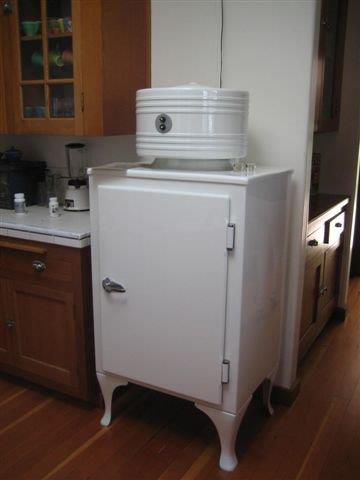 Julia had organised a lunch outing to meet a local artist and her husband in the company of two English barristers she's currently working with on one of her cases and their son. The lunch was a noisy affair with stimulating conversation and lovely food in a beautiful environment.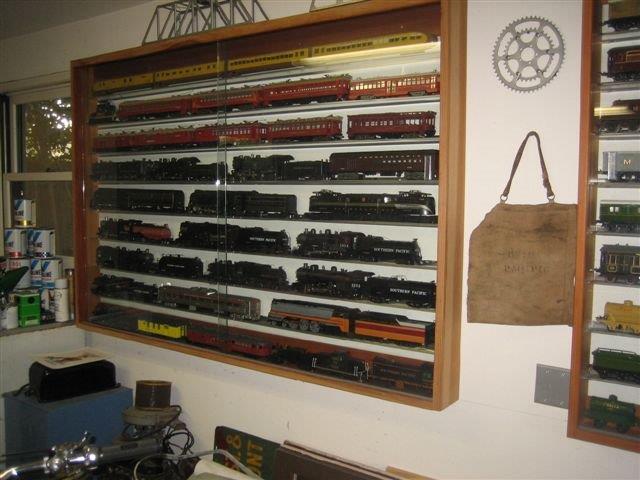 After lunch we drove to the artist's house where we admired not only some of her work in the Noir genre, but also the amazing collection of memorabilia carefully collected and lovingly restored by her husband.
It was a very pleasant experience and I felt honoured to be included in the visit.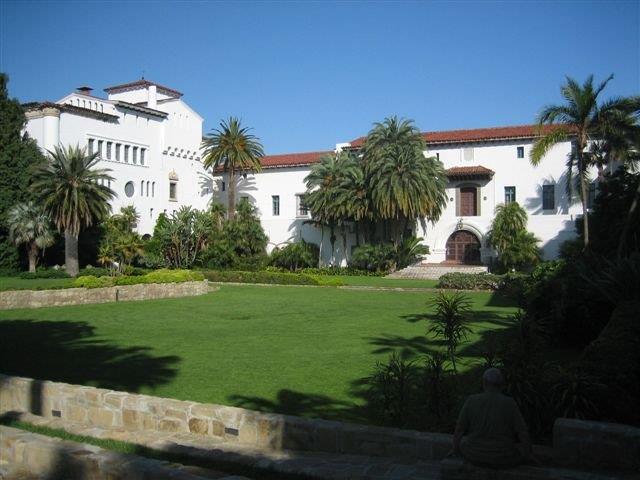 With three lawyers in tow, it was inevitable that we'd pay a visit to the magnificent Courthouse. Not only is it stunning from the outside with beautiful lawns and gardens laid out at the back.
And here we were very fortunate. It was late by this time the Courthouse was closed but there was a special 'Cinco De Mayo' function happening inside. The 5th of May commemorates the victory of the Mexicans over the French army at the Battle of Puebla in 1862. It's primarily a regional holiday celebrated in the Mexican state capital city of Puebla and throughout the state of Puebla but it's also celebrated in other parts of the country in US cities with a significant Mexican population. (It is not, as many people think, Mexico's Independence Day, which is actually 16 September).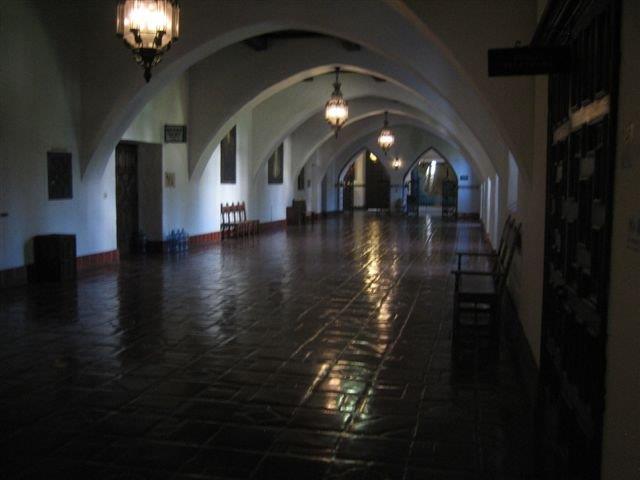 We arrived at the door and were met by a woman guarding the entrance. She asked if we were attending the function. Not knowing the local customs, I turned away, thinking that we were unlucky.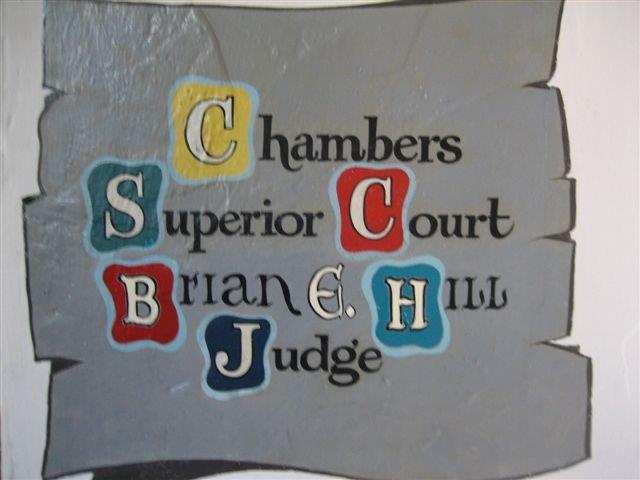 Fortunately, however, Julia was in front of me and immediately said that we were, indeed, attending the function at which all five of us were invited in.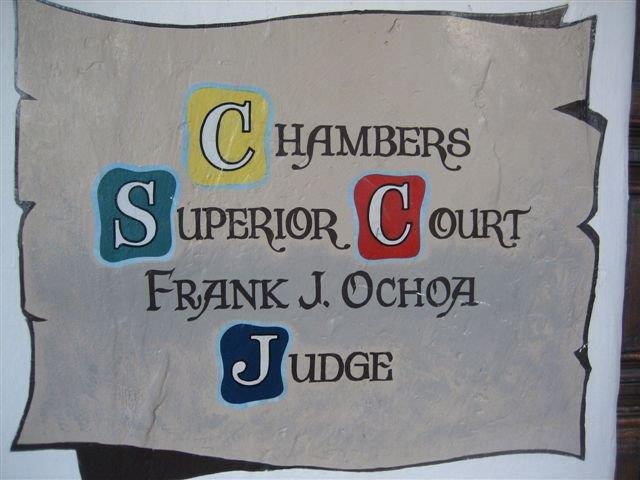 Before we went to the function room itself, we LA 26strolled round the corridors and marvelled at the signs outside the Judge's Courts.
By this time the function was in full swing and we arrived to see a member of the local Mexican community being honoured for his work. Speeches were made and we were able to enjoy the beautiful architecture inside the function room.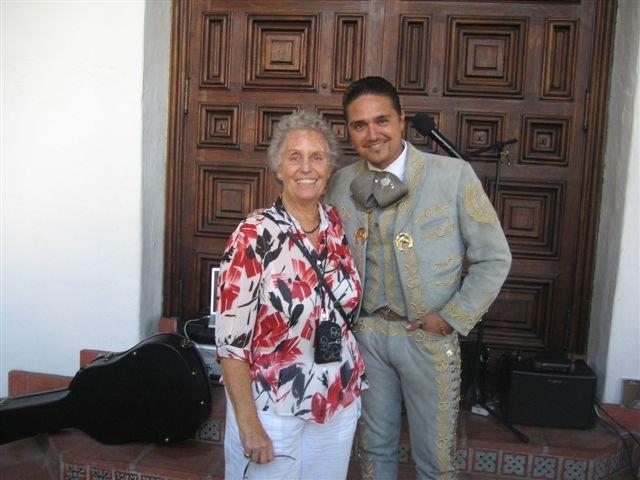 Speeches over, we joined with the Mexicans for wine and canapés and met some very interesting local dignitaries and artisans.
I confess to having felt somewhat uncomfortable that we'd gatecrashed but Julia and her barrister friends said this was perfectly 'normal' behaviour so I relaxed and enjoyed the conversations too. I met one lovely man who introduced himself as 'Hap'. I responded by asking '..as in Happy?' to which he responded 'or Haphazard' and we had a great laugh together.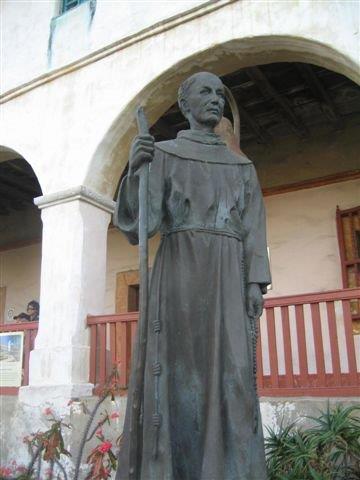 With Julia's barrister friends returning home to Santa Monica, she and I went to look at the Mission which was clearly steeped in history and would have been lovely to have explored had it not also been closed.
Rather than just having dinner and returning home, we paid a quick visit to more of Julia's very good friends from the time when she lived in Santa Barbara for three years. Relaxing on their balcony as the sun went down and enjoying a glass of wine was a fitting end to a lovely day.
Before a quick dinner enjoyed in another of the local restaurants, we visited one of Julia's favourite haunts – a beautiful bay below a cliff called Hendry's Beach. She tells me she's spent many hours walking the beach in an area what is relatively unpopulated because there are only certain access points to the beach.
But on this occasion, we struck the beach at the exact moment when, because of a fluke of orbital timing, the May full moon peaked just as it was passing what's called its 'perigee'. (I understand that perigee is the closest point to the earth and it's in this stage that the moon appears larger than normal – apogee is the furthest point from the earth.) The result was the biggest full moon of the year which NASA and other scientists nicknamed the 'Supermoon of 2012'. It was an amazing coincidence that we were walking by the beach at the exact moment – 8.30 pm – that it was at its zenith for that particular area of the world. We felt that we could almost touch it.
We didn't know this at the time but found out about it at dinner an hour later. Julia had been disappointed that we couldn't actually walk on the beach because the tide was uncharacteristically high, caused by the moon's strong pull. We felt very blessed.
And so we drove home, arriving after midnight and feeling as if we'd been away for a week, not a single day!
Julia approached me with a number of alternative ways to spend our last full day together – sea, mountains or towns! I chose sea in the form of a visit to San Diego because I'd only seen it briefly many years ago and was keen to explore it some more. We made our way south, almost as far as we'd driven north the day before.
We didn't actually see much of San Diego itself, because we spent the whole afternoon at Hôtel del Coronado (also known as The Del or Hôtel del). Hôtel del is another nostalgic area for Julia. Whenever she has a case in the area or a client to visit, she makes sure she stops by and enjoys a drink before making her way home. And who could blame her – it's very impressive and set in the most beautiful environment.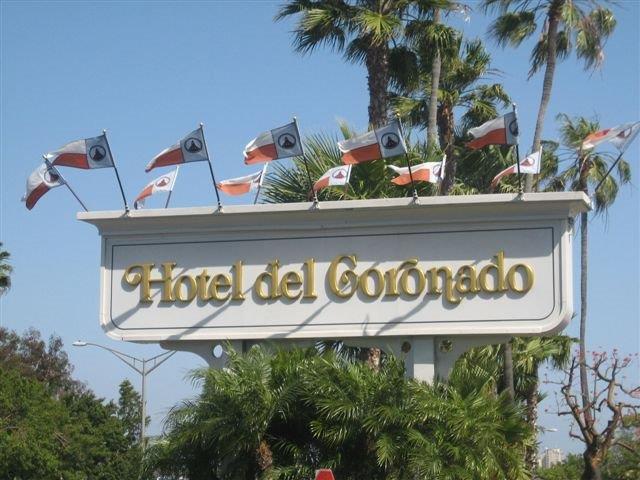 The Del is a beachfront luxury Hôtel just across the San Diego Bay from San Diego itself. It's one of the few surviving examples of an American architectural genre, the wooden Victorian beach resort. It's one of the oldest and largest all-wooden buildings in California and was designated a National Historic Landmark in 1977.

When it opened in 1888 it was the largest resort Hôtel in the world and was once listed by USA Today as one of the Top Ten resorts in the world. It's since been removed from that listing.
It certainly created several 'firsts' in the world. Because it was a wooden building, a freshwater pipeline was run under San Diego Bay to deal with fire hazards. Water tanks and gravity flow sprinklers were installed. It housed the world's first oil furnace and was the first Hôtel to install electric lighting. The electric wires were installed inside the gas lines so that, if the 'new-fangled' electricity didn't work, they could always pipe illuminating gas into the rooms. Thomas Edison inspected the final electrical installation and returned in 1904 to oversee the nation's first illuminated outdoor Christmas tree which was placed on the Hôtel lawn. The Crown room was the masterpiece. Its wooden ceiling was installed with pegs and glue. Not a single nail was used.
Heaps of presidents (including Obama), royals, and celebrities have visited it throughout the years and it's been featured in movies and books, perhaps most notably Marilyn Monroe's 1959 film, 'Some Like it Hot'. This was the story of two out-of-work male musicians who go on the run from the mob after witnessing the Valentine's Day Massacre. It co-stars Tony Curtis and Jack Lemmon who dress up in drag to join an all-girl orchestra on its way to Florida and meet ukulele-player Sugar Kane, played by Monroe.
The original grounds had many amenities including an Olympic-sized saltwater pool, tennis courts and a yacht club with architecture resembling the Hôtel's grand tower. Some of the features offered to guests when it opened included a Japanese tea garden, an ostrich farm, billiards, bowling alleys, hunting expeditions and deep sea fishing.
Ownership of the Hôtel has changed many times over the years and millions have been spent in continuous refurbishment. Its current value is estimated to be in the region of US$590 million.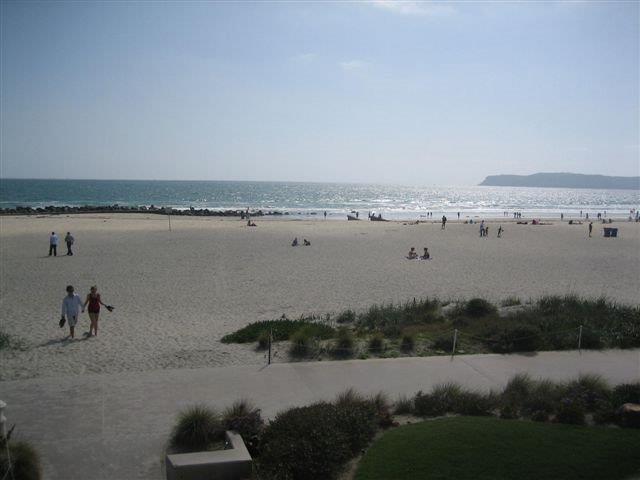 The journey there had taken a couple of hours so we were both very hungry. We chose one of the outdoor eating areas and enjoyed a beautiful light lunch overlooking the ocean. Julia and I never seem to lack stimulating subjects to talk about so it was a couple of hours later that we decided to walk on the beach.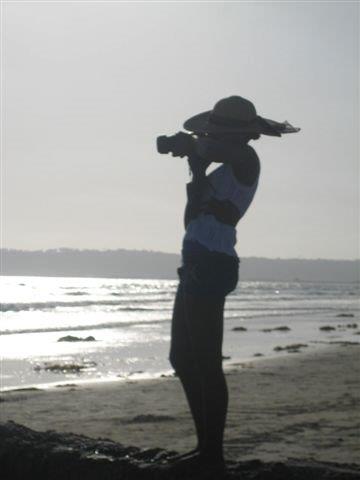 Here we ran into a lovely African American family with a South African au père who provided a wonderful photo opportunity as the sun began to drop towards the horizon.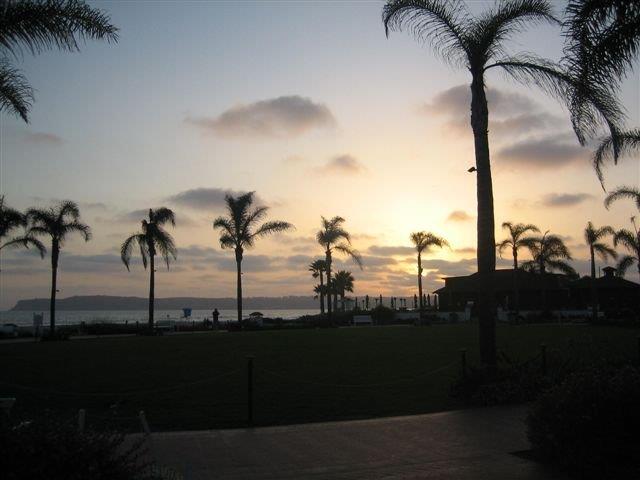 It was all too beautiful to stray far from so we just sat again to drink in the atmosphere with an evening cocktail from a strategic vantage point.
It was here that we met a lovely woman sitting at the table next to us, having a light dinner with her young daughter. We'd noticed her, not just because of her beautiful hat, which she told us she'd bought in Tijuana, but also because we noticed that she was speaking with her daughter in English, French and Spanish! When we enquired about this we found that the woman's mother was French, her daughter was at a French school and was learning Spanish there and that her nanny was Russian so she was picking this up too! I think the daughter was about 8!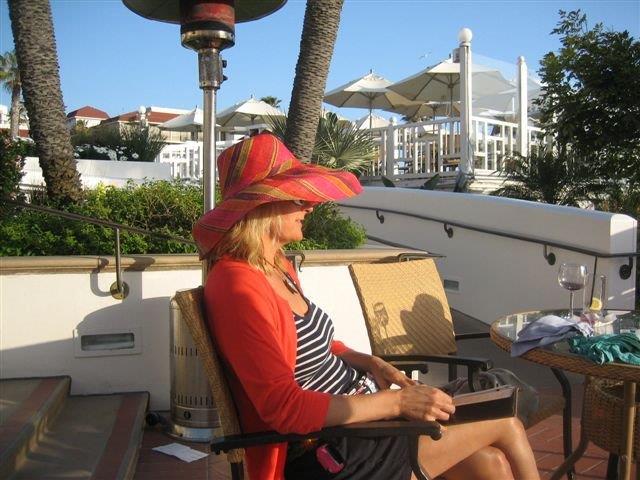 We exchanged business cards and found out that she owns and runs the Surf Diva Costa Rica Adventure and has taught thousands of men, women and children from all over the world to surf. Check out http://www.surfdivacostarica.com/
Cocktails and a lovely hummus dip and vegetables over, it was time to take a final stroll through the corridors of the Del and make our way home. As we passed Orange County, Disney put on a beautiful firework display that lit up the sky in front of us. A fitting end to an amazing holiday in Los Angeles.