Bali, Indonesia - 24 September to 8 October 2013
After many years of travelling, one would have thought I'd have known better …For the first time ever, I only took my New Zealand passport with me for the journey to Bali. Big mistake! I hadn't checked the dates and it expired less than six months after my return date to New Zealand. I wasn't going to be allowed to fly. Fortunately for me, the weather came to my rescue with very strong winds delaying flights. The airport staff told me to go home and get my English passport and, if necessary, agreed to put me on a later flight. Thanks to a great response from Julie who was at home to receive my frantic call and could check the dates on my English passport, and Ken, who very kindly raced round to my house and brought the passport, and Julie, to the airport, all was resolved very quickly and, in fact, I caught the original flight. Fortunately, I had a five-hour delay in Auckland so there was plenty of time for unfortunate accidents.
This somewhat unforeseen 'break away' had come about when I received an invitation to the joint 70th birthday party of my very good friends, Di and Mal, who live in Perth. Di and I had been very good friends and tennis partners in England for many years. She emigrated to Canada, came back to England for a visit on board ship where she met Mal, an Australian. And the rest, as they say, is history. I was their matron of honour and Di is Adam's godmother.
But it wasn't to be just any old birthday party in Perth. Apart from being their joint 70th, it was to be in Bali and a very select group of their relatives and friends couldn't resist the invitation and all decided to make a holiday of it in various ways. So their three children were there and, of course to my absolute delight, Adam and Janice popped down from Singapore.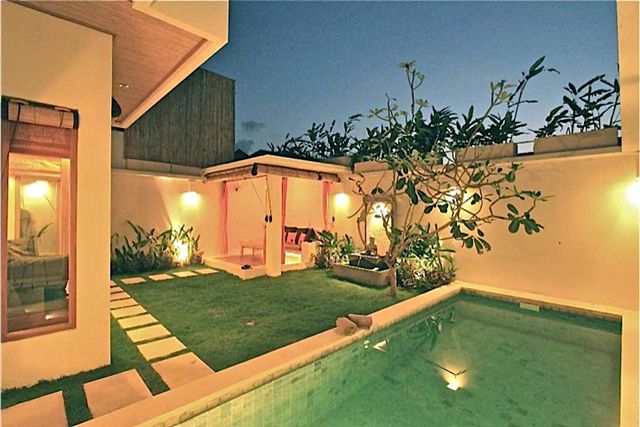 Who was going to be there wasn't the only special treat. Bret's uncle, Trevor, owns a villa in Bali and offered to 'lend' it to me for the duration. The only cost was the outgoings, so I was very spoilt indeed. The villa is at Jalan Bidadari in Kerobokan which is near the west coast north of Denpasar.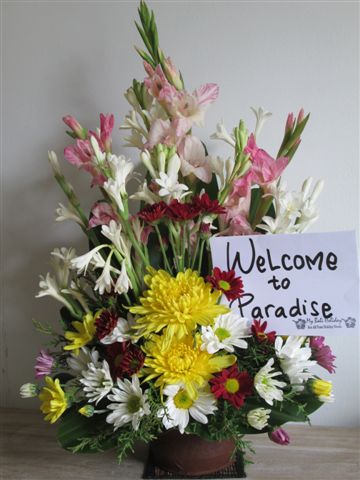 For some reason, I didn't sleep a wink on the plane and arrived at the crack of dawn at Denpasar airport. Trevor had arranged for a driver to meet me and, sure enough, Nyoman picked me up and whisked me away to the villa. I had no idea what to expect and no idea where we were going but I was completely blown away by the luxury that awaited me.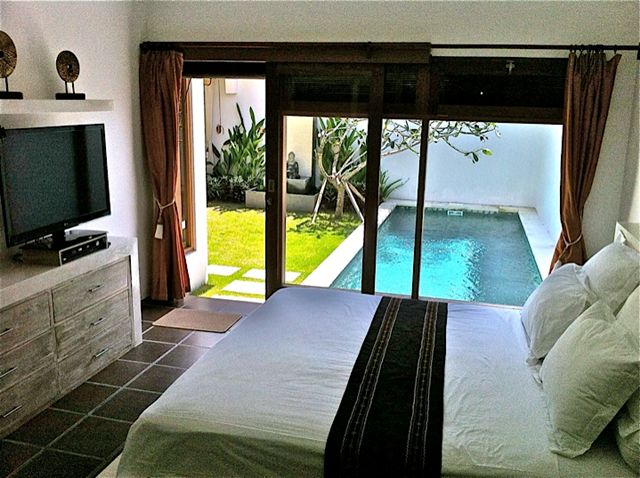 It was tempting to lie down on the inviting bed with the pool outside the window but those who know me well will know that the better choice was to find a sun lounger and soak up some of the wonderfully warm Bali sunshine.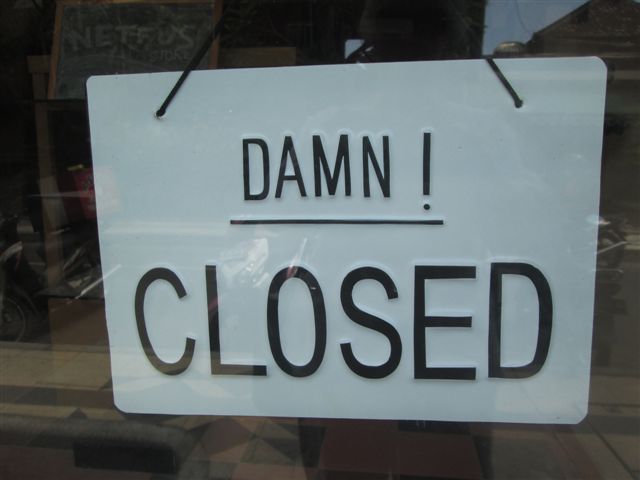 And so I spent the day getting to know the wonderfully helpful manager of the row of villas, Renny, finding my bearings and chilling out. I took a wander through the nearby town and found that, even in Bali, things are not always open!
Renny was always available, always helpful and a fount of knowledge. I don't know what's happened to the photos of her that I took because she's beautiful too!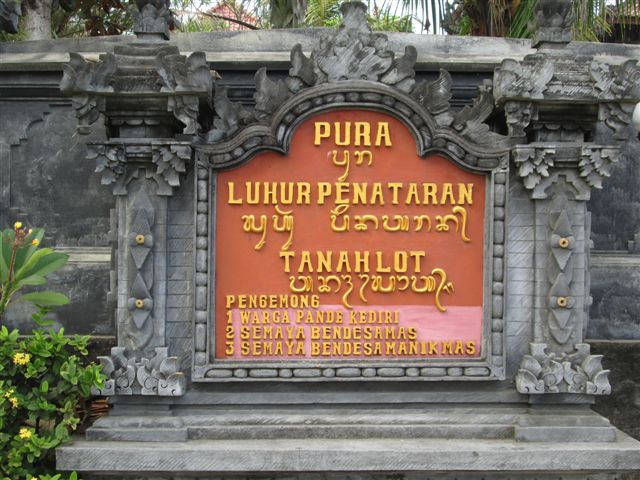 Renny suggested a few things I could do and the next day Nyoman picked me up at 8.00 to take me to Tanah Lot Hindu Pilgrimage Temple at Tabanan on the west coast about 20km from Denpasar.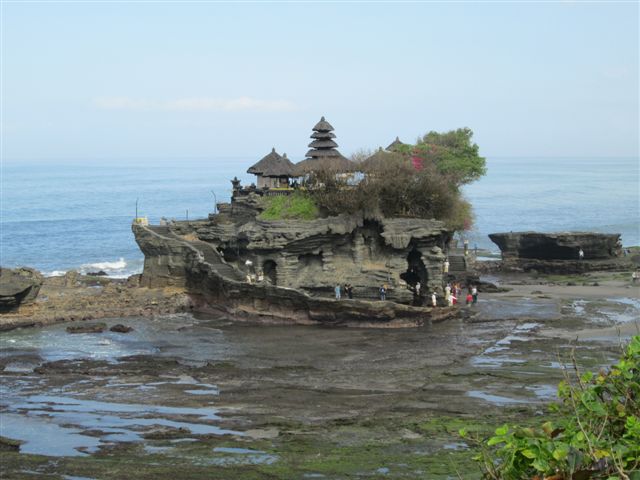 Tanah Lot means 'land in the sea' in the Balinese language. The temple actually sits on a large offshore rock that has been shaped continuously over the years by the ocean tide.
Tanah Lot is claimed to be the work of a 16th century bharatha called Nirartha. The bharatha people are a Sri Lankan caste of Paravar immigrants from Tamil Nadu in India where they were traditionally fishers' merchants and traders. Most are Roman Catholic although a significant minority practise Hinduism.
The story goes that during his travels along the south coast, Nirartha saw the rock-island's beautiful setting and rested there. Some fishermen saw him and brought him gifts. He spent the night on the little island. Later he spoke to the fishermen and told them to build a shrine on the rock because he felt that it was a holy place on which to worship the Balinese sea gods.
And so the Tanah Lot temple was built and has been a part of Balinese mythology for centuries. The temple is one of the seven sea temples around the Balinese coast. Each of them was established within sight of the next to form a chain along the south-western coast. The Hindu influence is significant.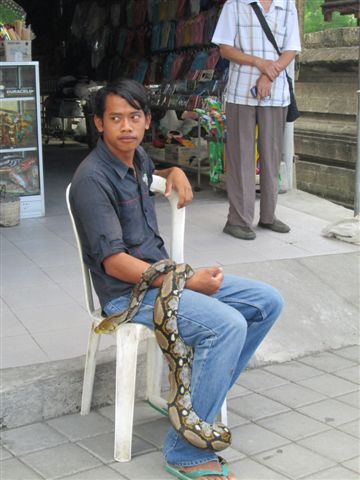 At the base of the rocky island, poisonous sea snakes are believed to guard the temple from evil spirits and intruders. A giant snake purportedly created from Nirartha's towel when he established the island, protects the temple. A young man was sitting at the side of the road as I approached the temple, but his snake looked so calm that I wondered if it was one of the poisonous sea snakes.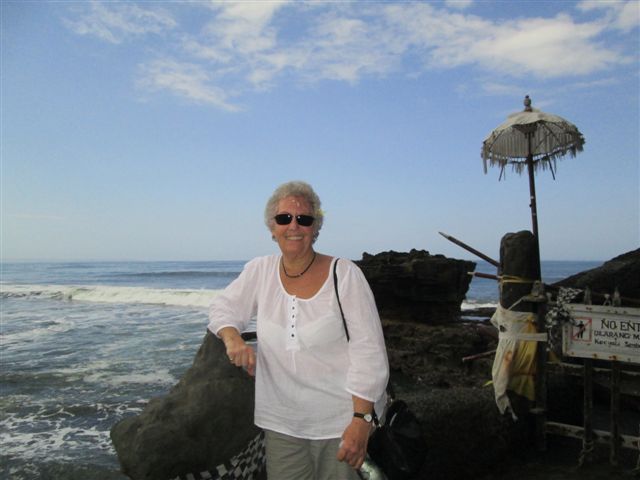 Unfortunately, it wasn't possible to go inside the temple but I was allowed to meander around the rocks and was encouraged to pay for a Hindu blessing from the monks.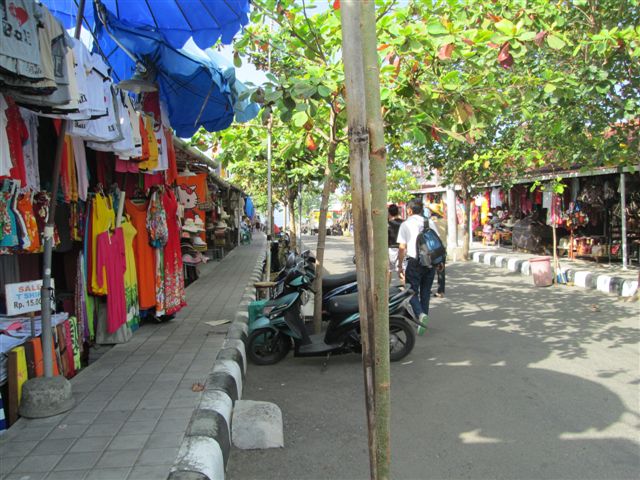 The Temple is surrounded by a village and there were plenty of places to wander and enjoy the surroundings.
Bali is an ideal place to indulge in full body massages – and I indulged in several! And Renny directed me to a street nearby where there were a variety of places to eat with food from different countries. Of course, I found a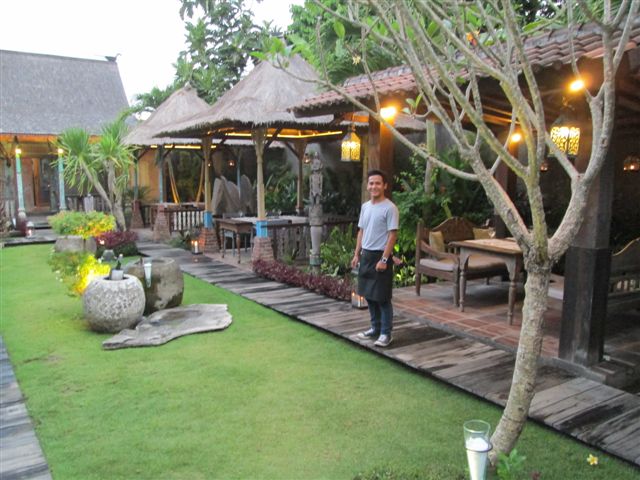 French restaurant called L'Assiette, and tried it out one evening before Adam and Janice arrived.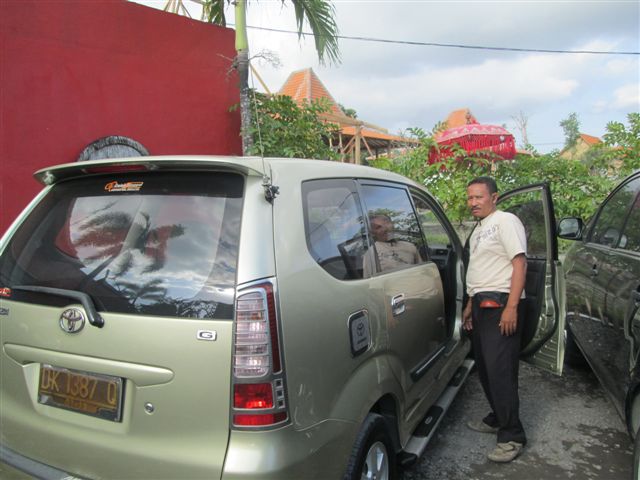 A couple of days later, Adam and Jan arrived. Nyoman and I picked them up at the airport and he drove us straight out to lunch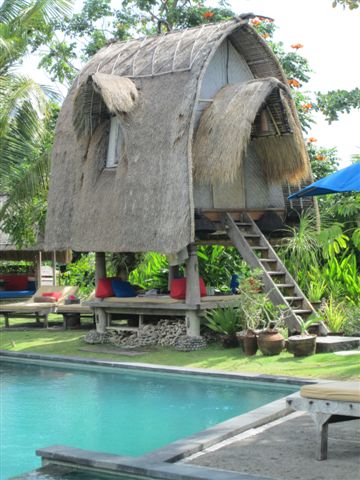 at a beautiful resort they'd heard about called Desa Seni which they had always wanted to explore.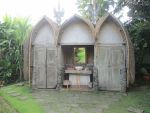 It was of particular interest to Jan because it has a very good reputation for Yoga and, given her increasing expertise, she's always wanting to explore what's on offer. Even the toilets were a joy to behold.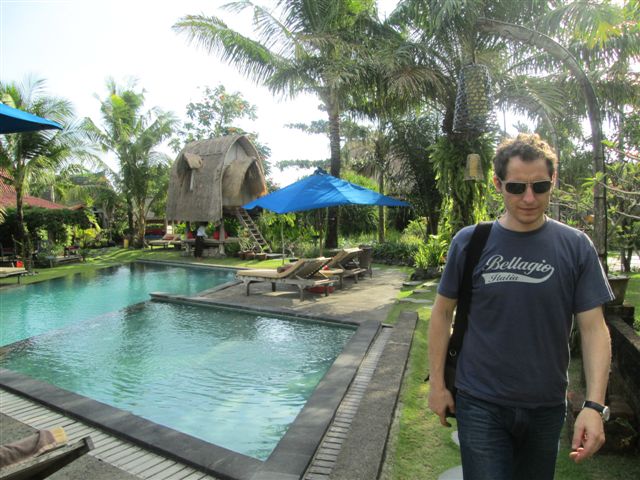 It was very, very beautiful and tranquil. We had a beautiful lunch overlooking the peaceful surroundings and felt the stress melt away although Adam can rarely be persuaded to be parted from his computer!
Jan picked up details of their Yoga offerings so that she could return.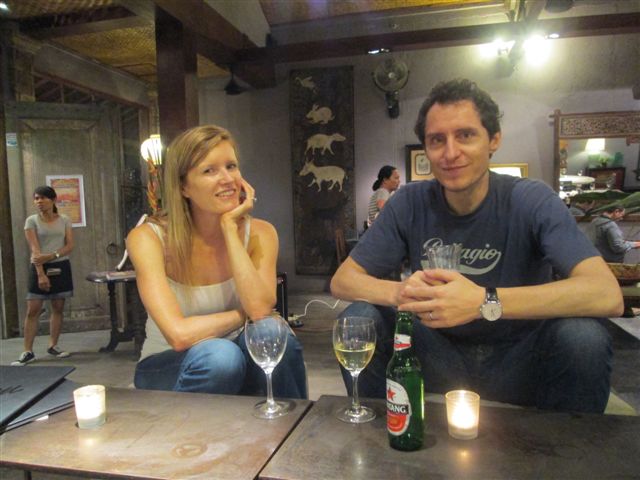 And that evening we walked to the French Restaurant I'd picked out and had a lovely meal before a very early night.
After such a busy day, it was good to make a slower start the next day. Adam and I relaxed over a lazy breakfast, Jan did her Yoga, I lay in the sun and enjoyed the pool. What a life!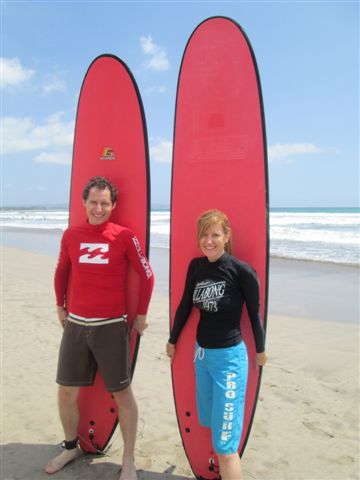 Nyoman collected us at 12.30 and took us to Legian Beach where Adam and Jan planned to surf! It was great fun to watch their preparations and to see them venturing into the surf together, but it was much harder to 'find' them with my camera as they caught the odd wave and surfed to the beach.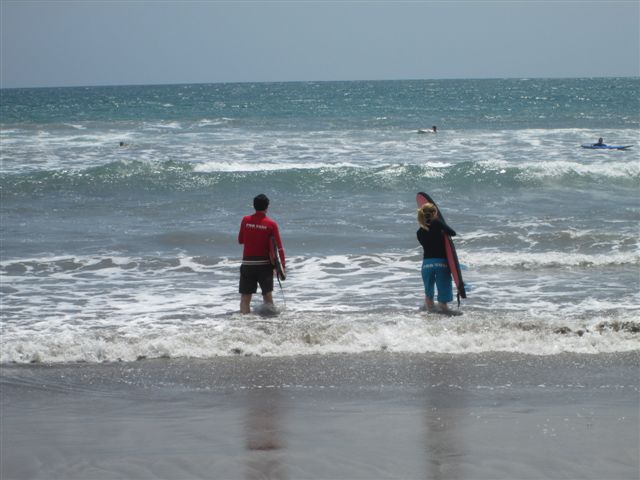 First Jan (on the right) going out.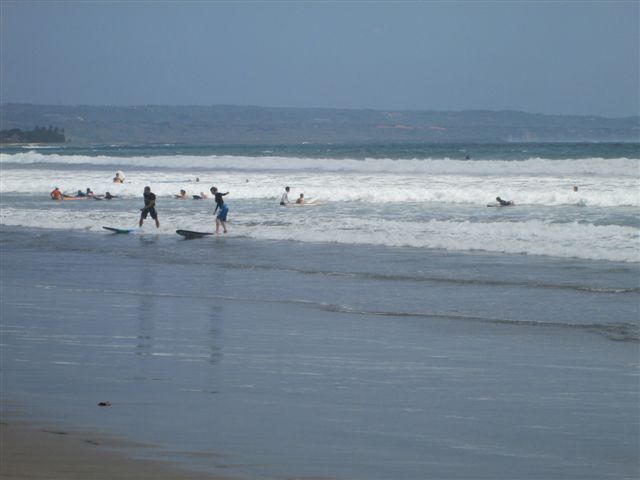 And then both of them surfing in. I should have zoomed much closer!
And then it was time to leave the beach and head to Di and Mal's villa near Sanur for the very special birthday party.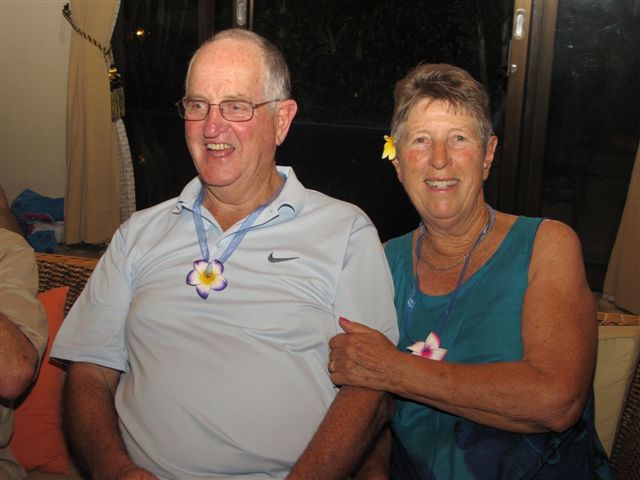 It was a lovely evening with lots of chat and laughter and great to catch up with both Di's sisters from England and, of course, her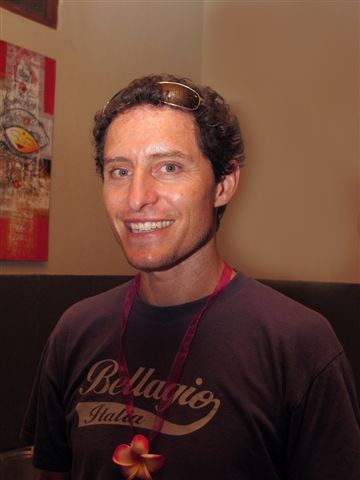 three children who both Adam and I know very well from many occasions spent together over the years.
Nyoman took us home again (what a patient man and what a great driver he was).
The next day Jan disappeared to a Yoga lesson at Desa Seni. Adam and I enjoyed a great morning of mother/son catch up chats and generally put the world to rights.
When Jan returned we went for a long walk to the beach, enjoyed great massages, had lunch overlooking the ocean and then took a taxi back to the villa and they left for the airport. It's always sad that our time together is so short but they both have very busy jobs and I'm very fortunate that they can spare even a little time.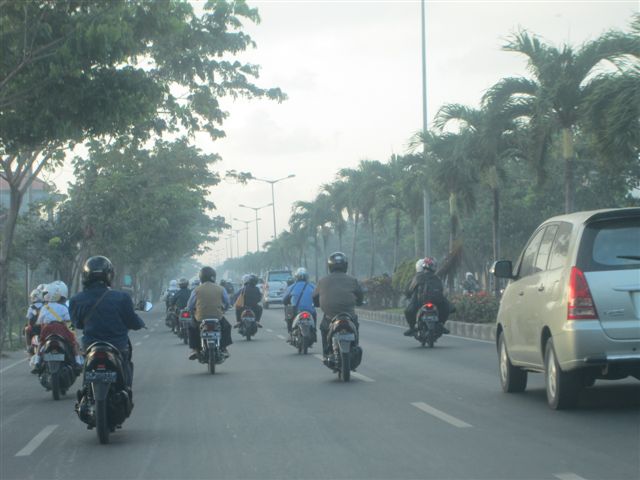 Meanwhile, Di had organised a wonderful private cooking school with the family in Sanur. I set off at 7.00 in amazing early morning traffic with a different driver who had great difficulty finding the rather secluded venue and had to stop to ask on many occasions.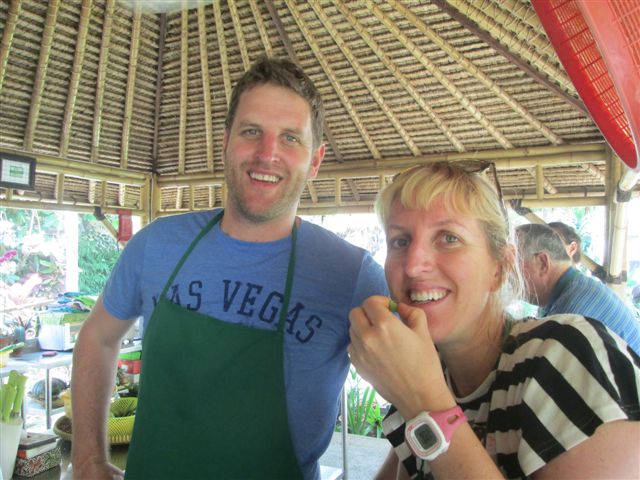 Jemma was visiting a friend that day but James and Krista were in good form, cooking and tasting with the best of us.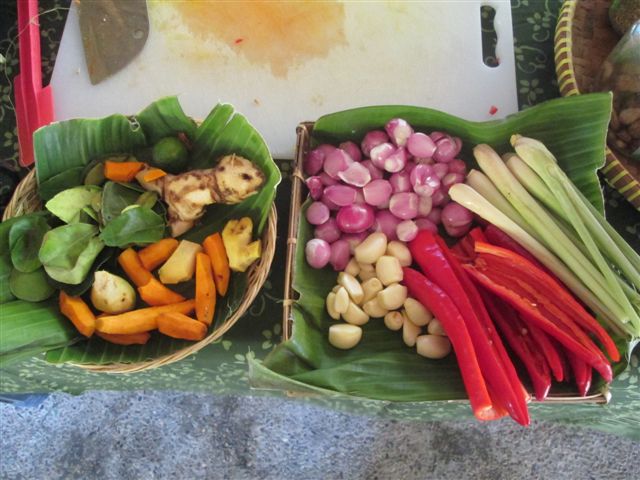 We spent quite a bit of time preparing the wonderful fresh ingredients, some of which we knew while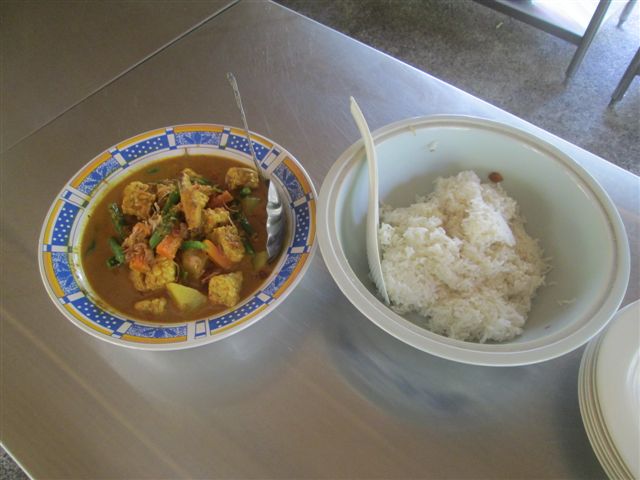 others were completely foreign to us.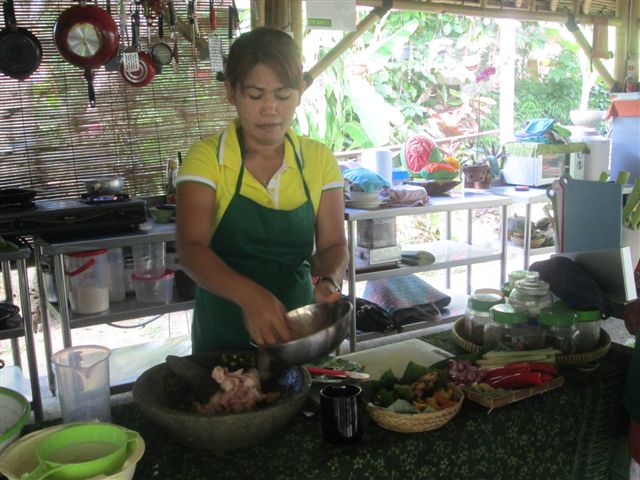 Our 'teacher' had prepared all the food for the birthday party so Di and Mal knew that we would be in very good hands.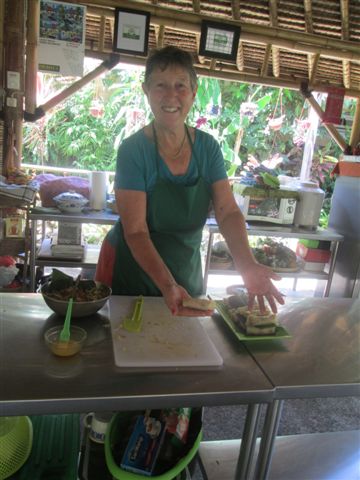 Di told us that she'd done a cookery course previously so she was much the most experienced of us all.
But despite this, we all managed to produce some pretty authentic looking dishes which we were, of course, allowed to eat, so the time spent was very enjoyable and worthwhile.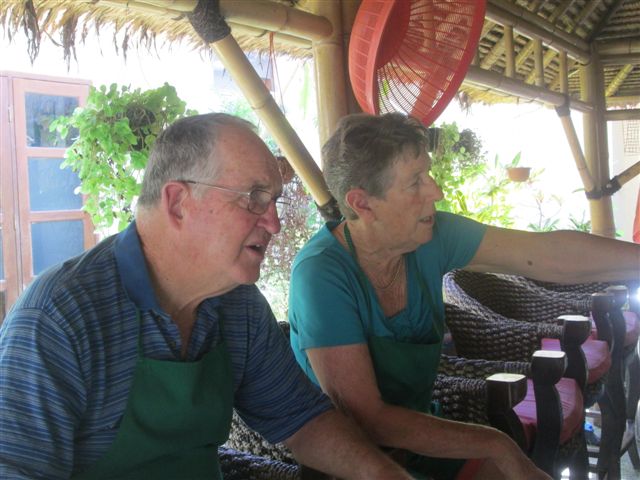 And although Mal cooked with the best of us, it was fitting that he and Di spent a little time directing the rest of us so that we all had the best experience possible.
The rest of the day was spent lazing in and by their pool, enjoying the company of very good friends and catching up with all the family happenings since we'd last met.
The rest of the holiday passed in peace and contentment. I was in constant contact with the Our Porirua happenings in New Zealand and just managing to keep up with what I needed to keep up with between swimming, relaxing in the sun or having a massage or a pedicure!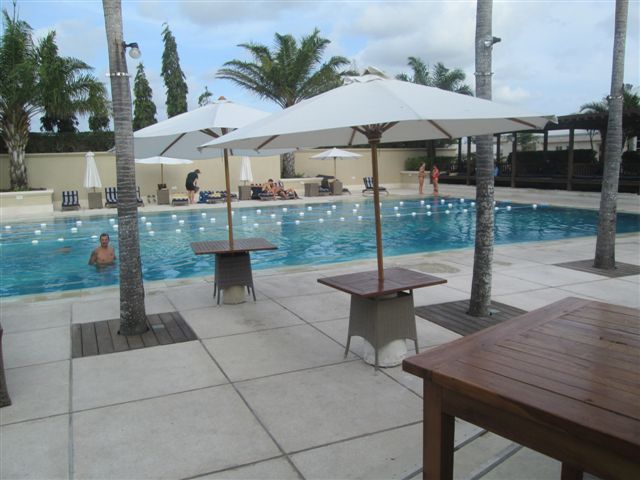 Renny suddenly told me that she'd been talking to a friend and had discovered that there was a Rotary Club quite nearby at Canggu and said that she could arrange for one of their members to pick me up and take me there for dinner that night. I've been to Rotary meetings in a number of countries and couldn't resist.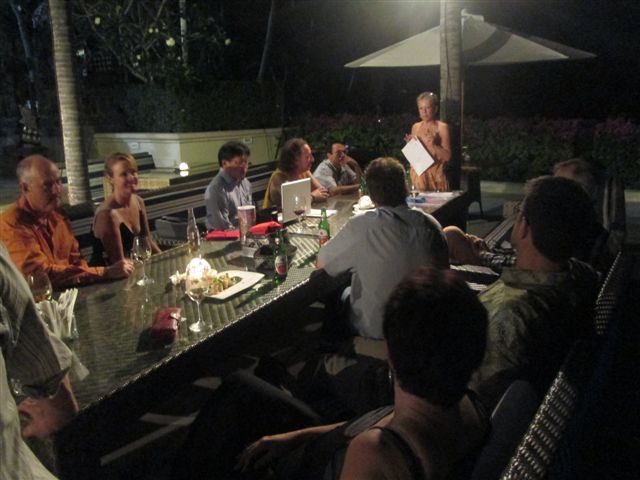 What a venue! Not too much like a meeting in New Zealand but very enjoyable nonetheless!
Canggu is a very young club, only two years old, with young members and they do some great projects. It was a delight to spend the evening with them.
One surprise was to hear about the project they run every weekend teaching young children to swim. The Balinese believe that there are evil spirits in the sea and are therefore fearful of it. I saw some of their wonderful photos of very happy children frolicking in the surf. What a good job.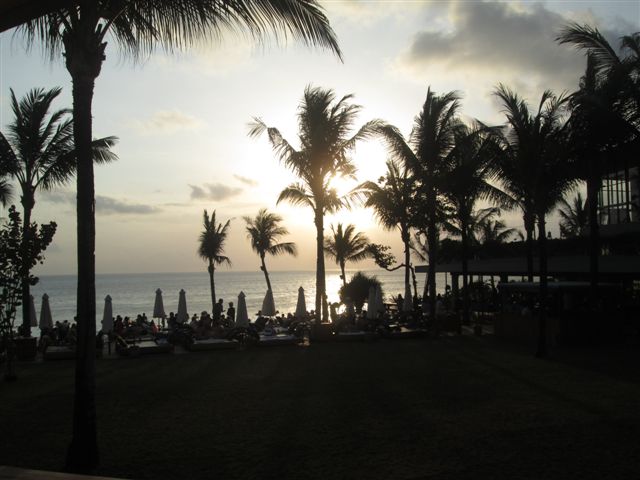 There were two more opportunities to spend time with Di and Mal and family. Situated as they were on the east coast with me on the west coast, we weren't located very close together, but transport is so cheap that it wasn't hard to get together.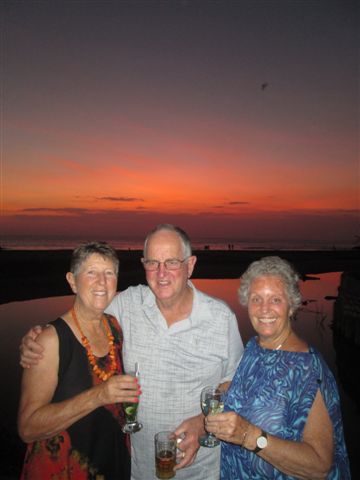 So one evening I travelled, first to the Potato Head resort to meet up with Jemma (who I never found in the crowds!) and then to Seminyak where we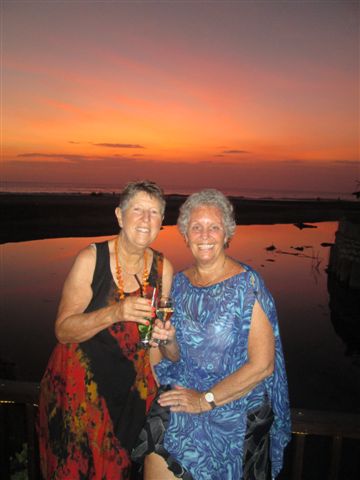 all spent the evening together, enjoying drinks in a stunning sunset and dinner in a restaurant nearby. Time most enjoyably spent with very special friends.
And then on my last evening, they came over to Denpsar and went out for a final meal at L'Assiette. I'd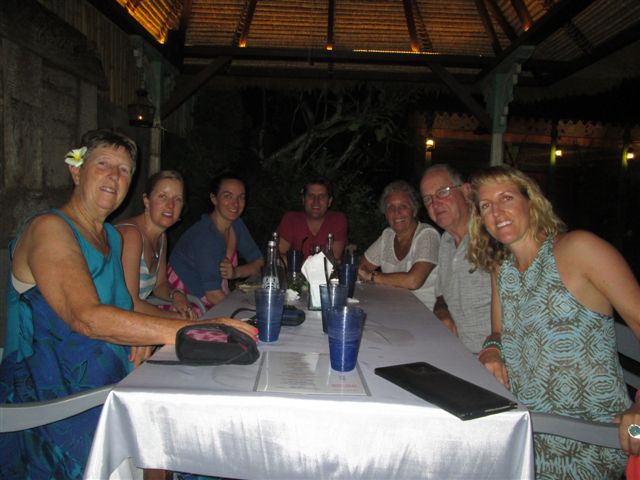 managed to secure the very last table because it was a special evening with live music so we had a very happy evening together, knowing that it will be some time before we're all together again.
My plane home arrived in Auckland at 8.00 so it was hard to get back to Wellington and home at a reasonable time.
So my lovely 'out-law', Bret's mother, Cheryl, picked me up at the airport and I stayed with her and Bruce for a couple of nights.
It was great to catch up with all their news and to enjoy a great walk along the beach with Cheryl before breakfast the next morning. She walked very fast, training as she was to walk the Milford Track in November with a friend. It was obvious that my speed was really much too slow for her, fit as she was,walking about 50km each week! I wasn't surprised that I didn't get a second invitation the following day.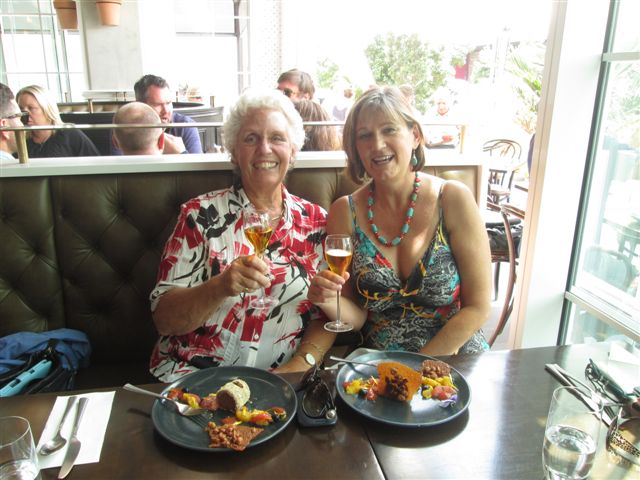 After a great breakfast with Cheryl and Bruce, I crossed the road to a shopping mall where I'd arranged to meet Heather, my colleague from Chapman Tripp days twenty years earlier. We'd seriously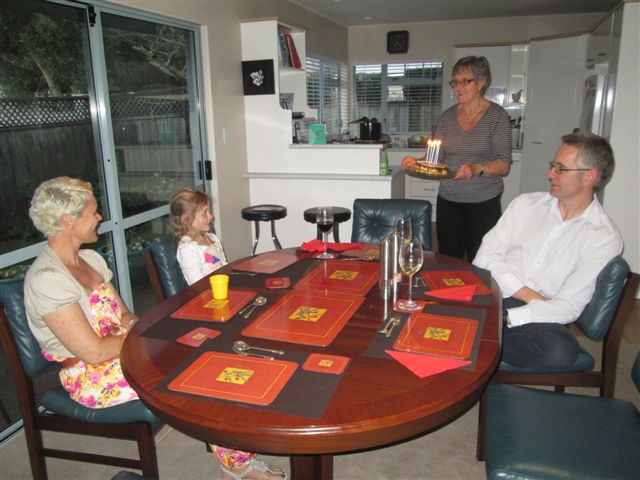 lost touch so there was a great deal of catching up to do. Unfortunately, we talked so much that I totally forgot to record the moment on my camera! But we did meet again in February 2014 and I made sure I recorded that lunch!
After a 5-hour 'lunch' I went back to Cheryl's in time to prepare for dinner with Bret's sister, Michele, husband, Matt and beautiful daughter, Milly, who just happened to be having her all-important 5th birthday!