Around France - 10 May - 5 June 2008
The Eurostar to Paris, that I booked, left St Pancras just before 9.00 a.m. on 9 May This was an easy time of day, outside the rush hour, and involved a short tube ride from Kate and Bret's apartment in Maida Vale. Having given Suzi her backpack, left my mallet with Kate and my croquet gear with Julie, the travelling was really easy and when there were steps and no escalators or lifts, there always seemed to be a kind person who'd help me with my big case. I'd chosen to take the Eurostar as far as Lille and then change to a TGV to Montpellier. This was partly because the half-hour change of platform was so easy at Lille as opposed to the 90-minute wait at Paris which involved a station change, not just a platform change. But I hadn't realized that, on a Friday, the Eurostar would be packed with parents and children on their way to Paris Disneyland. In our carriage, it was just one very large party so there was much merriment as they shouted greetings to each other from one end of the carriage to the other! I was quite glad to leave them to it when I got off the train at Lille and found my much quieter TGV train to Montpellier.
And here I had a real stroke of luck! My companion sitting next to me on the train turned out to be a delightful woman called Jacqueline, who lives at La Grande Motte, half an hour south of Montpellier. She was very friendly and very willing to talk and so we had the most wonderful conversations and I learned a great deal about her, her life, Montpellier, and what I might look out for during my stay. She invited me warmly to telephone her as soon as I settled in, with a view to visiting her at her home.
Making arrangements for accommodation on the web can sometimes be fraught with danger! I booked one apartment early in the piece, only to find that by looking on another site containing comments from people who'd been there, it was likely to be a disaster. People said that the night club below the apartment didn't stop throbbing until 4.00 a.m. and the street cleaning machinery started at 5.00 a.m! What a prospect, and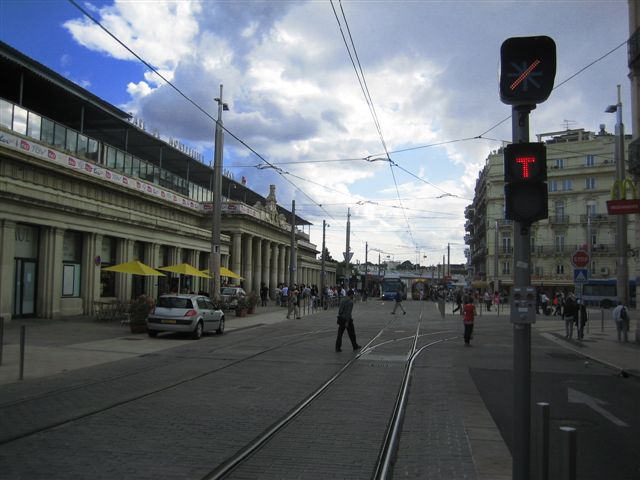 thank goodness for web sites that encourage people to report on their experiences. So I cancelled and rebooked somewhere else. But until you actually arrive, it's a bit of a lottery, and I was hoping very much that it'd be OK, especially as it was for a stay of 27 days with four different visitors.
Jacqueline and I duly arrived at the railway station in Montpellier – Gare St Roch.
She recommended that I took a cab to the apartment as I didn't know where it was, nor did she, and nor did the information person at the station. Arriving at the end of the working day on a Friday wasn't helpful in terms of finding people to help and I'd been silly enough not to have googled the address in advance and printed myself a map! Jacqueline caught her bus home and I walked over to the taxi rank. But the taxi driver told me that it wasn't far and gave me directions!
Estimating when I was about halfway there, trailing my big case and cabin case behind me, I asked the way again and got completely different directions – back beyond where I'd come from! So I cut my losses, walked back to the station and started off again in a taxi! Interestingly, the same taxi driver was at the front of the queue. I had to wonder whether he suggested to all potential passengers that they walk instead of hiring him! Although it wasn't really very far, it was probably too far to walk with such a heavy case, after a long journey and with some residual jet lag, so it was a good decision.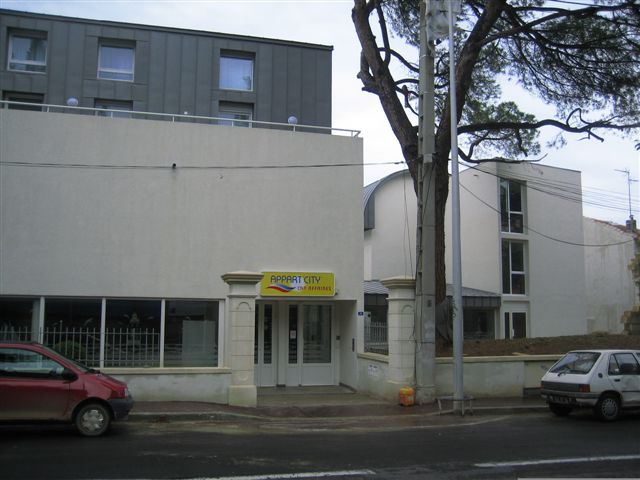 I confess to feeling very excited. I'd arrived in Montpellier, the city I'd visited for about two hours for the very first time in 2007, and totally fallen in love with. What adventures awaited, I wondered.
The apartment, L'Appart'City, 29 boulevard Berthelot, Montpellier, is a total delight! How lucky I am! It's only been open for a few months and there's still quite a bit of external landscaping to be done.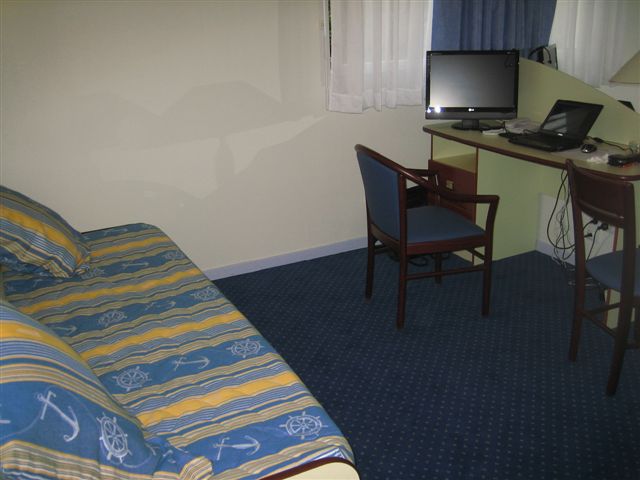 As soon as I saw my room and found that the pull out bed was a double, I explained that I was expecting several single visitors during the course of the month, and they immediately transferred me to a room where the pull out turns into two single beds. This is what it looks like when the two single beds look like a sofa!
It's amazing what can be done within a very small area with excellent planning! The apartment is approximately 24.5 sq m in total. Tiny! As a good friend remarked, I'm going to find my home back in New Zealand very big after this! The only room is about 12.5 sq m with a small alcove with a double wardrobe in it – shelves and hanging space. On the same wall, there's a very large sofa which transforms into two single beds, the same height. On the opposite wall you can see the desk about 1.5 metres long, with a flat-screen television by the window end, and a small round dining table out of sight on the right and two chairs.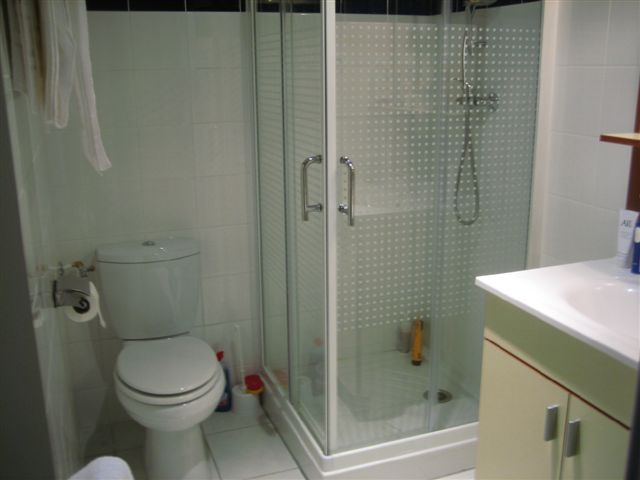 Beside the table, there's a door to the passage. Within the passage, there's a tiny alcove for the kitchen which consists of a sink, draining board and double hob with cupboards over, a cupboard under the sink, the bottom half of which is a half dishwasher. The laundry is done in the laundry within the complex! Beside the alcove is a door to the bathroom tiled from floor to ceiling, which contains a nice sized shower, loo and vanity, and towel rail. It's all very new and very easy to enjoy.
When two people are ready for bed, the room transforms quickly and easily into a bedroom and the twin beds can be set up about a single bed apart. Amazing really!
The icing on the cake, from my point of view, is the 24/7 free internet access to my desk in my room!! This is the first time I've brought a laptop to Europe with me and it's been a great decision. I've downloaded Skype and I can make phone calls to anyone I want to call world-wide directly from my computer. I've made about half a dozen calls already to France and England and have so far paid the princely sum of one Euro!
Parking costs 6E a day below the complex and it's very safe.
The whole complex is situated in a very quiet street, and so far I haven't heard anything from my room (except a cat). It isn't much to look at from the outside, but it really is excellent within. The Intermarché is about 400m in one direction and the tram stops about 150m in the other. But it's only about a 15-minute walk into the central city so it isn't necessary to use the trams very often.
And so – I'd arrived at about 6.30 p.m. on a Friday with the prospect of my son, Adam, and his fiancée, Janice, arriving the next day. I couldn't wait for the French adventure to start!
The next day, it was great to welcome Adam and Janice to Montpellier from 10-12 May.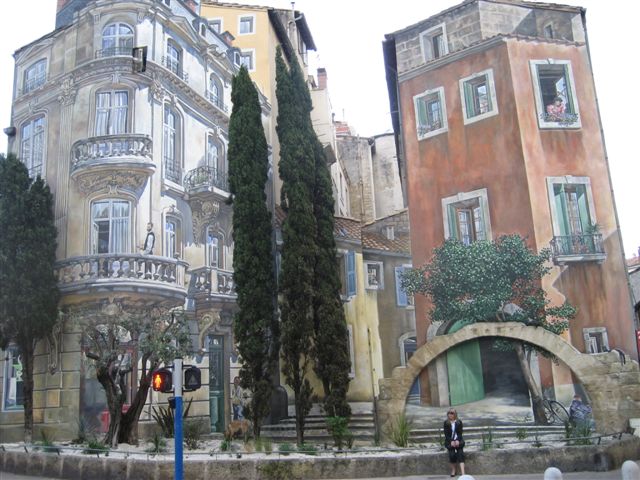 They spent the weekend with me, travelling by train from Zurich. It's easy to walk to my apartment from the station so we'd deposited their bags and were back in the centre of the city in next to no time. In the space of such a short visit, we walked our socks off and still didn't cover more than half the city. But we experienced plenty of action, and spent our first day together, dawdling down busy, narrow shopping streets, and eating dinner at a lovely café in the shadow of a beautiful gothic Church St Roch. Notice the 'Trompe l'œil ' (trick of the eye) on the building to the right in Place Saint Roch.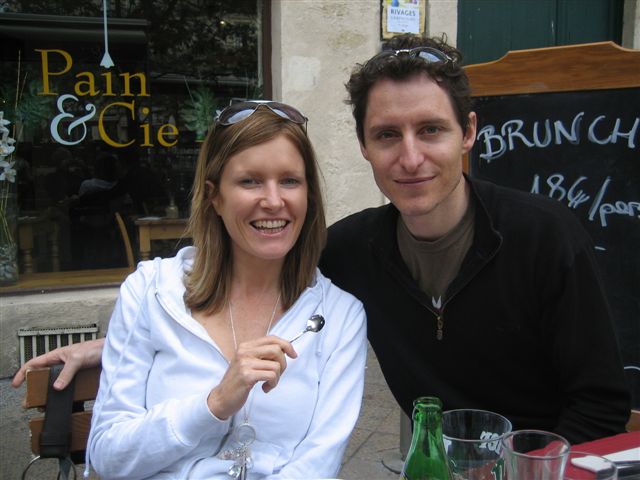 On Sunday we explored some more, but we also spent a lot of the day café, shopping and chatting. This was breakfast, but there were many more café stops before dinner!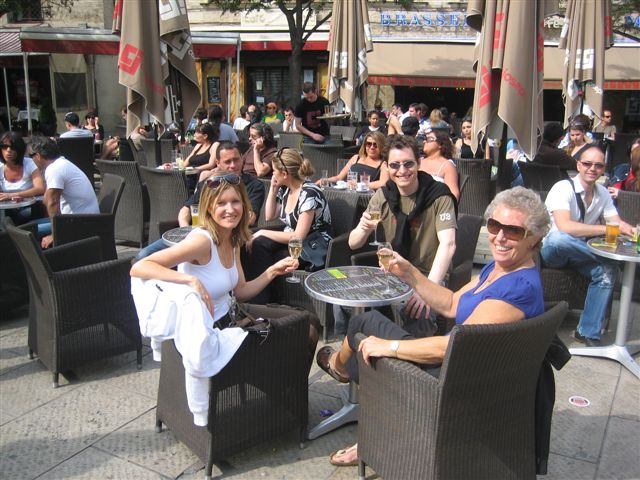 Like this one where Adam surprised me with a lovely glass of champagne for all of us to celebrate Mothers' Day in New Zealand at Place Jean-Jaurès. Not to mention eating our lunchtime baguettes, while we watched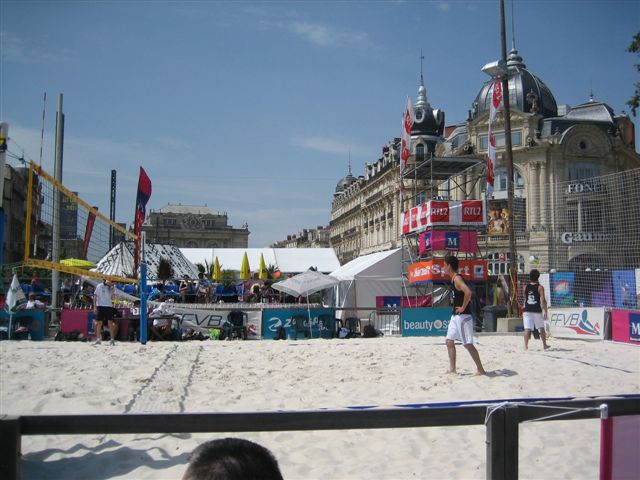 an international volleyball tournament games in the main square.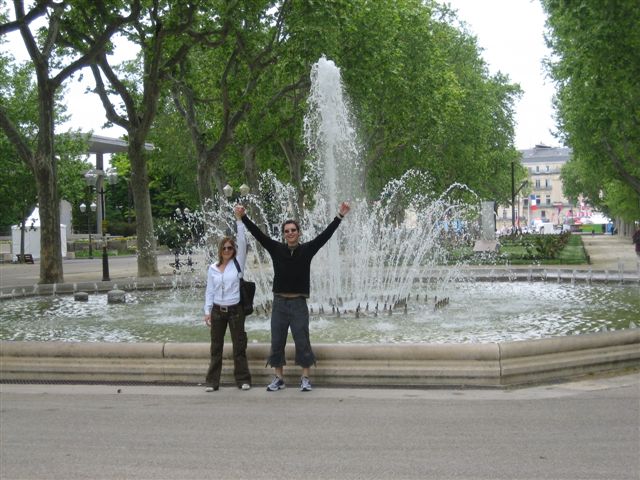 And playing the fool beside one of the many fountains in the Corum. It was wonderful to have such energetic and enthusiastic visitors for my first few days. I really appreciated the fact that they'd travelled a long way by train for a very short visit, fitted in with their busy working lives. It's always good to have different perspectives on things and seeing the city through their eyes gave me insights I might have missed on my own. They thought Montpellier was pretty special too!
With a lull between visitors, I found some early information about Montpellier on the web. Having come to love this particular area of France, I thought I'd plagiarize some of this early history. If you haven't read Labyrinth by Kate Moss, you might find it a good read. Her book is entirely responsible for the family's first visit to Montpellier in 2007. Kate read it first and soon passed it round to all of us! Montpellier was founded relatively late for this region. It came to prominence in the 10th century as a trading centre as a result of the spice trade with the Middle East. It sits on the plain of Bas-Languedoc (Lower Languedoc).
Phoenicians, Greeks, Romans, Visigoths and Moors all passed through Languedoc before it came under Frankish control in the 8th century. Affairs were left in the hands of local rulers until around the 12th Century when Occitania (today's Languedoc) reached its zenith. At that time, Occitan was the language of the troubadours and the cultured speech of southern France. However, the Albigensian Crusade, launched in 1208 to suppress the 'heresy' of Catharism, led to Lauguedoc's annexation by the French kingdom. The treaty of Villers-Cotterêts (1539), which made the langue d'oil the realm's official language, downgraded Occitan. It continued, however, to be spoken in the south of the region and is nowadays more often called Provençal. Much of this period of its history is covered in Kate Moss's book.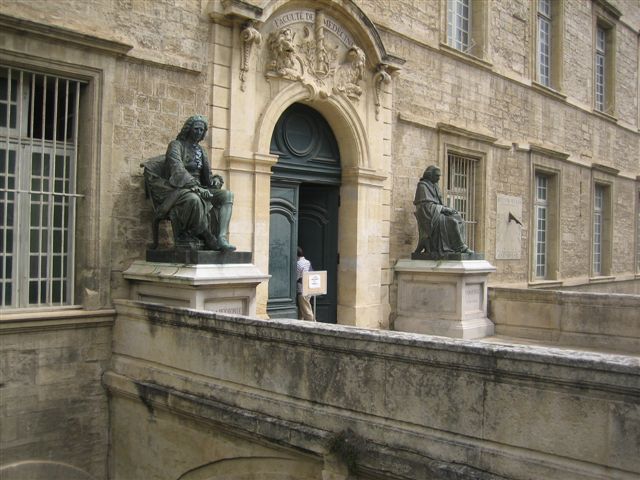 Montpellier is one of the few cities in southern France without a Roman heritage. It was founded by the Counts of Toulouse and is first mentioned in a written document in 985 (makes New Zealand feel young, doesn't it?)! By medieval times it had become a prosperous city with trading links all over the Mediterranean. Its scholastic tradition is a long one. The city's university, founded in 1160 and chartered in 1220, is one of the oldest in the world. Europe's first medical school is one of the most respected in France and was founded here in the 12th century. It occupies the former monastery of Saint Benoit. Rabelais was a student here in 1530. There are two museums inside. Here's its imposing entrance.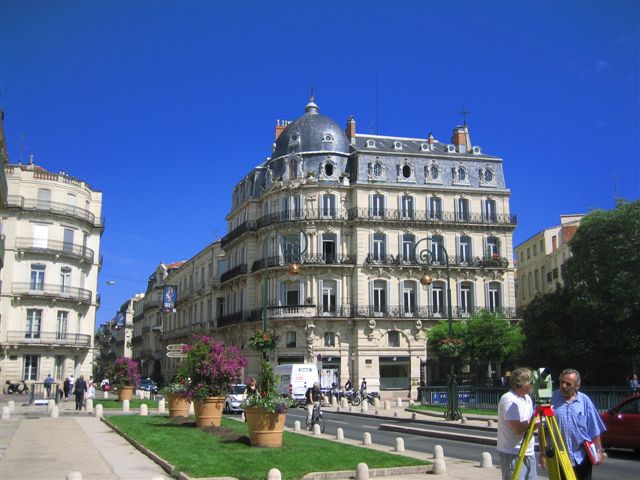 Between the 17th and 18th centuries, Montpellier's wealthier merchants built grand private mansions with large inner courtyards, like these. I took this photo if only to prove that we did have at least one lovely fine day.
Fine examples are Hôtel de Varennes, a harmonious blend of Romanesque and Gothic, and Hôtel St-Côme, the city's first anatomy theatre for medical students and nowadays its Chamber of Commerce which I found to be a rather unimposing building so haven't included it here.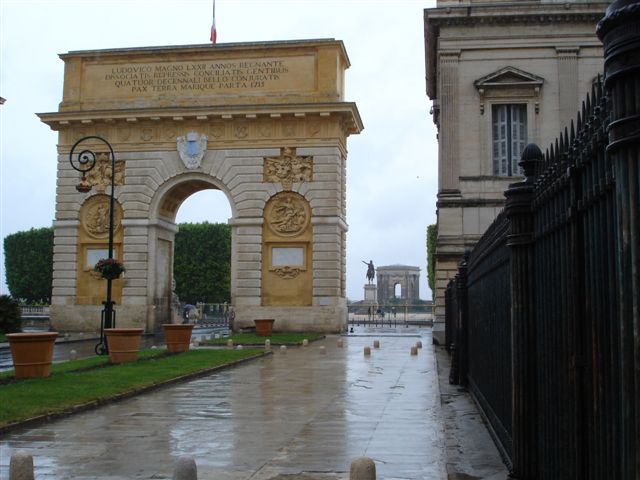 At the eastern end of rue Foch is the Arc de Triomphe (1692). This triumphal arch was built in honour of Louis XIV in 1691 on the site of the western medieval gate. Medallions depict important events during the king's reign and I tried hard (but failed) to read what is said to be inscribed on them. On the city side, you can apparently see the Canal du Midi connecting the Ocean and the Mediterranean and the revocation of the Edict of Nantes which outlawed Protestantism.
The carved medallion on the Peyrou side shows Hercules stomping on the Austrian eagle and the English lion, tactlessly reminding the locals of his victory over their Protestant 'heresy'. The Latin inscription, carved in 1715 translates as 'Louis the Great, who ruled as King for 72 years and, in 40 years of war, separated, repressed and reunited people, brought peace on land and sea'.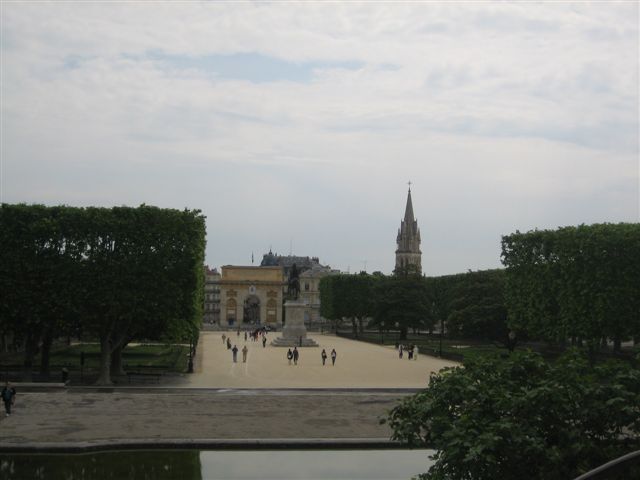 This arch marks the start of Place Royale du Peyrou, a wide, tree-lined esplanade of formal gardens called Promenade du Peyrou. On this hill at the end of rue Foch, the royal artillery bombarded the Protestants in 1622. From this Promenade, shown below, it is said that on a cloudless sunny day (of which there are normally many in this part of the world) you can look out across the city and away to the Pic St-Loup which dominates the hinterland behind Montpellier with the distant smudge of the Cévennes beyond. I have to admit that I saw neither!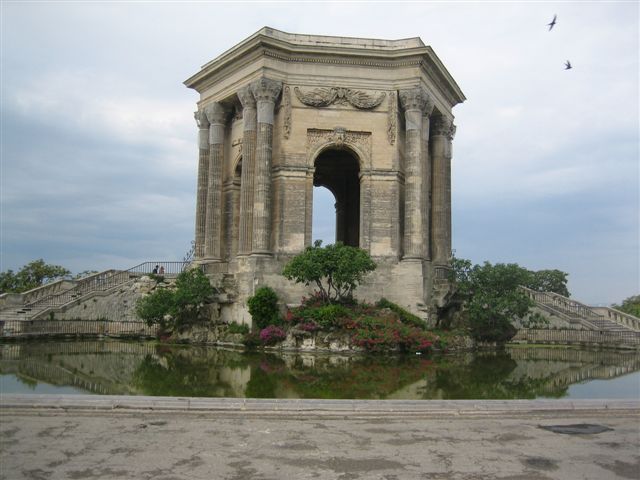 Place Royale du Peyrou itself, and the botanical gardens were created during the reign of Henry IV in the 14th Century. At its western limit is the Chateau d'Eau, a water tower with arches, pillars and carved pediments, marking the end of an eighteenth-century aqueduct modelled on the Pont du Gard. In front of it is a sundial engraved on the ground.
In the 1760's, work was carried out to bring water to the city by means of the Aqueduc de St-Clément, which takes its name from the Spring at St Clément, 14 km away. This Spring provided much of the water to the city during the 18th Century and allowed for its numerous fountains. As a matter of interest, the fountains are worth a mention. They're constantly changing (like the fountains at Bellagio in Las Vegas only without the music) and it's easy to stop and watch their changing patterns, especially when enjoying a coffee in a nearby café!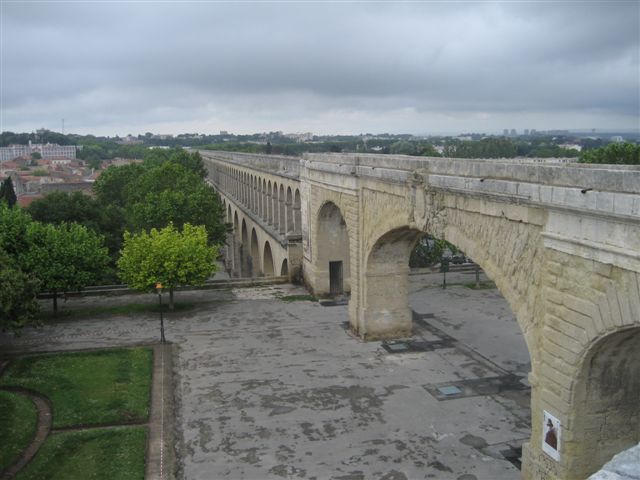 The two levels of arches which support the water channel over the last 800 metres have led to the city district beneath receiving the name of 'les Arceaux' (236 arches are still intact). Under its arches an organic market is staged each Tuesday and Saturday morning and there are regular games of table tennis and pétanque which benefit from the space and shade created by its imposing structure.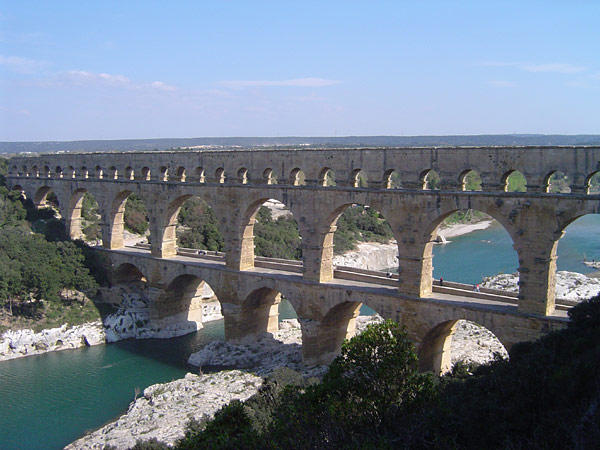 The Pont du Gard, on which it is modelled, is considered by many to be the eighth wonder of the world. The Pont du Gard has been registered as a World Heritage site since 1995 and attracts more than a million tourists every year. It is situated a short drive from Nîmes and will definitely be on my list for next year.
It's a triple-tiered bridge with 64 arches. It's 275m long, 48m high and has 21,000 m³ of stonework, laid without the use of mortar. Some of the stones weigh 6 tons and the total weight is over 50,000 tons The Pont du Gard is reputed to be the most spectacular remains of a thirty-one mile-long aqueduct, which supplied Nîmes with 400 litres of drinking water per second on an average slope from the source of 0.34m/km. Building started in 1 BC and it took only five years to complete. It was converted into a bridge during the Middle Ages and was used by vehicles until the 19th century.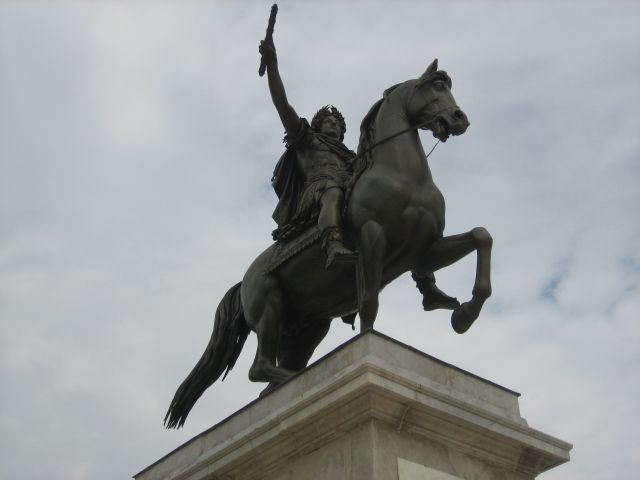 Back in Montpellier and laid out in 1689, the Promenade's two tiers of terraces were built at Montpellier's highest point to provide an impressive setting for festivals and a commemorative equestrian statue of Louis XIV.
Although commissioned before his death, the statue was not erected until after he died of gangrene in 1715. He reigned for 72 years, making his the longest reign in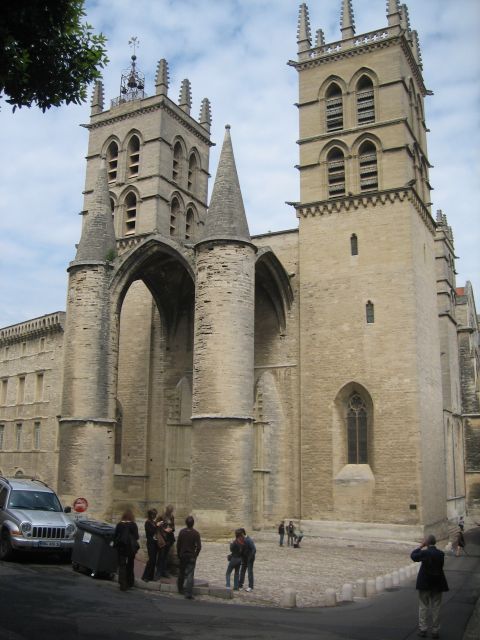 the recorded history of Europe. Finally erected in 1718, the statue didn't actually survive the revolution, and it was replaced by a guillotine! However, in 1839 the present statue was erected, a smaller version of the original.
Opposite the place Royale du Peyrou is Cathédrale de Saint-Pierre, with its disproportionately tall 15th century porch sporting a patchwork of styles from the 14th to the 19th centuries. Inside is a memorial to the Bishop of Montpellier who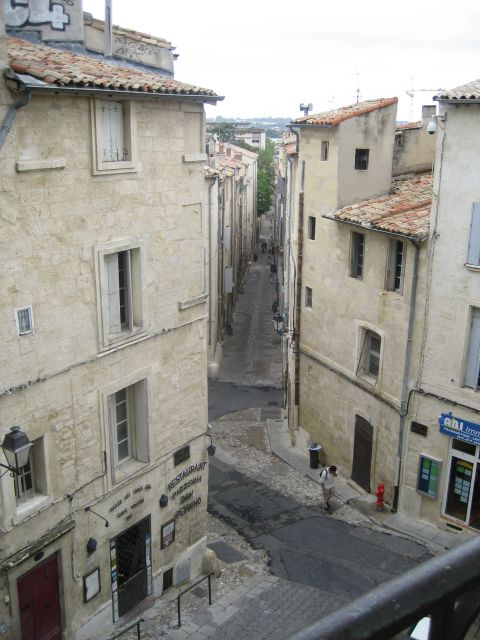 sided with the half million destitute vine growers who came to demonstrate against their plight in 1907 and were fired on by government troops for their pains.
The approach north from the city centre to the Cathédrale is through narrow streets, lined by many 17th and 18th century mansions, not at all similar to the more modern mansions near the Arc de Triomphe, and certainly not a route to be walked by the faint-hearted!
After a little time on my own, my very good friend, Bub, arrived on 14 May and stayed until the 22nd. Bub and I went to school together (all those decades ago!) but had lost touch until about five years ago! We've made up for lost time since then and she came to spend a week with me, travelling by plane from Gatwick. It's easy to catch the Navette from the airport (I think they organize the airport bus only to catch a plane or meet one because they don't run very often) to Place de l'Europe, which is near where the trams stop. From here it's an easy tram ride to the apartment.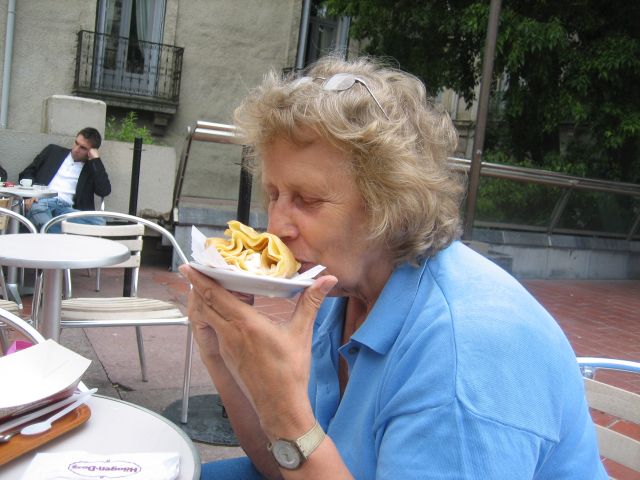 Bub loved the Saturday morning market in the Antigone and stopped at countless stalls to taste their wares. I managed to catch her unawares as she tried to eat a crêpe with ice cream inside!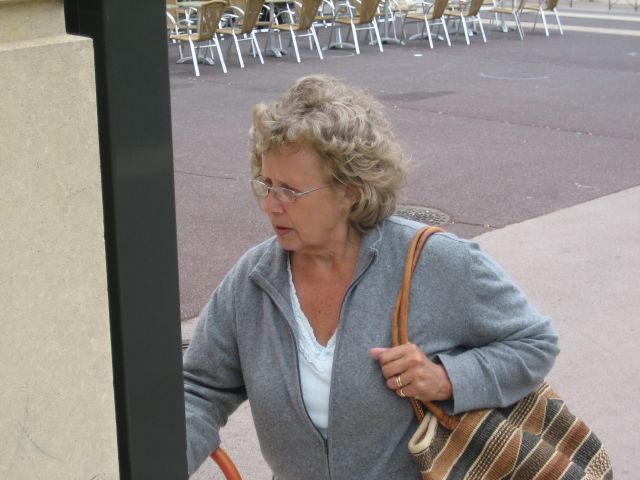 And snap her when she seriously studied the inscription on one of the many statues!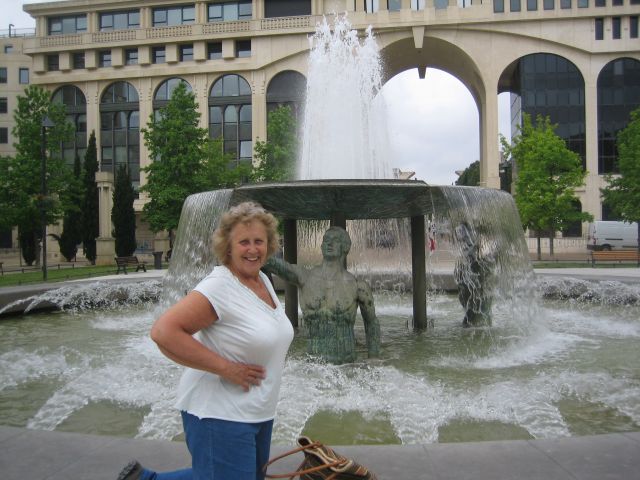 I asked her to pose in front of one of the fountains in the Polygon to hide the fact that one of the statues had lost his right arm!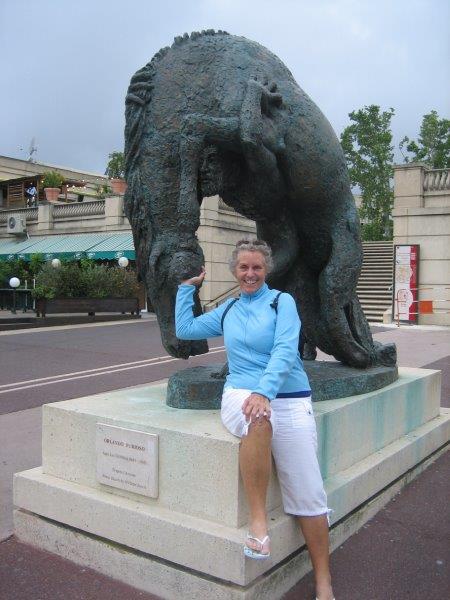 And she snapped me trying to help poor Hercules to carry his horse in the Avenue du Pirée. We're not sure it was Hercules, in fact, but we couldn't think who else would be strong enough to be carrying his horse!
A few days later, we set off for Viaduc Millau. This visit was certainly further afield than anything else I'd attempted thus far, made easy because Bub hired a car for four days!
Our first excursion was to drive south-west out of Montpellier towards Béziers, a beautiful mediaeval city that I'd visited the year before with Kate and her family, and we'd loved. We skirted around the north of the city and made our way towards Mazamet, Castres and Toulouse, although our destination was Revel, a few kilometers south-west of Castres.
One of Bub's cousins had invited us to visit and stay the night. They've moved to the town from their original home in Hampshire, and totally immersed themselves and their three sons into the French way of life. All the boys are now completely bi-lingual and, after only four years in France, are all in the top 5% of their classes. Very impressive. We had a fabulous visit with them and learned lots about the area, life in France, education and food!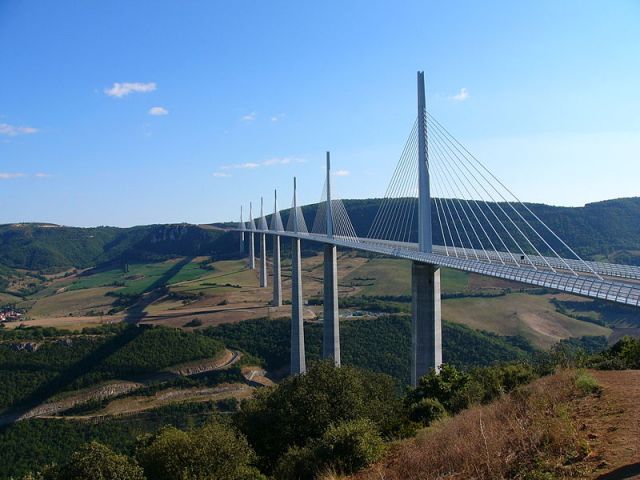 The next day we set off northwards through Castres and Albi and turned east just south of Rodez, towards Millau. Our aim was to see the Viaduc de Millau, an astonishing structure that's been built to connect Béziers to Paris. One of the designers of the Viaduc de Millau was an Englishman, Lord Foster. It is 343 metres high to the top of the pylons, 270 metres to the road height. The road is 2460 metres long and weighs 36,000 tonnes. If you add the weight of the pylons, it's 205,000 tonnes for the whole lot.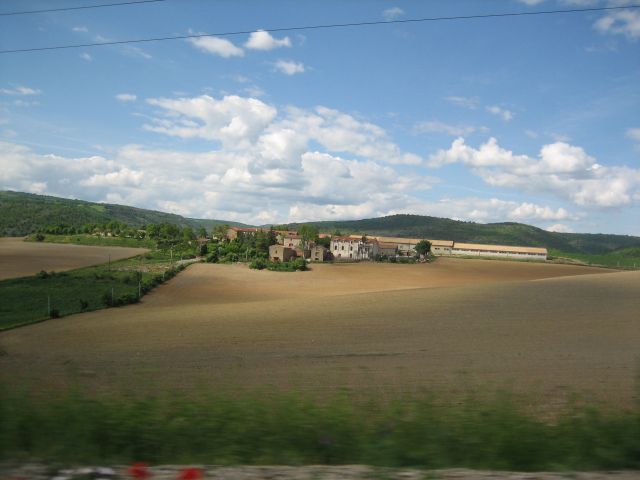 Below it is a beautiful gorge dotted with charming pink stone villages and the town of Millau itself, situated on the River Tarn. All the houses are that delightful terracotta colour which seems to emanate from the earth itself – a very, warm, deep pink.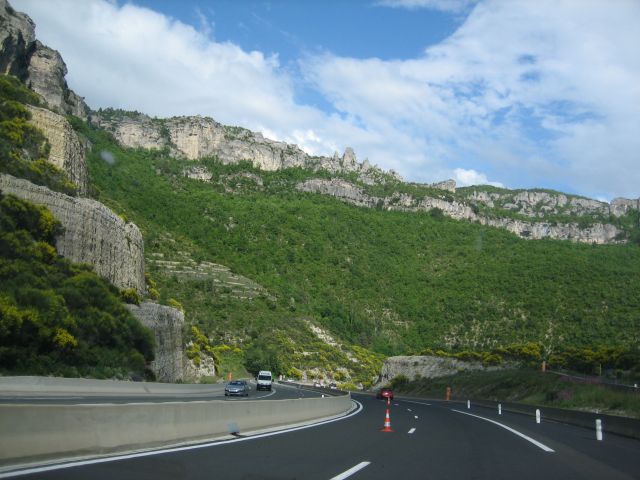 We took the road back from Millau to Montpellier passing alongside part of the Massif Centrale. The range of mountains soared above the car and there were several warnings to beware of falling rocks! Fortunately, we didn't see any actually falling!
The next day, 20 May, we set off to explore the Camargue. The Rhone delta is responsible for the formation of the 346,000 acres of wetlands, pastures, dunes, and salt flats.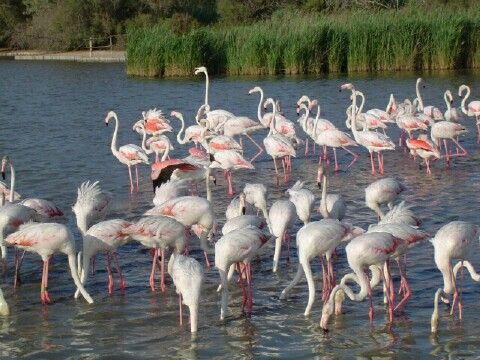 A 28The tamarisk tree is plentiful and wildlife abounds – egrets, flamingoes (although I confess that my photo wasn't taken nearly as close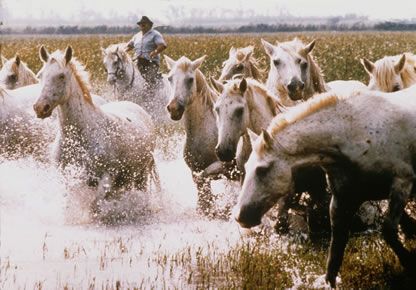 as this one), small white arab-like horses (ridden by guardians or cowboys who traditionally live in thatched huts) and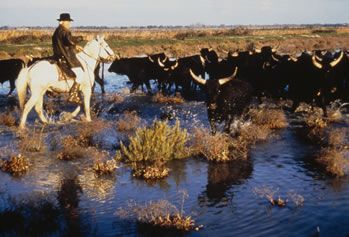 black bulls, which are bred for the bull contests. Fortunately, the bulls are not killed in the bull contests but have red rosettes plucked from between their horns with a hook.
We noticed that much of the land was planted in rice. We were told later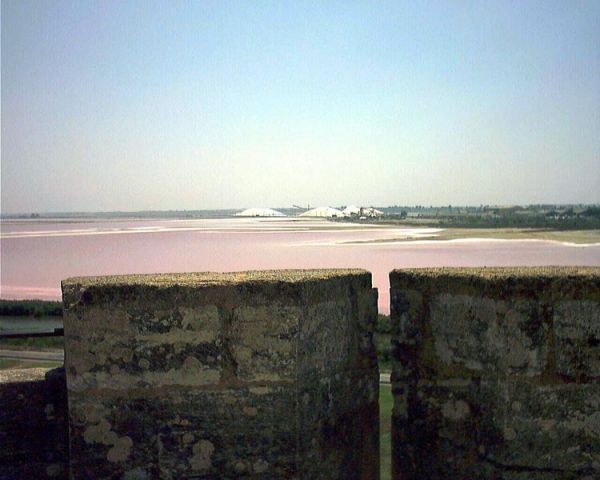 that, because the rice grows in salt, it is considered to be very special. Salt is by far the largest harvest of the Camargue. Throughout the summer, huge brine pans evaporate and the crystals are heaped into small hills. As the water evaporates, the crystals mingle with the carcases of shrimps and the salt takes on a pink tinge. Here you can see the salt hills in the distance from the ramparts of Aigues-Mortes. Aigues-Mortes (Place of Dead Waters) was established by Louis XI to consolidate his power over the Mediterranean. It's a well preserved walled town amongst the salt marshes of the Petite Camargue. It still has its impressive defences as it was once an important port but it's now five miles from the sea.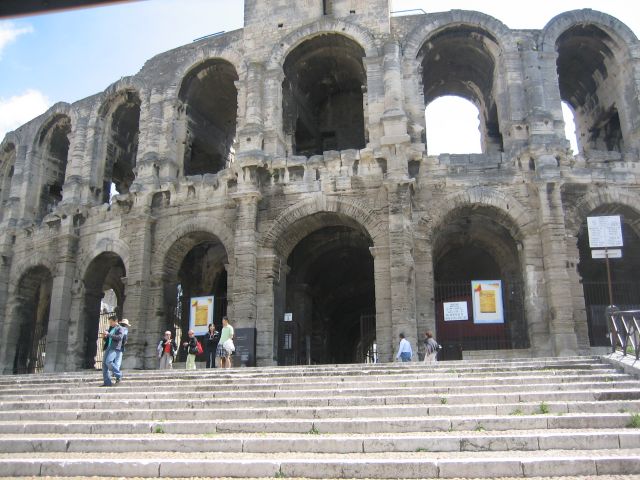 To reach the Camargue, we passed through Arles. Its position on the Rhône makes it an historic gateway to the Camargue. We walked round the city and saw the roman remains, such as its amphitheatre (where there are summer black bull contests), and the roman theatre which stages the Arles Festival each year. My personal opinion of Arles is not all that flattering, however. It's very old but, unlike the buildings in Montpellier, very little restoration work seems to have taken place – yet.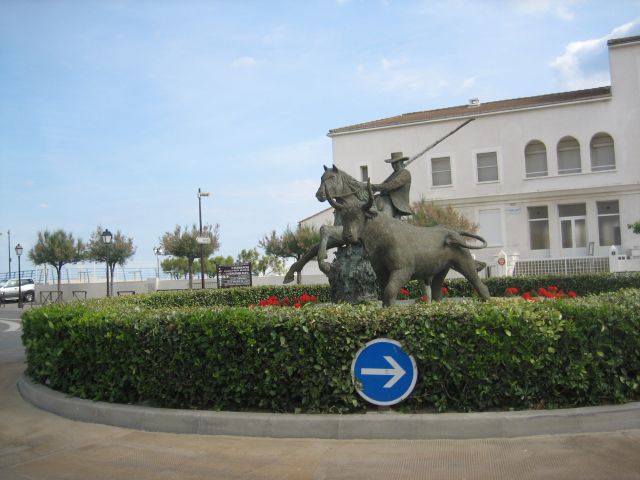 Leaving Arles, we drove to Les Saintes Maries de la Mer on the coast. Its only redeeming feature appeared to be a statue of a bull in the centre with a guardian and his horse and hook. The town itself was hideously covered in litter which was being blown all over the place by a strong wind. So anxious were we to leave it quickly, we forgot to look at the church! We took a quick look at the beach but the wind blew the sand about so much that it became unpleasant.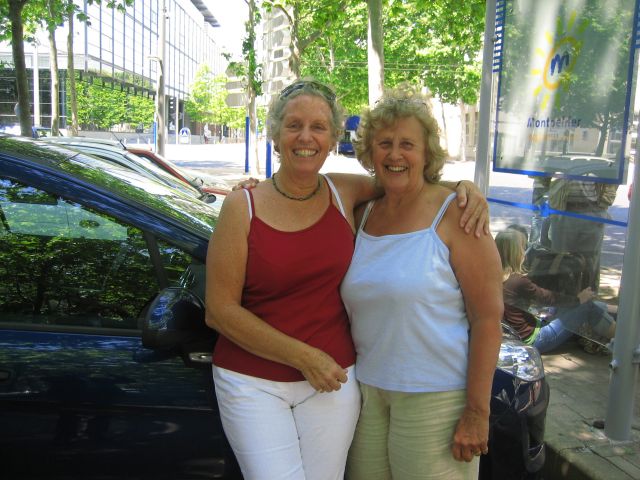 And so we returned home again. Finally, the day came when it was time to bid each other a fond farewell. Luckily a passer-by caught us saying goodbye beside Bub's hire car as she left for the airport. Sadly her departure coincided with a nationwide strike which included the buses so I couldn't go to the airport with her in the car because I wouldn't have been able to get back into the city!
Bub loved Montpellier too and we both hope that she'll be able to come again.
As 23 May was a day without visitors, I had a chance to explore Montpellier and consider it as it is today. Montpellier is situated on hilly ground, 10 km from the Mediterranean coast on the River Lez. It is the capital city of the Languedoc-Roussillon region. These two distinct provinces stretch from the foothills of the Pyrenees on the Spanish border to the mouth of the Rhône. The population, which swelled dramatically in the 1960s when many French settlers left independent Algeria and settled here, is just under a quarter of a million. It's just over half a million if you count the greater metropolitan area – with a quarter of the population being under 25 because it's a university city.
Montpellier's city centre is part of the old town. It's fairly small, compact and architecturally homogeneous, full of charm and was teeming with life when I was there in May and June. Apparently it's much quieter in July and August when the students are on holiday and everyone else is at the beach. And it's almost entirely pedestrianised so you can walk the narrow streets without looking anxiously over your shoulder.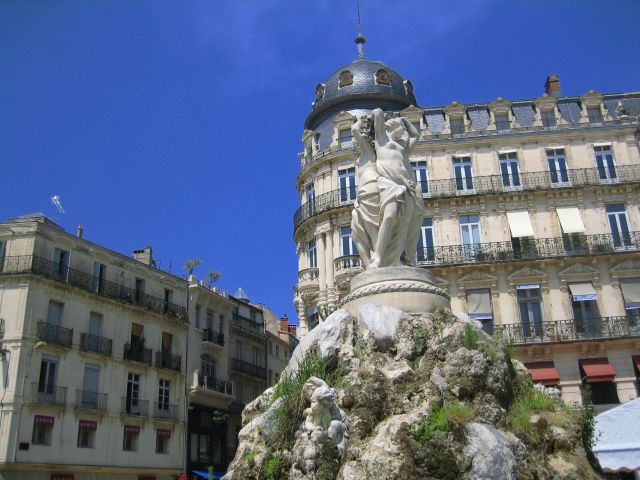 Montpellier is a cultural, scientific and artistic crossroads. At the hub of the city's life, joining the old to the newer parts, is Place de la Comédie or "L'Oeuf" to the initiated, because it is the shape of an egg. This colossal, oblong square, paved with cream-coloured marble, has a fountain at its centre called the Three Graces, (taken on another lovely fine day!) with cafés either side.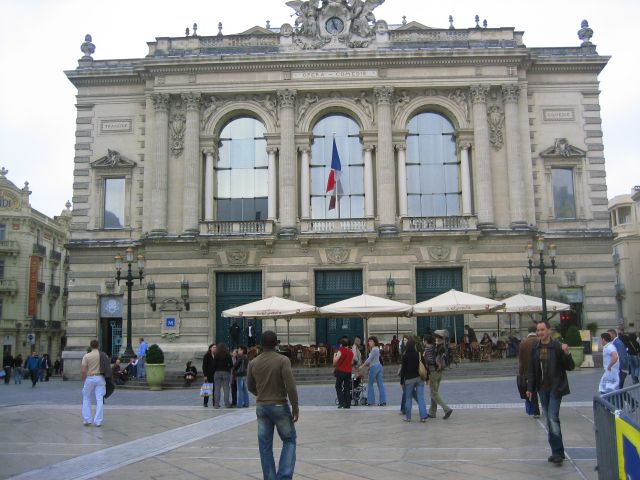 The southern end is closed by the Opéra, an ornate nineteenth-century theatre.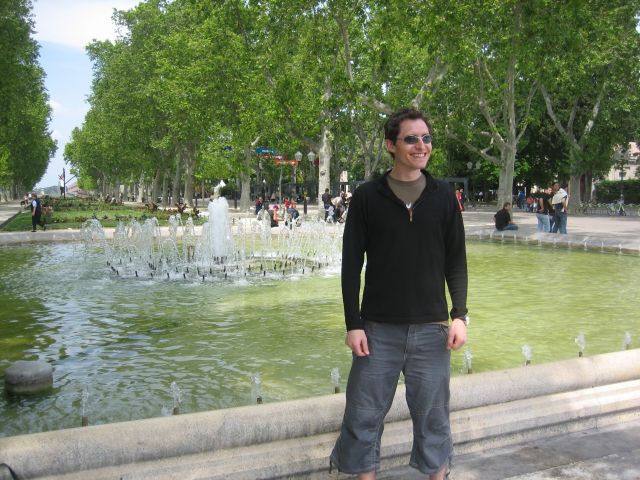 The northern end opens onto an esplanade, a beautiful tree-lined promenade which ends in the Corum concert hall and conference centre with a huge exhibition space, dug into the hillside and topped off in pink granite. There are splendid views from the roof but photos of those will have to wait for another time because the weather was unseasonally appalling and there were days when photos were not easy to take with one hand, while holding an umbrella with the other. The Corum building is at the very end of the avenue you can see here (with Adam in front of the inevitable fountain – when he was here with me) and was opened in 1988.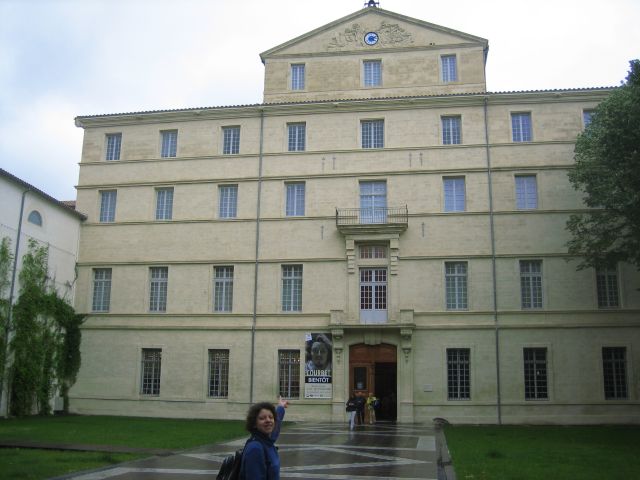 In the middle of this avenue of trees down a street to the left is the city's most trumpeted museum, the Musée Fabre, a lovely Art Gallery with a very absorbing book store inside and a lovely outdoor café on its left. The building occupies a former Jesuit college and displays a large and historically important collection of 17th to 19th century French, Spanish, Italian, Dutch, Flemish and English paintings.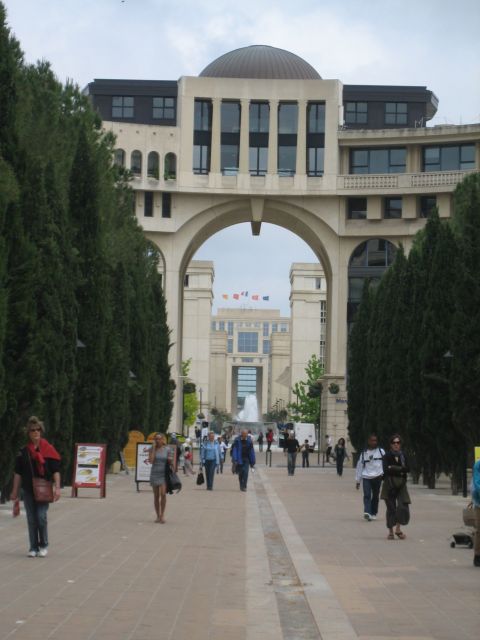 The city centre stretches all the way to the new Antigone quarter to the east, which is modelled on St Peter's in Rome. Its development followed the philosophy of the city's Mayor who wanted the city to develop towards the river Lez, which was responsible for its expansion in medieval times. This picture doesn't really do justice to the sheer space and vastness of the whole area with its theatrical references to classical architecture, like oversized cornices and columns supporting only sky and, of course, fountains everywhere, but you might get some idea. As you can see from the boards below the trees on either side of the avenue, there are countless cafés where one can stop and watch the world go by.
The plans for the Antigone District began in 1977. It's built on the site of the former barracks between the old city centre and the River Lez. It features grand neo-classical design and boasts giant classical motifs. It's failed to attract the crowds away from the Place de la Comédie and is very quiet by comparison. Some might find that very peace and quiet attractive! The buildings in this area mainly include middle to low-income housing and public amenities, but you wouldn't guess that from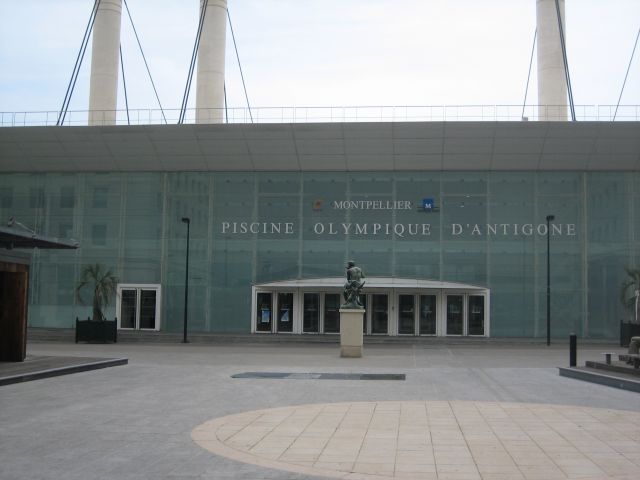 looking at it's grandeur. At the end of the Antigone by Place de l'Europe (where there's a tram stop) is the Piscine Olympique, which is an unbelievable size for a comparatively small city and, facing it, an absolutely stunning, and enormous library.
Traffic is very heavy in and around the city and 425 million euros is being invested in a second metro line that will cut across this most pedestrian-friendly of cities where more than 12,000 parking spaces around the centre encourage motorists to leave their cars behind. The tram and bus system within the city is already excellent and it'll be interesting to see how they improve upon it.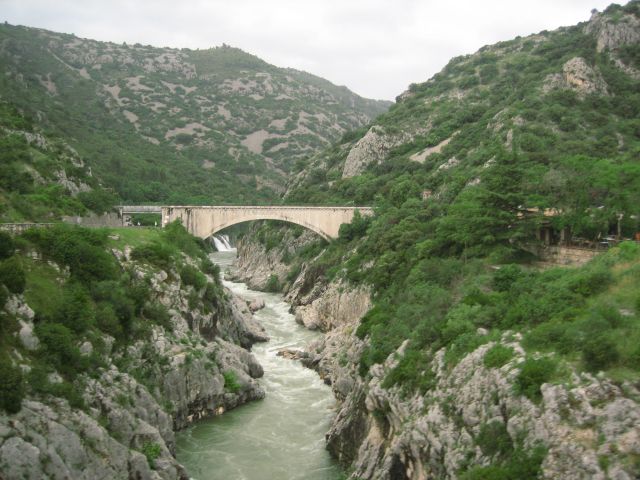 At this point, Julie arrived in Montpellier and it was time to venture further afield for adventures new. We decided to make our way to Saint Guilhem-le-Désert. We took a 308 bus from the Gare Routière close to the Gare St Roch railway station. The buses to St Guilhem don't go all that often. You can only catch one bus that goes as far as St Guilhem from Montpellier at 1225 to Cignac where you have to change, waiting only five minutes and arriving at St Guilhem at 1325. Then you have to do your exploring very quickly if you're not going to stay the night, because the only bus all the way back again leaves at 1700! The cost of each bus varies, depending on whether you've just taken the previous bus! But all in all, it was about €5 each – return.
But the adventure with the buses definitely paid off. St Guilhem-le-Désert is a 'must see'. The environment is hostile and seemed to become more so as we crossed the River Verdus shortly before arriving – although it was another very murky day. But the locals assured us that it was very pretty in the sunshine!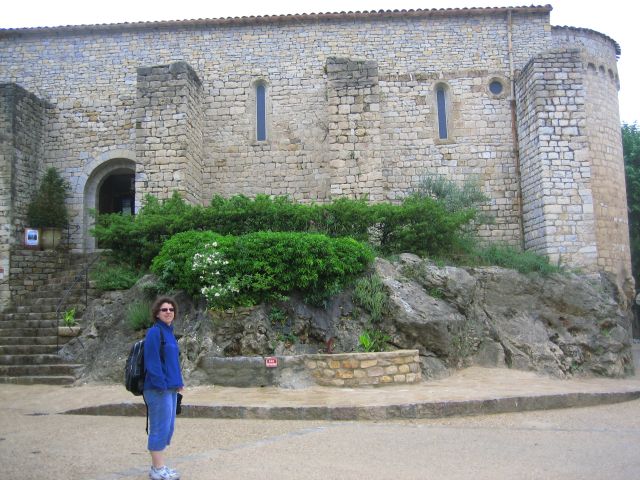 Julie and I popped into the information centre first, not quite like any we'd seen before!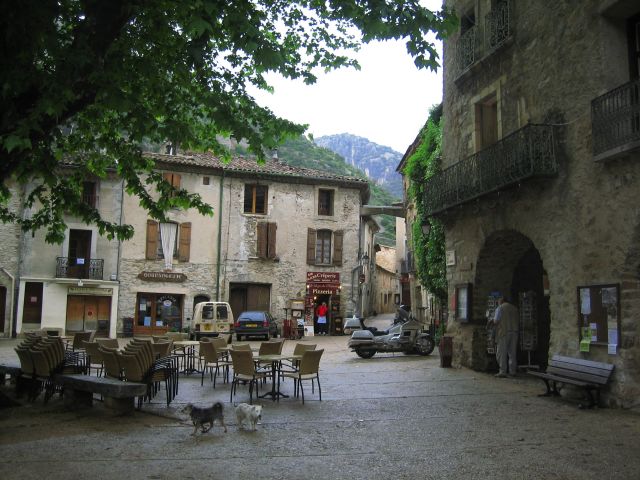 Then we considered the history of the village as we made our way through the enchanting ancient streets and reached the village square, in front of the abbey.
The pamphlets told us that in 804, Guillaume, Count of Toulouse, visited the hermitage of Gellone and chose, two years later, to become a monk himself in the Gellone Valley. Once there, he initiated a popular cult to worship the True Cross, received from his cousin Charlemagne.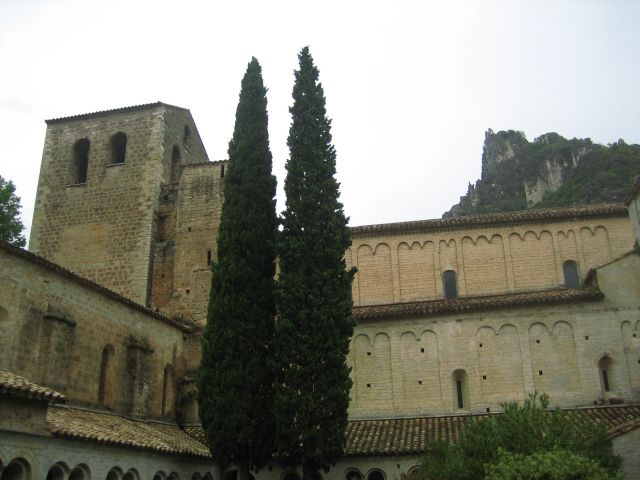 On his death in 812, history gradually became legend and Guillaume became a saint, honoured throughout the middle ages. The village of Gellone also became a centre for contemplation and a starting place on the pilgrims' road to Santiago de Compostela. The abbey, now named not Gellone but Saint Guilhem, was rebuilt in the 11th century. You can see the famous Château de Giants in the background.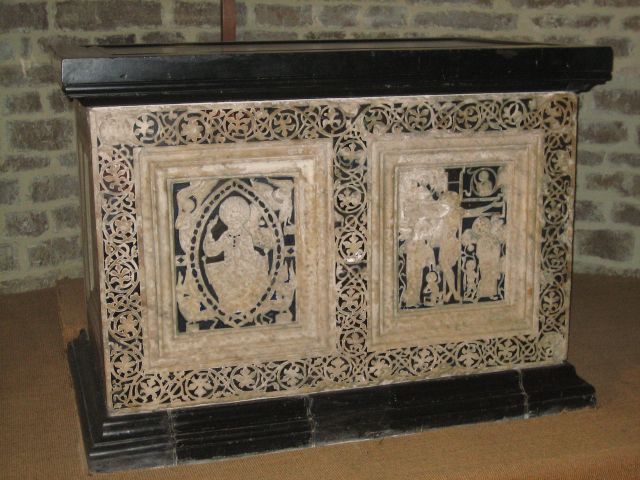 Here is the amazing marble altar. It was on 15 August 1077, so the inscription beside the altar reads, that it was consecrated for the first time in honour of Saint Guilhem, in recognition of the importance of the abbey on the pilgrim's route to Santiago de Compostela. The consecration was carried out by a legate to Pope Gregory VII. A century later, that altar was replaced by the one in the photo. It's a rare piece, inspired by the Byzantines and probably imported from Italy. The body of the altar is of white marble, from Paros in Greece and the table and the base are of black marble, from Lydie in Turkey. The two panels depict, on the left, Christ in all his glory and on the right, a beautiful crucifixion with the Virgin, Saint John, the sun, the moon and, at the foot of the cross, those who have risen.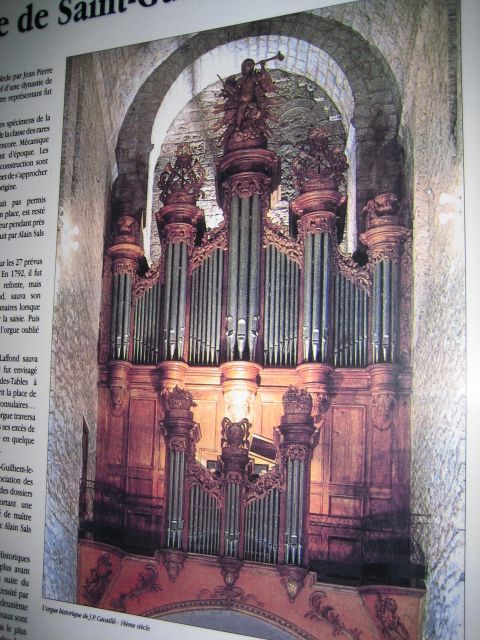 From 1465, abbeys declined during the wars of religion in the 15th century. The abbey was sacked before it was sold. The cloister served as a quarry and its sculptures were removed. An art enthusiast collected 148 pieces which were sold, on his death, in New York and now form the centerpiece of the Cloisters Museum there. Only the parish church was preserved. Had I known when I was at the Metropolitan Museum of Modern Art in New York that The Cloisters was the branch of the Met devoted to the art and architecture of medieval Europe – and that I'd be going to Saint Guilhem. I might have lingered there for longer!
The abbey's historic organ was built in 1782 by the celebrated organ maker, J.P. Cavaillé. It's breathtaking and is said to be one of the most magnificent examples of classic French pipe organs. There is a Saint Guilhem music season when a festival of baroque organ and choral music is held in the abbey.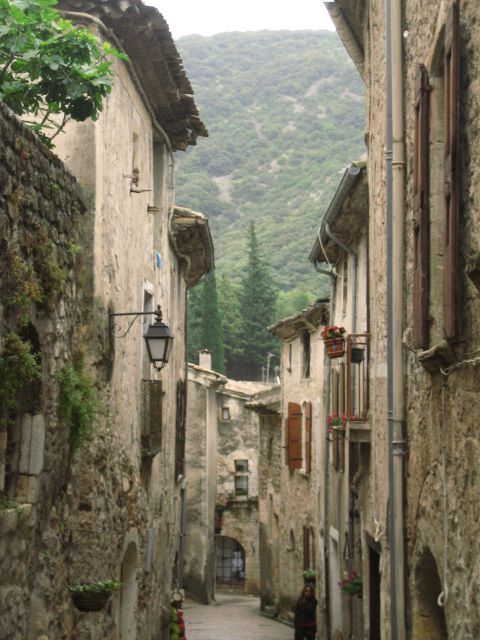 The abbey is considered to be a masterpiece of Romanesque Art and in 1960 a programme of restoration was started, which still continues. The village grew up along the left bank of the Verdus. Bus timetables allowing, there are several walks recommended from the central square, varying in distance from half an hour to over two hours. We decided that catching the bus overcame our desire to explore even further so we made our way back down the ancient winding streets following the footsteps of so many pilgrims before us.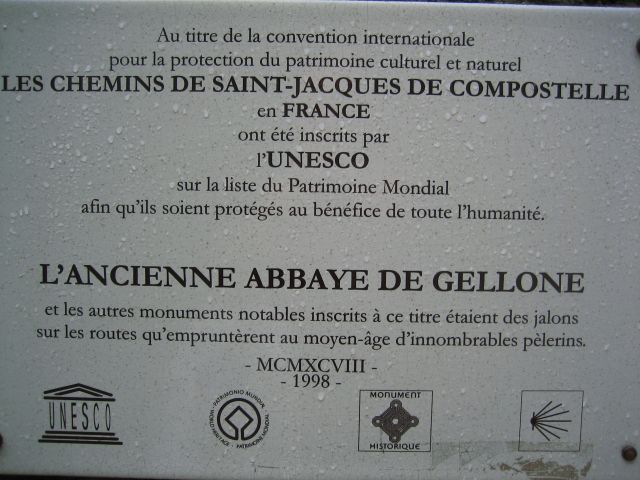 This stunning medieval village, which clings to a hillside on the pilgrim's way, is listed as one of the most beautiful villages in France and became a UNESCO World Heritage Site in 1998, as you can see from the plaque below. It's a beauty spot, packed with history.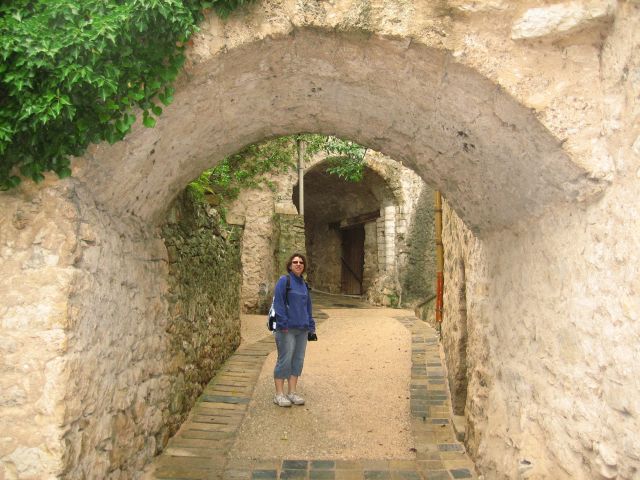 We seemed to be going up and down hills a lot and here is one of the quaint streets we explored on the way up to the Abbey.
Santiago de Compostela is the capital of the autonomous community of Galicia and also a UNESCO World Heritage site. It's located in the northwest region of Spain in the Province of A Coruňa. It was the European City of Culture for the year 2000. The city's cathedral is the destination of the important mediaeval pilgrimage route.
The next day, Julie and I set off for Nîmes. Another adventure! A fabulous city to visit. This is definitely a 'must see'.Easier than the bus perhaps, Julie and I took the train to Nîmes, about half an hour north-east of Montpellier. Buying train tickets in France is quite complicated. You have to book – you can't just get on a train. And even when you've bought a ticket, you have to authenticate it (pass it through a machine) before you go onto the platform. (This is, of course, very similar to what happens in England, but it's somehow different too!)
You have to select your departure time and your return time. There are TGV trains and 'ter' trains. The timetable covers both. You have to book and catch the same sort of train both ways. If you miss your return train, or decide to come back earlier, you can only take a train of the same sort that you booked! Having said all that, we got help from a very kind train official who did it all for us!! The cost for Julie was €16.40 return and for a slightly older person like me, only €12.40! Even if you're going that day, you have a very formal looking envelope containing your tickets – as if you're flying off to Timbuktu!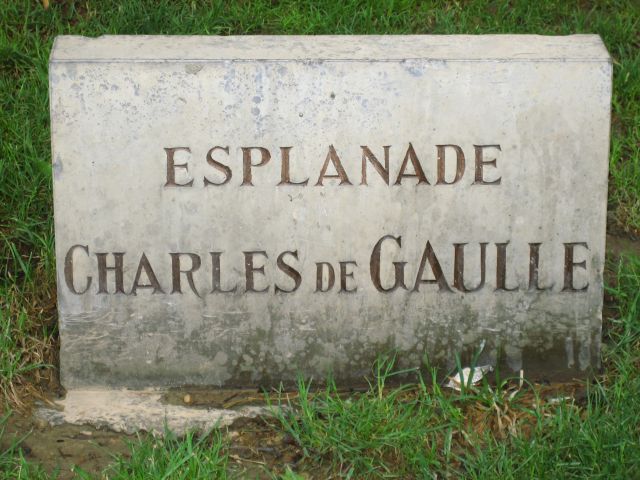 However, after all the complications of the booking process, the journey was really easy!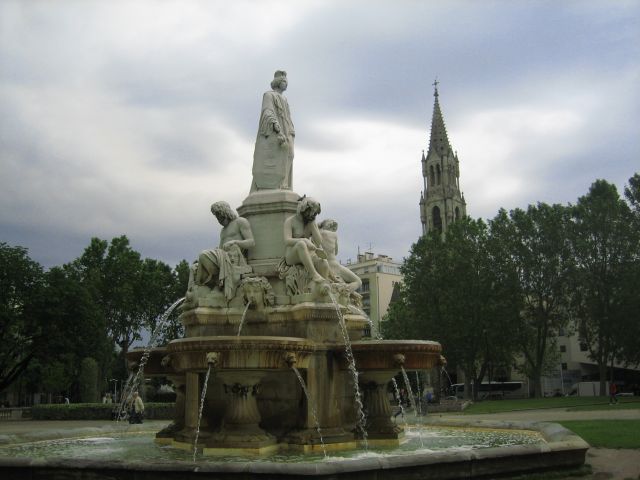 It's interesting that the station in Nîmes is a very long way from the tourist office. Leaving the Gare, you walk down the wide Avenue Feuchères and arrive at the Esplanade Charles de Gaulle which is a very attractive area with La Fontaine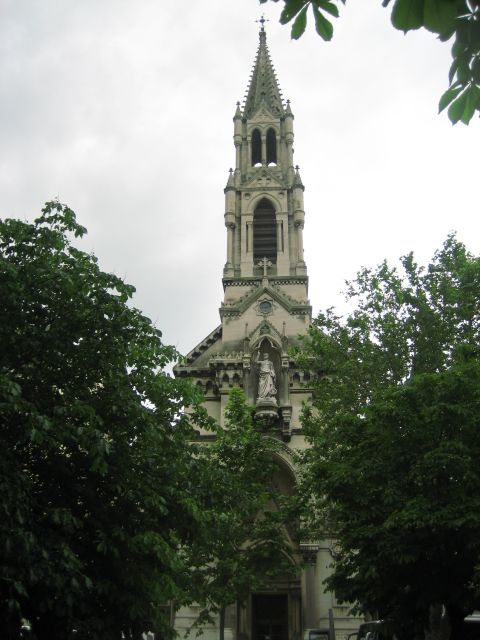 Pradier in the centre.
Beside the Esplanade is the Eglise Sainte Perpetué et Sainte Felicité – a very intricate and imposing church.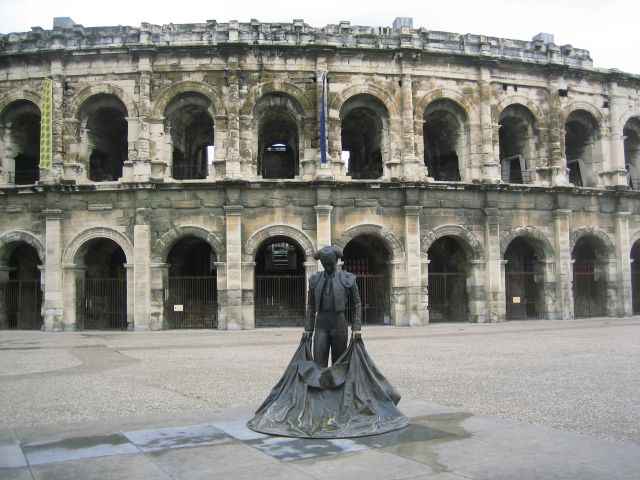 Leaving the church behind, and crossing the boulevard de la Libération you arrive at the stunning amphitheatre (Place des Arènes) on the corner of boulevard Victor Hugo. Unfortunately, without the benefit of pamphlets from the Tourist Office at this point, you have absolutely no idea what's special about it! We resolved to get to the Tourist Office as fast as we could and start reading!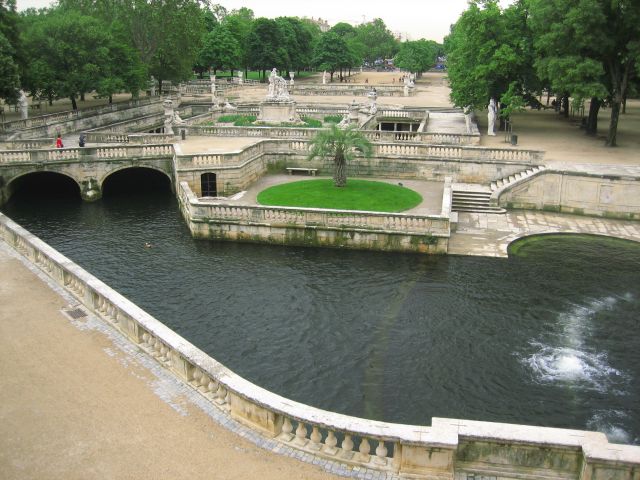 Having been lucky enough to get a pamphlet in English, we decided that there were three important sites to visit, Tour Magne by passing through the jardins de la Fontaine, the Square House (La Maison Carrée) and the Nîmes Amphitheatre (Place des Arènes) – which we'd just skirted. But first, we thought we'd better do a bit of reading about the history of Nîmes so we walked to a café in the jardins de la Fontaine. This is what we discovered.
The city derives its name from that of a spring, Nemausus, in the Roman village. The contemporary symbol and shield of the city of Nîmes includes a crocodile chained to a palm tree with the inscription 'COLNEM', an abbreviation of 'Colonia Nemausus', meaning the 'colony' or 'settlement' of Nemausus. Roman legions who had served Julius Caesar in his Nile campaigns, at the end of fifteen years of soldiering, were given plots of land to cultivate on the plain of Nîmes.
However, the founding of Nîmes goes back to the 6th century BC. The Volcae Aercomici, a Celtic tribe, settled around the spring, made it a deity, and built a sanctuary. In 120 BC the Volcae, who had a vast territory, accepted the advent of Roman legions without resistance.
Nîmes reached its peak in the 2nd century AD when it became a colony under Latin Law and was ornamented with sumptuous monuments. However, successive invasions and then the arrival of the Visigoths in the 5th century put an end to its prosperity.
During the Middle Ages, the population took refuge in the amphitheatre which had become a fortress. The Roman ramparts were used as a quarry where everyone helped himself to stone. Nîmes finally woke up from about 1,000 AD onwards. New city walls were built. Trade started again, thanks to the development of vineyards, olives and sheep farming.
The Wars of Religion in the 16th century were violent. Protestants were kept out of public life and turned to trading. Their cloth production was soon exported within Europe and to the Spanish Indies. The city became prosperous and its looks improved.
Thirty years of rapid success in the 19th century placed Nîmes and its silk industry at the European level. But competition from Lyons was fierce. Textile capital was very quickly reinvested in vineyards and a new era of prosperity began. Many private mansions were built near the station.
For about the past 20 years, Nîmes has put leading-edge contemporary art and the treasures from the past side by side. The old districts are being renovated and the city is spreading southward. Some of the greatest international designers have been entrusted with its town planning projects and it was certainly evident.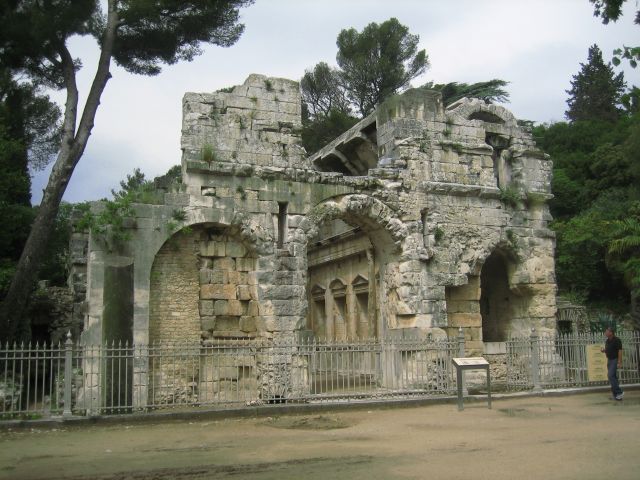 Coffee over, we thought we'd start exploring! Inside the jardins de la Fontaine is the Temple de Diane which is said to be the most romantic, but also the most enigmatic monument in Nîmes. Thought to be associated with the imperial temple, its exact role is not known. What is known is that the Temple was part of the Roman sanctuary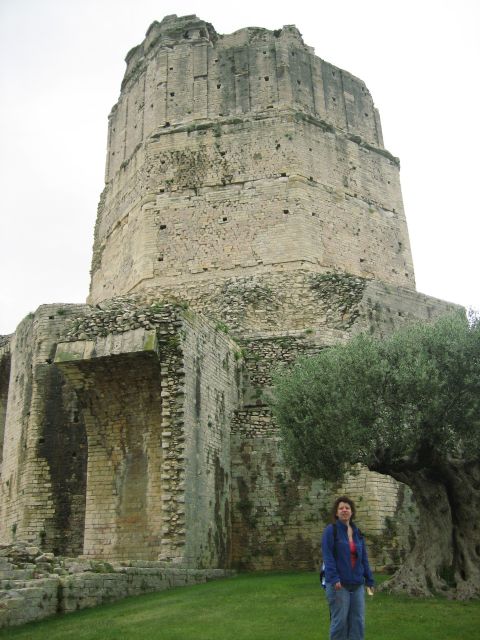 consisting of a set of buildings close to the Nemausus spring, remnants of which were found in about 1739 when works were being carried out in the area.
Visible from a distance, the Magne Tower indicated the presence of the city and of the Imperial Temple located at the foot of the hill around the spring. It was the highest and most prestigious tower of the Roman town. Octagonal in form, it was then composed of three levels on top of a pedestal. Today the top storey has disappeared and it rises to a height of about 32 metres. Although this photo doesn't really make it look very tall, Julie and I can attest to the fact that it's quite a climb to the top, from which the view of Nîmes is remarkable.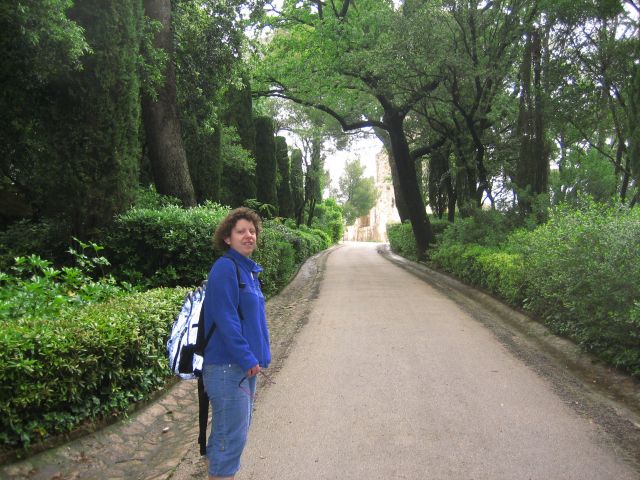 Thank goodness we both had our trusty umbrellas and our New Zealand polar fleeces! In Nîmes, because there was so much to see, we had to walk quite quickly and cover a lot of ground. Here she is on the way up to Tour Magna. She'd had to give me a hand up the hill for some of the way, but I've just let go!
Our pamphlet gave us the times for various events that were taking place at the three sites we wanted to visit and we had to return to the amphitheatre (closer to the station) and then go back to La Maison Carrée in order to fit everything in and catch our return train!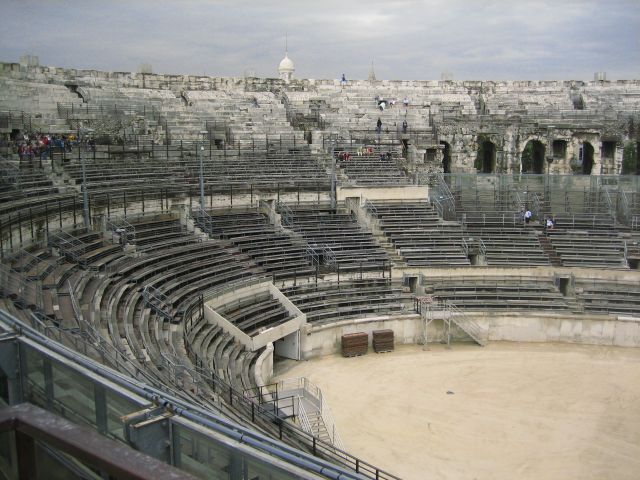 Built at the end of the 1st century AD, the Nîmes amphitheatre was one of the largest in Roman Gaul. It measures about 133 metres in length and is 101 metres wide. The façade, 21 metres high, is made up of 2 levels of 60 arcades each. Inside, more than 20,000 spectators were able to attend the hunting and fighting spectacles featuring animals and gladiators.
A system of stairways and passages allowed spectators to reach their seats and to leave them easily. Positioned according to social status, they were shaded from the sun by a canopy supported by ropes attached to poles. Today, Nîmes has one of the best-preserved amphitheatres of the Roman world. I took heaps of photos inside but none of them really do justice to its remarkable size.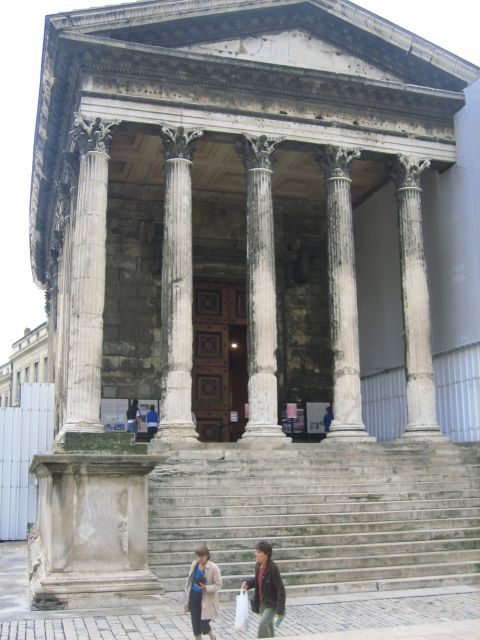 We timed our visit well and were able to partake of a multimedia spectacle in 3D which showed gladiators and bullfighters in action. The 3D glasses were so good that it was quite possible to imagine oneself in the middle of the arena at times!!
Now we had to hurry to retrace our steps to the Square House (La Maison Carrée). Raised up on its high podium, this temple would have dominated the forum of the ancient city. This spacious square, the centre of public life, was surrounded by a portico, traces of which can still be seen. Some of the bases of the portico columns are preserved at the site. It was under construction when we were there so it wasn't possible to take a photo that showed it free standing.
Built in the 1st century AD, La Maison Carrée has had this name since the 16th century. In fact, in old French, any rectangle with 4 right angles was described as carrée or square. Dedicated to Caius and Lucius Caesar, the adopted grandsons of Emperor Augustus, La Maison Carrée is the only fully preserved temple of the ancient world. It's very pleasant to look at with its harmonious proportions and elegant columns with Corinthian capitals (the upper part of a column that supports the entablature which, in its turn is the structure consisting of the part of a classical temple above the columns between a capital and the roof)!! It's amazing what you learn when others use words you don't know!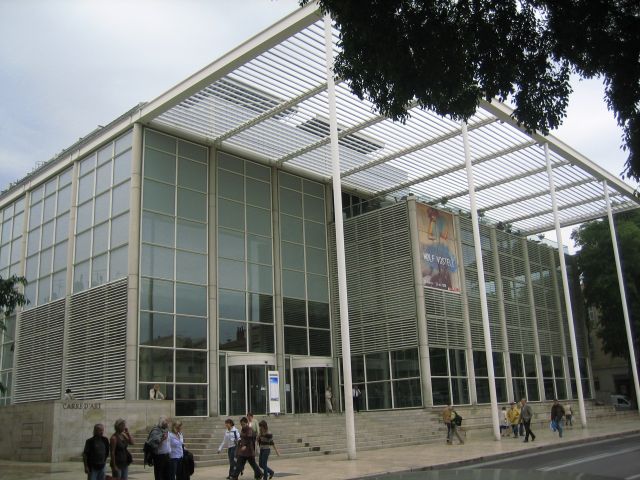 In 1992, La Maison Carrée was given a new roof, which is a faithful reproduction of the original, made up of 'legulae' – large flat tiles – 'and ímbrex' – hand moulded curved tiles. Opposite La Maison Carrée, the Carrée d'Art contemporary art centre offers a very fine view of this roof from its terrace. My legs didn't allow me to climb another step at this point and particularly not to the top of the museum so I didn't take a photo of the roof. I sat down on a lovely cold stone bench while Julie explored this modern structure and its contents (sadly without her camera!).
With very tired feet, we did our best to race to the station and were so glad to relax on our train back to Montpellier. It had been an excellent day, full of adventure.
On 29 May, Julie and I went for another bus excursion! We woke to find it was a fine day so we decided to head for the beach! Palavas was reportedly the nearest beach to Montpellier and is on the bus route to La Grande Motte (although I've since discovered that Carnot is even closer as the crow flies). This time the cost was about €6 return.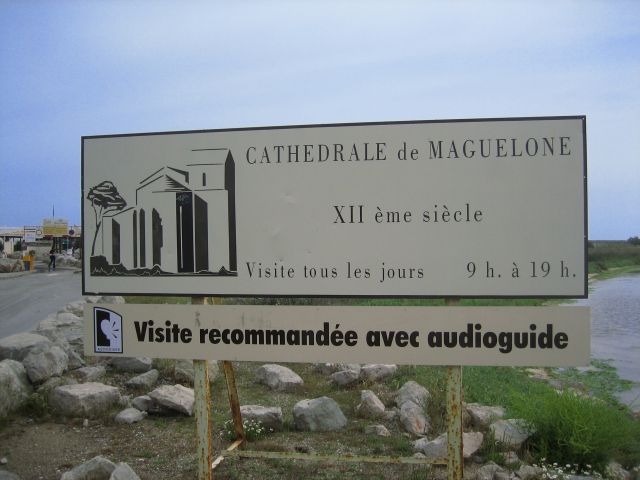 Palavas was a disappointment except for one important thing. The very ancient 12th-century Cathédral de Maguelone.
Palavas isn't really a destination when you arrive at the sea. It's a very, very long drawn out area with a town somewhere along the way – and a rather tacky town at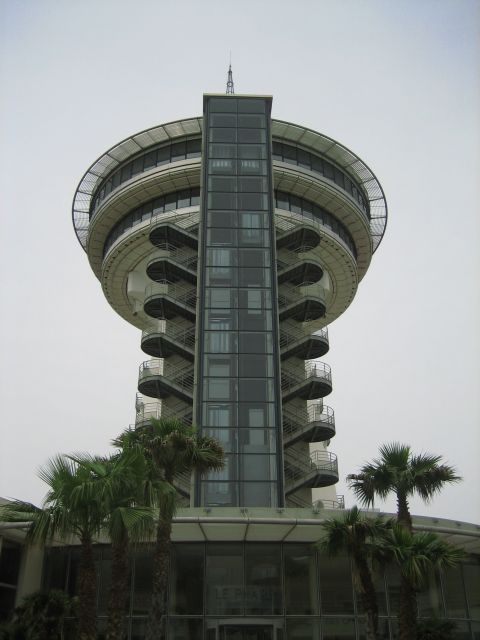 that. We couldn't decide which bus stop to get off at but chose the one closest to the information centre, east of the town, and this turned out to be right underneath the lighthouse! We weren't actually tempted to climb to the top because we hadn't seen much evidence of a view to look out on.
With the weather becoming cloudy – again – we decided to walk to the cathedral, west of the town. It was miles away – we must have walked about 10 kms! Thankfully, it was worth the walk but there wasn't much to see along the way!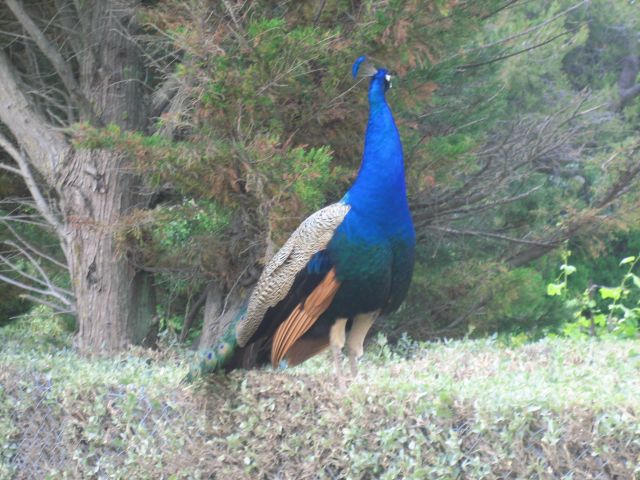 Except for this beautiful peacock!
The cathedral, like all the religious relics in this area, has quite a history.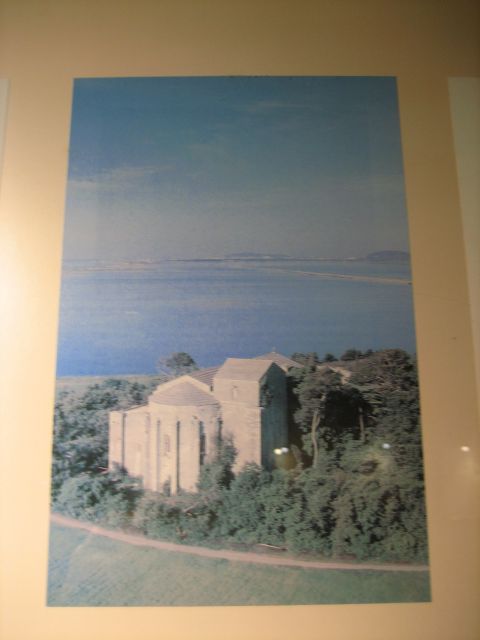 After the invasion of the Saracens, the city of Maguelone was completely destroyed in 737 by Charles Martel. The inhabitants took refuge in the neighbouring villages and founded a new city called Villeneuve-les-Maguelone. In 1033, Bishop Arnaud ordered that a cathedral be built there. This cathedral was quite important to Rome and several popes stayed there. In 1536, the Bishop's palace was transferred to the city of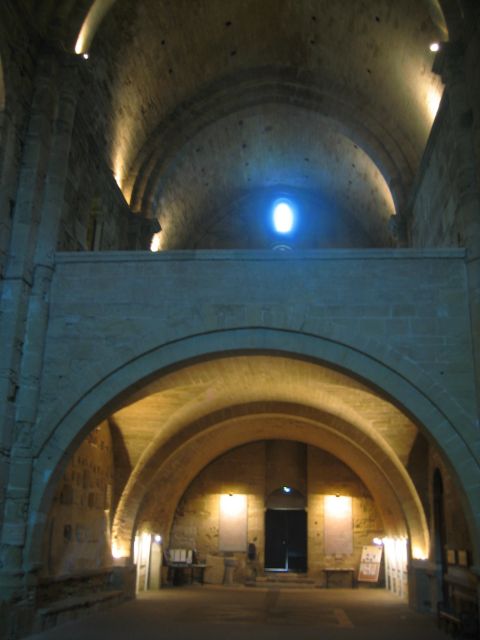 Montpellier. On the orders of Richelieu, Maguelone was destroyed in 1632. Only the cathedral remains. Finally, restoration was started by Frederic Febrège, who gave it back in 1875 with its original form of worship. Considering its age, the cathedral is in very good condition although it doesn't look very much like the photo below, today.
Once inside, there was a surprise! It's completely empty! And so it's height and dimensions were very apparent and somewhat awe-inspiring.
Having walked all the way there, there was nothing for it but to walk all the way back, with the thought of the last bus firmly in our minds. But we made it with a little time to spare and were grateful that we'd seen something so special, and that the exercise we'd got unexpectedly had been so good for us!
The weather was holding so we went back to the sea again on the 30th, this time to La Grande Motte where Bub and I had spent our final day with the car on 21 May visiting my new friend of the Lille to Montpellier train, Jacqueline. It's half an hour by car from Montpellier to La Grande Motte – and about the same on the bus. La Grande Motte was developed at the instigation of Charles de Gaulle who wanted to transform several mosquito-infested wetlands into cities.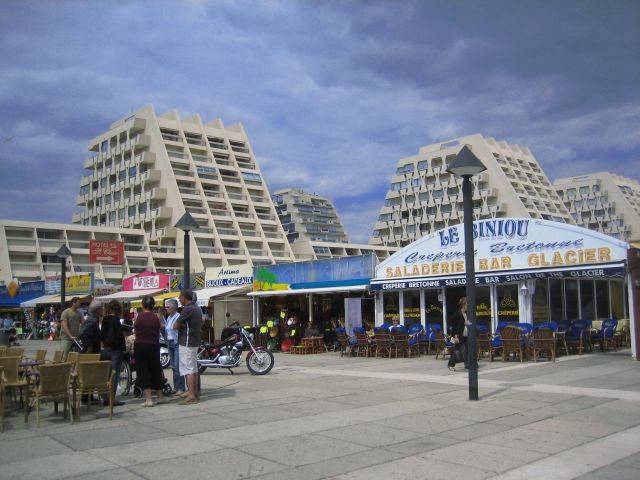 La Grande Motte is one such city, built in the 1960s and still being developed, on the site where there was once a tiny fishing village. It's a bizarre collection of white, leaning pyramid structures which seem to rise out of the land on every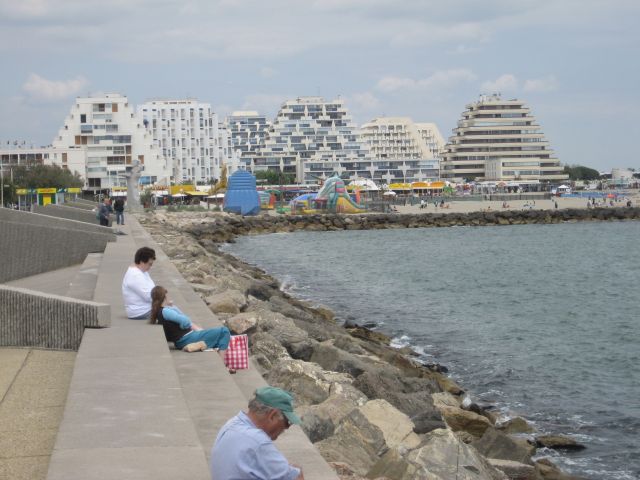 side and although it's stark and unexpected, it's surprisingly effective. It has marinas and wonderful facilities for tourists and I imagine it would be particularly delightful for children with its golden beaches and endless array of activities. Perish the thought, however, that one would visit it in July or August!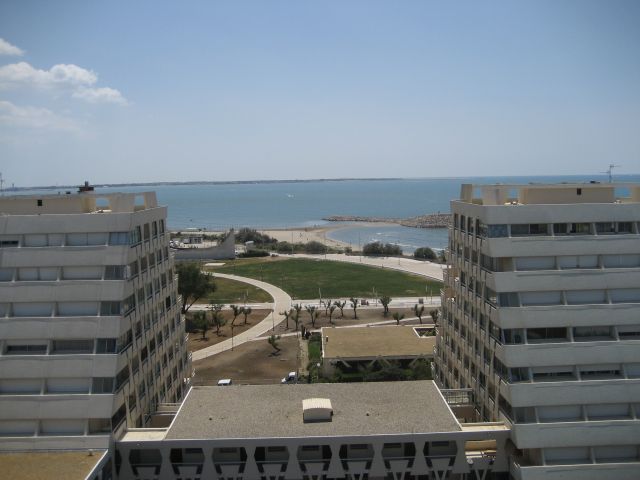 This is just one view from a spot along the coast, past the beautiful sandy beaches you can see in the distance, where the fishermen can still enjoy the peace and quiet. However, when we were there, the cormorants were having much more luck than the fishermen!
It was wonderful to be entertained by Jacqueline and we were treated to information about the local area and shown some of the more serene sights, like the lovely golf course.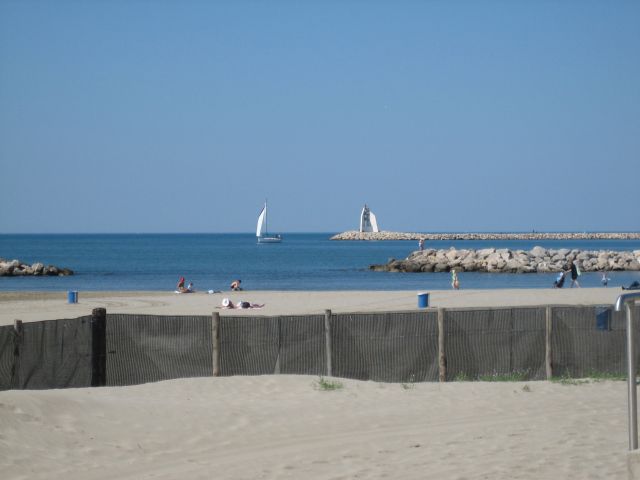 Here's a view of the ocean from Jacqueline's apartment from which you can see the strange buildings from above.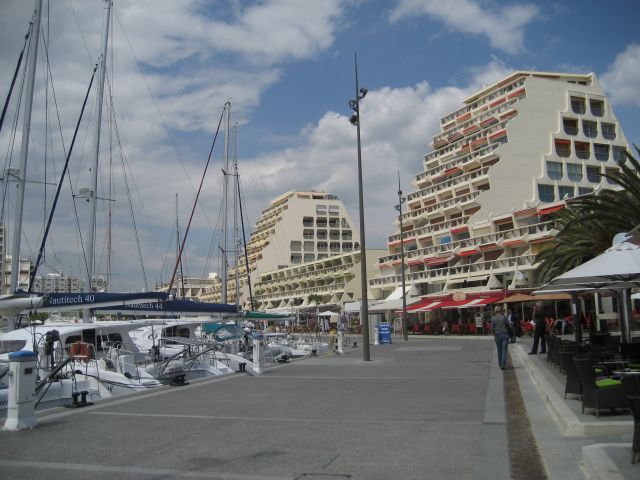 On this particular day, Julie and I travelled by bus which was easy and didn't take much longer than it had by car. We relaxed on the beach and enjoyed one of the few days of beautiful sunshine and some refreshment in one of the many cafés!
In all, Julie, my lovely middle daughter, had spent the week of 24-31 May with me, travelling a tortuous route from St Pancras to Montpellier via all sorts of stops because of the Bank holiday. It was apparently even worse on her return journey with a four-hour wait in Avignon. However, contrary to what we'd experienced here weather-wise, the sun shone in Avignon on her return journey so she managed to sit outside while she waited for her connection, and enjoy some well-earned Vitamin D. She and I had the most marvellous time together and went exploring every moment of every day, despite the weather.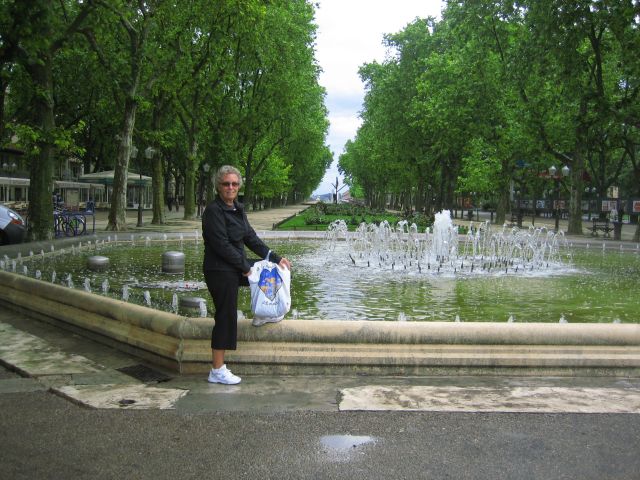 Fortunately, there was sometimes a moment to relax and either sit or lean! This was one special day we spent in the city and we're about to visit the Art Gallery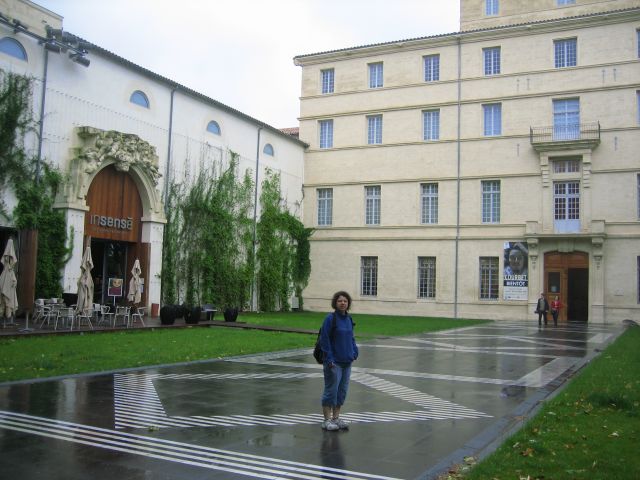 after we've passed this fountain at the top of the Corum. It's a pity we always seemed to have had on our winter woollies during her stay!
It was pretty wet when we went into the Art Gallery as you can see from this photo, but I'm glad to say that it had a good rain while we were in there and we had a relatively dry walk home. In this picture of the Art Gallery you can also see the lovely café to the left – even though there aren't any people sitting outside enjoying the sunshine.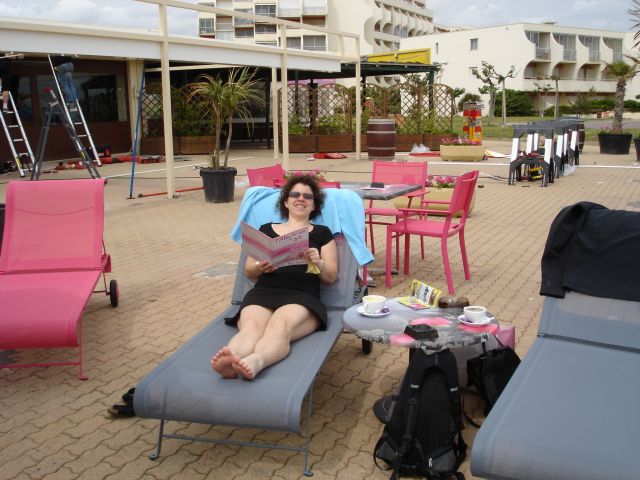 But I did manage to catch her once without her coat on. The town of Palavas was a disappointment but on the way to the Cathedral there we needed a rest and for a moment only, the sun came out! Neither of us could resist the urge to stop at a café on the beach and lounge while the waiter brought out drinks. I caught her at it!
And it's lovely to see 'the smile' when the sun comes out! We actually laughed a lot, but somehow the dismal weather made some of the photos look a bit serious!
With Julie wending her way home and with another day between visitors, I decided to visit some of Montpellier's churches.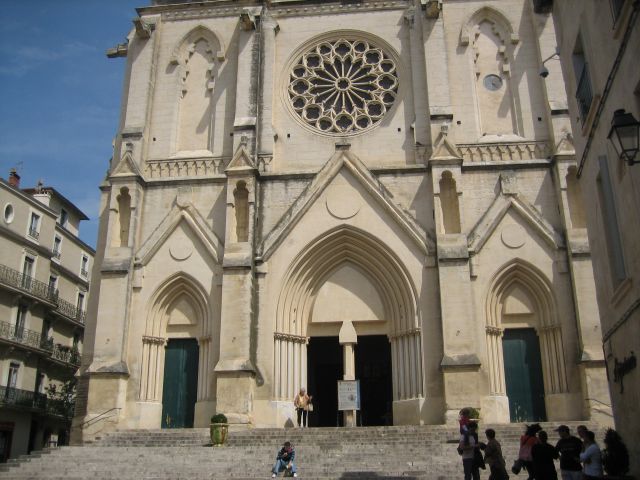 Most of Montpellier was wrecked by the wars of religion in the 16th Century. Despite this, there are a few fine churches, among them the Eglise Saint-Roch, which is situated in a lovely big square.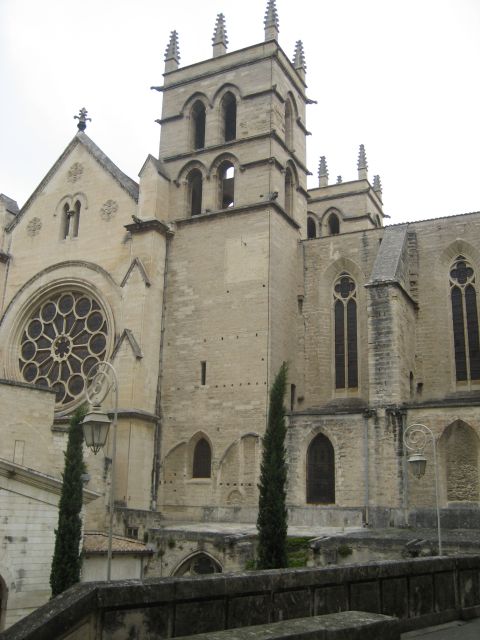 I've shown Cathédrale de Saint-Pierre in previous posts, but here it is again, this time from a slightly different angle.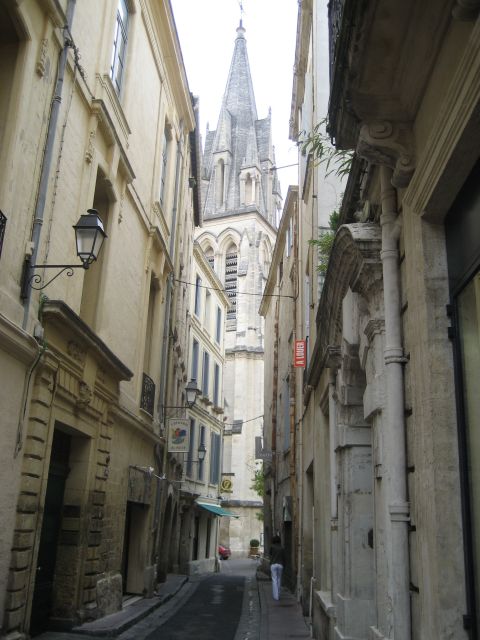 Eglise Sainte Anne was magnificent but difficult to photograph because it's so tall and the surrounding streets are so narrow and windy and the Crypt of Notre Dame des Tables. Only the underground Crypt remains and makes for a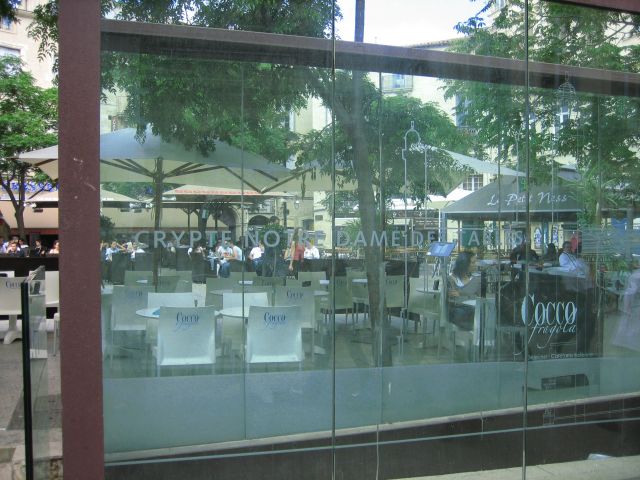 very interesting visit – everything above the ground was destroyed.
You can see through the glass, parts of the cafés within Place Jean-Jaurès which now abound where Notre Dame would have been. In this photo you can see the Place more clearly, with the statue of Jean-Jaurès The entrance to the Crypt is on the right.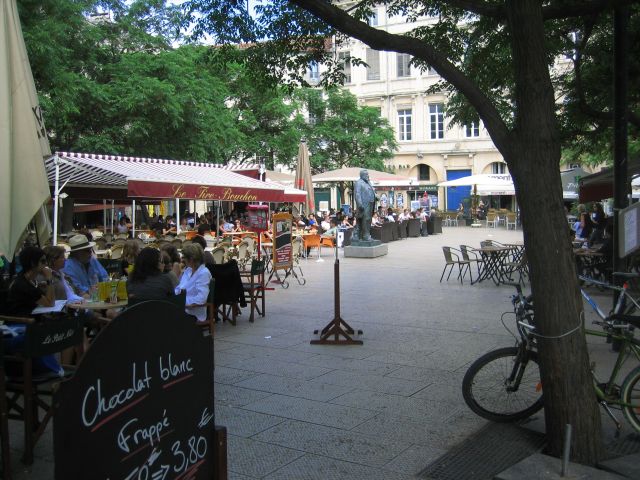 This square is a focal point in the city's student life. On fine evenings between 6.0 and 7.0 pm., you get the impression that half of the population, not in Place de la Camédie, is sitting here and in the adjacent Place du Marché-aux-Fleurs. If you peep through the Gothic doorway of No 10 of Place Jean-Jaurès, you can see the so-called Palace of the Kings of Aragon who ruled Montpellier for a stretch in the thirteenth century.
With my last day in Montpellier on my own on 1 June, before the arrival of my final visitor, I reflected on some of the things that make Montpellier specifically, and France in general, special to me. One only has to talk to people in general about France and the French to be aware that there's a vast difference in the way in which they're perceived by the English. I don't know what your view is, but here are my impressions of the area of Provence after a month living there at close quarters with the local people.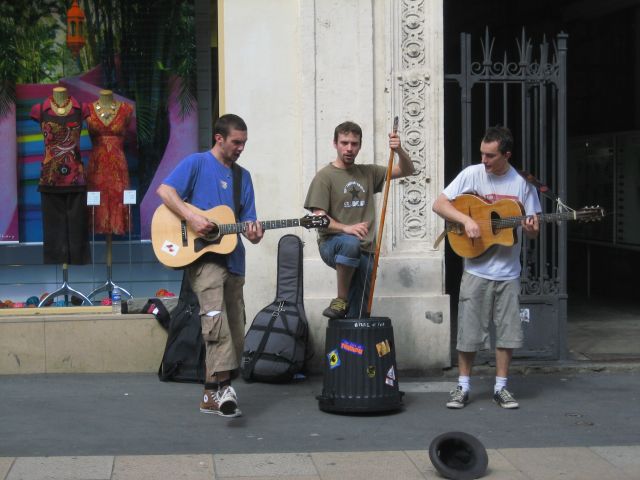 Languedoc is a fairly poor region. Where the unemployment rate in France generally is 12% at the moment, it's 18% in the Languedoc. This means that there are quite a few (mostly young) people standing or sitting around in the City – on the pavements, in doorways, etc. They're often in groups and often with a variety of, usually large, dogs (because they get an extra allowance from the Government if they own a dog). Having said that, one might expect that the dogs would be in poor condition, but this isn't the case. Neither is it the case that the unemployed people look ill-kempt, or underfed, or dirty. They seem very happy and are usually talking amongst themselves in an animated fashion. Or busking.
They greet you as you pass by and I never felt threatened by them. Sometimes one of them would come up and ask for money but if you declined, they took it in good part and I never felt hassled in any way.
One thing I noticed quite quickly was that it was hard to find any fat people or any who weren't smartly dressed. In fact, anyone who was overweight really stuck out (no pun intended!).
Another thing I noticed was that there were very few grumpy people and if an occasional waiter in a café was grumpy, it was so noticeable that one felt compelled to ask if he'd had a hard night (it was actually only one man)!
Perhaps because the region is fairly poor, the quality of the pavement surfaces was really quite bad and it's wise to watch where you're walking. The roads aren't well surfaced either, or very flat, because when it rains, large puddles develop quite quickly!! Although there's a penalty for allowing your dog to foul in public places, it doesn't appear to be well monitored and one quickly learns to side step appropriately. There are, in fact, an inordinate number of dogs on leads – many more than I've seen either in New Zealand or England and they're quite frequently on the trams, buses and trains.
Lots of French people smoke. It's forbidden in buildings now so they all smoke in the outdoor cafés, as they walk around and in the inevitable building entrance ways.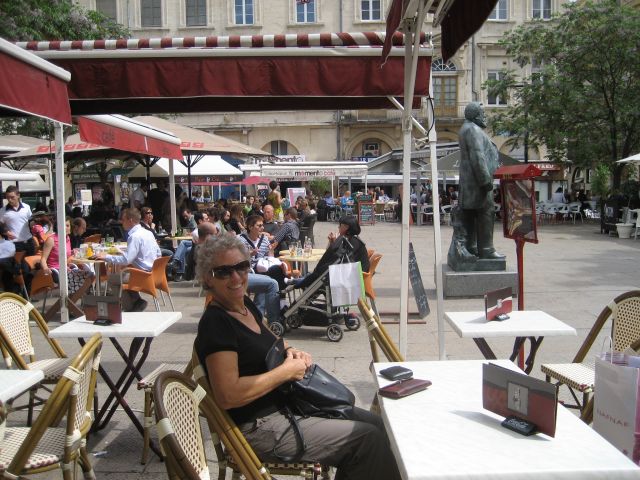 All the central areas of Montpellier are a mass of cafés and it was impossible to tell when breakfast finished, lunch started and finished or dinner began. They're full all day every day and in the pouring rain the café owners quickly put up shutters and blinds to keep the weather out and they seem even fuller. Quite when anyone works was hard to determine!
If you ride a bicycle you seem to have some innate kind of right of way – on the pavements, across the squares, the wrong way up one way streets – everywhere in fact. I was riding very quietly behind an elderly couple on the pavement of a one-way street – going against the traffic – and couldn't pass because the pavement was too narrow. When the pavement eventually widened, I approached to pass them quietly so as not to alarm them. As soon as the woman saw me she said – 'Sorry – you should have rung your bell'!! I was very surprised! Sally and I had the greatest difficulty cycling across L'Oeuf – Place de La Comédie – on the afternoon of a ride to the ocean at about 3.30. It was alive with people and we had to weave our way around everyone going in different directions. But as soon as anyone saw us, they quickly made way for us – most mysterious!
Talking about bicycles, I discovered that it's very easy to hire a bicycle for a half-day or a day for €1 or €2 respectively. For this, you pay cash and leave identification – your driving licence or passport – as security. However, if you're French and have a French Bank account, you can take out a season ticket for a bicycle which allows you to have 50 trips for €10!! A huge advantage! There are lots of bicycle 'stations' all around the city. You can pick up a bike by the railway station, for example, ride it to any of the other 'stations' within the city and leave it there. If it's within an hour, your 50 trip ticket isn't clipped so there's no charge. Or you can ride off into the sunset, picking up the bike at 8.30 a.m., and bringing it back by 8.30 a.m., the next day. They then clip your card for one unit. 50 units is probably enough for a very long holiday!
Many people cycle to the ocean, as Sally and I did on our last day. The three-quarters of an hour it took us to cover the 11km to Carnot is only a little longer than it takes to go by bus because the bus stops quite often.
I find it hard to imagine how anyone could find the French unfriendly or unhelpful. Many people have said that the French are 'difficult' unless you speak French. I don't think this can be universally true. We met a 'bikie' (Ducatti not Harley!) and his friend coming out of a patisserie near Millau just as Bub turned to me and asked me in English what I was going to choose for lunch. The bikie was from Doncaster and immediately thought he'd be helpful. 'We've got a lovely roll each', he said, gesturing towards us with his baguette brimming with ham and cheese – 'just point and smile'.
I'd made a pact with myself that I wouldn't speak any English with the French and wouldn't ask them if they could speak English. They were unfailingly kind and helpful when I got stuck and, by dint of various explanations, managed to work out what word I was looking for, would provide it and spell it for me so that I could add it to my growing dictionary. On one memorable day – the day Bub left by plane for England – we'd discovered that there was a strike which involved all the buses. When we reached a car park beside the bus stop for the airport bus, we saw a long queue of people waiting. We'd planned to leave the car there so that Bub knew exactly how to drive to the airport without getting lost – but I worried about these people who didn't seem to be aware that no bus would be coming and who might, consequently, miss their planes. Plucking up my courage, I approached the queue and told them that there was a strike and that it might be advisable to take taxis. They probed me with questions about how I knew and whether it would be for the whole day. Who knows whether I got it technically 'right' or not, but before long, taxis were drawing up and the queue had disappeared! I felt very chuffed.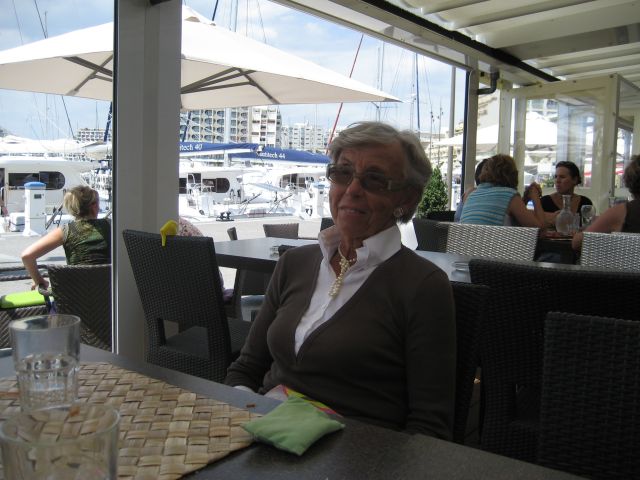 Two other bits of inside information were interesting. Spending time with Jacqueline at La Grande Motte, Bub and I soon found out that the French jaywalk, often quite close to approaching cars! Jacqueline urged us on and said that it was only the English who waited at the lights! At lunch, we went Dutch and as we contributed our €12 each I found that my purse was empty of change.
I asked Jacqueline what contribution we should all add for the tip and she was horrified. The French don't tip she told us – 'the English tip but the French know better'!! And that wasn't just for the menu of the day – that was for à la carte too.
Finally, it was 2 June and time for my last visitor.
My intrepid travelling companion in India last year, and my very dear friend, Sally, came down to Montpellier for the last four days. As she arrived on Monday late in the afternoon and we left on the TGV together early on Thursday morning, we had to make the most of our two full days.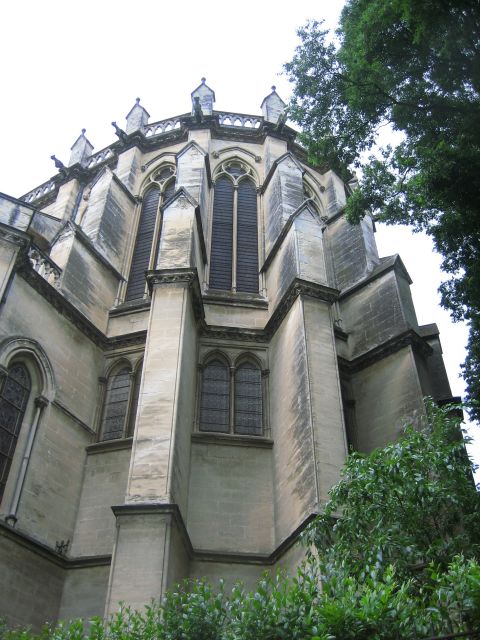 Although I'd seen a great deal of the city during the previous three weeks, I found that there were still many more little streets to explore and various buildings to see from different angles. Looking at the Cathédrale St Pierre from the back was just as imposing as it is from the front and sides!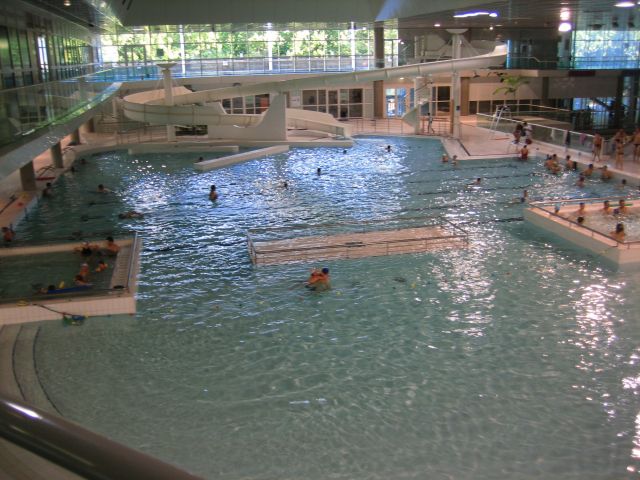 Instead of just looking at the Piscine Olympique, we went inside to explore and found that the complex includes, not only the Olympic sized pool, but also a huge, more shallow pool for playing and relaxing in with an enormous slide, and above it all, a very well equipped gym which was full of people working out. The Olympic pool is down below to the right of this picture and the gym area is on the upper floor, to the left.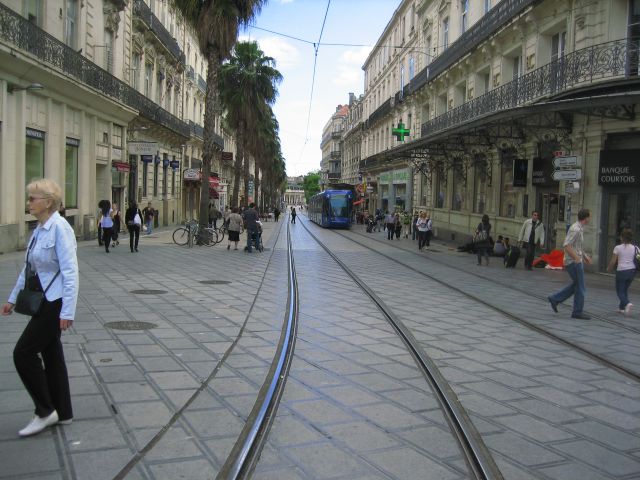 Of course, we did the usual café thing and wandered around the city at leisure. Here, we're looking down the wide avenue from the Place de la Comédie to the train station (which you can just see in the middle of the photo), which is pedestrianised apart from the trams. It gives you an idea of the distances – not unlike walking around Wellington in many ways except that it's flatter!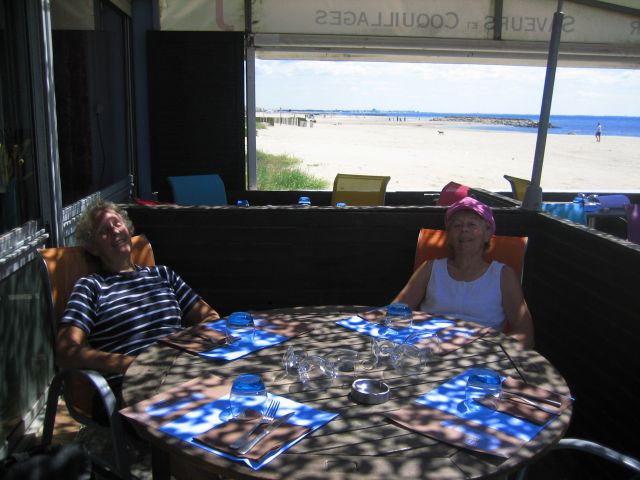 But our greatest adventure together was to hire two bicycles on our last day which turned out to be a glorious one! It was hot and sunny but with quite a breeze so we didn't get too hot. We walked down into the city to hire our bicycles, paid 2 euros each for the day, relinquished the required identification (passport and driving licence with photo) and set off. The cycle tracks around the city are fabulous and once you've found the right route out in the right direction (which is harder than it sounds!) the cycle track led us in an almost straight line for the nearest point of the ocean, 11km away at Carnot. And it's almost totally flat so it only took us about three-quarters of an hour. We arrived feeling extremely proud of ourselves and pretty exhausted. Neither of us had ridden a bicycle for a month and there were some muscles around the back that we'd forgotten about!!
We collapsed into two very comfy chairs in a café on the beach and ordered a drink, under a sort of coloured net canopy. We decided to stay where we were for quite a little while, even though the beach you can see through the window behind us was very tempting!
Unfortunately, that's when my camera ran out of battery which was a pity because we had a lovely couple of hours enjoying the sun and sand and sea and it was really a very special time. We have to admit that the ride home was a little harder because the wind has risen a bit and was against us! And we somehow took a wrong turn which added to the length of the journey.
We decided to keep our bicycles for just a little longer and rode across the Place de la Comédie to a café of our choice, astonished to find as all the pedestrians gave way to us! We began to get quite confident about ringing our bells so that people would know that we were coming up behind them!
But all good things come to an end and after a lovely dinner out at a restaurant in the Antigone, we took the tram home (because we were really quite weary!) and started to pack for Sally to home and for me to return to London. And the good news is that Sally loved Montpellier too.