Around England - 27 June to 30 August 2009
I spent a week in London with Kate and family from 7-14 May this year, knowing that I would be back again after a couple of months in France.
Does everyone get exhausted getting ready to go away? Or is it just me? I'd been trying for about six months to organise a date for an advanced driving test (it's good to check that bad habits haven't crept in, especially as one gets older!). Numerous emails hadn't borne fruit until, you guessed it, a week before I left, when the examiner suggested a time of 11.00 a.m., on the day of departure! What could I do? I'd been working so hard to get the date, and one of the purposes of passing the test was to give reasons to Kate's insurance company to put me on their policy without increasing the premium! So it really had to be done before I left! Phew! Test over, mission accomplished, and only just enough time to drop my car off with Eric, who'd kindly agreed to garage and drive it while I'm away, and for Ken to very kindly drive me to the airport! The flights from Wellington to Auckland, Auckland to Los Angeles and Los Angeles to London were excellent. The films were good, the cabin crews were lovely, the meals were excellent and, even though it was a direct flight, I slept for sufficiently long to arrive in pretty good shape! And, taking the train from Heathrow to Paddington, it was great to see Julie's smiling face at the barrier. She'd left work – nearby – to help me from the train to where Kate was kindly waiting with the car – just outside the Exclusion Zone.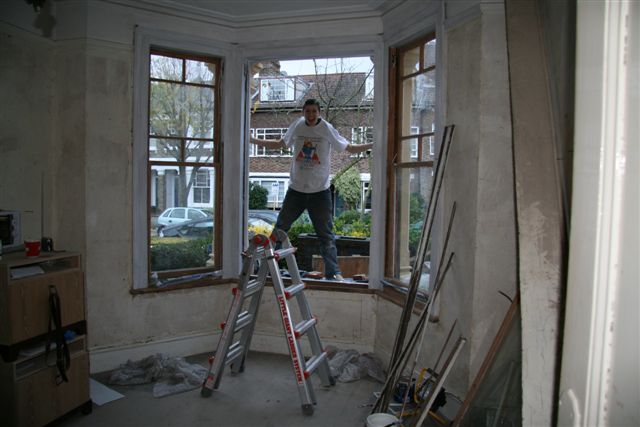 When I'd left them in September 2008, they'd just bought a ruin in Queen's Park in London. They'd worked really hard over the winter, living through much of the winter in the property which was leaky and often open to the elements, and the transformation was amazing. But there was still so much to do!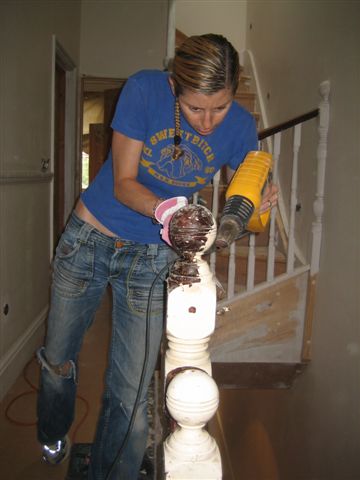 There wasn't much time before I left for France, but Kate and I made a start on removing and painting the outside of the lounge windows (taken out and placed all over the kitchen!) and a very small beginning on the eight newell posts all the way up the two flights of stairs. Kate used the blow torch and I started sanding.
And then it was time to leave for France. I was certain that Kate wouldn't have a hope of finishing it before I got back.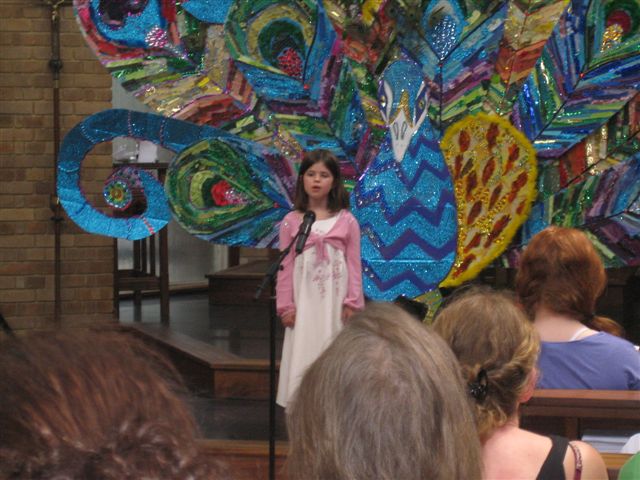 It was good to be back in London for a couple of days on 25 June after such a lovely holiday in France. The 'ruin' had progressed well in my absence and it was exciting to see the flooring down throughout the ground floor and a great deal of progress having been made in the garden. There was just time to enjoy the children's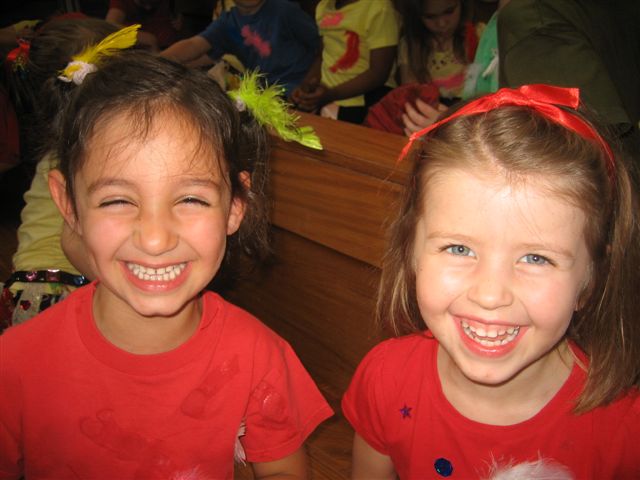 school concert, where Tyla sang a beautiful solo and Riley just enjoyed every moment.
And then it was time to leave – again – for a reunion of Old Girls who left between 1955-1965 from my old School at Sherborne in Dorset.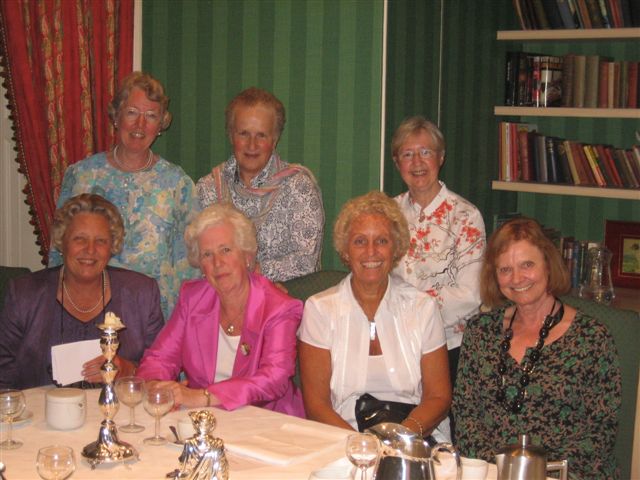 It's quite complicated to attend old school reunions when one lives on the other side of the world but the timing this year was perfect over the weekend of 27-28 June. The reunion, or Gaudy, was to be on Saturday but an enterprising Old Girl from my house had managed to organise a dinner for seven of us who'd been in the same house at the same time. This was held at the Eastbury Hotel, one of our old haunts for parental visits in the old days.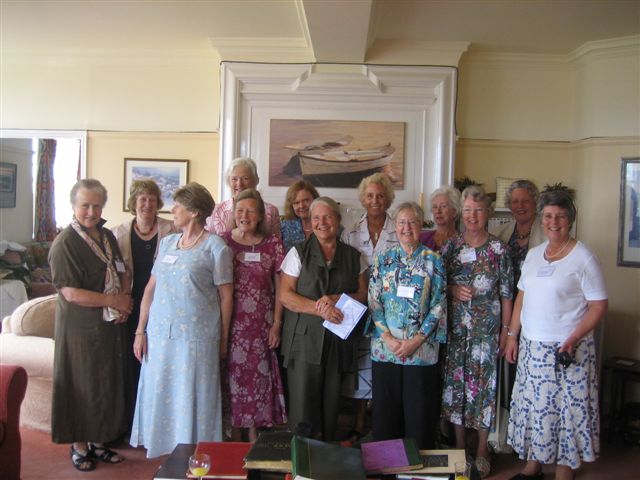 The next morning, it was morning tea in our respective houses where we were reunited with so many familiar faces from 50 years earlier.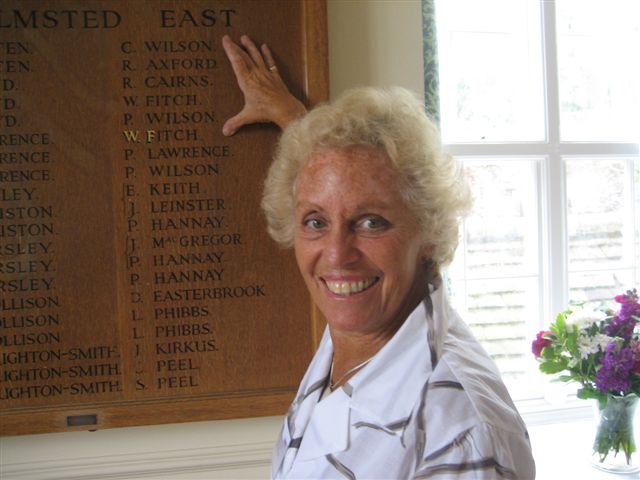 And it was fun to find one's name on the Honours Board of Sports Captains in the dining room – with gold lettering if one was also the School (as well as the House) Captain. The top eight names on the list were attending the Gaudy so it was great to catch up with them all again.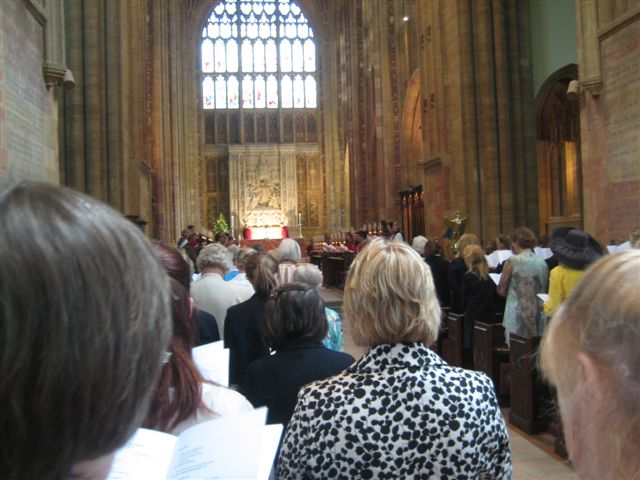 Then it was down to the beautiful Abbey, a place where we'd spent so much time during our school days.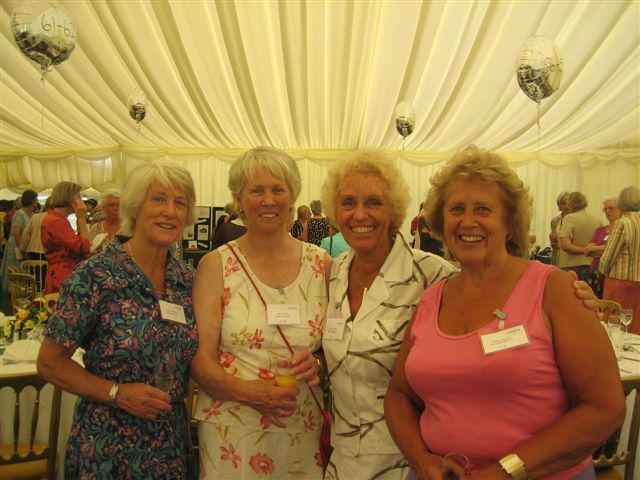 Finally we gathered in a huge marquee in the grounds where we could catch up with the people who meant so much to us back then. Here is our lacrosse coach, Peta Wilkie (on the left), with three of her old team – Jane Ross, me and Bubby Morris. Those were the days.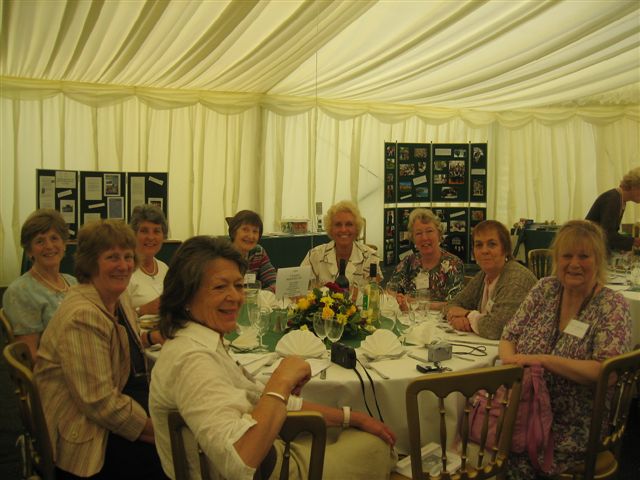 Tables were arranged so that we sat in our houses and we were very lucky that Aldhelmstead East was so well represented.
It was fifty years since we'd all met so there were many stories to exchange. It was so impressive to discover all the things that my school friends had done with their lives.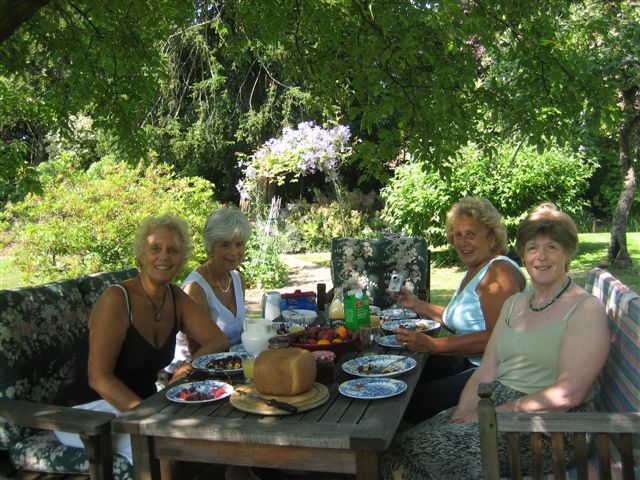 Hard on the heels of the school reunion, we four 'girls' met again for our annual get together during the Wimbledon fortnight from 28-30 June.This time it was at Gill's house which is very close to Wimbledon and, as usual, we wined and dined, watched a bit of tennis and chatted endlessly. Suffice it to say, it was, as usual, a great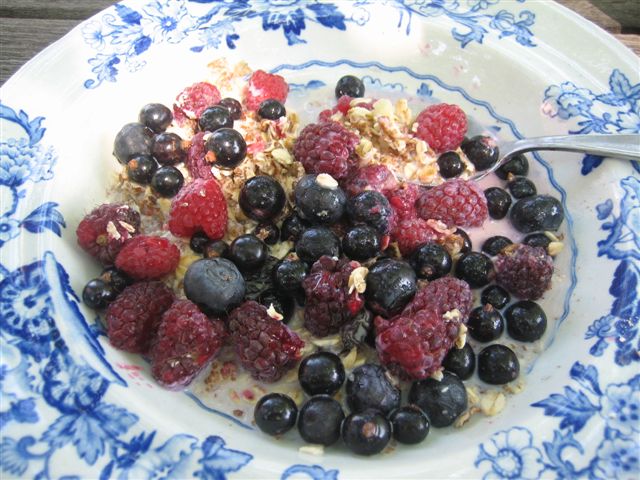 success and a lovely interlude.
Gill's garden was producing its usual abundance so we ate like royalty.
All too soon, it was time to return to normality with promises from everyone that the next reunion would be in New Zealand in 2010.
It was great to have a whole month based in London so, I was back on 1 July, ready to pitch in with the renovations.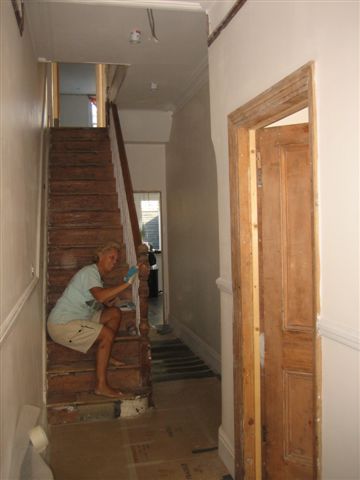 It's always hard with such a big project as a 'whole house' to actually see where progress is being made, particularly with a house that hasn't been touched for 90 years. I got back onto my project of completing the painting of the finials and newell posts on the two flights of stairs.
Kate hadn't been able to do much while I'd been away in France so she was back on duty with the heat gun again.
When she wasn't doing that, she seemed to be sanding ceilings endlessly so it was good that the family decided to go away for a short school camping trip to have a bit of a break. I'm not sure that it provided a rest, but at least it provided a bit of a change.
Finally on 9 July, we both actually started painting. We both cut in and Kate rolled all the walls and did the first coat on the ceiling. As soon as she'd finished, I started painting the skirting boards in the hall. It's beginning to transform.
Then it was time to drop the tools for a few days and prepare to welcome our friends from France.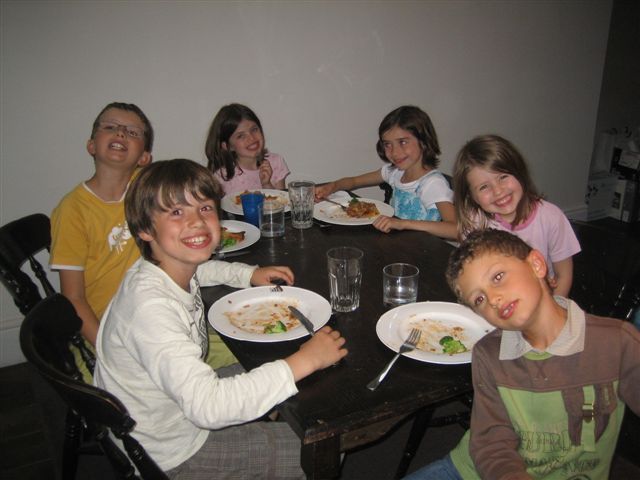 Simon and Sabine and their children Jean Baptiste and Constance have been exchanging visits with Kate and Bret since we all met at their Bed and Breakfast about four years ago. This time they brought their friends Karine and Richard and their children Antoine and Thibeau so the house was bulging at the seams and every square inch was occupied.
Considering the language difference between the children, it was a constant source of amazement that they all understood everything that they said to each other and they all had a great time.
We all enjoyed a visit to Harrods, the pub, a tour on a big red bus and lots and lots of chat.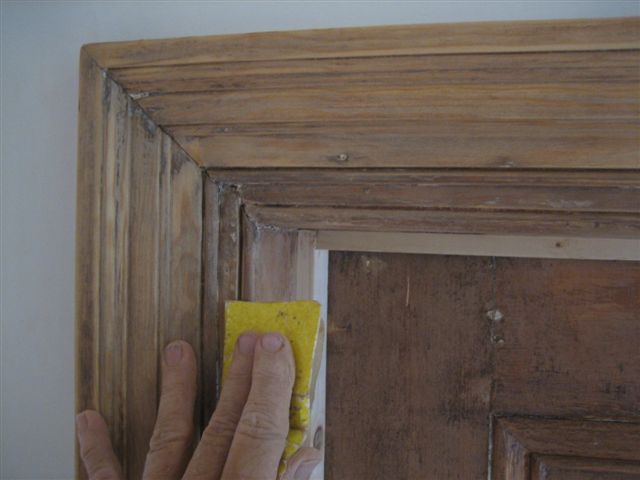 Back to work and the filling and sanding on the stairs continued for what seemed like days. Both Kate and I began to wonder if we'd ever pick up a paintbrush or a roller because the preparation was taking so long. With such a large area, the hall, stairs, and landing contains nine doors to be prepared on both sides, as well as the finials on three floors, the skirting boards, dado and picture rails. And the old doors weren't easy!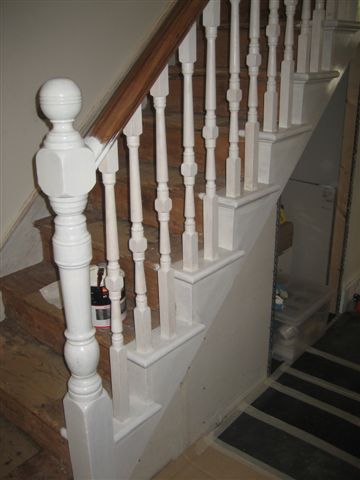 Finally, it was possible to start painting the finials and to begin to see a total transformation.
But it wasn't all renovating and painting. Di and Mal were over from Perth and popped in for lunch one day.
I popped over to Elissa's London apartment and enjoyed a lovely evening meal with her.
I caught up with Julie, who lives on the far side of the Park and we enjoyed some walks and coffees together.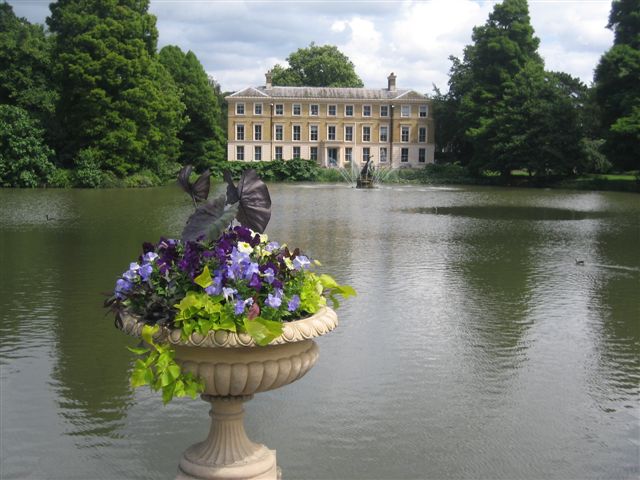 And on 23 July Kate and I went with another family from the girls' school, Harriet, and her children, to spend the day in Kew Gardens which was celebrating its 250th birthday. The children had a wonderful time playing in the magnificent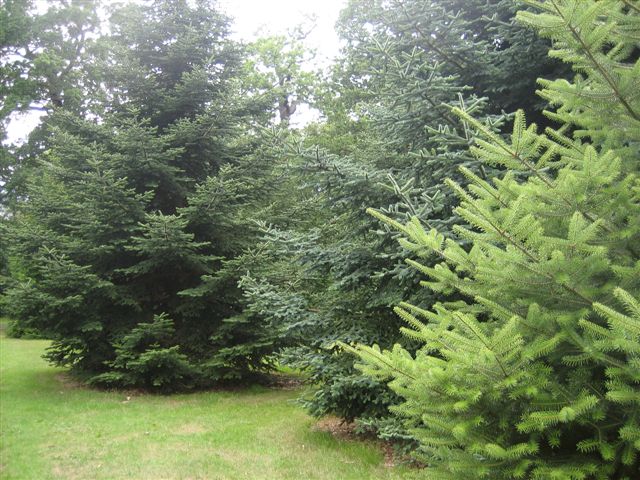 grounds and visiting all the attractions.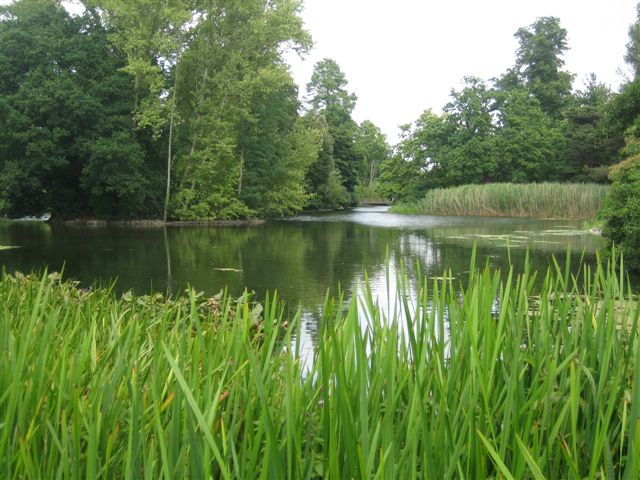 Meanwhile, as Kew was somewhere I'd never visited before, I walked around the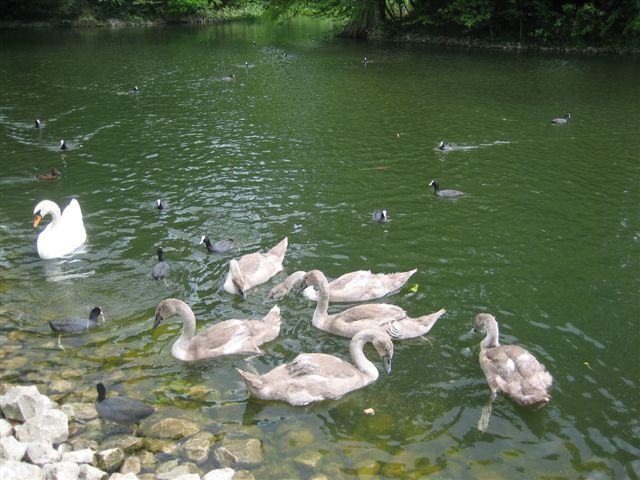 magnificent grounds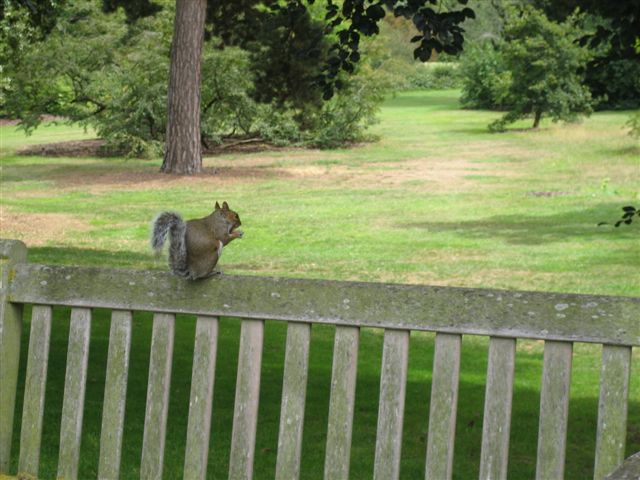 and marvelled at the variety of trees, the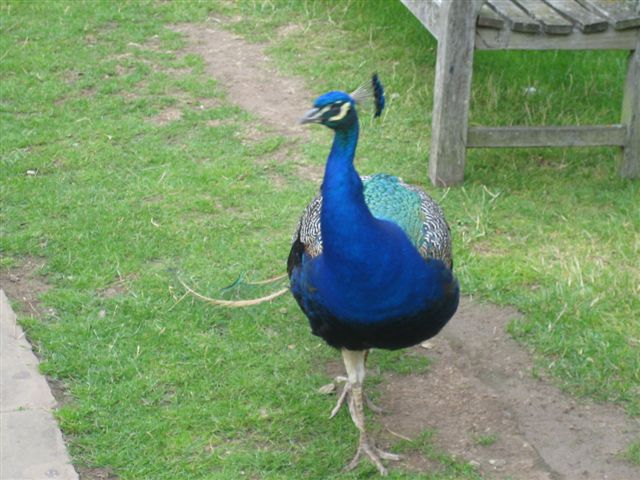 beautiful 1akes, teeming with bird life and enjoyed
a friendly grey squirrel and a peacock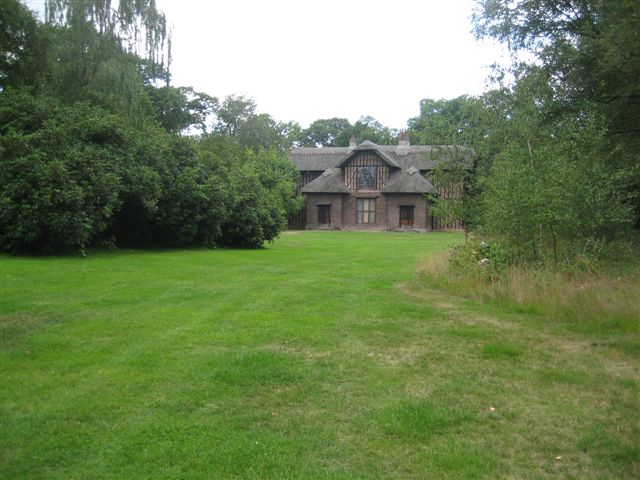 By the time I'd walked around much of the perimeter and seen the cottage originally built for Queen Charlotte (1744-1818) as a place to picnic with her family, I arrived in front of the Palace.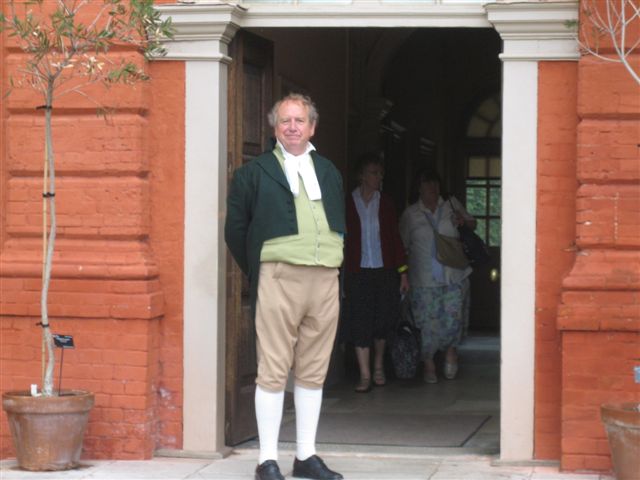 I was greeted by a cheery footman and began to explore.
In 1631, a City of London merchant called Samual Fortrey, built himself a shining new brick mansion on the south bank of the Thames at Kew. This became a royal home with a unique and compelling story, particularly about King George 21III (1760-1820).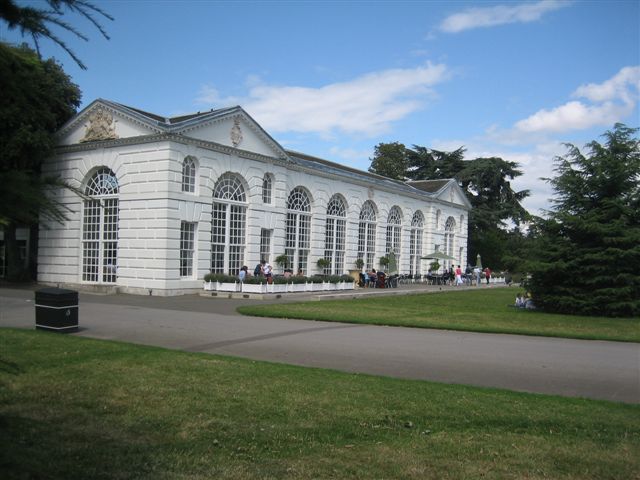 In 1788 George III suffered his first attack of what was later diagnosed as the metabolic disorder, porphyria, and was confined to the White House (now used as a rather lovely café).
The episodes were thought to be insanity and he suffered more bouts throughout his reign. His illness was finally acknowledged by Parliament in 1811 when he was 72. He withdrew as King and his son, George, Prince of Wales, became regent.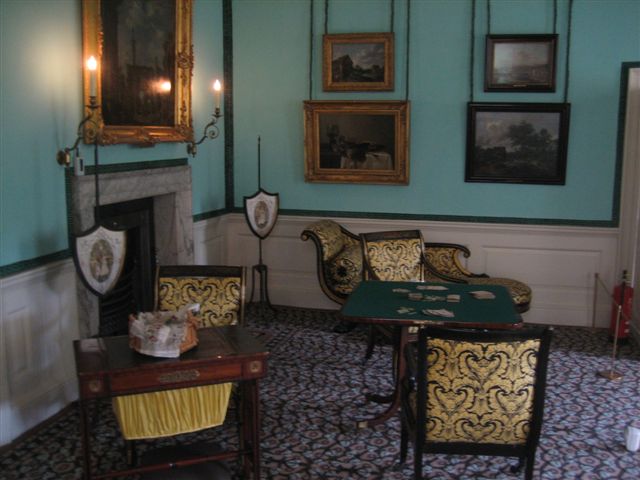 Queen Charlotte and some of their daughters lived here during the family and constitutional crisis caused by the King's illnesses. This period came to an end when the King recovered sufficiently but it was at Kew Palace that Queen Charlotte died in 1818 but not before she'd witnessed the marriage there of two of her sons to secure an heir and the future of their dynasty.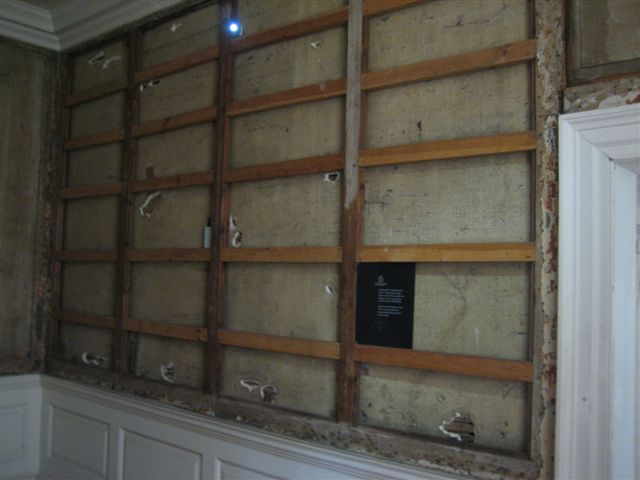 The Palace then stood almost empty until 1808 when Queen Victoria, the offspring of one of the marriages 80 years before – gave Kew Palace to the nation. It then closed for essential structural repairs and is now open to the public again. Many of the rooms have been beautifully restored but there is still much work to be done on the upper levels.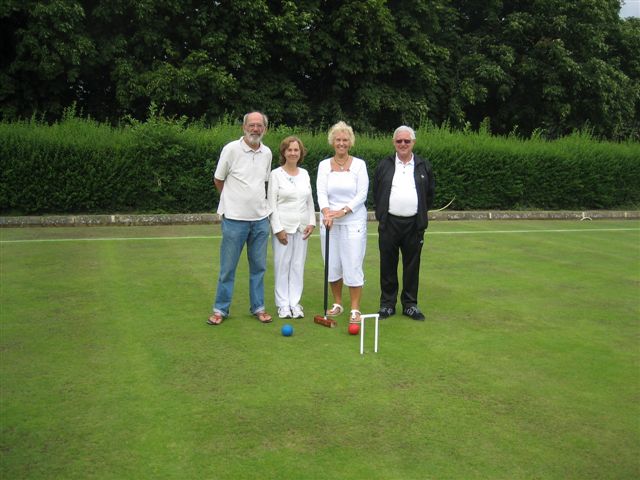 On 24 July I slipped away to Ealing to catch up with three friends from New Zealand who wanted a fourth to play a game of croquet. We were incredibly lucky with the weather. It rained just before we started and the heavens opened again just after I ducked back into the tube station.
Meanwhile, Kate had spent the day moving furniture and cleaning the wood floor throughout the whole ground floor, ready to seal the whole area. I made plans to evacuate so that Kate and Bret could have a clear 1412 hour run to put on three coats.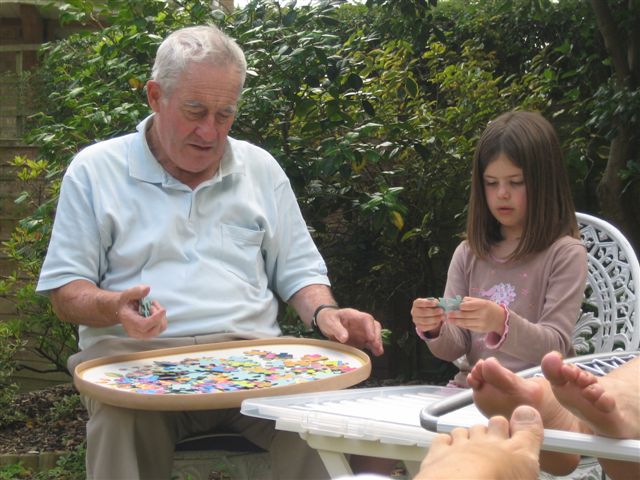 So, on 25 July the two girls and I had a very special day with Sally and Alan in Broxbourne. We took trains and buses and Sally met us at the station.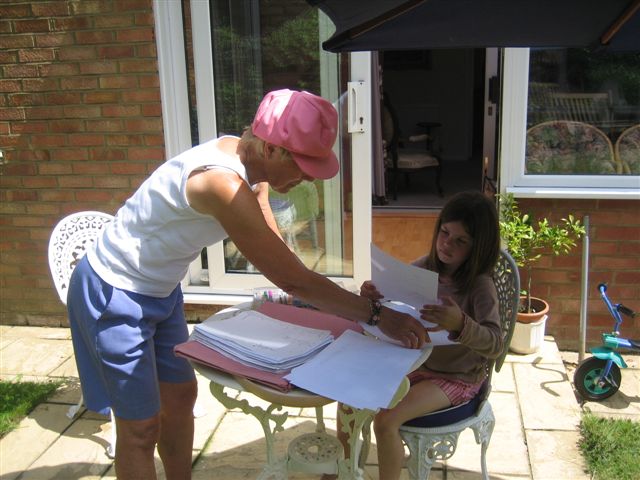 The girls had a wonderful time. They did puzzles with Alan and drawing and writing with Sally when they weren't tearing around the garden or eating wonderful food. We were so lucky to have such a lovely day out while the workers were slaving away to such a tight timetable back in London.
Just before we caught the train home and Sally and Alan went out to bridge, Sally read them a wonderful story. I'm not sure how the girls stayed awake because I know I was dropping off with the wonderful storytelling.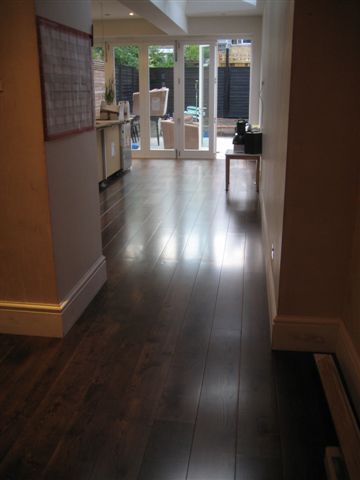 We finally trudged home from the tube station at exactly the right time. Kate and Bret had finished the third coat ten minutes earlier and we tiptoed in to take a look. Looking out into the garden and back towards the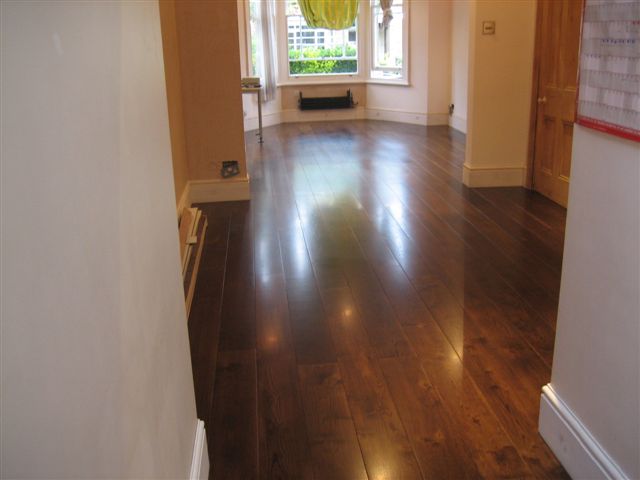 road was exciting after having had months of walking on cardboard and odd bits and pieces. It began to feel as if they were finally making progress.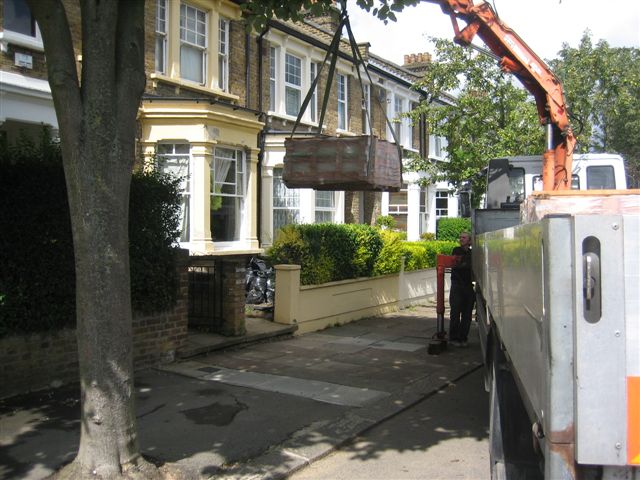 Two days later the paving stones arrived for the back garden. Living, as they do, in a terraced house, all materials for the back garden and all rubbish that gathers in the back garden has to be carried through the house. With the floor sealed we did, at least, know that the wood itself was safe, but nonetheless, it was a massive job. Easy enough for the truck to deliver the slabs at the front door. But carrying each one of them through was a long and very slow task.
But it was good that we got all that done when we did because at the end of the month Pickfords delivered all their belongings that I'd packed up for them in New Zealand just before I left in May. They hadn't seen a lot of their 'stuff' since they'd put it in store five years earlier and unpacking was just like Christmas.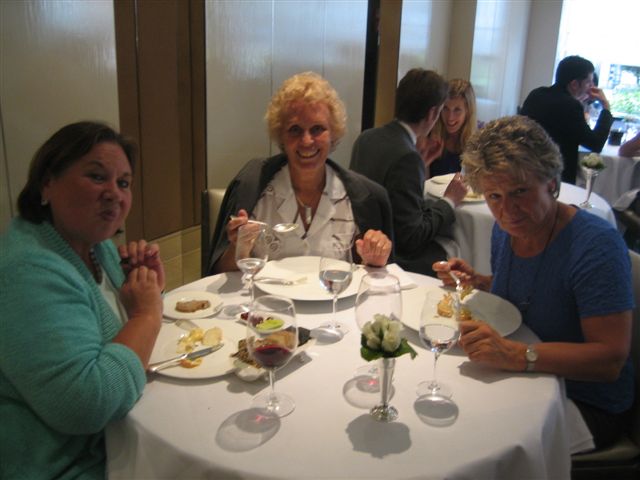 As a bit of a rest from all the hard work, my good friend Elissa, and her sister Sheila, had suggested to me that we experience lunch at one of Gordon Ramsay's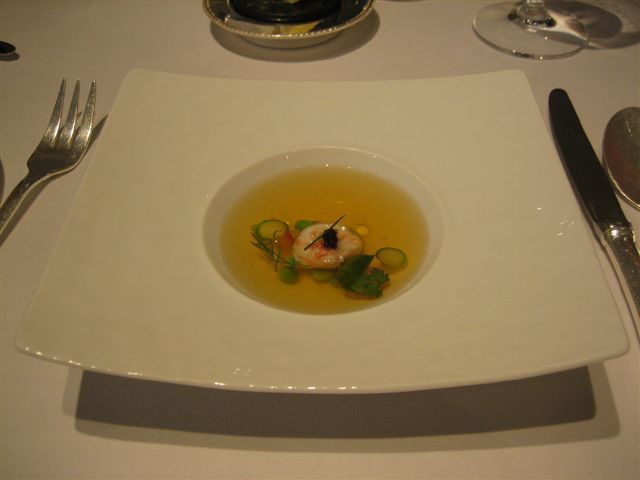 restaurants in London, at 68 Royal Hospital Road in SW3. Not all his restaurants always get good write ups but Elissa is a food connoisseur and she'd just checked out the latest information and knew that lunch would be good.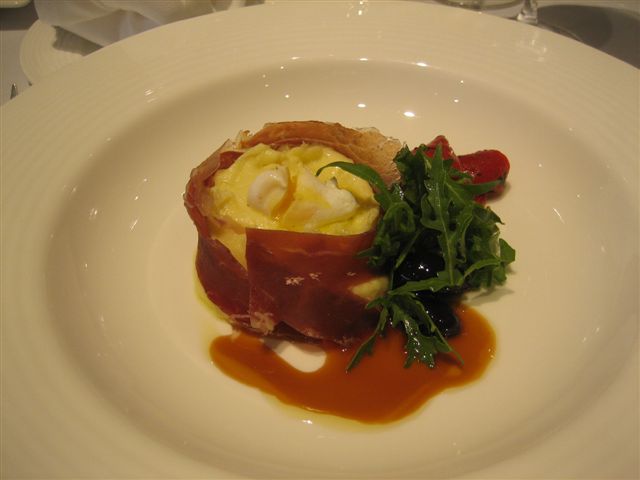 We were all given a tomato consommé to whet our appetites, compliments of the chef.
The meal I'd ordered sounded very exotic. It started with a salt cod brandade with Noir de Bigorre ham, poached quails' eggs, chargrilled red peppers, and rocket salad, moved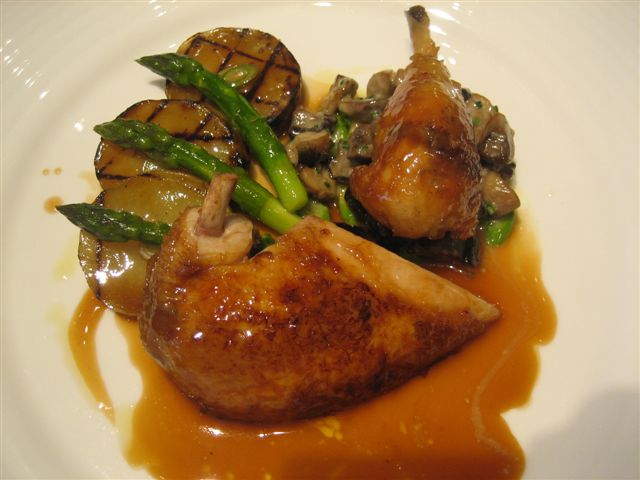 on to the roasted poussin with confit leg, chargrilled charlotte potatoes, asparagus and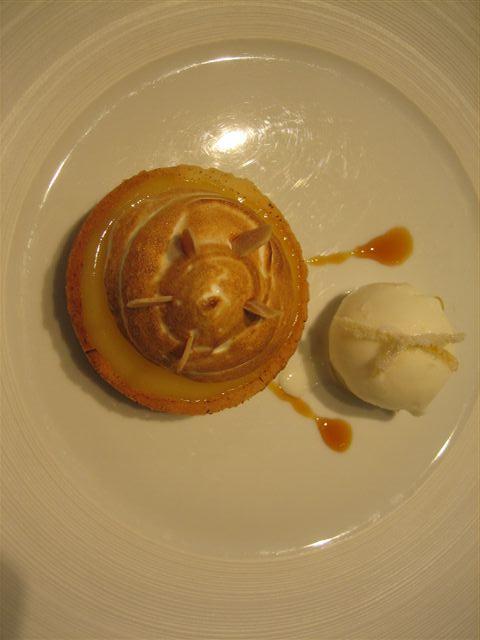 creamed mushrooms, and finished with the lemon meringue and almond tart with fromage frais sorbet.
And to top everything off they brought us some little chocolates on spikes and dainty little strawberry balls in dry ice.
It was all exquisite. Totally delicious. And very, very decadent. And so was the price which was just too much for me to mention here!
We strolled back to the bus through the streets of Chelsea. It had been an unforgettable interlude and a special time spent with good friends.
Before heading home, I ducked down into Pimlico to have a cup of tea with a friend I used to work with in the City years and years ago. We've always remained in touch. Tricia and George were in good form in their apartment in Dolphin Square and, as ever, it was great to catch up.
In complete contrast to all the indoors work Kate and I had been doing for the previous few weeks, I set off by train with Pauline from Paraparaumu Croquet Club in New Zealand on 31 July to pay in the Budleigh Salterton Croquet Tournament until 10 August. I introduced Pauline to my lovely friends, Jackie and Peter Hardcastle who'd spent four months in New Zealand two years earlier. They'd rashly extended an invitation to our members to play at their club if any of us were in the area. I'd checked that they really meant what they said because their August tournament is a really big event. Sure enough, they met the train and took us to their beautiful home close to Budleigh Salterton.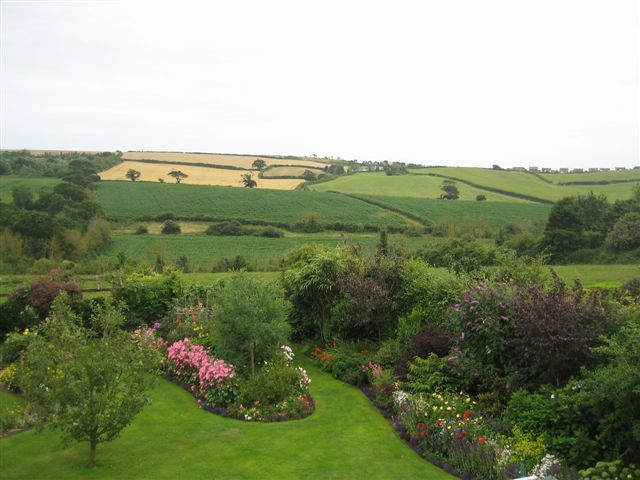 Budleigh is a small town on the south coast of Devon, 15 miles south of Exeter. It's situated within an area of outstanding natural beauty and it is truly beautiful. It lies at the mouth of the River Otter where the estuary forms an area of reed bed and grazing marsh, an important haven for migratory birds and a site of special scientific interest.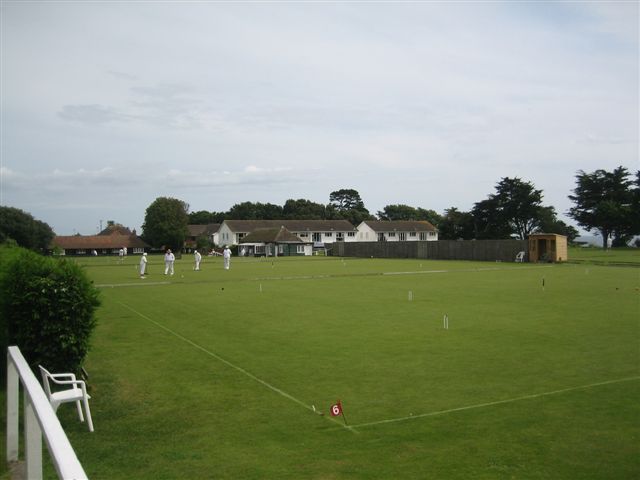 We had the most fabulous week with them. The club boasts 10 lawns and is situated overlooking the English channel. We could see several oil tankers out on the horizon and enquired about them because they didn't appear to move. We were told that they were anchored while the owners waited for the price of oil to rise. New crews were flown in each month and they would remain there indefinitely. Amazing.
The week progressed in glorious weather and there was only one interruption for rain. And to my total delight, I experienced a week of playing really well and became known as the New Zealand robber.
Each evening Peter would cook us the most beautiful dinners and we'd relax and unwind. We stayed at the club on a couple of occasions and played bridge in the bridge section of the club. Jackie, Peter, and Pauline are all rather good at bridge, but I just managed to hold my own and, in fact, Pauline and I won east/west and Jackie and Peter won north/south – so that was very satisfactory for us all.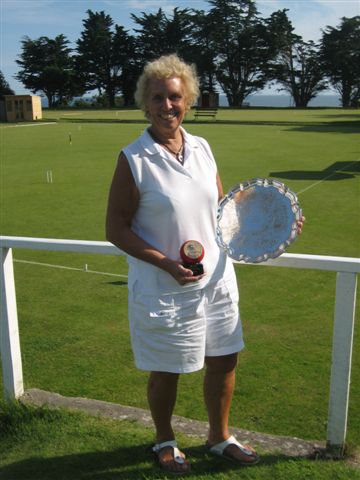 Losing only two of my games, and those 25-26, I'd turned on my best performance ever and was thrilled to receive a lovely silver salver as the runner up and also a funny trophy for the 'most improved lady'. It had been a marvellous week for lots of reasons. I left my trophies with the club and vowed to return in 2010.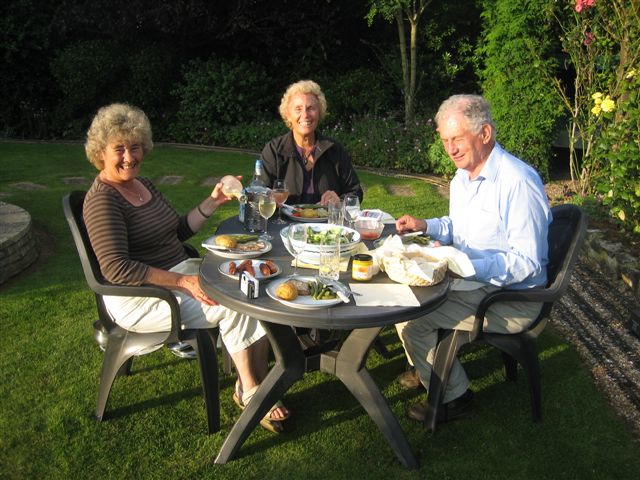 That night we had a relaxing dinner in the garden.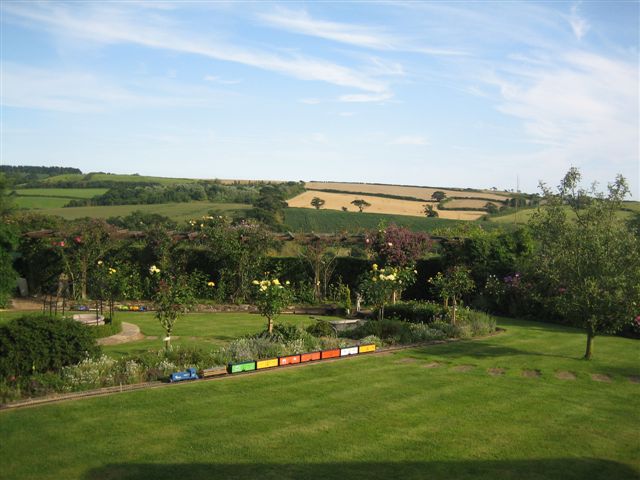 Peter arranged for his amazing model trains to chug along around us for the evening. Very clever.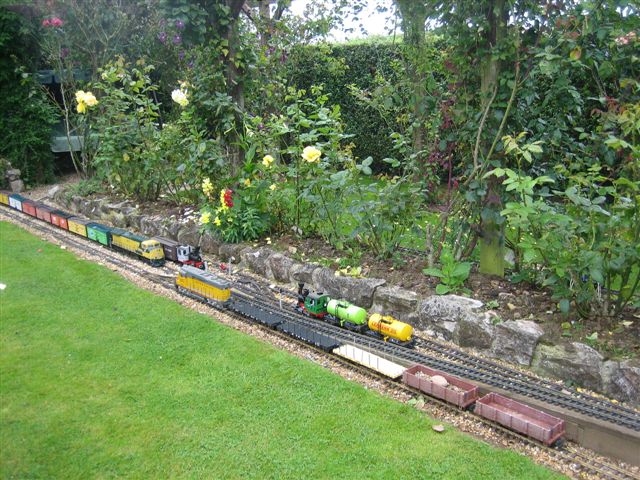 We still had two more days before we set off so we spent Sunday playing a bit of Golf Croquet which was a relaxing departure from the competition of the previous days.
Then Jackie and Peter drove us to Ottery St Mary Garden Centre where we browsed for hours and enjoyed a lovely lunch and afternoon tea.
On Monday morning it was time to take the train to Paddington, Pauline to catch her plane back to New Zealand and me to return to the London family for a week.
And then, on 19 August, the girls and I saw Kate and Bret off at Paddington for a well-earned few days in Italy. After a couple of days at home, the girls and I set off, with Julie, for a weekend with Jen and Colin, stopping off for a lovely afternoon tea in Emsworth with Pip and Mike.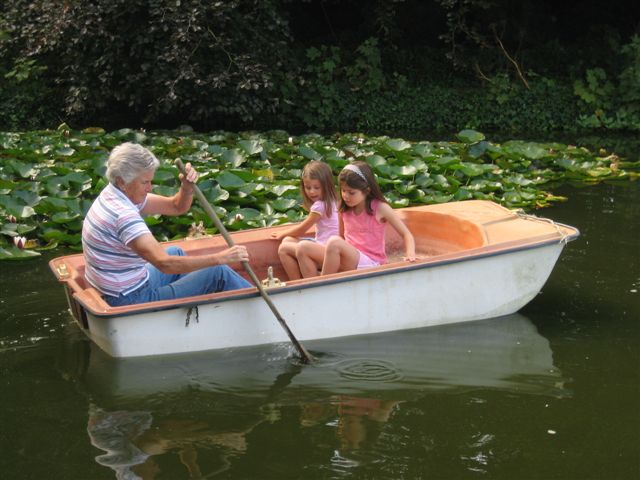 The weekend was jam-packed with activity. Jen took the girls out on their lake to look at the fish close up.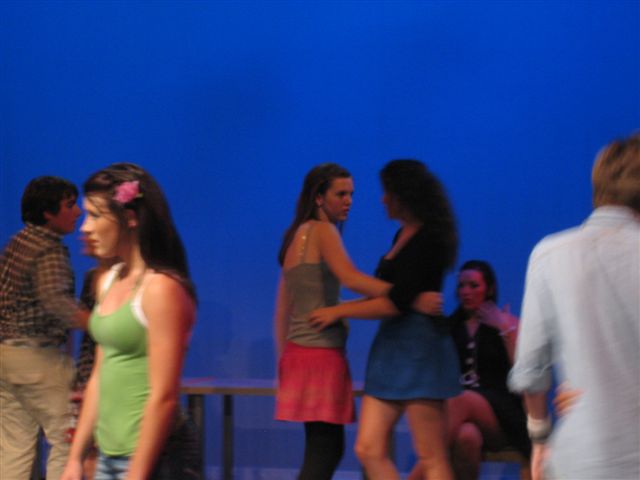 We went to a spectacular local performance of Mama Mia in which their cousin Lizzie was performing.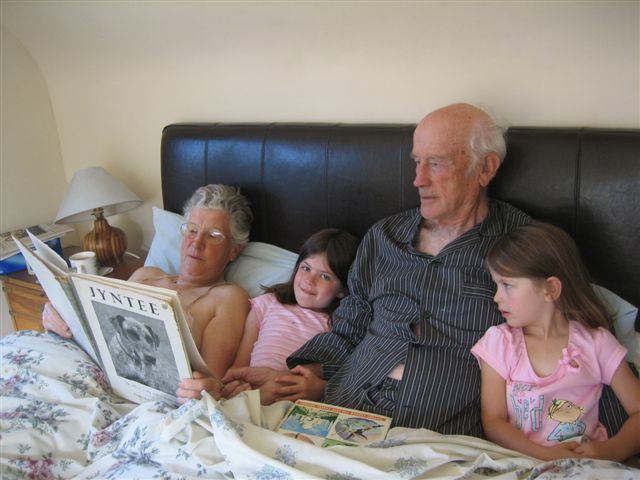 The girls got up early and had a lovely storytime on Sunday morning with their Great Aunt and Uncle.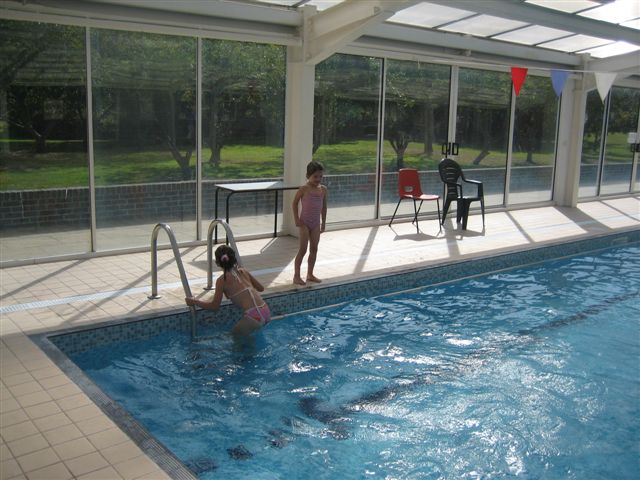 And we all went into the school swimming pool and had some fun.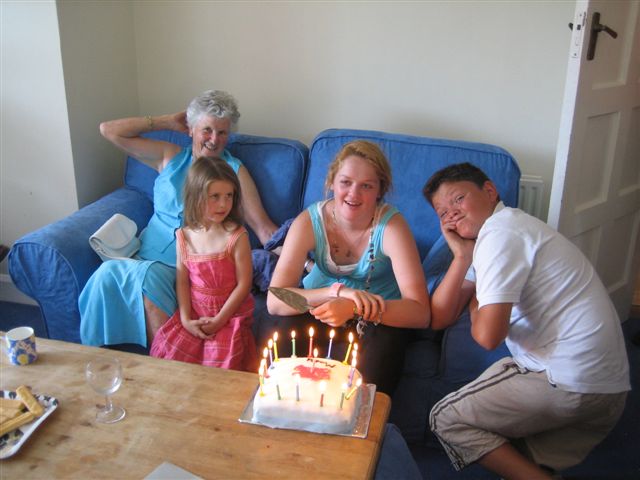 We were lucky enough to go to their cousin Mary's 18th birthday celebrations at Jan and Phil's house in Chichester.
It was a wonderful interlude and I had two very, very tired munchkins on my hands by the time we got back to London, just before Kate and Bret arrived home from Italy.
Barely home from Sussex, I set off by train, via Oxford, the next morning to visit Tony and Janet at their home in Little Compton on 24 August. We visited Moreton market which is delightful and very much the English town on market day. The next day was wet and windy but Tony and I set off to visit our mother's cousin who lives near Staunton in Gloucestershire. She used to be a wonderful horsewoman and was once secretary of the Malvern Hunt.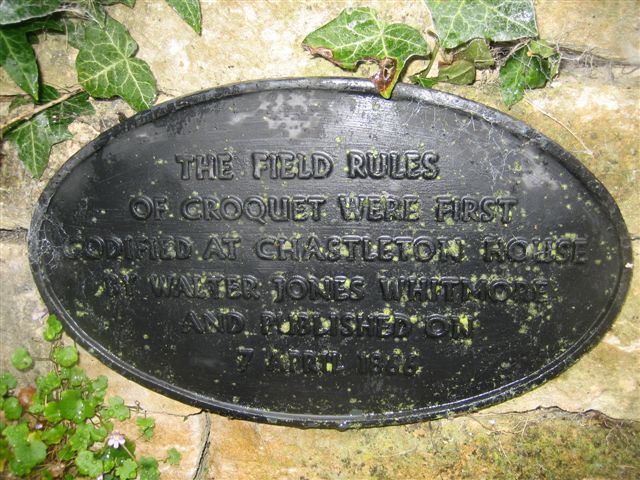 Returning home, Tony took me to Chastleton Manor which we'd visited the year before when it was closed.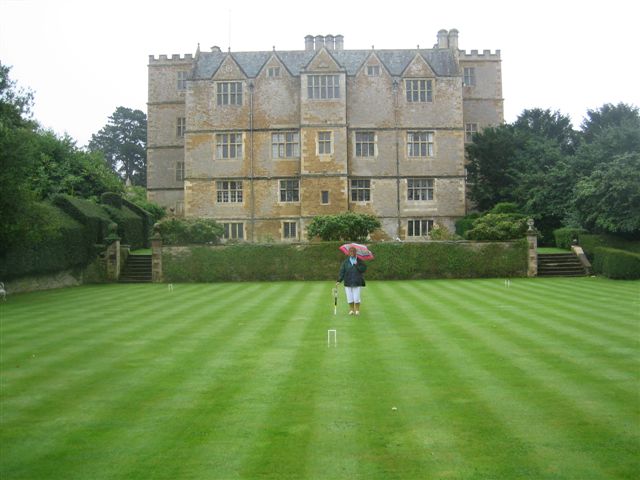 This House marked the very beginnings of croquet and, 1despite the rain, it was good to stand out on the actual lawn where it all began.
With both Janet and Tony immersing themselves in their respective entrepreneurial businesses, we had some wonderfully absorbing conversations and it was sad to leave them the next morning. Next year we've planned to spend longer together.
In the middle of my London visits, I spent a weekend with Suzi in Kent over the last weekend in August. The train journey from Charing Cross to Orpington Cross isn't long and Suzi met me at the station with the sad news that the car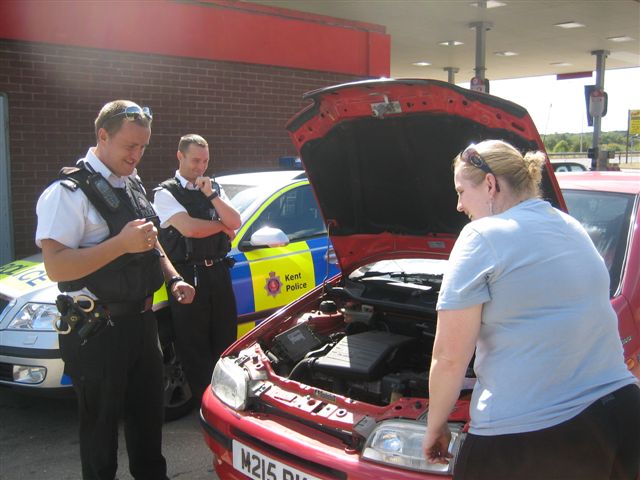 appeared to be overheating. She'd really wanted to take me down to Canterbury Cathedral but the dial on the temperature gauge rose alarmingly so we limped into a service station where help was at hand, not only from the garage mechanics themselves but also from some passing policemen!.
Armed with large containers of water, we scrubbed the idea of Canterbury for this year and set off to visit my old friends Barbara and David in Ashford. They were in excellent form and we enjoyed a lovely cup of tea and some car advice from David.
We drove back to Suzi's apartment very slowly, via a lovely English pub where we had dinner. The next morning it was Sunday, but we took the car to a garage, put in oil and more water, changed the tops on the type vales and pumped them up and made an appointment for a check-up the next day. Then it was time for a quick coffee while we discussed her plans for a visit to New Zealand in November and back on the train to London.
And so it was that that I spent much of the last few weeks until 6 September with Kate and Bret and the girls before I passed through China and Australia on the way home to New Zealand.
It was a peaceful time, full of more (slightly less physical) renovations and more socialising.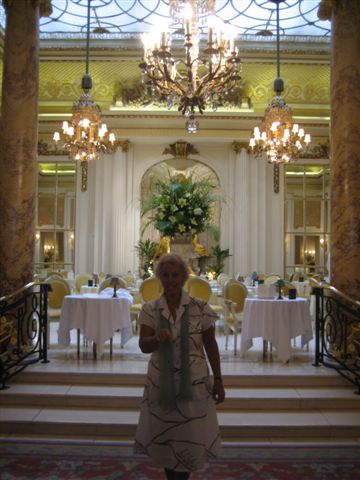 On 12 August I had a special treat. Kate very kindly took me to morning tea at the Ritz as a thank you for the preparation and painting.
For over a century, The Ritz has been considered the benchmark against which other hotels are measured. It's a London landmark in Piccadilly and has been frequented by many discerning visitors since 1906.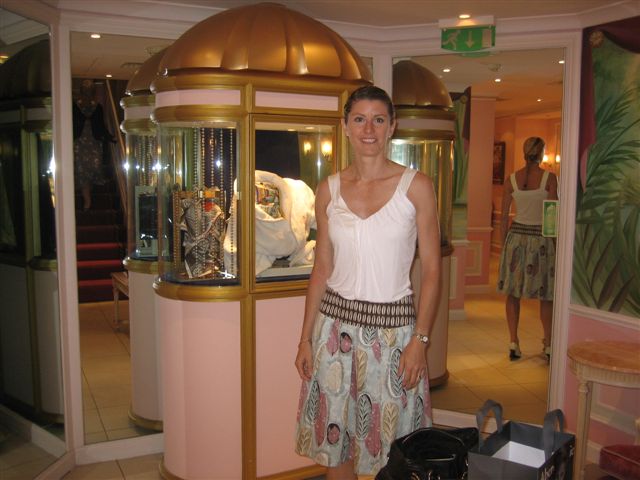 So of course, we dressed up and enjoyed everything it had to offer.
And this was taken in the Ladies!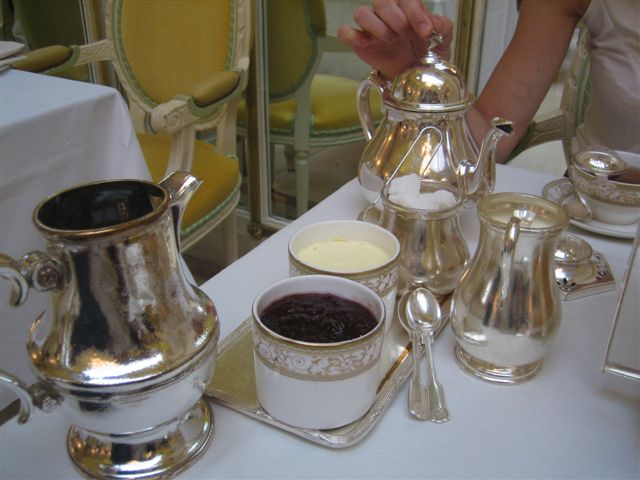 As we expected, the presentation of everything was superb.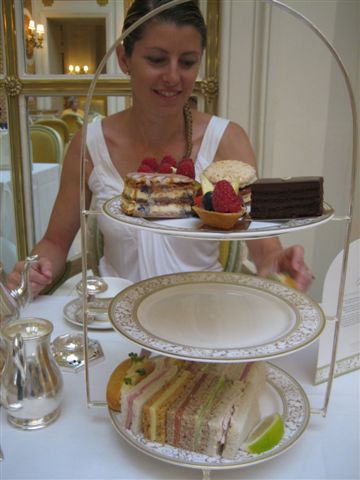 And the food was not only delicious, but kept coming.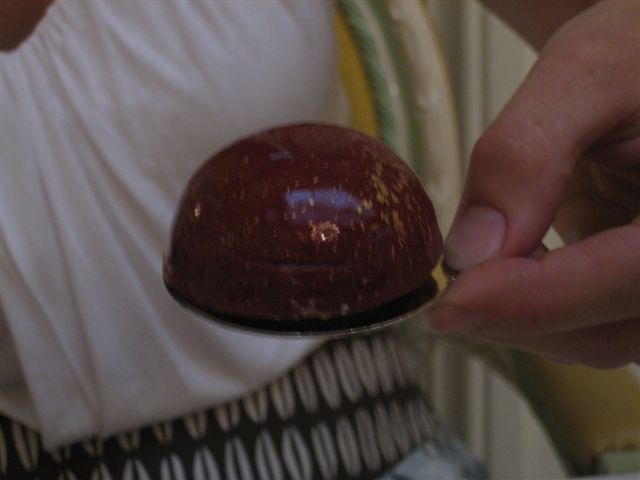 I have no idea how long it took the chefs to produce each cake, but they were all different and all divine.
We spent some hours over our morning tea. It was not a treat to hurry and it was also a great opportunity to chat about nothing much instead of what we should be doing next. Both Kate and Bret work very hard and it's good to see them relax.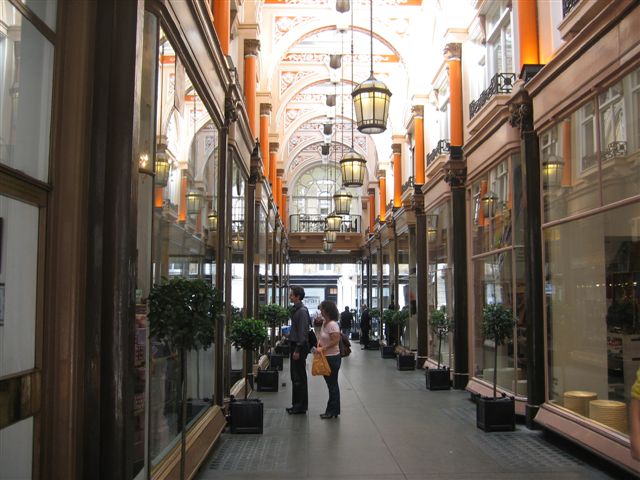 On 14 August, Adam arrived to spend a few days and he and Julie and I went shopping in Burlington Arcade where I wanted to buy him a signet ring – which took a lot of choosing.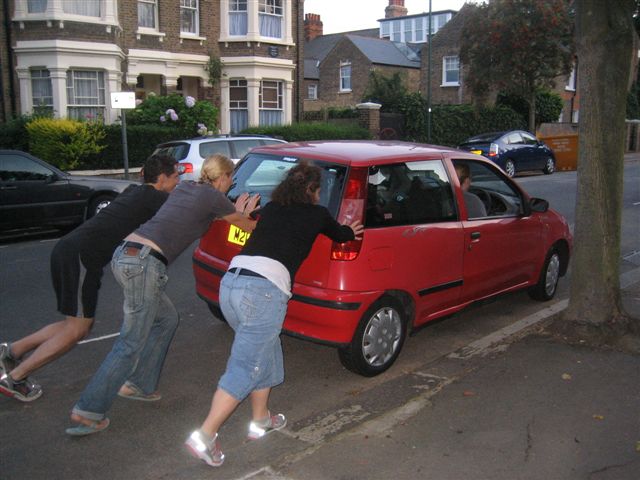 Suzi arrived later in the afternoon from Orpington in her 'new' car. She was very excited about it, as we all were, but she hadn't quite worked out where all the controls were so, when she left the following evening, Adam, Kate and Julie had to give her a bit of help because she'd left a little light on for the whole weekend.
Back to work, we laid some boards in the attic and carried quite a few boxes up there to make more room downstairs.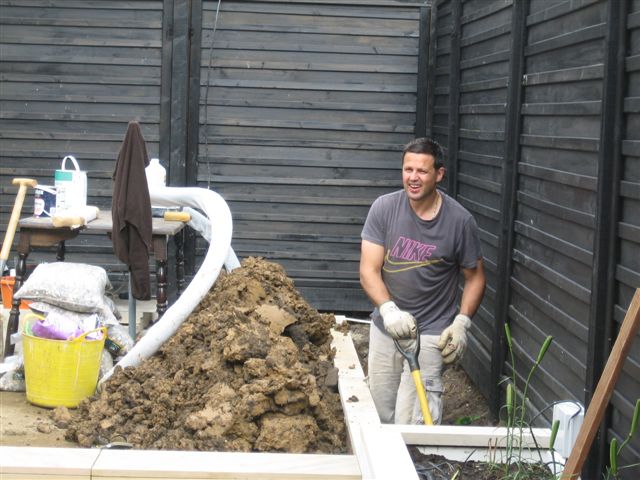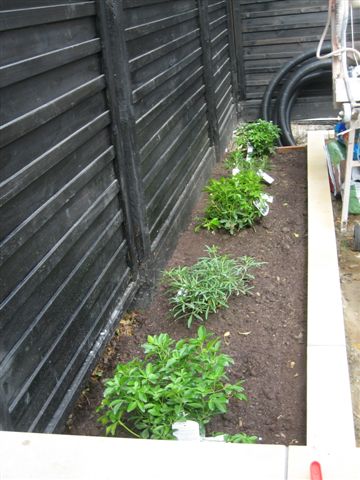 Bret dug down deep in the garden to lay Novaflow for irrigation while I planted some Choysas (Orange Blossom) in one of the beds.
Social occasions kept popping up and I took the tube to the National Gallery to meet up with Eric who only lives about 400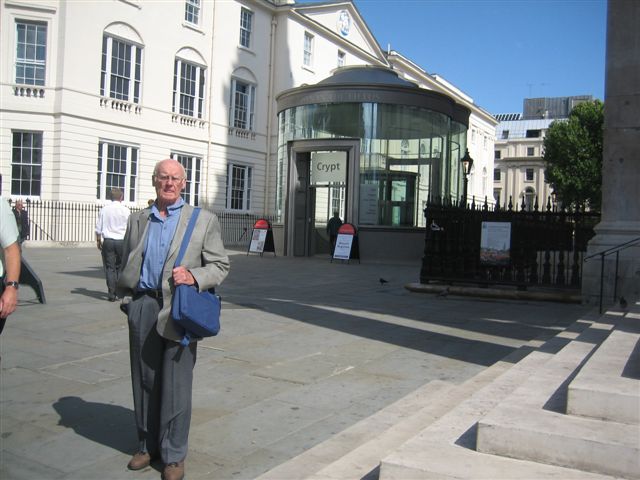 metres from me in Camborne. We had a quick sandwich and enjoyed a lunchtime concert in St Martin in the Fields where a New Zealand musician was playing.
And there was just time to squeeze in a quick dinner with Gill who drove up from Wimbledon and to talk about plans to come over for the tennis reunion in New Zealand next year.
Finally, there was a sad and unexpected occasion to attend. Di, who'd returned to Perth soon after we'd had lunch together, had flown back to attend her father's memorial service. Julie and I travelled to Knebworth for the service which was a very happy occasions with lots of reminiscences.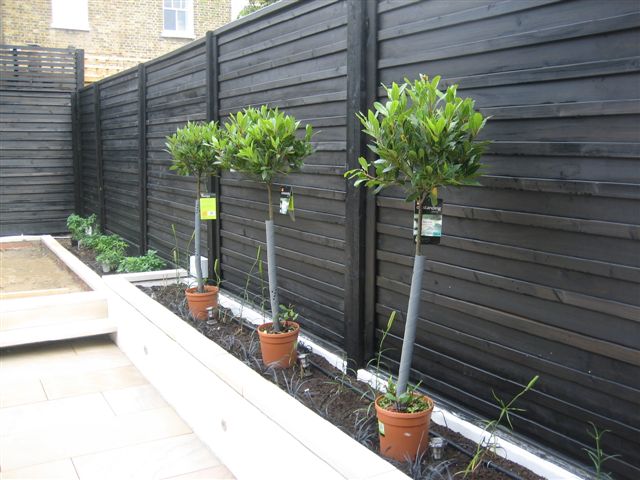 And then it was time to set off for China, but not before we spent a day visiting garden centres to find some suitable standards for the garden. These three bay trees caught their eye.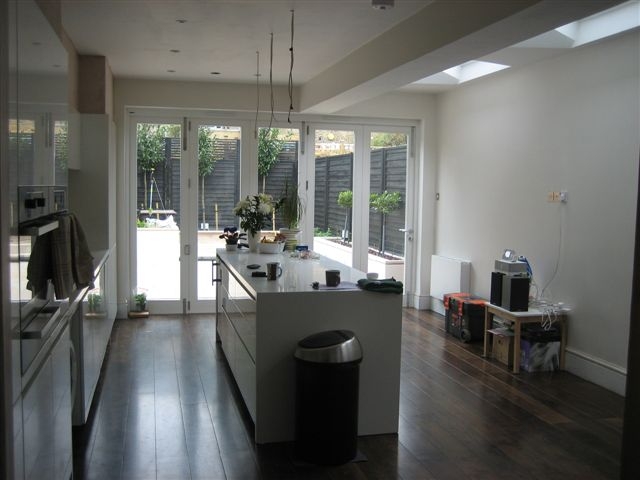 It was so good to know that the garden, at least, was nearly complete. And the 'real' workers could look out from the kitchen and enjoy the peaceful scenery.
Meanwhile, changes kept happening in the kitchen with the arrival of the new kitchen bench. It made a great picture with the garden backdrop behind.
Everything was beginning to look really good.