Niagara ON, USA – 12 September 2014
The distance from Toronto to Niagara Falls is just under 80 miles and should have taken us about one and a half hours. The Falls are located 17 miles north-northwest of Buffalo, New York and 75 miles south-southeast of Toronto between the twin cities of Niagara Falls, Ontario and Niagara Falls, New York.
However, on the recommendation of our friend, Graham Craig in NZ, we made a fairly significant detour to Niagara on the Lake and the journey therefore took us quite a bit longer.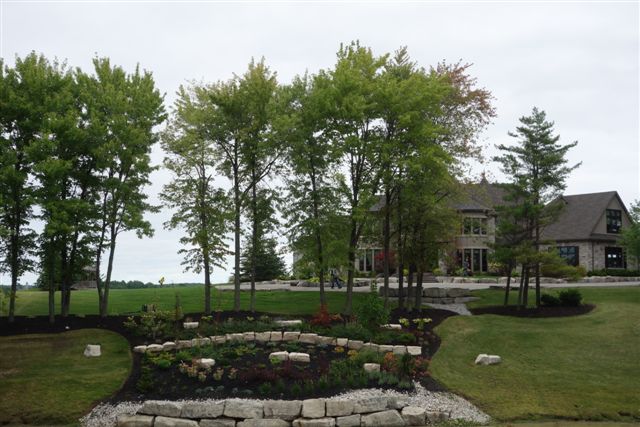 We passed this beautiful property where no less than seven gardeners were involved in various tasks. We drove in, expecting to find out that it was some sort of hotel or other but discovered that it was a private home. The gardener we spoke to was very tolerant and we respectfully drove out again.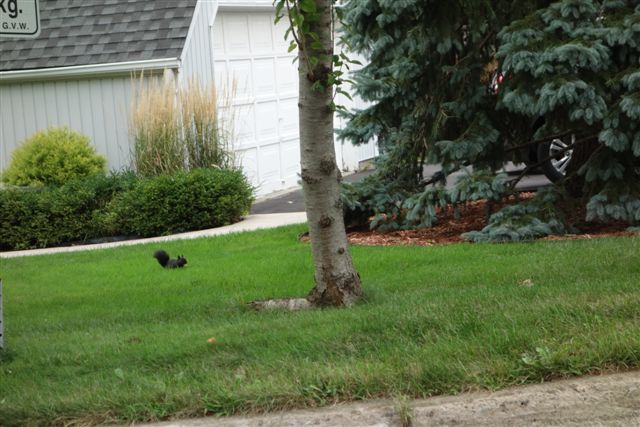 Not so many squirrels seem to exist around the world today although it's still possible to see plenty of grey ones in England. Suzi was very keen to see a brown squirrel but we did catch sight of this black one!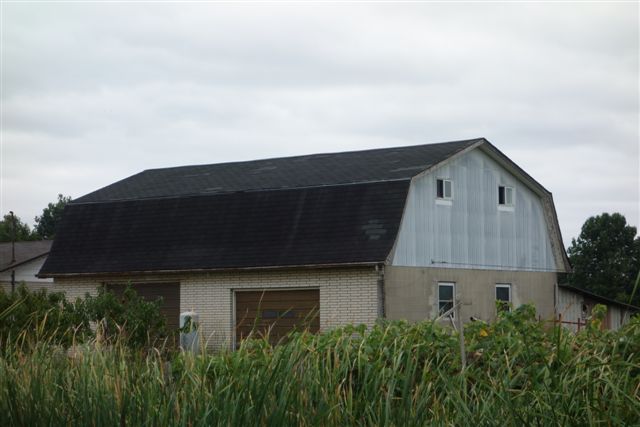 We'd been noticing the rather quaint roofs on many of the buildings during our travels and wonder whether there's a reason for their shape. We haven't found out yet but had to take a photo of this house in the countryside.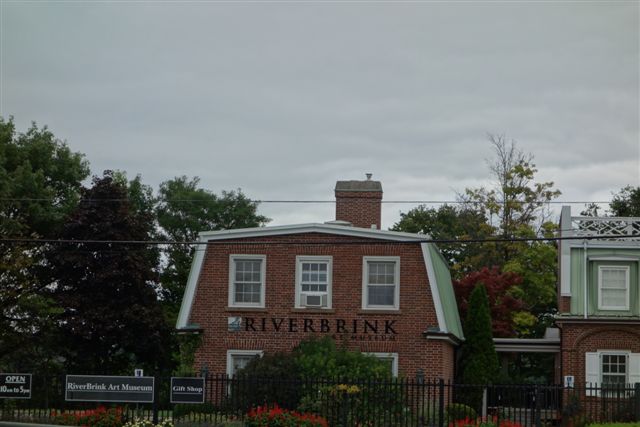 And this one.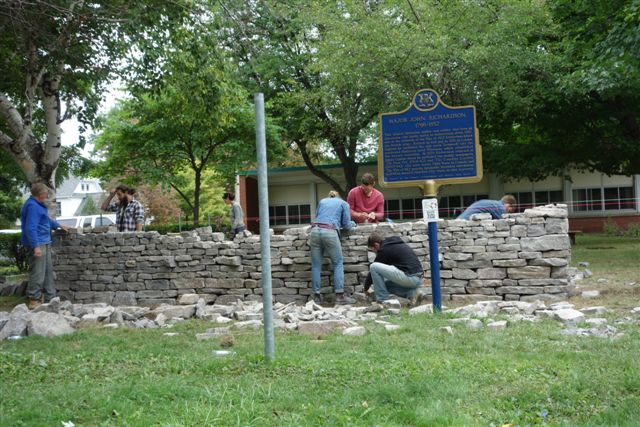 For some reason we got lost and were delighted to stop to ask the way of these young volunteers who were giving up their time to build their very first ever dry stone wall. They seemed to be making a very good job of it and we were all sure that Ken would have been impressed.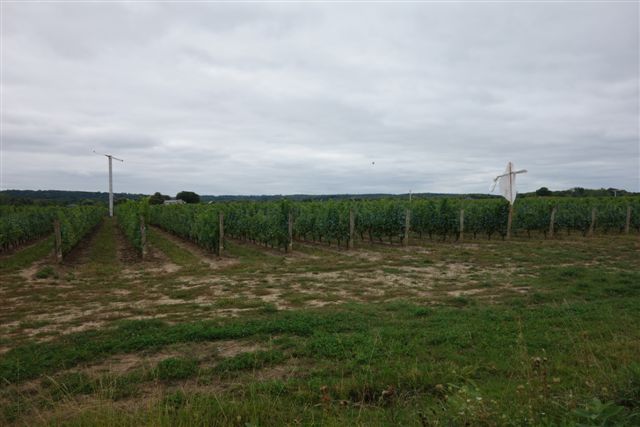 We passed paddocks and paddocks of well-maintained vineyards but we didn't do any tasting and we haven't seen any wines from Niagara on wine lists when we've stopped for dinner.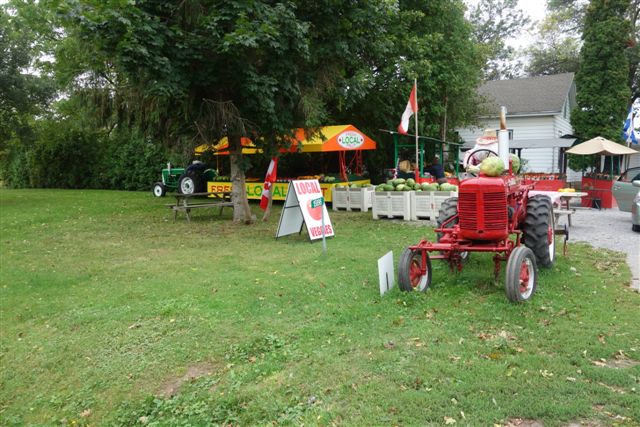 Clearly many other fruits and vegetables are produced in this area and we were rather taken with this roadside 'stall' which displayed, not only the crops, but also some of their farm machinery!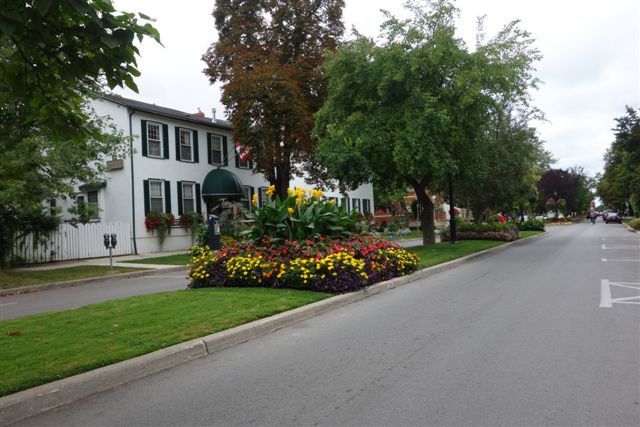 Niagara by the Lake itself was a very, very attractive town with a long main street, with quaint boutique shops and masses of trees and flowers, all beautifully kept. We drove both ways down the street but didn't linger to make any purchases as it looked as if it was an extremely expensive area.
Time was marching on and we wanted to have as much time at the Falls as possible so we made our way to our B&B for the night, which turned out to be well worth a recommendation. Trillium Bed & Breakfast is on 5151 River Road, Niagara Falls L2E3G8, Ontario, Canada – +19053543863. It's only a 10-15 minute walk to the Falls which makes it a very attractive proposition. Our hosts, Mary and Brian looked after us wonderfully throughout our stay and had plenty of helpful suggestions.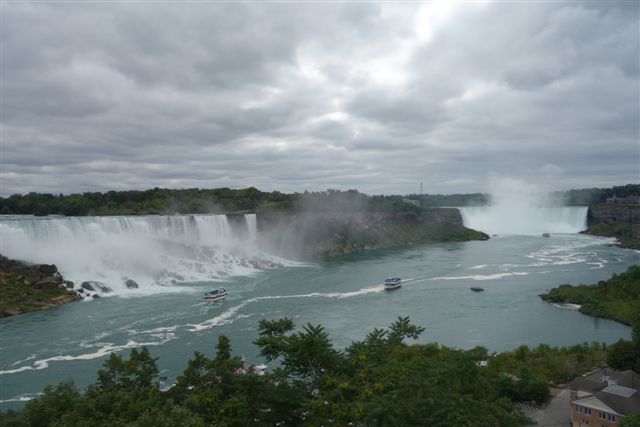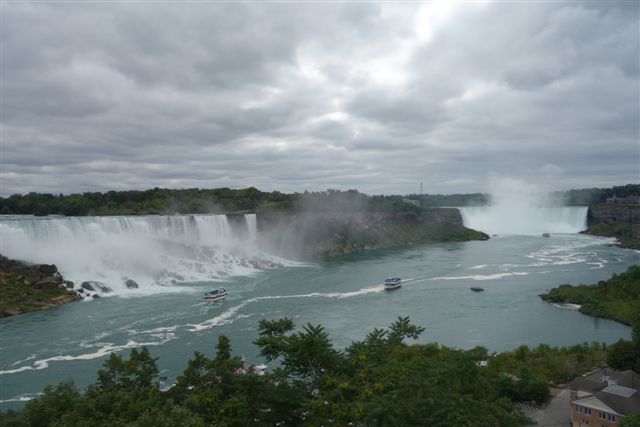 We set off to walk down the hill to the Falls.
And took a few photos – as you do!
We even managed to get a passing tourist to take a photo of the three of us together.
We decided that we had to take advantage of everything that the Falls had to offer as this was to be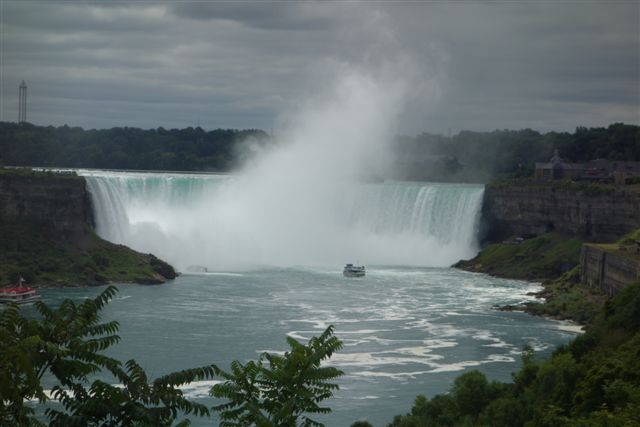 one of the highlights of our trip (actually everything so far seems to have been a highlight and it's getting harder and harder to choose!). And that meant – you've guessed it,
– a trip on the Maid of the Mist! Just so that we could be battered about like this (apparently) little boat under the gigantic waterfall.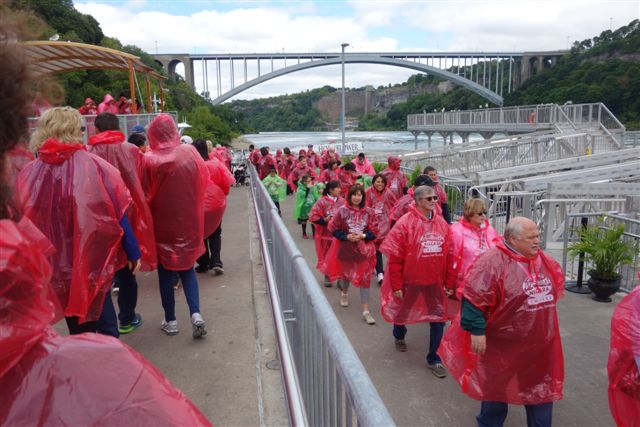 Suzi decided to be stoic and do without the red coveralls that were provided.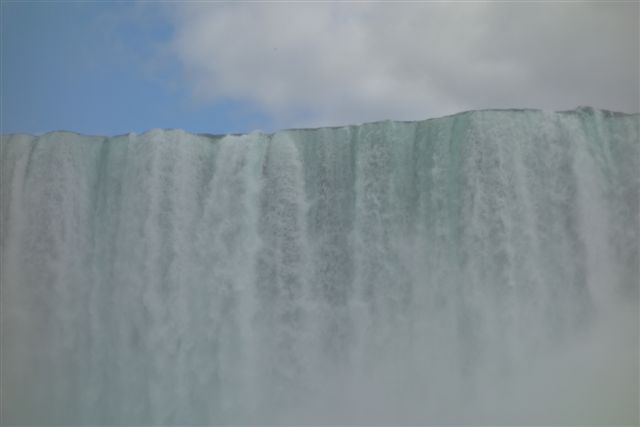 But Julie and I were a bit more sensible – along with the multitudes who were also boarding 'our' boat!
We got unbelievably close to the Falls – which was actually pretty exciting.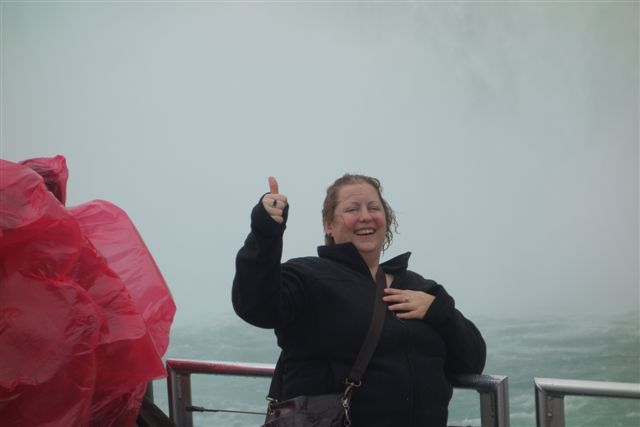 And we got unbelievably wet – particularly Suzi!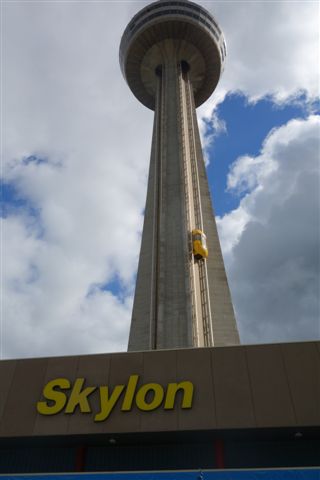 By this time it was getting close to 4.00 pm so we decided to keep 'doing everything' and strolled around in the sunshine for a while before making our way to the Skylon Tower where we boarded the outdoor elevators so that we could have dinner in the revolving tower at the top as the sun began to set.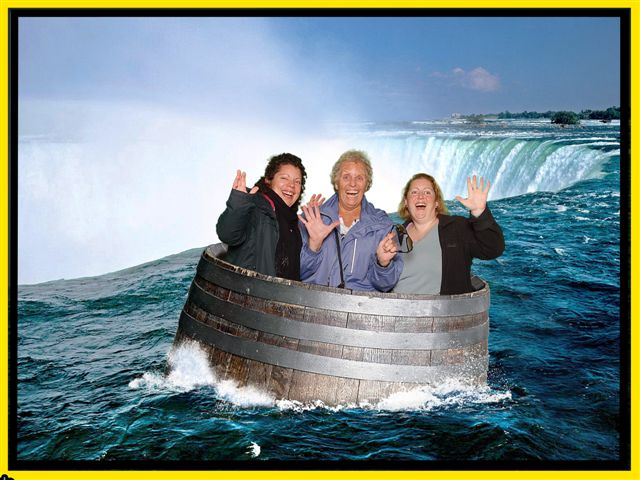 Of course there was the inevitable photographer at the base who took three photos of us in different poses and produced this one which we felt gave us a good memory of the day and the fun we had.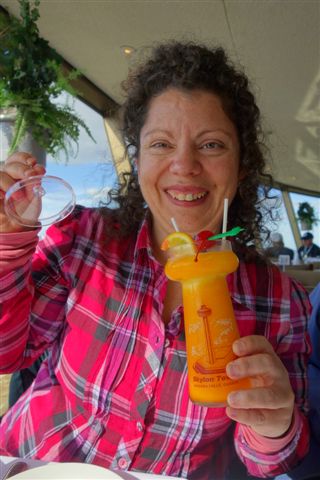 The girls thought that it was an occasion to celebrate with cocktails so Julie enjoyed a mango daiquiri which came in a souvenir glass and lid that she'll take home.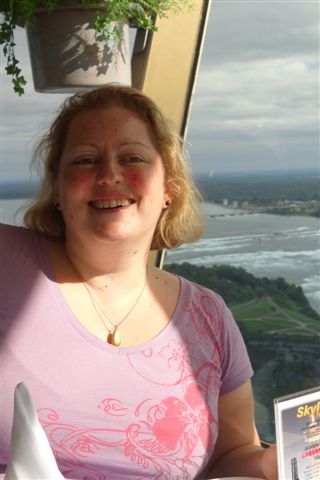 While Suzi's choice was a strawberry daiquiri and she'll be taking her glass home too.
The views from the tower were spectacular. Niagara Falls is the collective name for three waterfalls that straddle the international border between Canada and the States, more specifically between the province of Ontario and the State of New York. Together they form the southern end of the Niagara Gorge.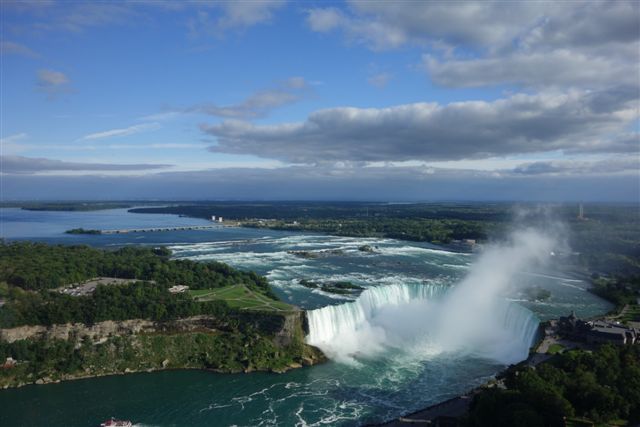 The largest of the three waterfalls are the Horseshoe Falls which lie mostly on the Canadian side. These Falls are the most powerful waterfall in North America as measured by vertical height and also by flow rate.
The second largest are the American Falls which are entirely on the American side, separated by Goat Island.
The international boundary line was originally drawn through Horseshoe Falls in 1819 but the boundary has long been in dispute due to natural erosion and construction.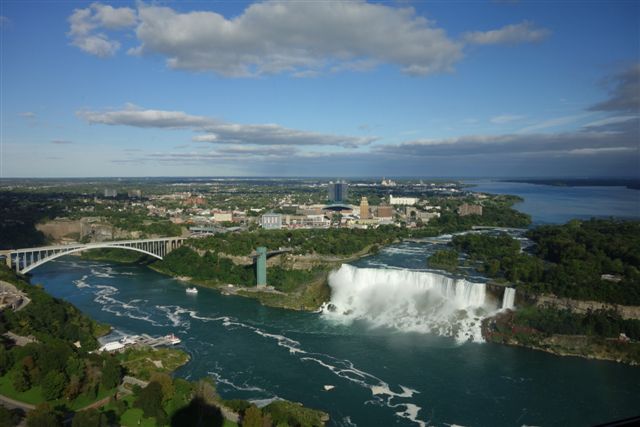 The Niagara River drains Lake Erie into Lake Ontario and the combined falls form the highest flow rate of any waterfall in the world with a vertical drop of more than 165 feet (50m).
Niagara Falls were formed when glaciers receded at the end of the Winconsin glaciation in the last ice age and water from the newly formed Great Lakes carved a path through the Niagara Escarpment en route to the Atlantic Ocean. While they are not exceptionally high, the Niagara Falls are very wide and more than 6,000,000 cubic feet of water falls over the crest line every minute in high flow and almost 4,000,000 cubic feet on average.
The Falls are renowed both for their beauty and also as a valuable source of hydroelectric power. Managing the balance between recreational, commercial and industrial uses has been a challenge for the stewards of the Falls since the 19th century.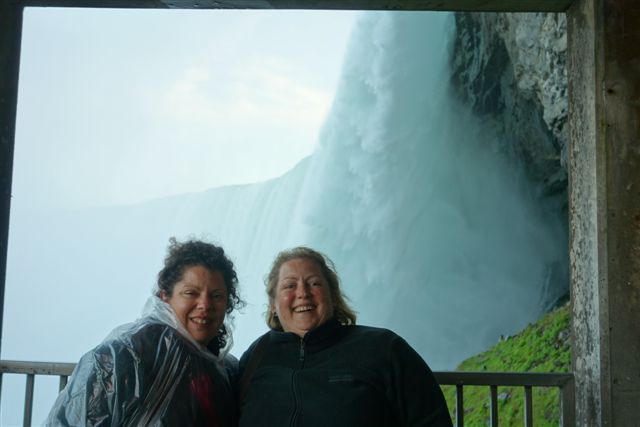 Dinner over, I decided that I was time for me to make my way back to the B&B while Julie and Suzi had other ideas!
So they went on to explore behind the Falls themselves and came home to report that it had been a very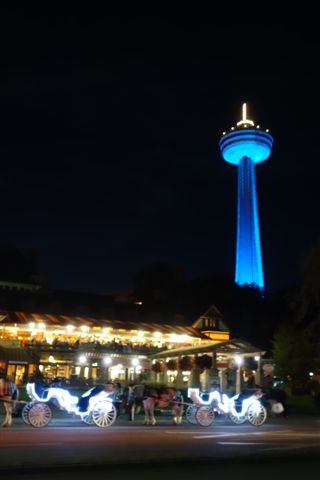 worthwhile adventure – and mind-blowingly noisy!
And on their walk home they were able to see what Niagara looks like at night, lit up with colours changing all the time.
It was going to be another long drive the next day so we didn't need much persuasion to have a reasonably early night.