Farnborough, Surrey, England - 27-30 July 2014
Oh my word!
Suzi has been living in a tiny semi-detached maisonette for the past two years. It's situated in a quiet cul-de-sac and provides everything she needs. But it's tiny. And when it's Sunday evening and you're trying to pack up 7 years of your life in time for the shippers who were due at 10.00 am on Tuesday, it was clear that it wouldn't be an easy task. There was almost no room to move! Although she's been working on the task for several weeks, there was still lots to be done.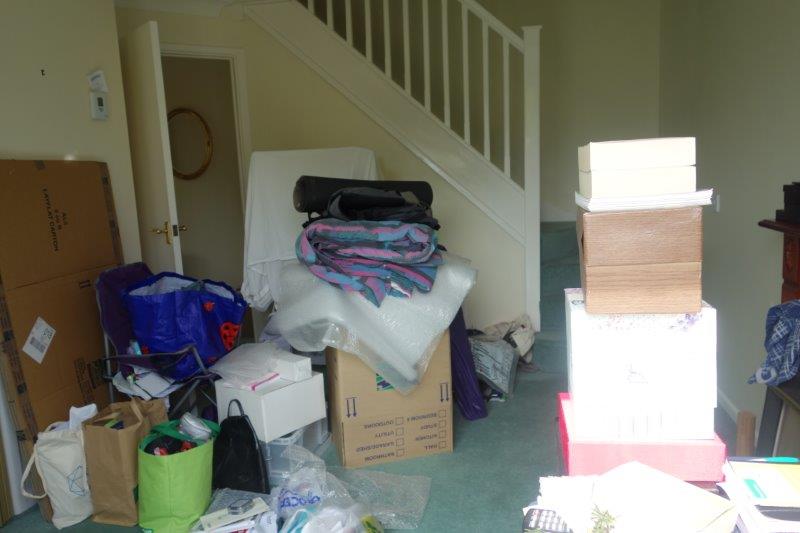 Only Suzi knew what she wanted to pack up for the shippers, what she needed for her last four weeks of work and for interviews on her arrival in New Zealand, and what she wanted for the six weeks in between, travelling through the US and Canada! So she sorted, packed, unpacked, re-sorted and even uttered a few choice words, while I hovered around in the background, cleaning, making piles, and trying to make helpful suggestions. On Sunday night we finally got to bed at 2.00, both feeling very unconfident that we'd be ready in time. And it didn't help that the only bed was a fairly small double. She'd wanted to wash her bed linen to send with the freight so she'd borrowed some bed linen from a kind friend. Trouble was, she hadn't realised that the bed linen was for a single bed so we fought over the duvet all night! (On Monday night we hit on the bright idea of putting it across the bed so that we could, at least, keep our middles warm! Although we were still experiencing the heat wave, the nights were fairly cool.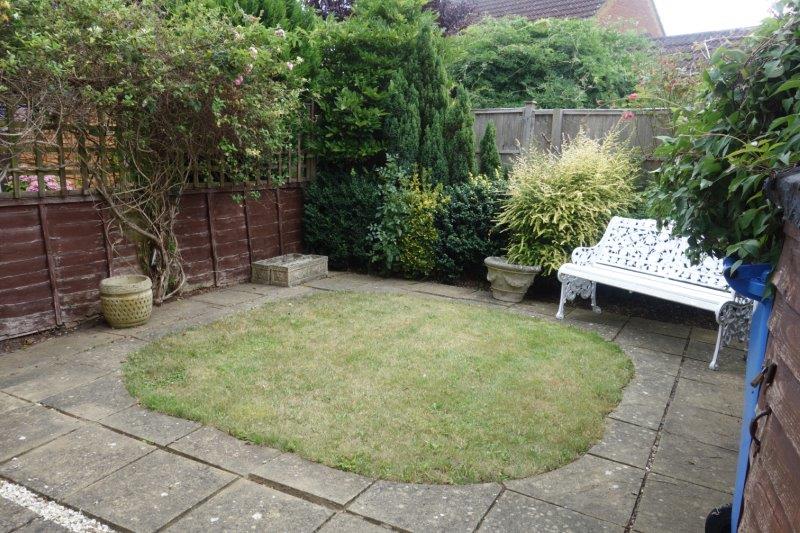 Monday was manic! We worked solidly all morning and made great progress. The bathroom was pristine, the kitchen was half clean, everything she wanted to keep out of the shipping was upstairs but downstairs still needed lots of sorting out. It was time for a change of scene and some fresh air, so at 2.00 we decided to tackle the garden. I knew that Suzi was apprehensive about how long it was going to take so it was a good idea to get it out of the way. It's only a tiny garden but the weeds had grown up between all the paving stones and it was a big task to raise all the pavers and weed thoroughly. But, after she'd mowed both the back and front lawns, we felt suitably impressed with our efforts. And it only took us two hours – that's four person hours of course! At 4.00 we were both feeling a bit faint and realised that we'd been so hard at it that we hadn't even stopped for breakfast! Fortunately Suzi had coffee, milk and mugs so we'd been able to keep ourselves going to some extent. So it was off in the car to Costa Coffee and a short rest and a bite to eat. Back to work we realised that the men were coming, irrevocably, and we had to be ready.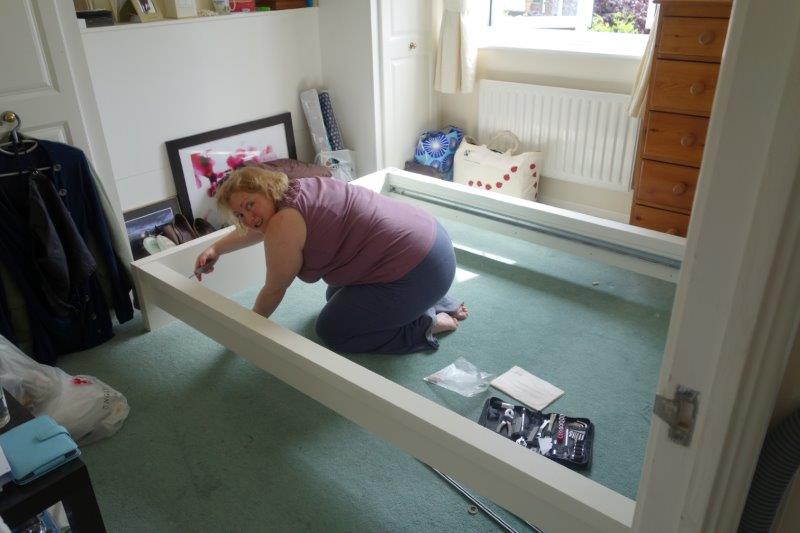 That night we got to bed very late too! We both had a much better night – worn out I suspect – and were up at 6.30. Suzi dismantled the bed to take to the recycling place at the local tip. That was just the base and the wherewithal to put it all back together again. She promised them that she'd take the mattress on Wednesday morning after we'd slept on it for one more night. After a trip to the tip we were ready and the men arrived exactly on time. And what a great job they did – in just under two hours. When they'd left we felt a bit flat – there was so much space! But we still had to hoover everywhere (fortunately one of Suzi's friends had kindly lent her their vacuum cleaner as Suzi's had been sent with the shipping). And we had to put finishing touches to the paintwork and all the whiteware. Although Suzi had kept the house pretty clean, we both knew how picky inspections could be and we wanted to make sure that she got the whole of her deposit back!
That night we had a much needed treat. One of Suzi's very good friends, and work colleague, had invited us to dinner with them. It was so good to sit back and relax in front of a video with their daughter, Naomi (the twins were already tucked up in bed) while Emma prepared a lovely meal for us all. In fact, I confess that I dropped off on their very comfy sofa! It was a very stimulating and enjoyable evening. Dan manages teams, seemingly throughout the world, who help people with computer problems so his knowledge was a joy to listen to and he suggested a couple of new Apps for my phone! Emma and Suzi, both micro biologists, reminisced about heaps of incidents that had occurred at their hospital, some of which were very funny.
Home again and we fell into bed but were up very early again the next morning to take the mattress and pillows to the tip, pack our respective bags and put them in the car and wait for the professional carpet cleaner to arrive while we sat on the bench in the garden and had a welcome cup of coffee. We thought we'd been rather clever keeping the Costa mugs so that we could continue to have coffee even though all Suzi's mugs had been packed and sent away the day before! With that job completed and the little house completely empty and awaiting the inspection the following day there was no more work to be done so Suzi and I set off to another friend's house where she'll be living until she leaves on 30 August. The car was full of the remaining contents of her various cupboards – groceries, cleaning products and the like. Suzi's friend, Mandy, was taking her family to France for two weeks of the four she'll be there so she's cat sitting while they're away. We spent the next three hours having coffee and lunch and downloading all Suzi's photos through my lap top and onto her hard drive so that she had maximum memory for the long adventure ahead. And then it was time for me to catch the train back to London. Even though we'd worked incredibly hard for three days, we'd had a wonderful time together and laughed heaps!
Returning to the tranquility of Gill's house and looking forward to a good sleep and to reconnect with Wifi after three days without access, I had a nasty surprise! Gill was in France when I got back so I'd hoped to get down to some serious emailing and blogging. But neither my phone, nor my laptop would connect to her Wifi and my first thought was that something was wrong with both of them. I didn't imagine that there was anything wrong with Gill's router because I was getting a message to say that I was connected and the signal was strong! So on Thursday morning, rather than being able to get on in total peace and quiet and without disturbing anyone else, I found myself taking a very long walk around London , trying to find some solutions. To cut a long story short, I found 02 (my UK mobile provider) in Putney High Street, about 2km from Gill's house. They did a thorough check of my phone and said that there was nothing wrong with it. And they connected me to their Wifi while I was there and, sure enough, lots of emails flooded in. So that I could check up on my lap top, they directed me to a PCWorld on Kensington High Street and told me that their nearest tube station was Putney Bridge. I think I'd have been quicker to have gone back to East Putney (the one nearest to Gill's house) but it was actually a very pleasant, if long, walk across Putney Bridge and the Thames!
As I walked, I realised that I've been finding London a bit bleak with myriads of people travelling on the tubes at all times of the day and night and not much to inspire the traveller. But coming out into the sunshine of Kensington High Street, heaps of memories came flooding back. This was my old stamping ground for one of my early jobs and everything was familiar. It wasn't a long walk to PCWorld and I hoped that they would find out why my laptop was acting oddly. And they did. But the news wasn't good. It had caught a virus and they needed two days to clean it all up for me and to instal new virus software. So, there was nothing for it but to leave it there and return to Gill's and spend the day relaxing. This was welcome of course, but not quite what I'd had in mind! But there was good news! Gill was back and her router – which apparently only misbehaves once every six months – had, in fact, misbehaved while she was away and she had now solved the problem. At least my telephone was keeping me in contact which enabled me to go ahead and book trains and make contact with Jackie and Peter in Devon so that they knew when I was arriving. On Friday PCWorld told me that I could collect my lap top and although it's behaving very differently with the new virus checker and seems to be incredibly slow, I was able to start to catch up. Jackie had texted to let me know that the Devon tournament was starting a day later than we'd thought so I delayed my journey and was very lucky to find that my cousin, Jules, and Clive, who live in Ealing were free. So I arrived in time for a wonderful al fresco lunch. Suzi drove up from Farnborough and we had a relaxing afternoon catching up with everything under the sun. Luke was also at home briefly and it was great to see him again too.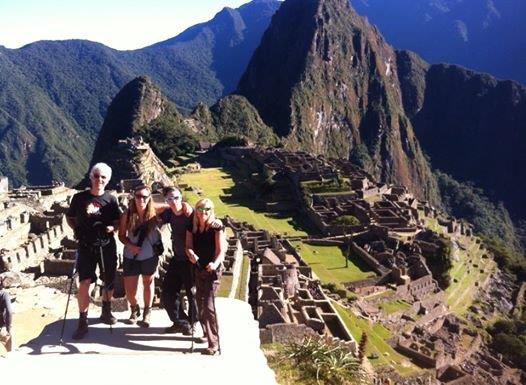 They'd only just come back from Peru (Lima, Cusco and Macchu Pichu – which was fairly ambitious considering that Jules had a knee operation earlier in the year and it wasn't quite right.
After walking up Macchu Pichu, they flew to Quito in Ecuador and stood on the equator.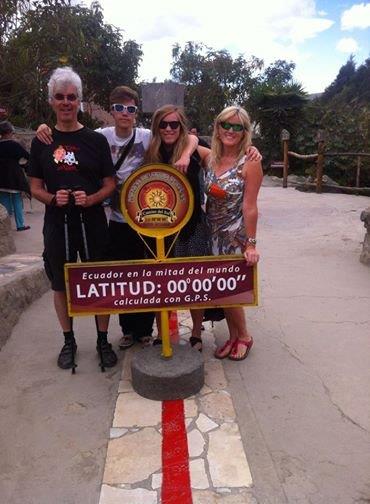 They said that the weather was very changeable – really cold, then very hot, then wet! They've vowed never to go to a cold country again in the middle of an English summer – especially when the country in question is experiencing a heat wave and they're very, very cold!
And after all that, they round off the trip with a visit to the Galapagos Islands! They certainly get about!
By the time I got back to Gill's, she'd left on another of her adventures so I packed for the next two weeks of croquet tournaments and had an early night for a change.