Broxbourne is my old stamping ground, and although I came here early in July and saw many old friends, Sally and Alan were away and they are two people who simply can't be missed! It was a fairly murky day to start with. The heat wave in July and early August was long gone and the weather was now unseasonably cool. But that's pretty good for travelling as London can get amazingly hot and humid in the heat, particularly in the tubes and buses. With so many tall buildings, it's difficult for the air to pass through.
As good friends do, Sally and I just took up where we left off. She checked to see what I needed to get done before I leave and found that at the top of my priority list was a haircut. So she drove straight to her hairdresser, Tony, to see if he had any free appointments within the two days I'd be there. He didn't! But, professional that he is, he quickly offered me 5.30 (after close of business) and when I turned up, he did a fabulous job. Curly hair doesn't seem to be easy to cut but he knew how and that will set me up for the next six weeks until I can get back to Kythie, and coffee and chats in Camborne!
We had a great afternoon before the hair cut, catching up with everyone and everything and the time flew by. We also spent quite a bit of time on Sally's computer on which she'd installed Windows 9 since I saw her last. It was a mystery to her (and to me too) but we struggled through together and set about 'finding' files that hadn't been put into folders and were all over the place and putting them into some order so that she and Alan could find them more easily in future. It was great fun and caused lots of laughs – as you can imagine (with the blind leading the blind!)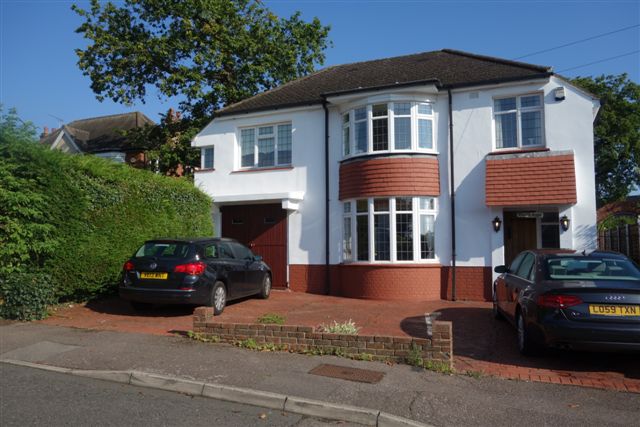 The next morning I set off to walk down to the Broxbourne Sports Club where I've enjoyed simply hours of pleasure in the past, playing hockey, tennis, squash and bridge. On the way I passed our old home. It looked very much the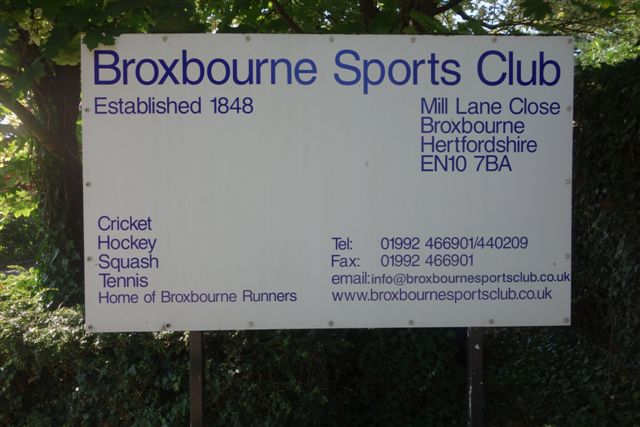 same from the outside but I understand that the interior has been transformed since we left in 1979 (not surprising really!)
The sign may not have changed much at the Sports Club but the grounds certainly have!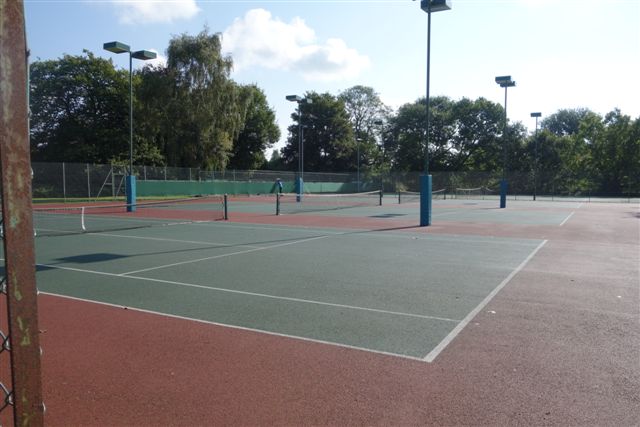 There used to be three hard courts (similar to those played on at Roland Garros in Paris) where these beautiful all weather ones are now (note the floodlights too). The three courts in the background used to be grass but are now also all weather and the three in front of the tennis club house (not visible in the far right) have also become more playable all the year round.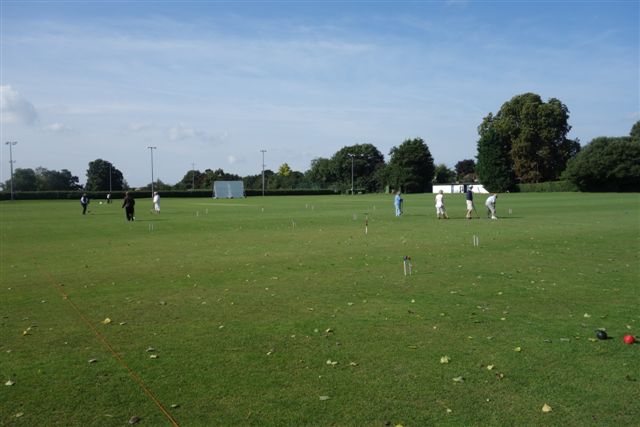 And the men's 1st XI hockey pitch and cricket square (women's beyond and lower men's XIs pitch beyond that) is transformed every Wednesday morning when U3A members come along to play – wait for it – croquet! My friend Peter had asked me to come down and share a few tips! The leaves were falling all over the four (two full size and two small) lawns from the huge trees behind me but the 16 players were very enthusiastic and keen to learn anything they could about the strategy of association croquet, and to brush up on a few of their (really good) skills too. So I spent a happy couple of hours with them, moving from group to group and making some suggestions for them to work on as they progress. It was wonderful fun.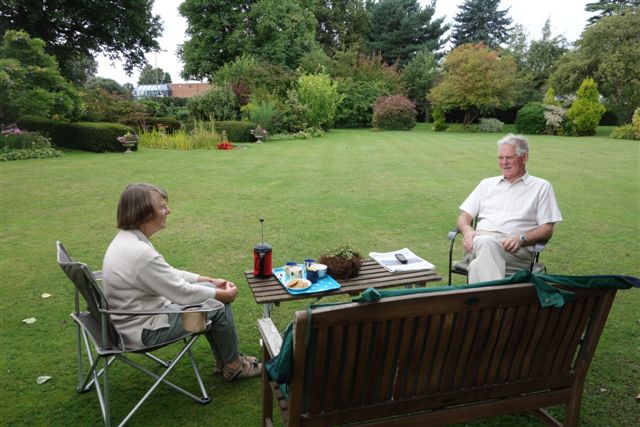 Peter organises this every week. He and Judy stayed with me in New Zealand several years ago. Peter left the players for a few moments to come and join Judy and me for coffee in their beautifully spacious garden (which is often set up for croquet too of course) and is situated just behind the tennis courts..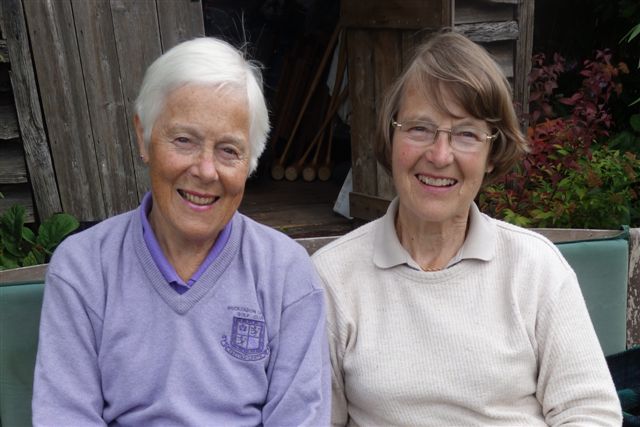 He had to leave to get back to his troops but it wasn't long before Sally joined us and we three could reminisce together.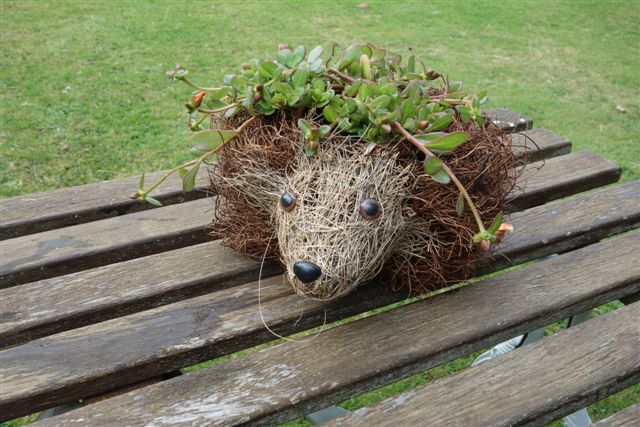 We drank our coffee under the watchful eye of Henry the Hedgehog whom Judy had picked up on a recent holiday. He's got a little hole in his back into which a plant pot fits nicely. There are now very few hedgehogs left in England so it was charming to see this little man keeping an eye on the garden, not that he could do much about the slugs, of course.
On our way home, we called on two other good friends whom I'd seen in July, Ken and Maggie. And then it was back home to make sure that Sally knew more about what she was doing with her computer (new programmes are so time wasting and debilitating aren't they?). We spent a bit of time on photo cataloguing and putting important (must save) emails into folders rather than deleting them or keeping them in the Inbox.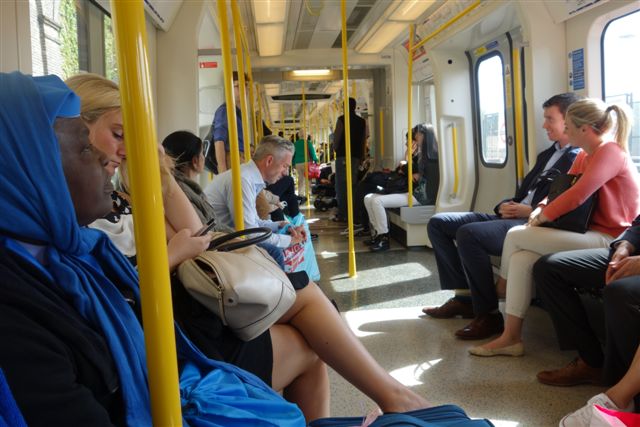 Once again we had to say goodbye with hopes and plans for the future. And once again it was back to the trains and tubes. On the Circle Line between Notting Hill Gate and Wimbledon, I decided to take a photo down the carriage to show that, even at 2.00 on a weekday afternoon every seat is taken and one or two people are standing. It is, of course, a very different story in the rush hour!
And so it was back to my final few days with Gill. Henry, her partner, arrived from Felstead. He's a former Scottish junior hockey player and actually had an Olympic trial 'back in the day'. We've had one encounter on Gill's 'croquet lawn' in the past and he was keen to have another. So with the clouds beginning to look a little menacing, we managed to fit in a lovely game of golf croquet amidst much fun and laughter and Henry's attempts to 'cheat' (Can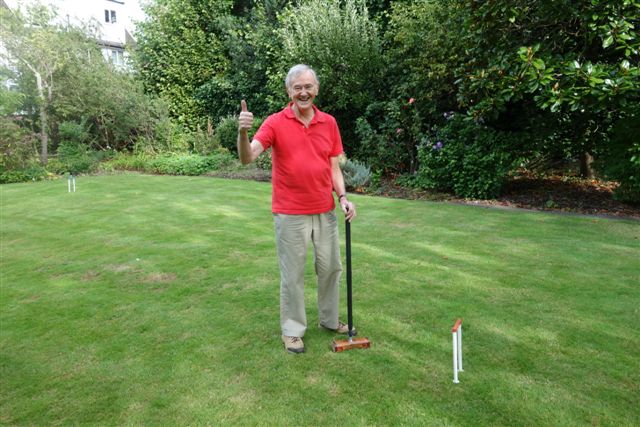 you do this, or that?! No, Henry, you can't!!). One amazing feature of the game was Henry's attempts to jump a ball sitting in the jaws of a hoop. One was well placed but the other was not so easy. He achieved both with consummate ease and Gill and I were totally impressed. Game on! We'll doubtless repeat the pleasure on a future occasion.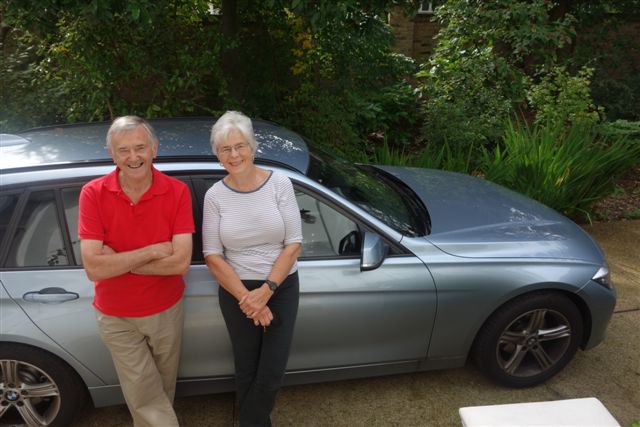 Gill and Henry left on Saturday morning for a holiday in Devon, leaving me 'in charge' to lock up the house and leave it safely for their return – under the watchful eye of a neighbour as well of course.
A musical friend of Gill's (Gill sings in many prestigious choirs), Alan, was also staying at her house. He had come up to London to rehearse with other members of the New London Chamber Choir, acknowledged as one of the foremost vocal ensembles for new music in Europe, who meet from time to time to commission, record and promote new work. Their performance formed part of the international conference 'The Music of War 1914-1918' presented by the British Library to mark the centenary of the outbreak of the First World War. On this occasion they were performing three contrasted responses to the First World War by composers and poets directly affected by the conflict including C Hubert Parry's Songs of Farewell, Maurice Ravel's Trois Chansons, and a newly commissioned work by Deborah Pritchard based on the poem, 'On Receiving News of the War' by Isaac Rosenberg. I felt very fortunate to be sharing a house with such a great baritone/base and to hear the odd phrase as he ran over his music within earshot!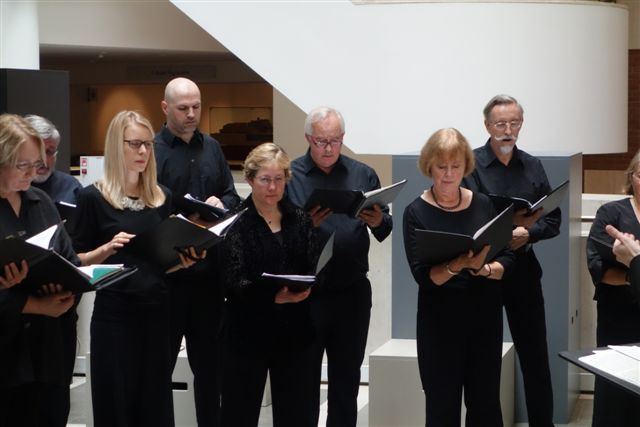 Although it meant travelling all the way to Charing Cross and back for the 40 minute performance, it was worth every moment. The nineteen-strong choir were superb (Alan is fourth from the right in this close up) and the music, obviously challenging, was performed beautifully. And the environment was pretty impressive too.
On my return, there was nothing for me to do except pack, complete everything I could before I left (including sending out the August Our Porirua e-newsletter in the nick of time).
I left early on Monday morning for the flight to New York, to meet up with Suzi who'd left two days earlier, and we could both look forward to Julie's arrival in Boston four days later.
Goodbye England for another year …