Adam doesn't drive in Myanmar (for good reason!) so I was met by one of the PRIME drivers at the airport and driven to his office.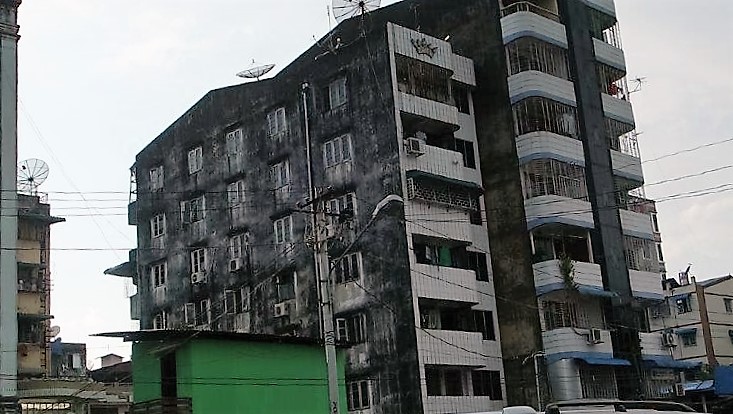 The scenery between the airport and the CBD was fascinating in that it changed so frequently from run down and in desperate need of repair to fairly smart and modern, and just as quickly back to being run down again. The mould on this building, for example, made me realise the impact that the climate has on the environment. I'm not sure what has to be done to get rid of the mould and mildew attaching itself to the exterior of buildings (and I wondered what it was like on the inside).
Adam's office is on the second floor of his building and it has a corporate apartment on the 6th floor where he and I were both accommodated for the night, so I went there first to wait for him to be free. In the event, it turned out that he'd been working since early that morning and had just come up to the apartment for lunch so we were able to enjoy that together.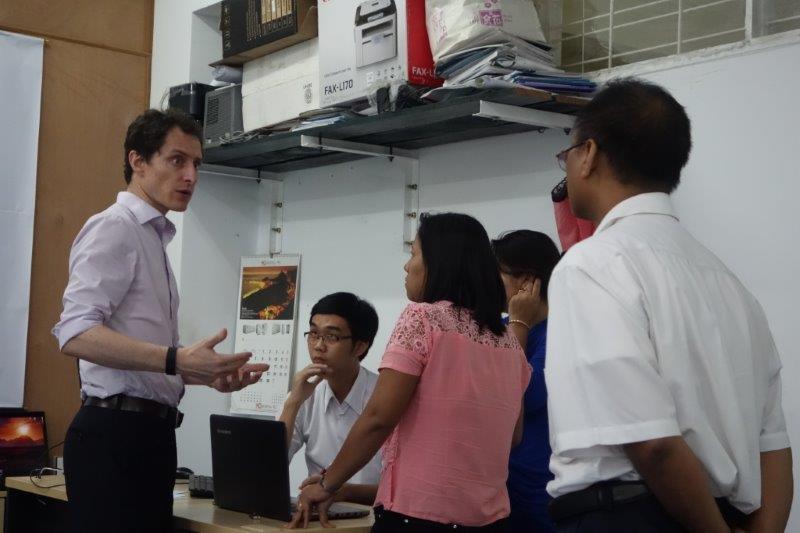 Lunch over, we went downstairs to meet some of his staff and this was great fun as they're all so friendly and welcoming, and clearly very intelligent and technically able. They were just about to have an important meeting with a client so I kept out of the way while last-minute discussions took place.
I was dropped off at a restaurant to have a coffee while the meeting took place. It was warm so I ordered an iced coffee! Adam and I had discussed how careful I would have to be to avoid the dreaded 'Delhi Belly' but when I later told Adam what I'd ordered he said, 'Mum – ice!!' However, there were, fortunately, no ill effects but I won't do that again while I'm here.
Adam declared himself free for the rest of the day and in need of a haircut. He took me to a salon where I had a sensational foot massage (just what the doctor ordered after all that time in planes) and then we had dinner together in a restaurant beside a lake (which we couldn't see unfortunately because it was dark by this time) and then headed back to the apartment for an early night.