Despite my best intentions, it was still a rush to meet all the deadlines and get away but I think I'm getting better at realizing that what I don't get done can usually wait.
Good planning by Suzi meant that she could take a delayed lunch-hour on Tuesday 20 October. So I finished what I could and then packed and drove to her office as pre-arranged. She drove me to the airport and left quickly to get back to work. We both realized that this would be the last time we'd have such a luxury. Now that she's scored a lovely job in Tauranga and will be moving up there in a couple of weeks, she won't be there to perform the odd taxi service. I'll miss her, but not for that reason.
I was pretty early so I had heaps of time with little to do except to relax and look forward to the holiday ahead. A week in Sydney with Kate and family who I hadn't seen for a year and then three weeks with Adam and family, exploring a little of the country where he's now working – Myanmar.
Boarding was quick and easy and the journey was great until we were about to land in Sydney. Suddenly, just as we all thought we were going to touch down, the pilot pulled back and we took off again. We heard later that there was a massive electric storm over the airport and it wouldn't have been safe to land. All the best-laid plans! We weren't given any information at first and thought that perhaps we'd circle and wait but our little screens showed us en route for Canberra and that's where we went. Landing in Canberra, refuelling and taking off again for Sydney meant an extra four hours added to the journey. Some of the passengers missed connections, but I was lucky. I had been going to land in the rush hour and was going to take the train to Kate's but in the event, it was 8.30 before we landed and Kate was able to drive down in light traffic, so that was a bonus.
It was Riley's birthday two days later and much of our time was spent preparing for the event. Riley always sets her mother a challenging request for her birthday cake. Last year it was an elephant. This year she asked for the Union Jack on one cake and the London skyline at night on a white cake below.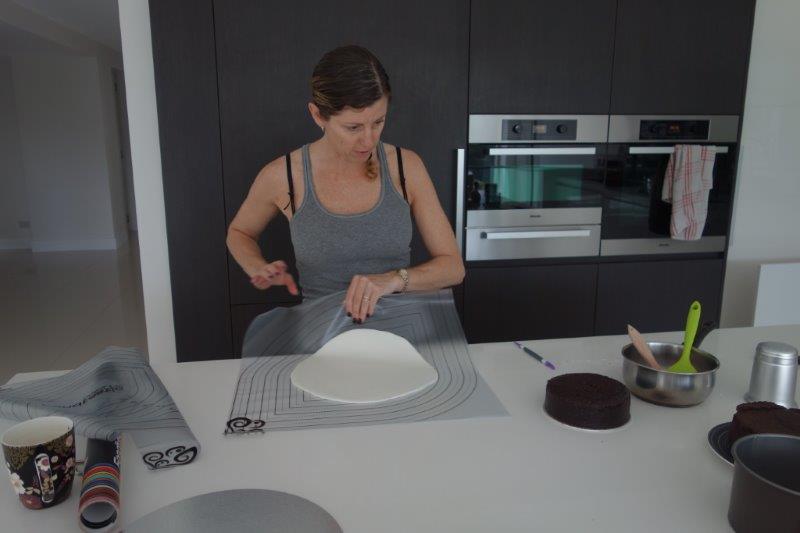 It was a very long process! When I arrived, the cakes were already made and everything was in place for the decorating.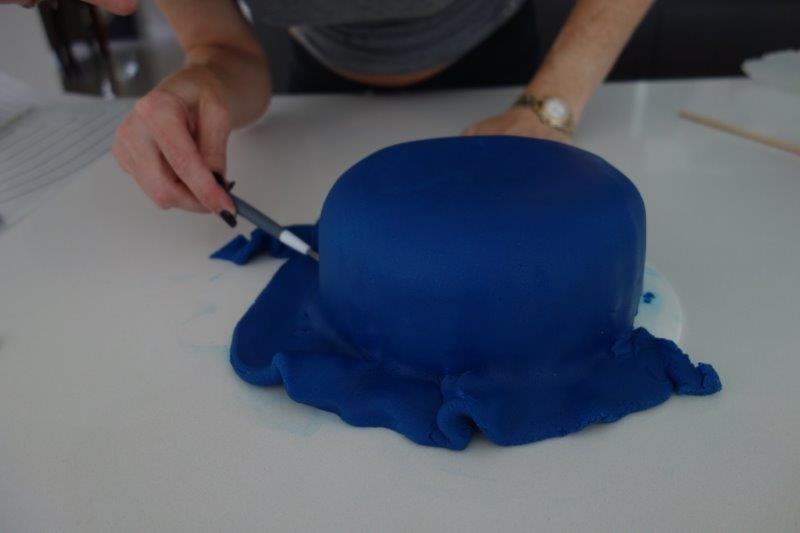 First of all the top cake had to be covered in white icing. Then blue went on top of that.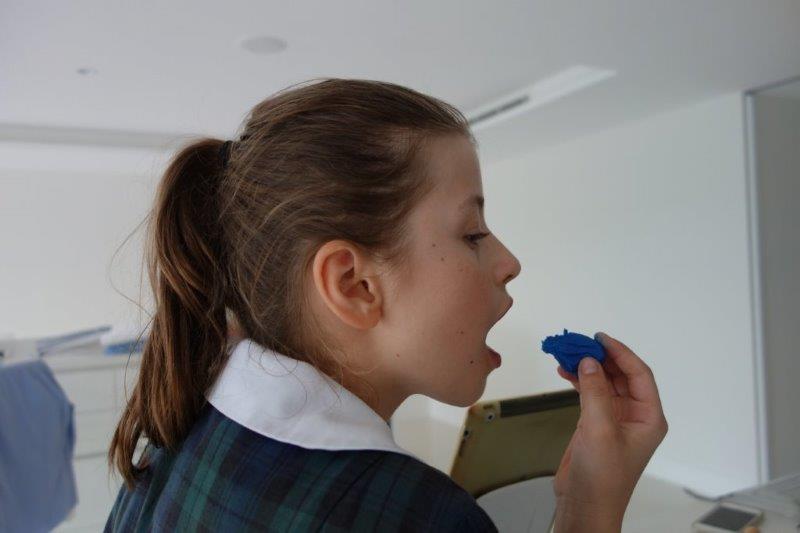 By this time Riley had come back from school and definitely needed to be part of the process. So much concentration was needed that Kate decided to finish the cake the next day when the girls were back at school!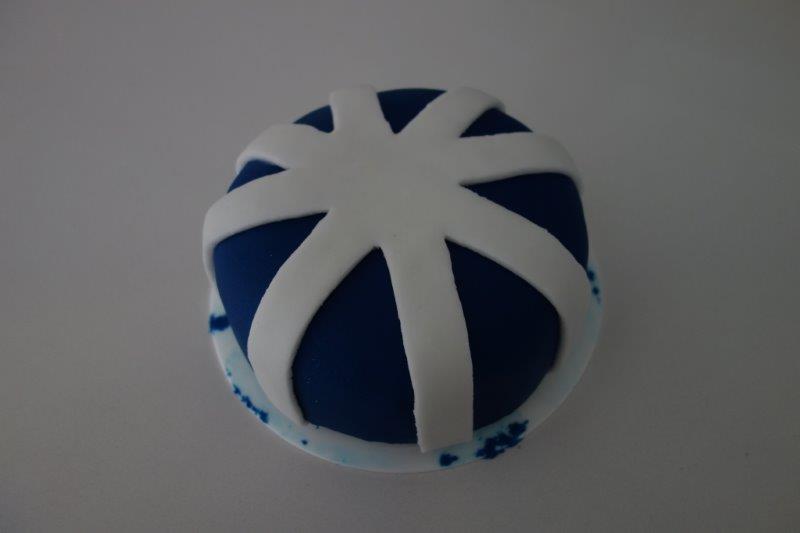 The next step was to roll out strips of white icing and fix these in place. These had to be fairly wide.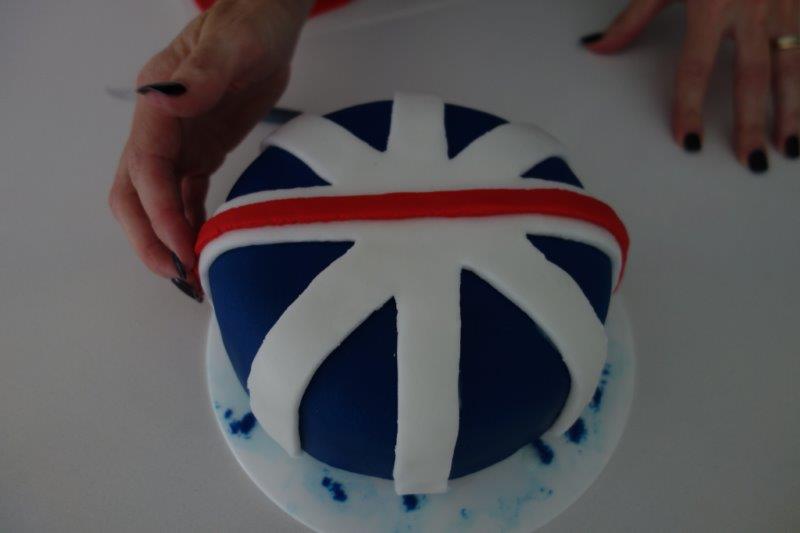 Then it was the turn of the red strips. It was amazing how long all this took but finally the small top layer was complete.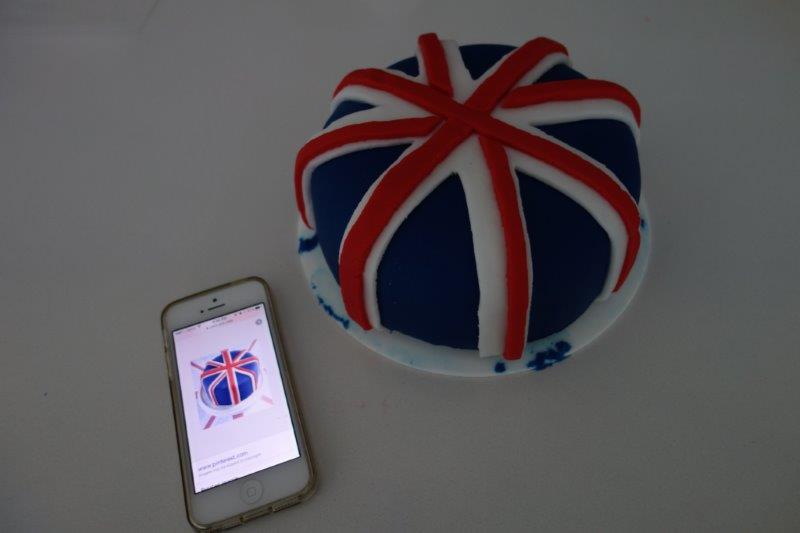 Now came the really difficult part! Kate had drawn a picture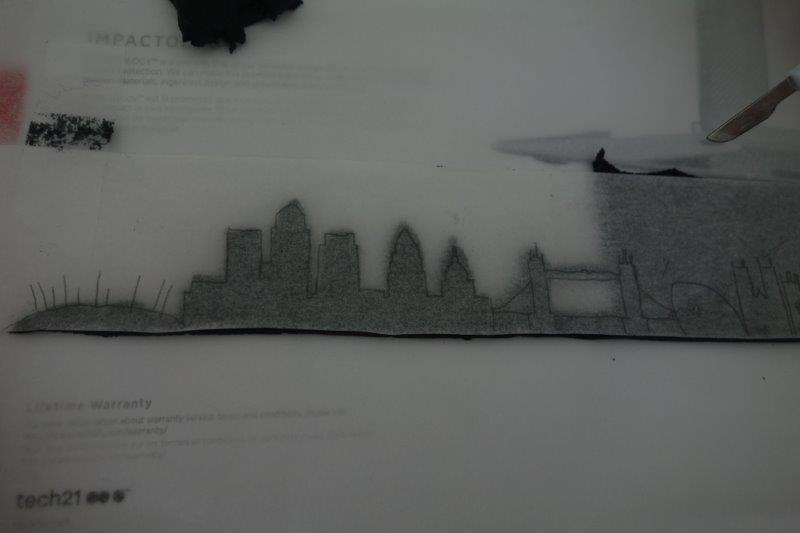 of part of the London skyline, but transferring that to black icing was painstakingly slow. The sharp little knife wouldn't cut right through the paper and make an impression on the icing so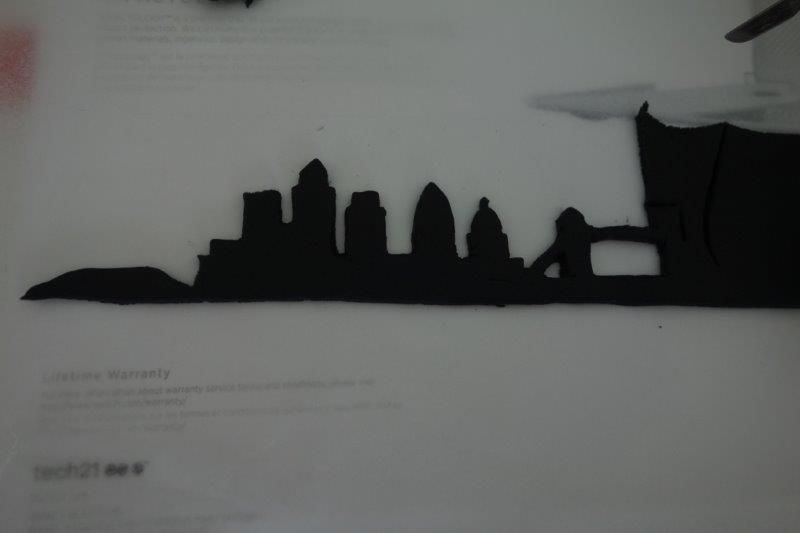 Kate had to poke small holes through the paper and join the dots, so to speak, on the black icing.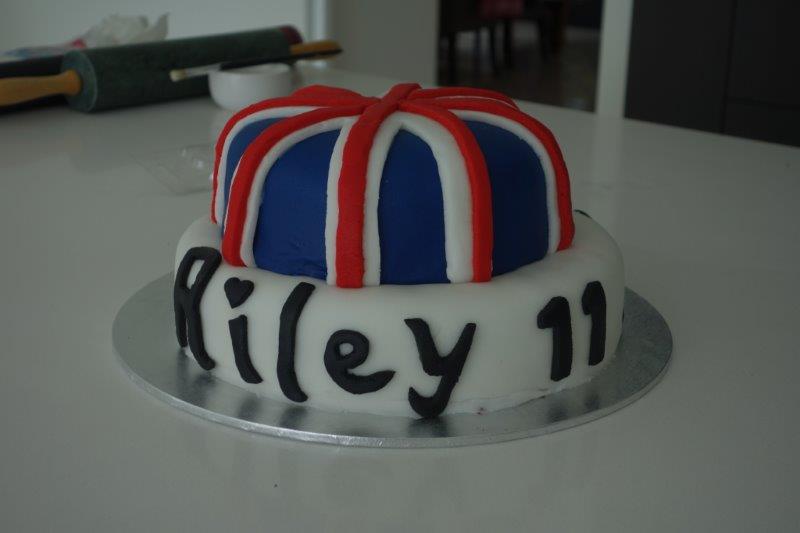 Mission accomplished, it was now time to put the top layer onto the bottom layer and also cut out Riley's name for the back of the cake.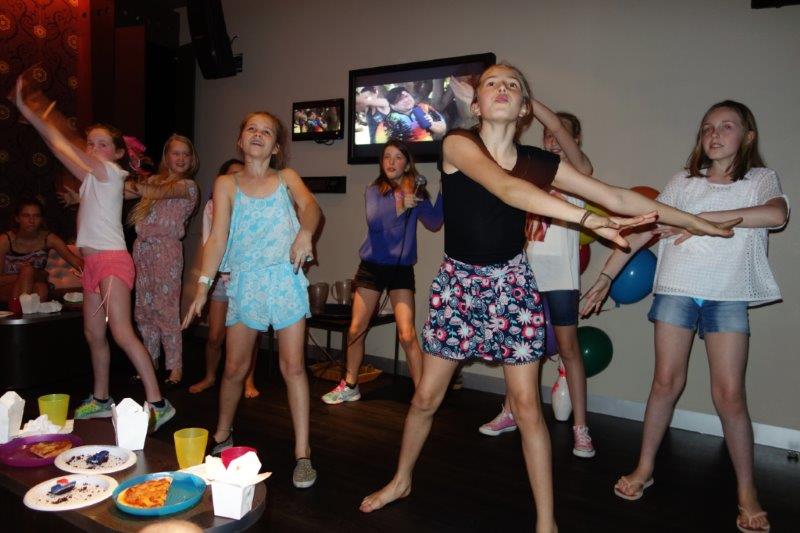 The final task was to carry the cake to the venue for the party on Sunday where a dozen of her friends gathered together to ten pin bowl, play a variety of 'games' and indulge in karaoke. Karaoke was definitely the winner (that's Riley at the back with the microphone below the screen) apart, that is, from the cutting of the stunning cake which went down a treat.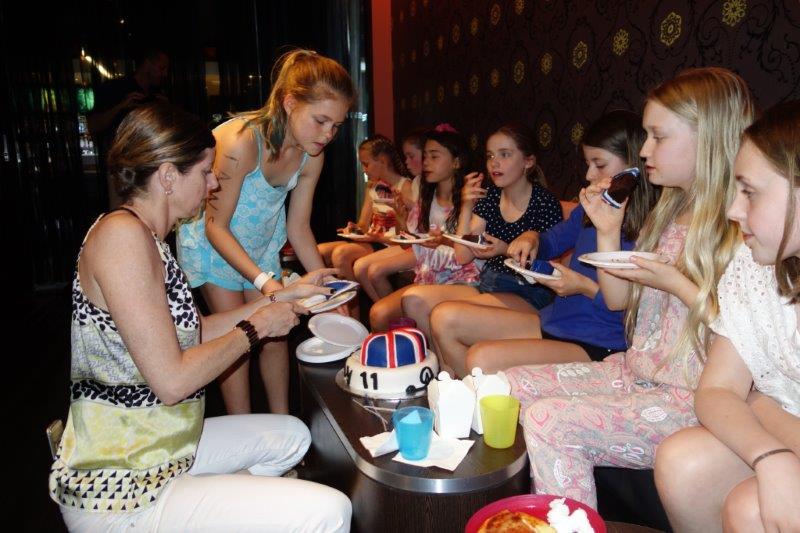 The girls all seemed to be full of energy at the end but there were three very tired adults who, although delighted to have been flies on the wall and witnessed three hours of fun and laughter, were quietly happy that it was all over for another year!
We also managed a visit to watch Tyla play touch rugby – called touch football. She's pretty swift and managed three touch downs in the two 2-minute games she played in. On another day Kate and I went to watch Riley having an hour's gymnastic practice. I think she gets her flexibility from her mother!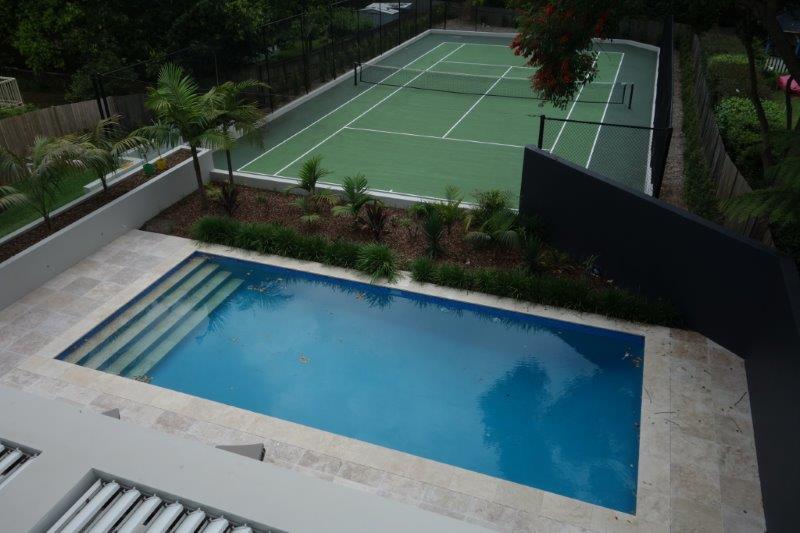 Kate and I spent the rest of the time in Sydney quietly catching up with each other and with the girls and Bret when they came home from school and work. They've done heaps more renovations to their converted nunnery but still have a long way to go. Unfortunately, although the weather was warm, it was cloudy and rained quite a bit so there wasn't much opportunity to enjoy their outdoor facilities! I'll have to save those up for my visit at Christmas.