Mount Popa, Myanmar - 6 November 2015
The day dawned bright and sunny again and we realised that the first few days of our trip had been something of an anomaly and that this was more the norm for the time of year.
Today I went on a visit all by myself to Popa Taung Kalat (Mount Popa). Gina and Lewis decided to rest for their last day as they have a very full programme ahead when they go to Heho tomorrow. I, on the other hand, will have the choice of relaxing and taking it easily when I reach Heho tomorrow and join up for a bit of R&R with Adam, Jan and Cameron so I thought I'd make the most of the exercise offered – even though it involved a journey of nearly two hours each way.
So I spent the whole day in a chauffer driven car with my very own guide, Jo Jo. How lucky was that? I felt very spoiled.
This revered lava-covered rocky hummock, 457m high, rises 50km east of Bagan's arid plains. The picturesque drive took us through typical rural villages, across dry river beds, finally winding up the mountain through a wildlife sanctuary with plantations of sandalwood. We saw flowering trees (popa is the Sanskrit name for flower) of papaya, coffee and banana. The land is watered by 200 springs. The resort is a National Park.
This peak is the core of an extinct volcano, last active 25,000 years ago.
At the end of the road, a steep climb awaits the physically fit which is the last thing that could be said about me at the moment after a whole week of over indulgence on the boat! I had heard that there were 777 stairs via a covered walkway to reach the Monastery. In fact, my guide for the day, Kyaw Kyaw (pronounced Jo Jo!) told me that there are more than 800 steps.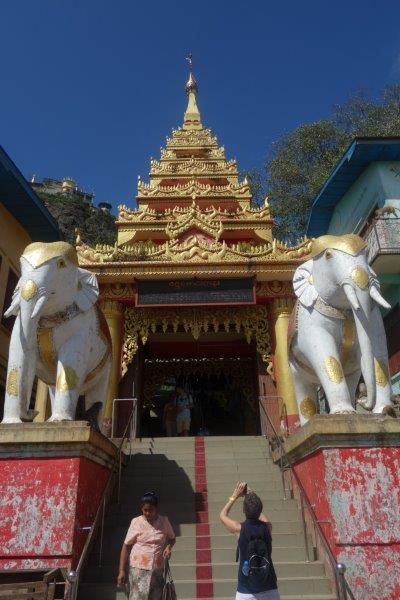 I took one look at the entrance to the climb (not to mention the monkeys) and discretion overtook valour. You can only see the first few stairs but they disappear into that black abyss up to the Monastery which you can just glimpse in the top left of the picture.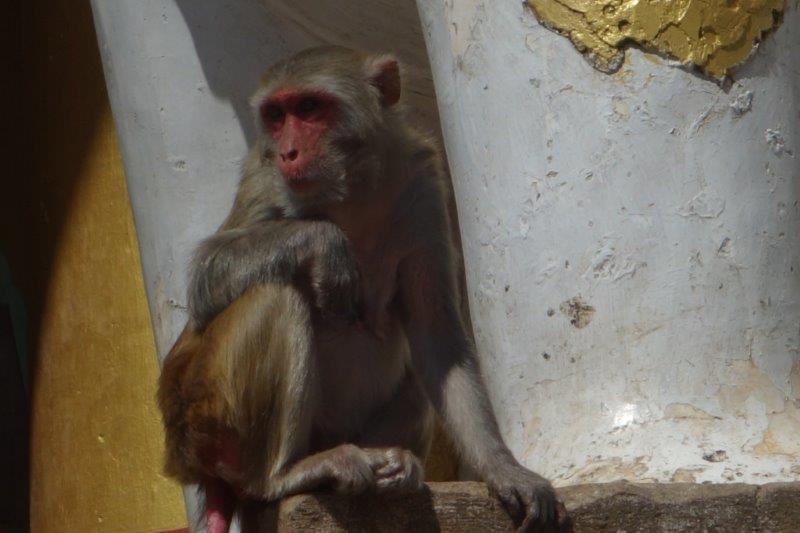 Mount Popa is inhabited by many monkeys which were quite inquisitive so there were monkeys everywhere. They are not known to be aggressive, but I was warned not to carry any food items and to be aware that the female monkeys can be very protective of their young.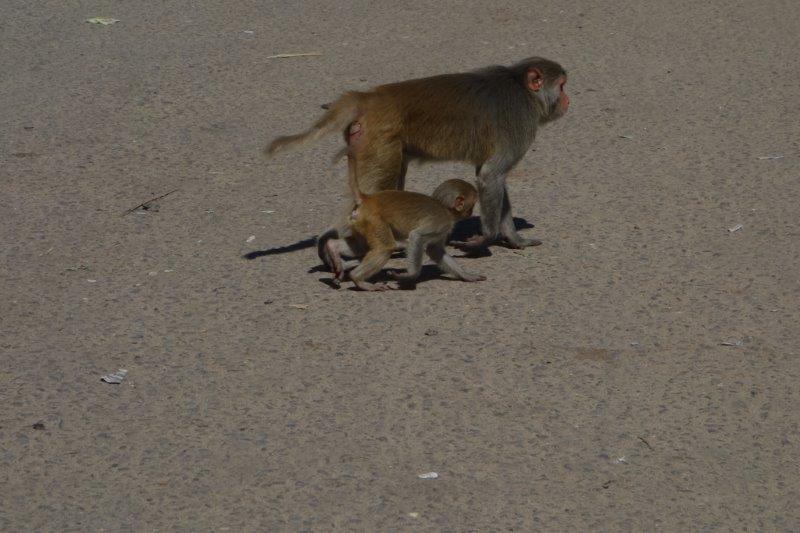 I didn't need to be told twice, particularly as I had declined my rabies injections before leaving New Zealand and dogs, monkeys and bats are all potential carriers of the disease.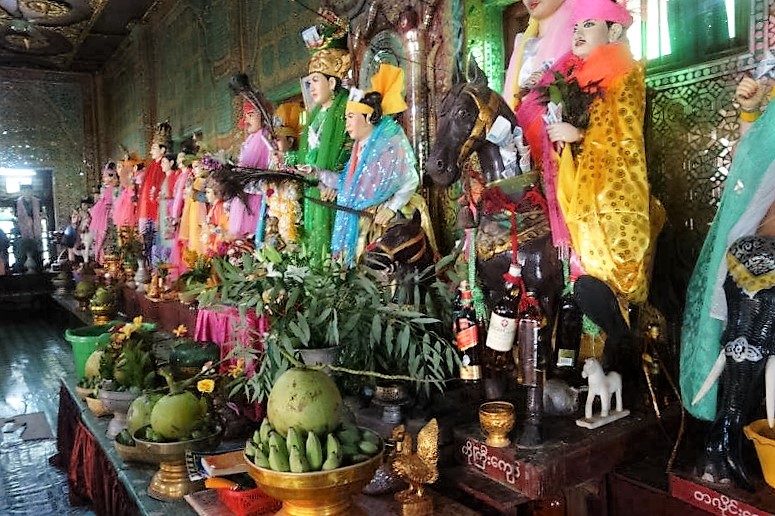 Mount Popa is the legendary sacred home of the Nats, especially the Mahagiri – Mr Handsome and Golden Face. Their shrine, along with an enclosure for many other colourful Nats, is situated at the bottom of the steps.
Traditional animistic beliefs encompass a spirit world and Myanmar's Buddhism tolerates these early beliefs as mentioned in an earlier blog. For centuries before King Anawratha (Bagan's first king) unified the country under Theravada Buddhism, it was essential for kings prior to commencing their reign to consult the Mahagiri Nats. An annual spirit festival is held here in May/June when thousands of pilgrims from mostly northern regions propitiate and pay homage to the Nats.
The legend of the Magagiri Nats goes back to the 4th century town of Tagyuang. A very handsome, physically fit and popular blacksmith and his beautiful sister lived here but threats on his life by the jealous King Thin likyauung caused Mr Handsome to flee to the forest. The king married his sister, having convinced her of a safe return for her brother. Her brother returned, was tied to a tree and set alight. Golden Face sacrificed her life with him and their spirits live on in the saga tree. Fearing their spirits, the king had figurines carved from the tree and enshrined on Mount Popa.
Nats can be propitiated for protection or out of fear for they are devilish creatures. As I've mentioned in an earlier post, there are copies of the official 37 Nats at Bagan's Shweizigon Pagoda. The originals were stolen.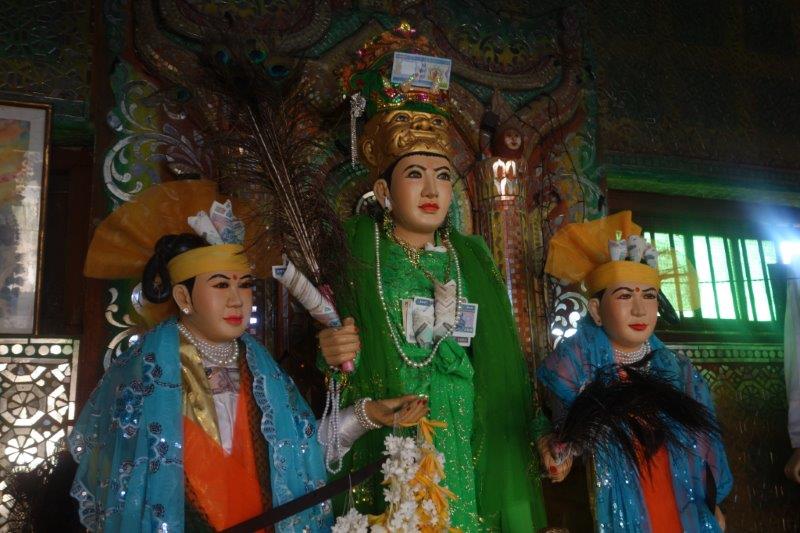 Jo Jo and I visited the shrine and he explained a number of the Nats to me. Money was attached to every single one and Jo Jo told me that this is collected every day by the Trust which uses it to keep everything cared for. Jo Jo was quick to point out that worshipping Nats is not a religion, more of a superstition.
Having decided not to make the climb, there was nothing for it but to repair to the Popa Mountain Resort for lunch.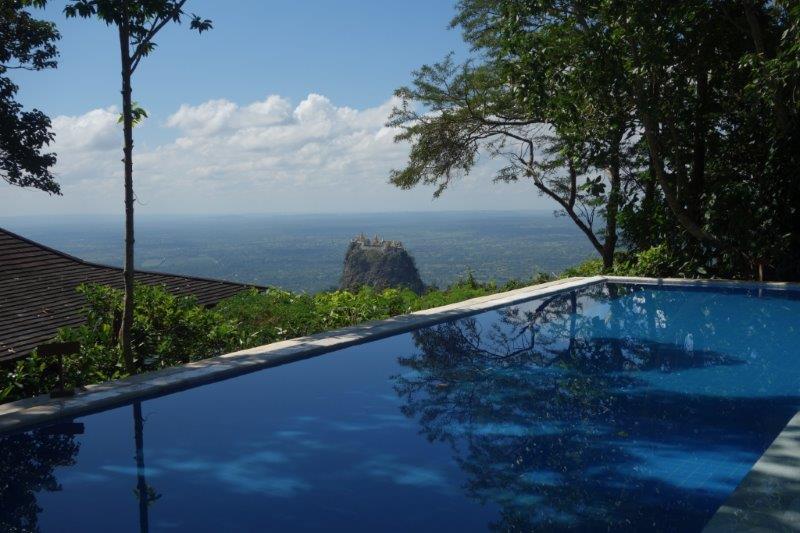 I'd been told to take my togs but although the swimming pool looked very inviting I had to be practical about getting everything dry before I pack this evening.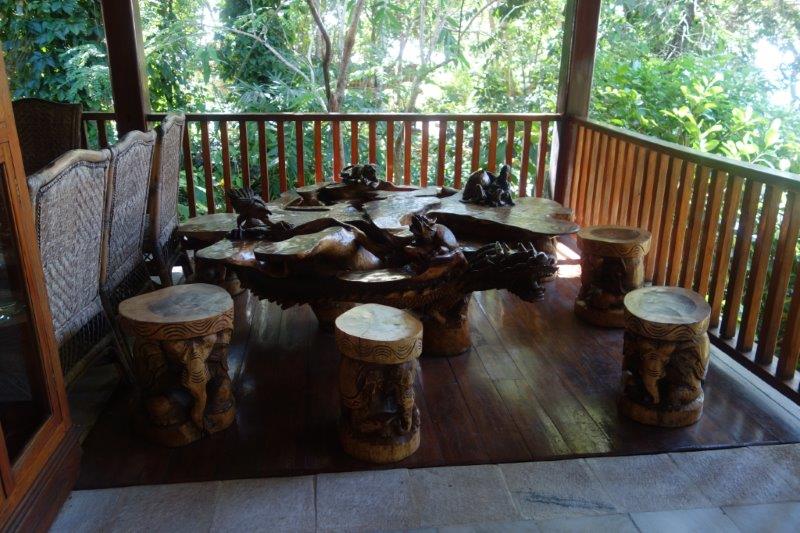 We passed the most beautiful table in the foyer and I was tempted to sit down and survey the view from there.
But in fact, the view from our table was well worth waiting for as we sat down to enjoy a typical Burmese lunch with the monastery below us.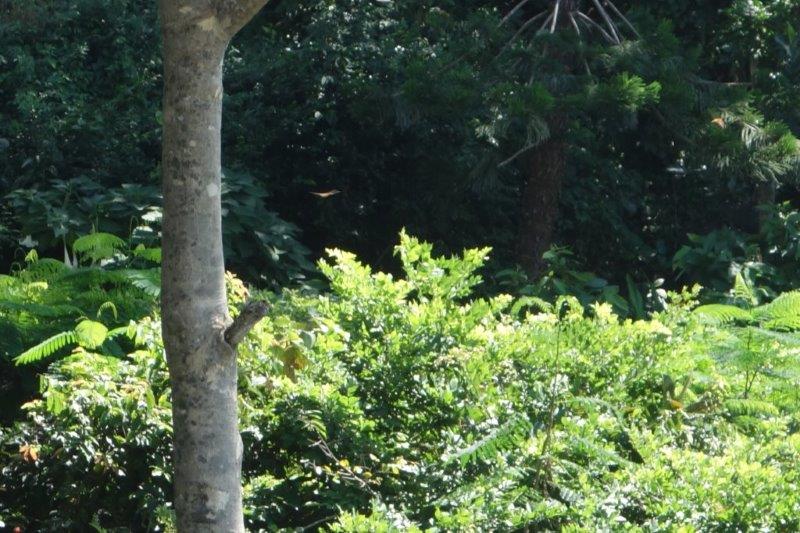 There were hundreds and butterflies and dragonflies flitting around and I tried hard to catch a photo of one or more. If you look very closely, you may just be able to pick this one up in the forefront of this view of the jungle (a little yellow splash just to the right of and half way up the tree trunk).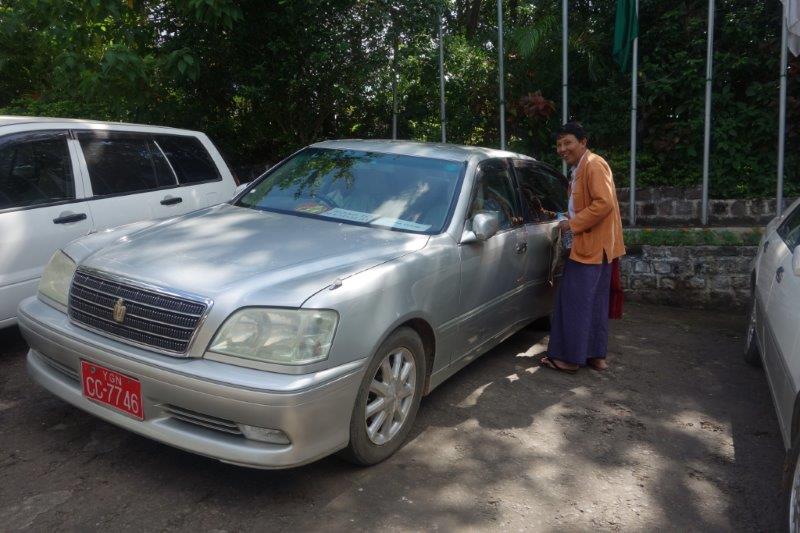 Jo Jo and I made our way back to the car where our driver for the day, Than Nyunt, had been patiently waiting for us. Jo Jo held open the door of our transport – a relatively old Toyota which actually drove very smoothly under Than's care.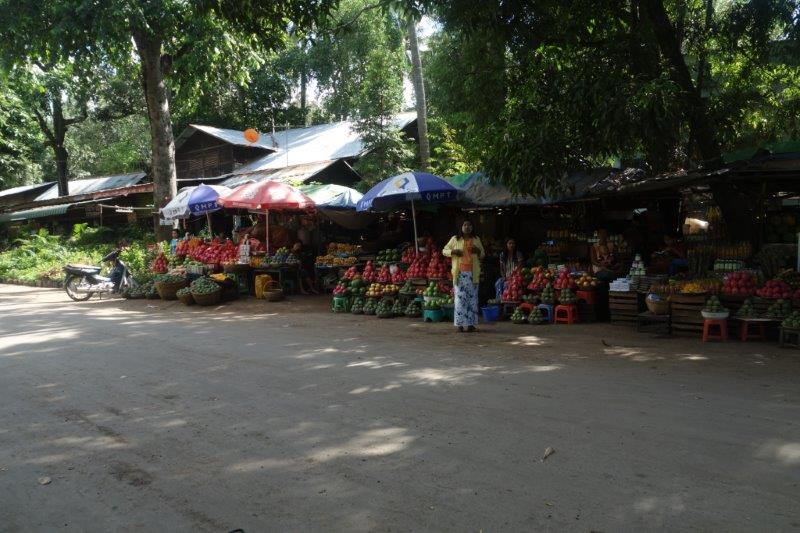 On the way back to the boat, we stopped very briefly to admire the fruits, vegetables and plants at the local market.
I always wonder how the villagers manage to sell everything they produce when there seems to be so much of it, but Jo Jo told me that they do turn over just about everything within a couple of days both to locals and to tourists (although there didn't seem to be very many of the latter).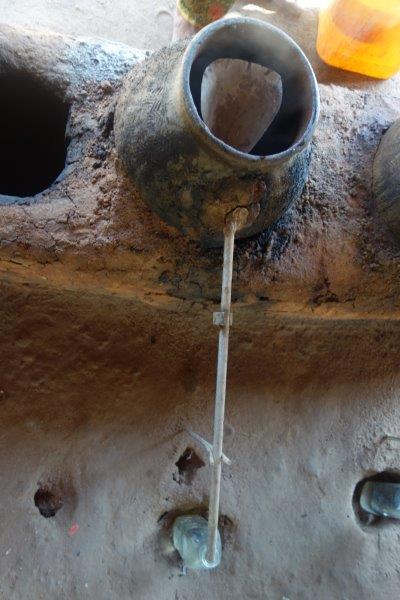 Our next stop was a visit to a local Toddy Palm plantation where I was invited to sample the famous Myanmar liquor. I had been warned to be careful because it packs a punch and in the event I declined, mainly because it apparently tastes a bit like brandy and that's not a favourite of mine!
But I did sample a minute piece of Toddy Palm Sugar hard fudge mixed with coconut, or what is known locally as 'Jaggery', and this was more to my taste. I was told that the process to create these two special Myanmar products has not changed over hundreds of years.
I asked Jo Jo whether the liquor was bottled and labelled and then how it was sold. But he told me that it isn't sold at all. Villagers all produce different things and there is a barter system. What a good idea that is.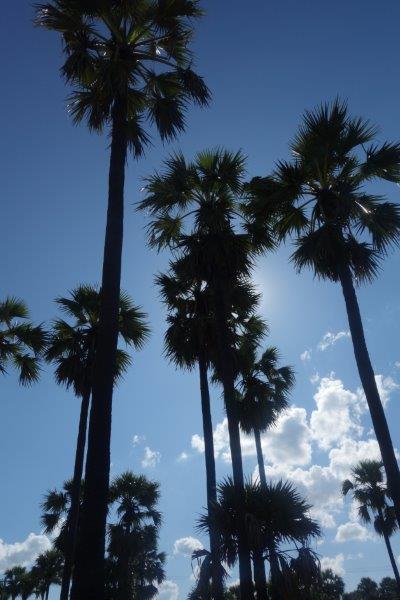 Outside were the tall palm trees.
In winter, sugar is taken from these every morning (never in the afternoon). In summer the palms are cut and used for roofing as we'd seen at the village visit the day before.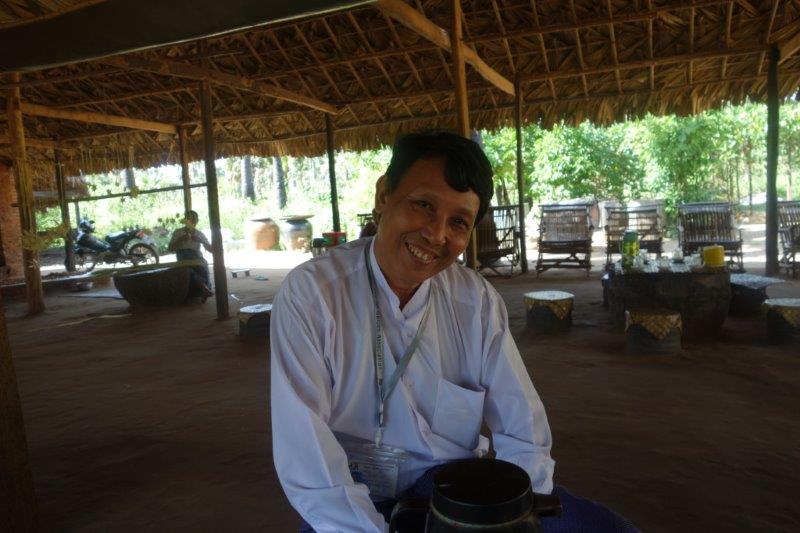 Jo Jo and I were treated to a cup of green tea and he pointed out to me that the whole building had been made from this one specie of tree.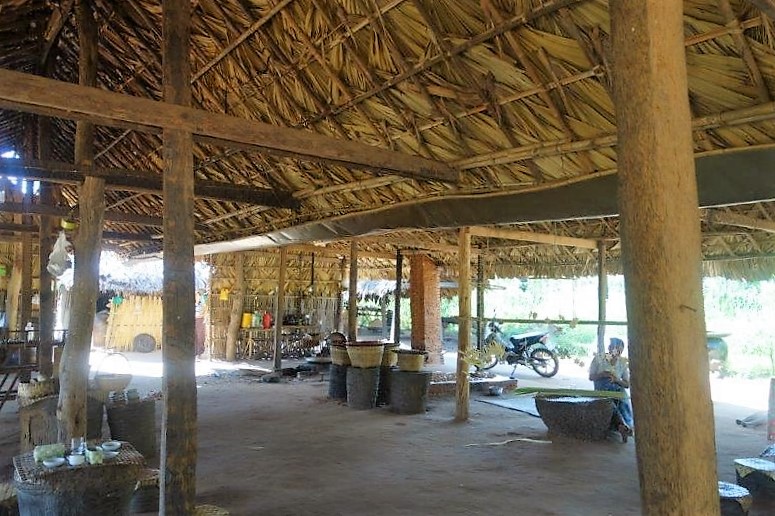 The roof was covered in the palms and the supports were the trunks.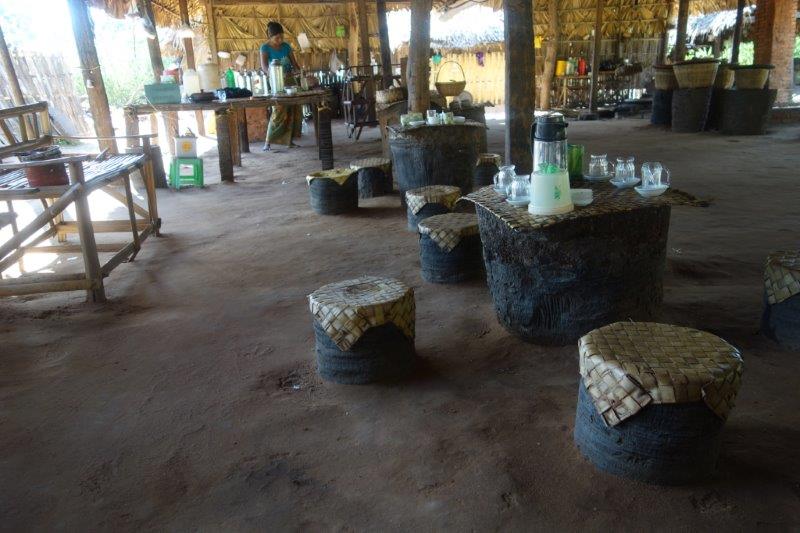 The tables and stools were also made from the wood.
Care has to be taken to keep an eye out for termites so that the whole place doesn't collapse!
We made just one more stop on the way back to the boat. Jo Jo had been a farmer before he became a tour guide 20 years ago so we had a fascinating discussion over lunch when he told me which crop grew best in which region of the country. One crop he mentioned was peanuts and I admitted that I had absolutely no idea how a peanut grew or what it looked like. It didn't look to me much like a 'crop' so I'm not sure I would recognise it again.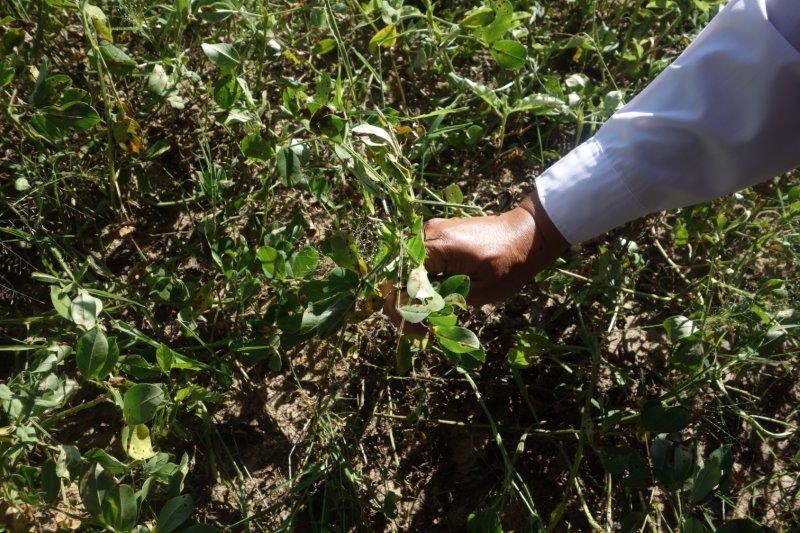 He very kindly stopped by the side of the road and together we examined a crop which is not yet ready to harvest. No tools are required to harvest the peanuts. The plant is pulled out of the earth and the peanuts appear.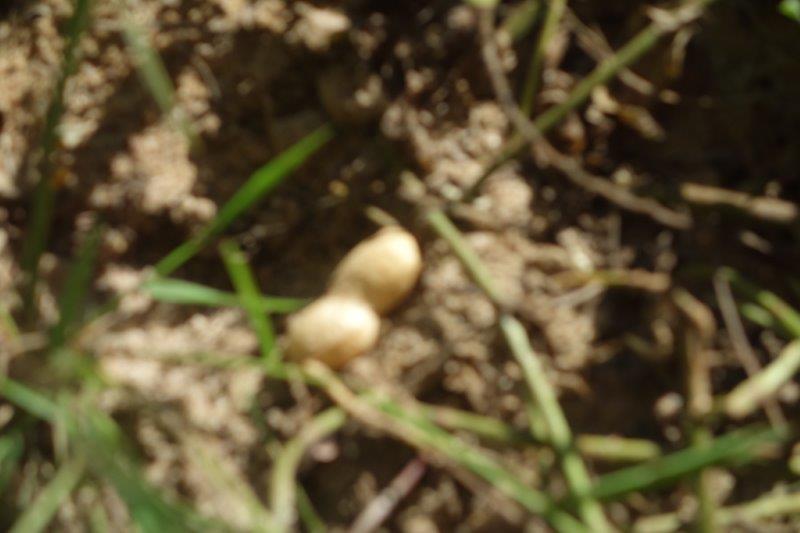 Very gently, Jo Jo loosened the soil at the base of one plant and, lo and behold, there was a peanut.
He opened it up to show me the unripe peanut inside – cream instead of brown – but it was so small that it was difficult for the camera to focus on it so this is rather blurred! But it's a peanut nonetheless even though I might not recognise a peanut plant next time I see one.
At the end of a very special day, it was back to the boat for the very last time.