It was sad to leave 'Tricia in a pretty poor state of health but her niece was about to arrive as I left so I'm sure she's in good hands.
Pimlico to Victoria is only one stop on the tube and some of the stations are starting to put ramps up to the roads instead of stairs. Pimlico is one of them so it was a very easy trundle! Victoria Station is enormous and it may seem hard to explain that on just one of the many London stations I couldn't find the ticket booths without walking quite some distance. I finally found the ticket and the train and gratefully sank into the seventh carriage with only minutes to spare. The map on the wall, as well as the announcements that came over the tannoy were a touch confusing but I was pretty sure I was in the right carriage. However, when the guard inspected my ticket he told me that the train would split at Horsham and I needed to be in one of the front four carriages! The train didn't pause for long at each station so it was a bit of a nightmare choosing when to get off with my case, walk very quickly up one carriage and get on again three times! Mission accomplished, it was a stress free journey the rest of the way.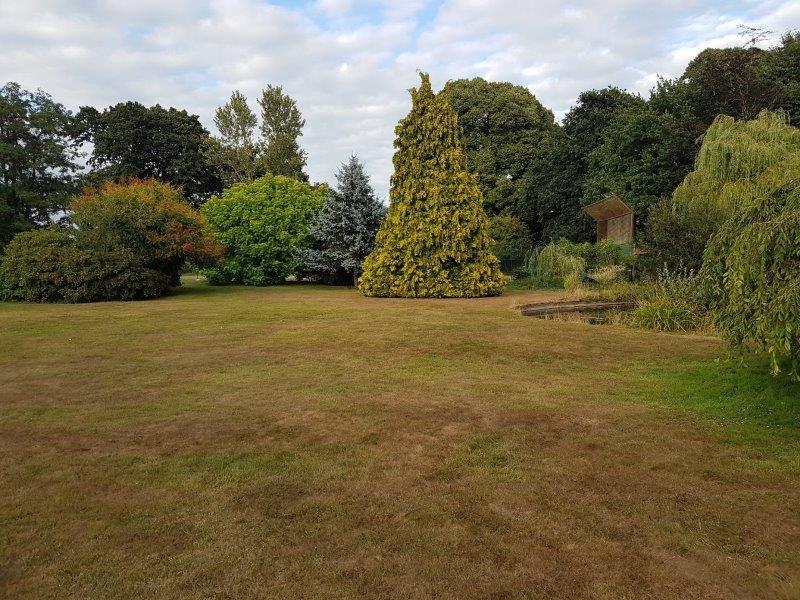 It was so good to arrive and I found Jen (my father's half sister and twenty years younger than he would have been) and Colin in excellent form and full of family news. Both are in their late 80s but you'd never know. Jen is still playing golf as often as she can. Unfortunately Colin sufffered a massive heart attack two years ago and had to have his right leg amputated above the knee which has made mobility very difficult for him. It was very hard to begin with but the medical profession are apparently astonished at how much he accomplishes by himself, as he only has 30% capacity to work with. He's a legend, as is Jen with her unconditional support and care. They truly are an example to everyone.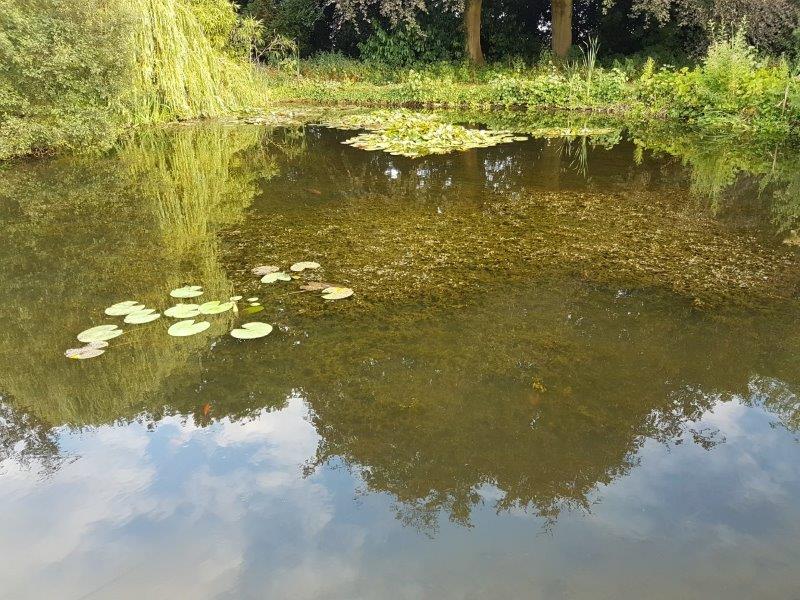 As always, their garden was looking beautiful although some trees and shrubs are suffering in the drought. Colin drives a little buggy around and is constantly monitoring the condition of everything, much of which they have planted and nurtured themselves. Jen works far too hard in the garden and it's a credit to her that it's all looking so good, despite the lack of rain. She doesn't need the additional work of watering, particularly the vegetable garden, but somehow manages to find the time each evening to fit that into her incredibly full schedule.
They are both experts in tree species and Colin knows every insect, especially the beautiful dragonflies that were hovering on all sides. He loves his lake/pond and although the water level was worryingly low, they were still managing to hide under the pond weeds and seemed pretty relaxed.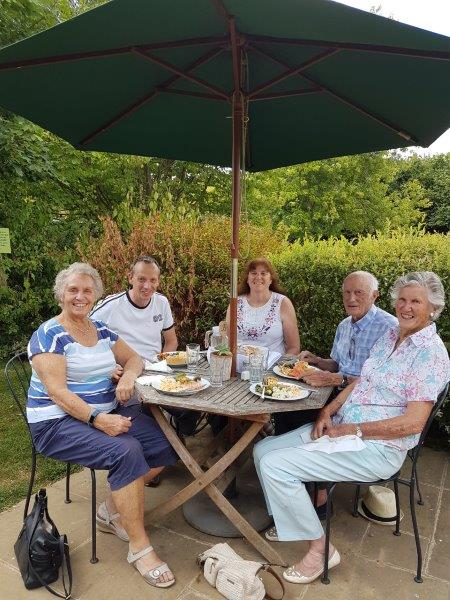 Jen is always so thoughtful and gets as many of the family together as possible when I visit so it was a weekend jam-packed with relations and, of course, a very happy time. Jan (their eldest) and Phil arrived and we travelled through the beautiful Sussex countryside to have lunch at a very out-of-the-way place called Alexandra's kitchen, near Petersfield. It was set on a farm with pick-your-own and an assortment of home industries, like pottery, and the environment was lovely.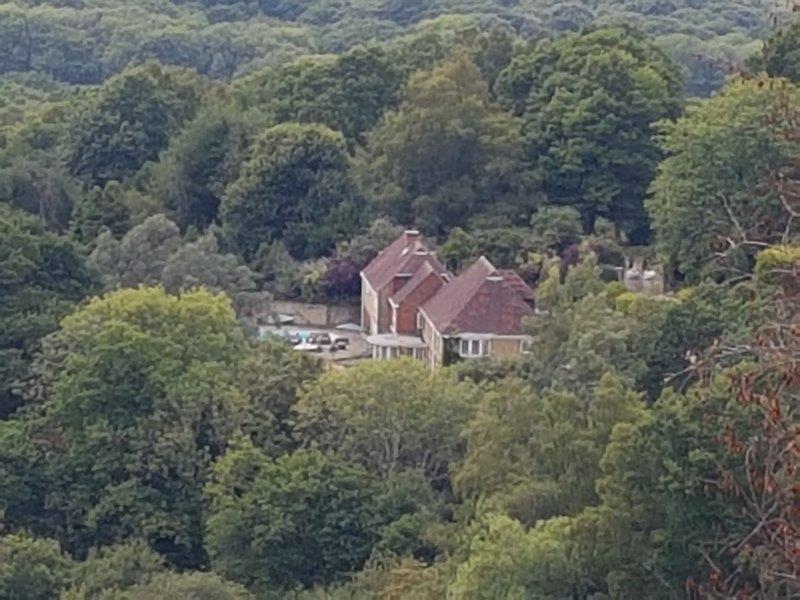 In order to get to our destination, we'd travelled through some tiny country roads where it was sometimes necessary to back up in order to pass vehicles coming the other way. The hedgerows were high because the Council's in England have decided that it's important for the wild life to have more areas in which to exist and that made visibility even harder, although very pleasant. When we finally arrived at a wonderful stopping place, the view over the Sussex Downs was amazing. The light was somewhat hazy but I did take this photo of a house nestled in what appeared to be the middle of nowhere, surrounded on all sides by trees and vegetation.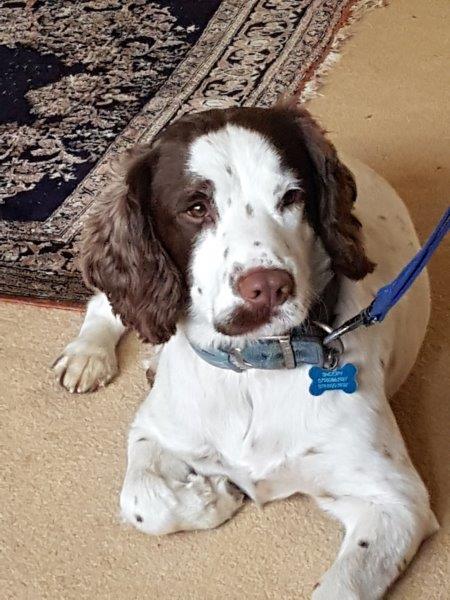 On Sunday, Jen had arranged for Jan, Phil and their youngest daughter, Mary - and Snoopy a working cocked spaniel - to come to lunch as well as Richard, my first cousin once removed and Robin (widower of my lovely first cousin, Ann) and his American partner, Alice. It was, of course, a great reunion for me and there never seems to be enough time to catch up, not only with the news, but also with the very different opinions about world events. It was an extremely enjoyable and stimulating afternoon and a couple of days wouldn't have been long enough! Richard has studied a range of subjects and had fascinating insights into Brexit and Alice, of course, had very down-to-earth opinions about Trump and her amazement at the amount of Press that he is given in England compared to the comparative indifference that is shown to him in the US Press.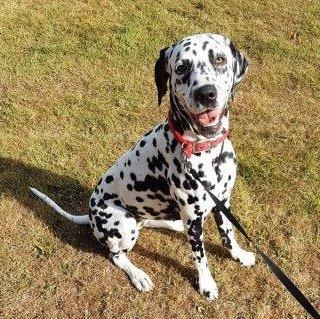 Before everyone left, there was time for Snoopy to have a quick play on the lawn with Caro's (Jen's middle daughter) dalmation, Bella. Unfortunately I missed Caro and family as they are in America, visiting one of their sons, Ben, who's studying at University over there. Bella was being dog-sat because it's just too dangerous for Jen and Colin to look after her, or to have 2-year-old dogs rushing around causing mayhem in case they knock into Colin when he's balancing precariously.

Fortunately we managed to squeeze in the inevitable family photo for the memoirs before the troops began to depart. It had been such a wonderful reunion and it's never fun when these times come to an end.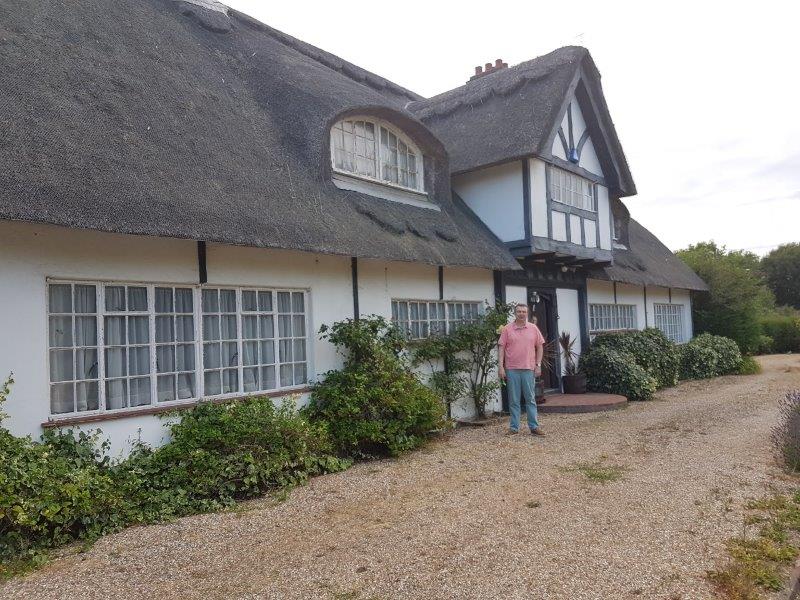 After catching up with how everyone was getting on in the Golf Open at Carnoustie in Scotland, finally won by Francesco Molinari, Jen and I drove Richard home so that I could visit my grandmother's home in Middleton where she was living when we emigrated to New Zealand in 1979. Richard has recently come home to care for his mother, my uncle having died many years ago. It was wonderful to see her too and to have some brief chats about family news.
All too soon, Monday morning arrived and Jen kindly drove me to Chichester station to catch the train back to Victoria and my next adventure with my friend and neighbour from Broxbourne days, Elissa.