Sydney, Australia - 20-26 June 2014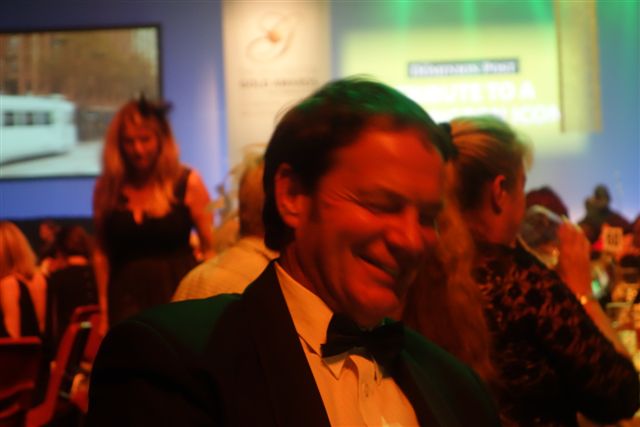 The timing wasn't perfect on the night before I left for Sydney but I couldn't resist the very kind invitation from Fraser and Sheridan of FRESCO to join their table for the Wellington Gold Awards.
It was bound to be a memorable evening and, after all, I could sleep on the plane! And what a fabulous evening it was too.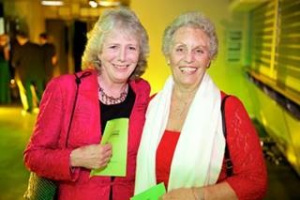 They told me that they'd also invited our great mutual friend, Joy Allcock, so we travelled in together – and got ourselves snapped as we arrived!
It was a very special evening with so many people and organisations honoured for their achievements. The Supreme Award Winners were Graham Le Gros and the Malaghan Institute of Medical research. Other notable winners were Peter Jackson and Swee Tan.
I spent the next morning rushing around like a demented bat, determined to cross everything possible off my 'to do' list. I made it by the skin of my teeth. It takes quite a bit of planning to leave for four months even though I knew that I was leaving Julie in charge. I'm not at all sure that I would have got there, had she not pitched in to help.
And then, at the last minute, what a treat! Joy offered to take me all the way to the airport. And, even though she'd got a pile of work waiting for her at home, she decided that she'd stay for coffee and chats instead of rushing off.
This year I my plans were to spend several days in Sydney, Australia and a long weekend in Singapore in late June on the way through to the UK. The next two months would be spent visiting friends and family (and playing in croquet tournaments) in Hampshire, Hertfordshire, Peterborough, Gloucestershire, Devon, Nottinghamshire and London. From 1 September to 6 October the plan was to visit many places in the US and Canada, driving from New York to Los Angeles much of it with Julie and all with Suzi. Suzi and I would then pass through Sydney again for a few days before arriving back home in mid-October. Certainly a trip that was going to be full of fun and excitement.
After getting stuck in Sydney traffic, Kate soon arrived to whisk me to their home in Lindfield and it was great to be with the family again (I swear the girls have grown since I last saw them at Christmas).
It was too dark outside to see all the changes they'd made and there's no electricity yet to the rooms downstairs, so I waited for the 'big surprise' on Saturday morning.
Bret had confided to me the night before that he was actually feeling quite despondent about the amount of work ahead and said that he didn't feel as if they were making much headway.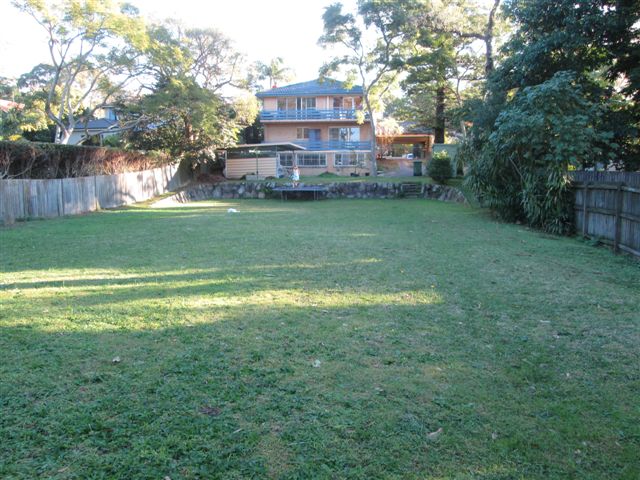 But, seen through my eyes after less than six months, it's quite amazing what they've achieved.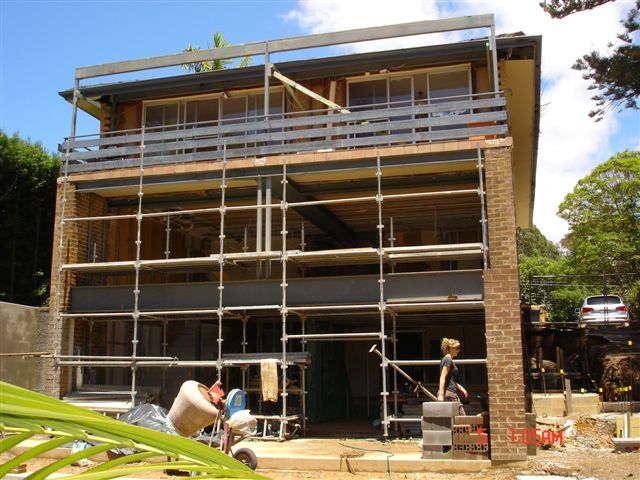 The view of the house from the bottom of the garden in May 2013 looked like this.
At Christmas the scaffolding was up and it looked like this!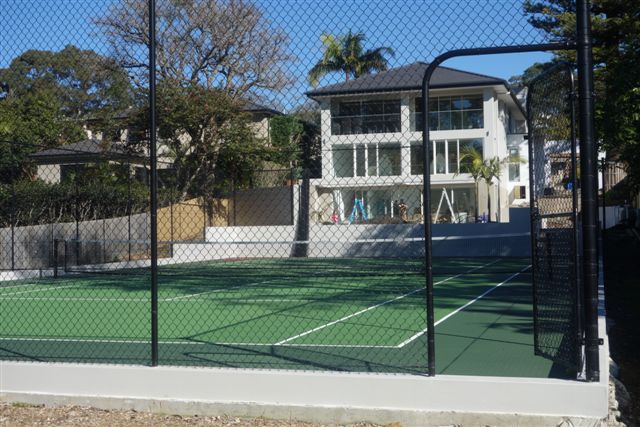 Today, the scaffolding has gone and, although there's still lots to be done, it's looking very different! The court is completely finished including the surface and the fencing. And the back of the house itself has taken on a completely new 'look'.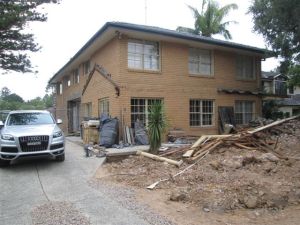 Meanwhile, when I left in January, Bret and I had just finished breaking up the front porch, leaving it looking like this.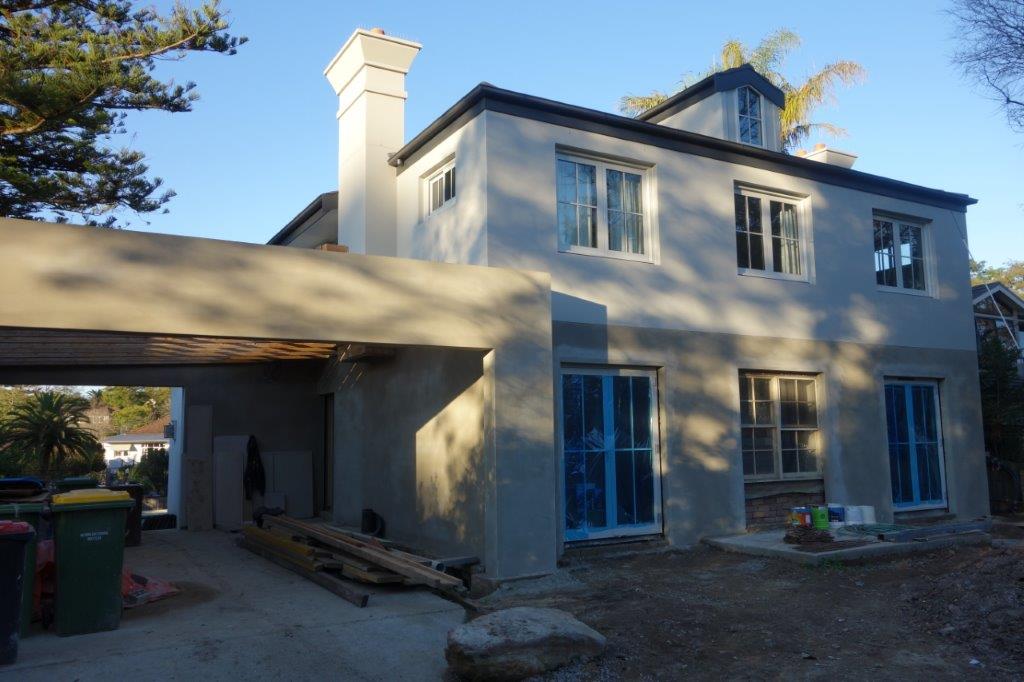 There's still a large pile of dirt in the way, but the front of the house has transformed.
And when I go back again in October after four months
away, I'm told that it will have transformed even more.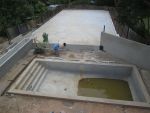 Meanwhile, outside, the view down the garden looked like this when I left after Christmas when Bret and I had just finished all the clearing and levelling round the edge of the court and Kate and I had just about finished painting all the exterior walls.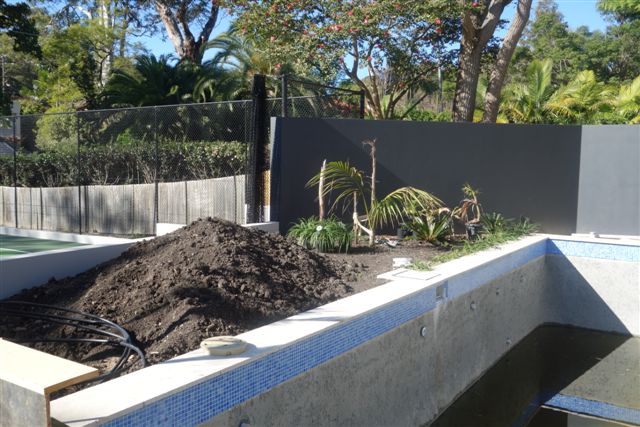 Bret and Kate have laid some topsoil beyond the pool and started planting, but a large pile of topsoil remained.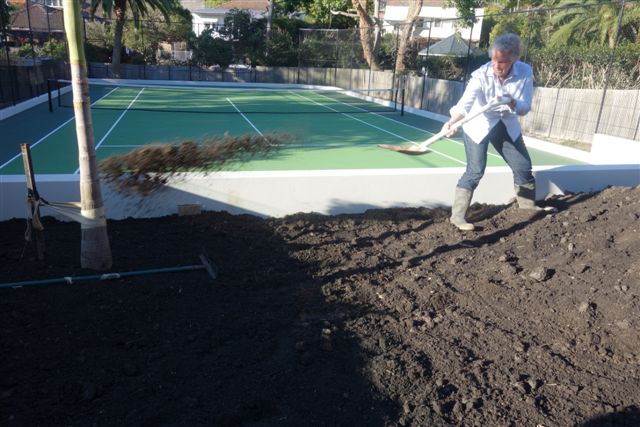 I decided that it looked like a satisfying job to tackle and Tyla proved that she's very good at action photos! And the view from the house is much improved!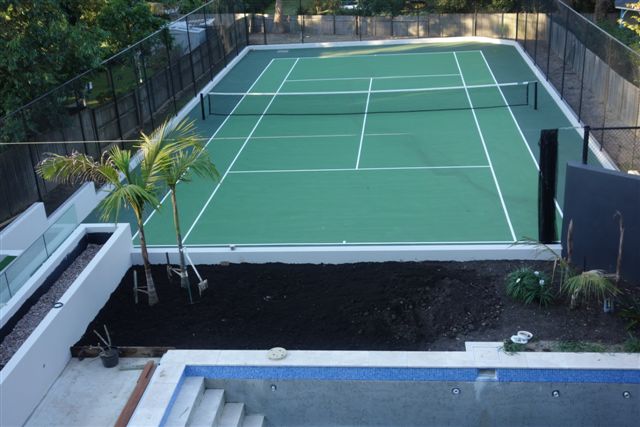 Having raked all that soil fairly flat (Bret is threatening to get out his spirit level!) there was time to put in a few more of the plants they've had waiting in pots for weeks.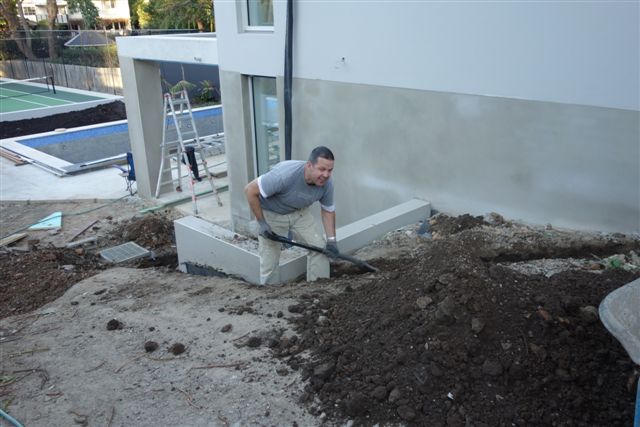 Bret, meanwhile, was hard at work digging trenches for the storm water and solar pipes to feed the pool from the house roof. It's not surprising he thinks the work will never get done. He works so hard but he only has the weekends and there are so many jobs to be done.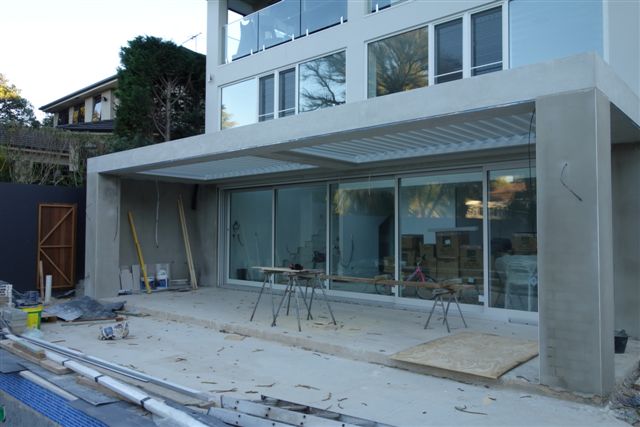 Kate has been tackling the painting, both inside and out with help from Bret and his uncle, Trevor, who turns up unexpectedly from time to time and who is always welcomed with open arms. When the man came to remove the scaffolding a few weeks ago, he told the builder that he uses a number of painting contractors and would like to know the one the builder was using on Kate and Bret's home. When the builder told him that the 'client' had done all the painting, he was astonished! Painting is by no means finished, but their attention to detail is impressive.
And I saw at least one change while I was here. The men came to instal the Vergola over the patio. It's a clever, mechanised roof that opens to let in the sunlight and closes to keep out the rain – all controlled by a sensor. I wonder when they'll finally have time to sit underneath it and enjoy the benefits?!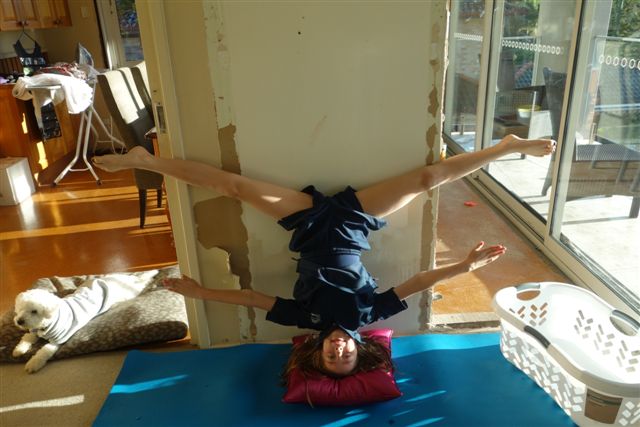 But apart from doing a bit of work to help them on their way, there was plenty of time to relax. The girls provide constant entertainment with an upside down phase they're going through at the moment. Both of them are very flexible and they get up to all sorts of gymnastic activities which are quite impressive!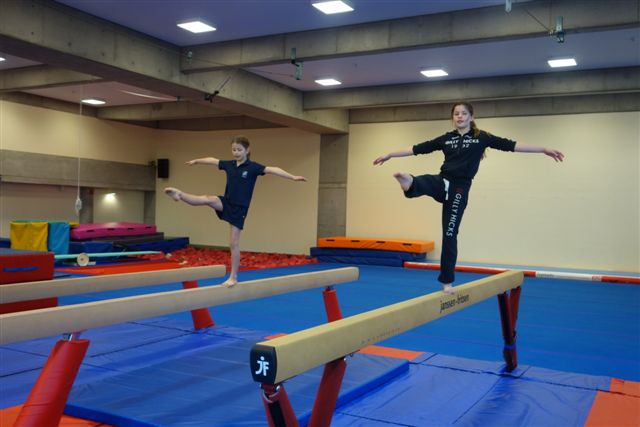 They were actually on three weeks holiday from school when I was there and Kate had enrolled them into a full week of gymnastics, open to everyone but being held at their school. It was an excellent facility and both girls loved every minute of it.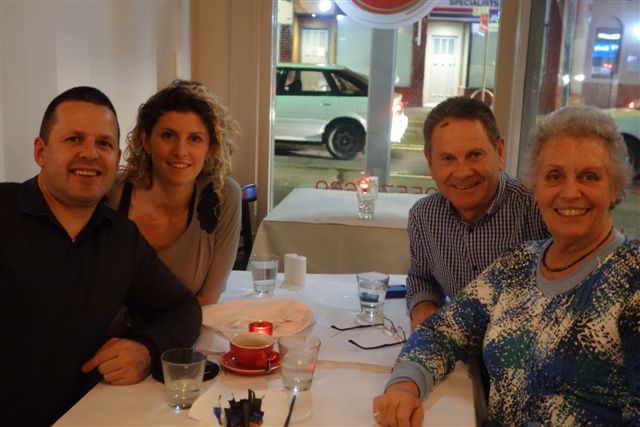 We had a lovely dinner out on Saturday evening with Trevor at a restaurant in the city called Rubyos in Newtown. Parking was almost impossible and the restaurant was pretty busy but the food was good and we ordered about half a dozen dishes which arrived in four portions which we shared between us. A good idea and we enjoyed a great variety.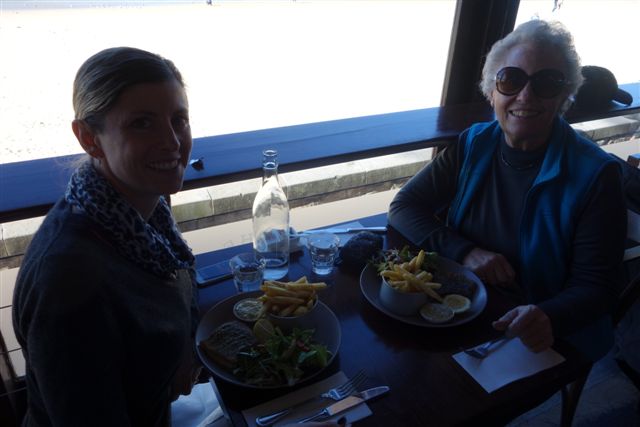 And on my last day, Kate decided that she'd take 'her Mum' out to lunch at a place she loves called The Pantry on Manly Beach. The venue is outstanding, right on the beach.
And there were still quite a few people swimming and surfing even though it was just after the shortest day in
Australia. It was wonderful to be sitting overlooking the ocean on such a beautiful day.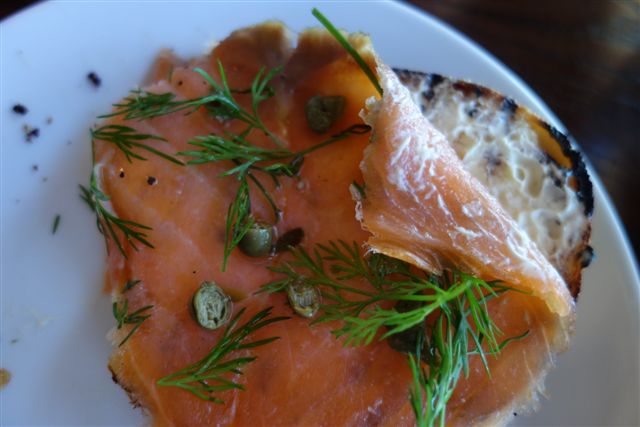 The menu at The Pantry was superb and it was incredibly hard to choose what to eat. In the end, inexplicably because we have very different tastes, we both chose the same entrée – Smoked Salmon, dill, crème fraiche, red onion and caper bruschetta.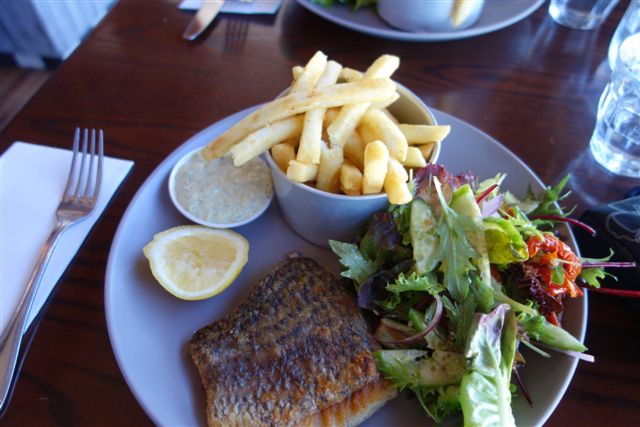 And even more astonishingly we then chose the same main course too – Grilled Fresh Barramundi fillet with fries, lemon and tartar sauce with a divine garden salad. After that we could barely move!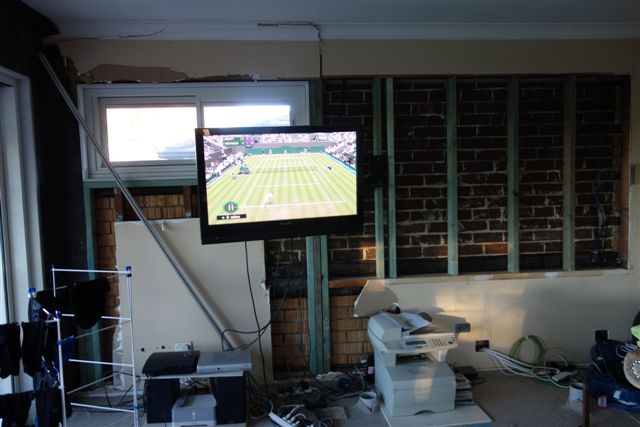 Back home, if I had spare moments, there were always recorded games from the previous day's Wimbledon to flash through, trying to find a good game to watch!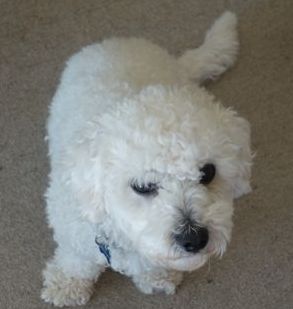 And Tyla's dear little dog, Bailey, was always looking at me imploringly, asking if I could spare a moment to take him for a quick walk around the block.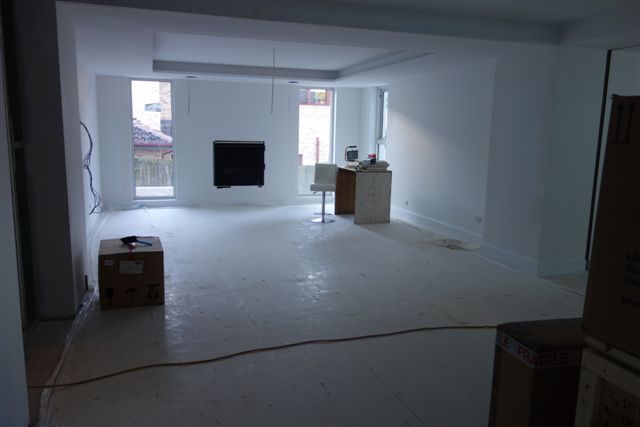 Before I left I took a quick tour around the bottom two floors (you can see the chaos we're living in on the top floor!) just to see how much more they've still got to do. These are the sitting and dining room areas. Quite a bit of painting still to be done here.
These are the rooms they'll all be camping' in as soon as they start to demolish the top floor which is still pretty much the way it was when they bought it, only much, much worse!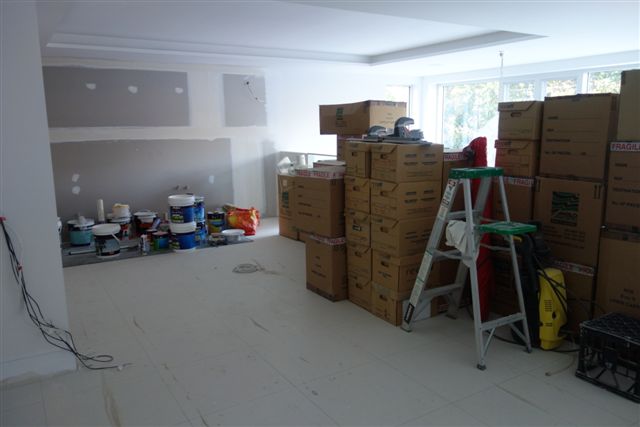 And this is where the kitchen will be going (hard to imagine) – hopefully in about three weeks.
It's great to know that I'll be back again, this time with Suzi, in October and with so much getting that little bit closer to completion, I'm sure it's going to be yet another exciting visit.
And so it was time to leave Sydney. Kate took me to the airport on my last morning and I set off for Singapore.