London - 1-9 September 2012
There were still more highlights to enjoy during my last few days in London. The first was a visit to The Globe Theatre – a treat for me from all three girls – to see the Taming of the Shrew. In all my years living in England, I'd never been to The Globe so this was a very special treat. We walked along the banks of the Thames, had a leisurely meal and sat in very good seats to enjoy an excellent performance. We even saw Judi Dench, who was sitting not far away. (It was very unfortunate that I had left my camera at home so wasn't able to capture some special memories on film.)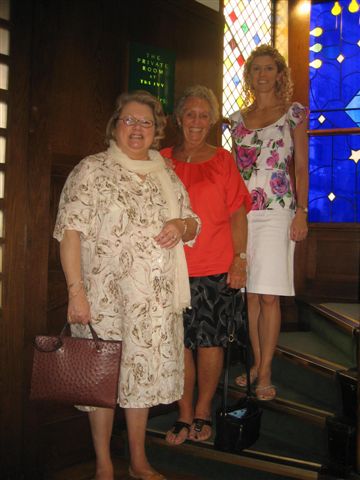 Another highlight was a visit to The Ivy, a fairly smart restaurant in the West End and an opportunity to treat my friend, Tricia, who'd treated me to a 'smart' lunch the year before. After all the hard work Kate was going to have ahead of her with the move, and to thank her for the many months she's put up with me, I asked her if she'd like to come and join us.
Some of the last week was spent having talks with Julie about her plans to leave London after six years and return to Porirua to study for a Bachelor of Nursing at Whitireia. This will be a big decision and a real wrench for her to leave all her friends, but it certainly sounds like a plan and we'll all wait to hear with bated breath whether her application will be accepted.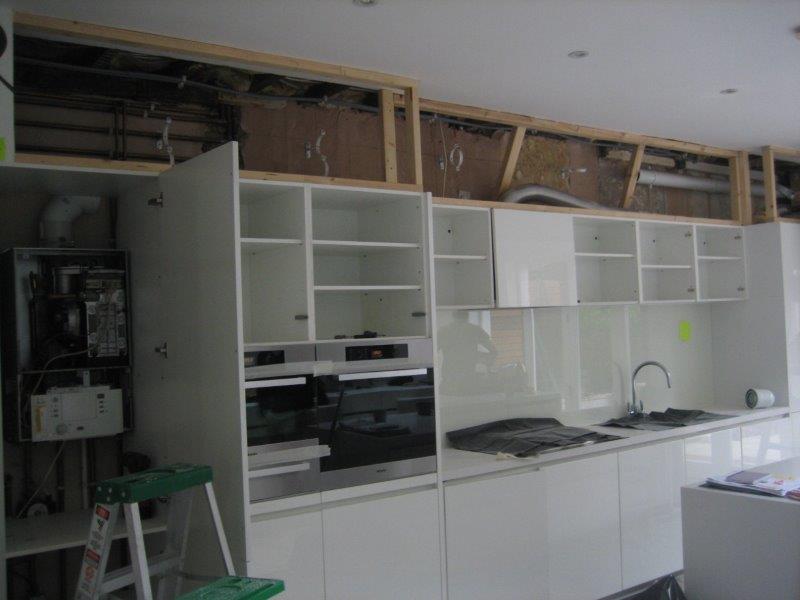 And almost the whole week was spent covered in dust as the builders dismantled the top kitchen cupboards to increase the size of the outlet from the gas cylinder because the neighbours were complaining about the extractor fan into the garden!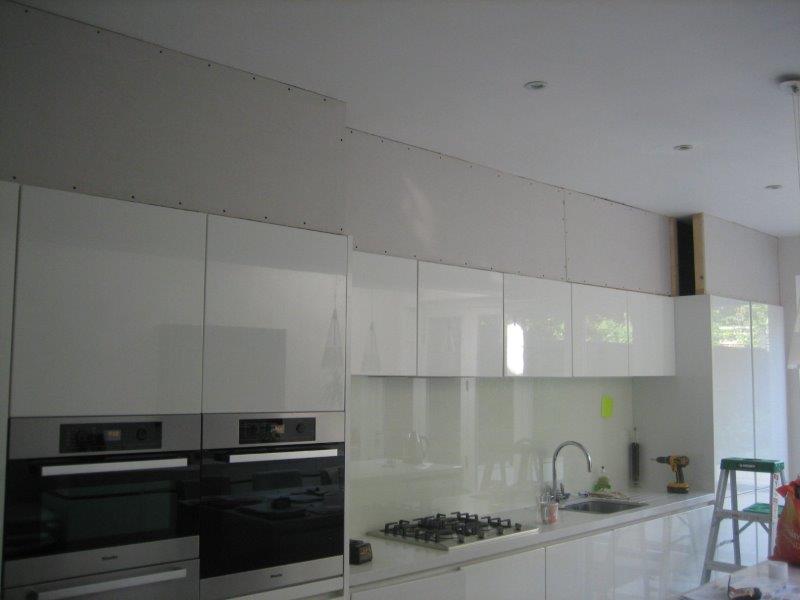 All the cupboards had to be emptied, everything throughout the ground floor had to be covered in groundsheets and, so close to their departure to move to for Australia, this was causing a great deal of extra work. Fortunately, it was soon over and the kitchen was restored to normal.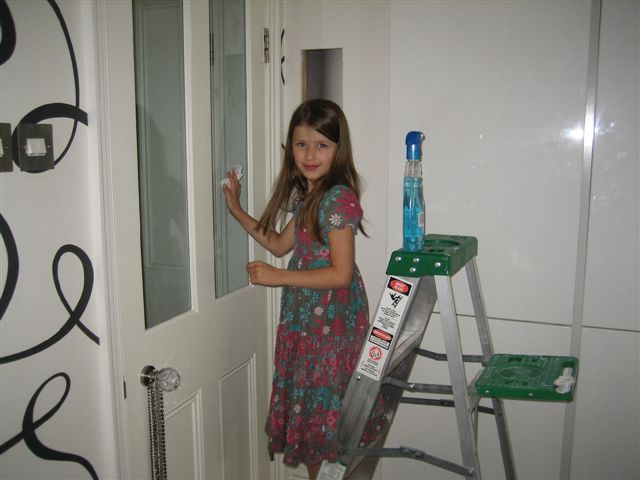 But it left quite a bit of cleaning to be done to lay all that dust which was completed just in time for a weekend lunch celebration!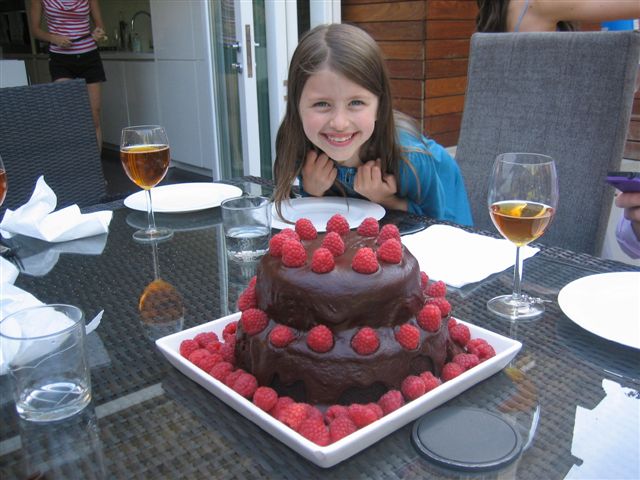 And Riley wasn't just good at cleaning doors and windows (as was Tyla). She also enjoyed helping Grammy to make Kate's birthday cake!
Leaving the family after so many months was very sad, especially as it was the end of an era of visiting them in England. But here most of us were, together for my last weekend to celebrate a host of things.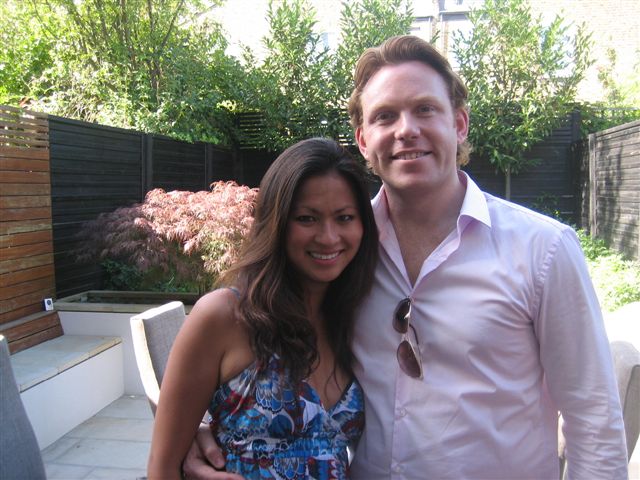 My nephew Tim's engagement to Betty.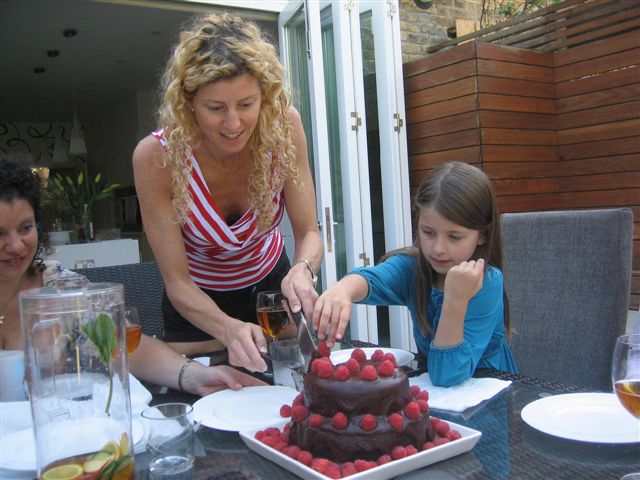 Kate's belated birthday party, which had been delayed since February and was now coinciding with their departure for Sydney next month.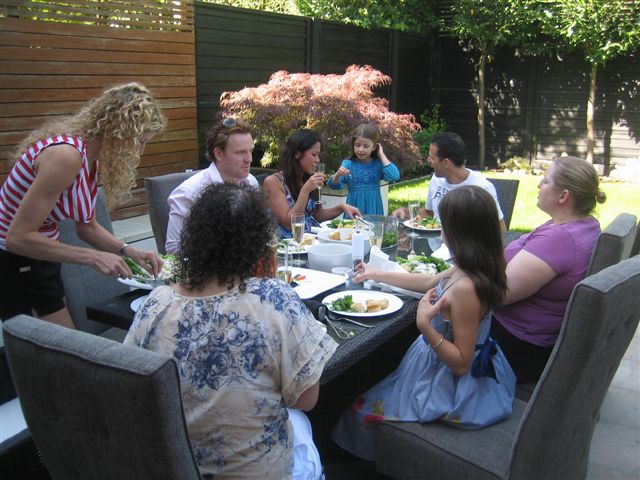 And from my point of view, it was an opportunity for me to spend time with lots of the family together at the end of my wonderful 2012 holiday.
It was unusual to be able to say goodbye to everyone (except Adam and Janice) at once. Julie was very kind and accompanied me to Liverpool Street the next morning – a great help with my heavy suitcase.