It's your thoughts that count when you're helping others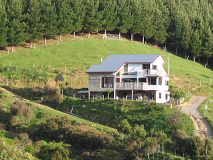 Every community has its hidden treasures. Porirua City has more than most. Peter Sinké and his wife Linda live on a farm at the top of Haywards Hill in rural Pauatahanui in Porirua. They've been providing a safe haven for foster children for over five years. Some arrive in the middle of the night and only stay for a couple of days. Others stay for much longer.
The children receive unconditional love, and so much more besides. They get to spend time with Pete on the farm, not only helping to look after the animals but also going out and about with him in the beautiful environment as he goes about his farm work.
But wait, there's more. These lucky children are exposed to visitors from all over the world who come to stay at Peter and Linda's farm stay accommodation at Woodhigh Forest Farm. Check out the farm stay website.
And when Peter isn't running around after little kids and enhancing their lives, he's working hard for The Rotary Club of Plimmerton, managing projects that will raise money for the whole community.
It's their thoughts that count as they give selflessly to the community of Porirua.
What stars!